In the winter, kids love to play in the snow and build snowmen, but it's not so much fun when it melts. Your kids won't have to worry about melting with this snowman play dough activity!
Add some loose parts and found objects to this activity and your kids will have fun creating their very own playdough snowman!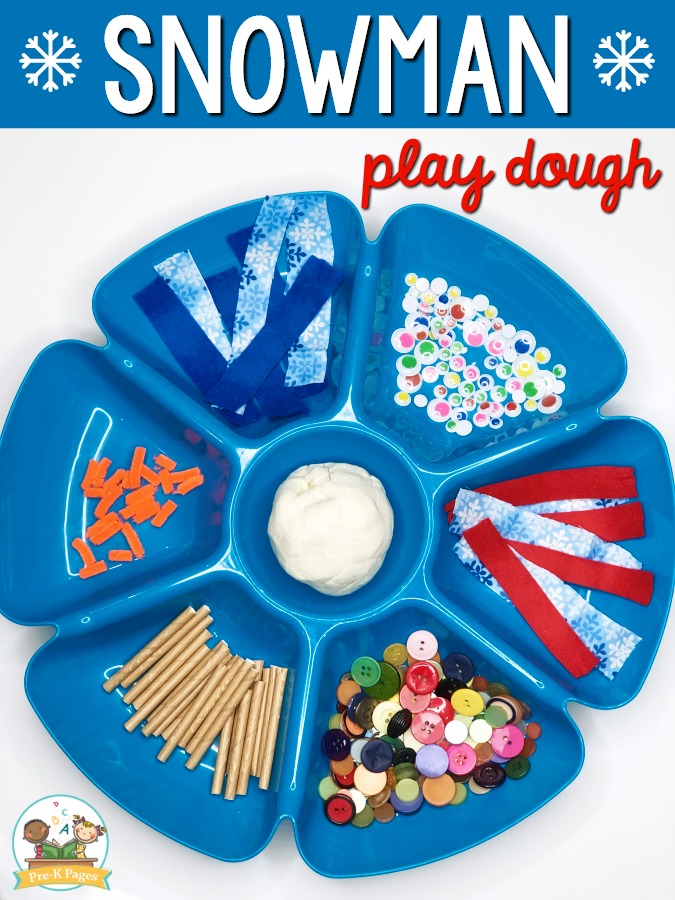 Snowman Playdough Supplies
Here are the crafting supplies I used on our snowman tray, but you can use whatever you have available.
Play Dough (here's our favorite homemade playdough recipe)
Pipe Cleaners
Googly Eyes
Fabric Scraps
Straws
Buttons
Mini Hat
Optional: White Glitter
These are just supply suggestions for making play dough snowman. Raid your craft stash and see what you may already have on-hand that can be used to create snowmen.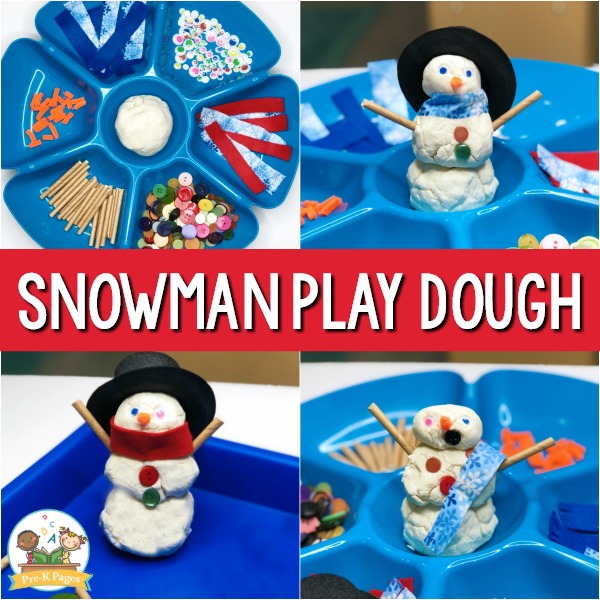 Snowman Play Dough
Invite your little learners to explore the materials on the tray. This is meant to be an open-ended experience so there are no right or wrong ways to build with the materials.
As they begin to explore you can watch their imaginations at work as they create their very own snowmen, snow women, snow people, or even snow animals!
Don't worry about what color your pipe cleaners or fabric scraps are, this activity is all about the experience of using loose parts to create.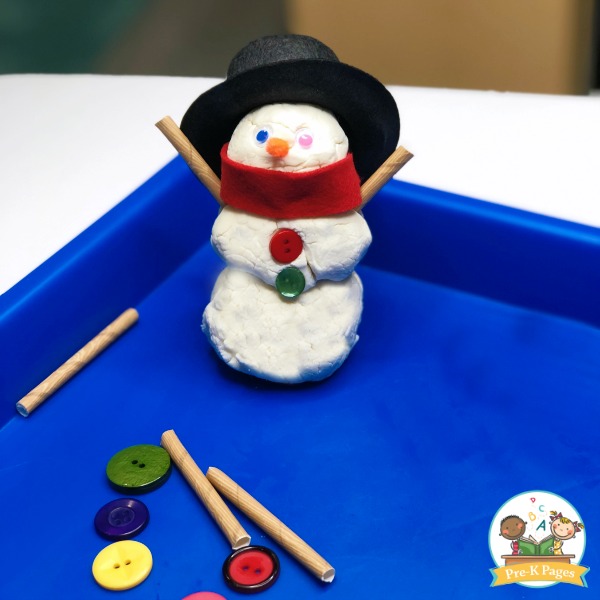 Snowman Building
Since this is a completely open-ended activity, if they just want to add buttons, that's totally fine. If they don't want to add googly eyes, that's fine too. It's all about the process at this stage of their development, rather than achieving a perfect snowman.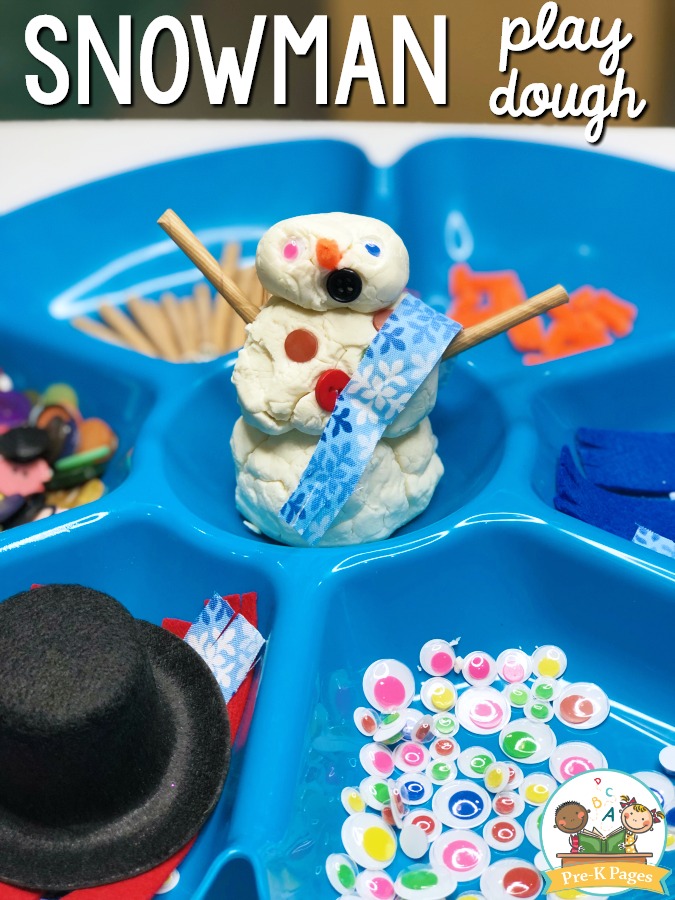 Some children may prefer to explore the items individually before using them to build snowmen.
In case you're wondering, I found the little mini hat in the clearance section of my local craft store after the winter holidays.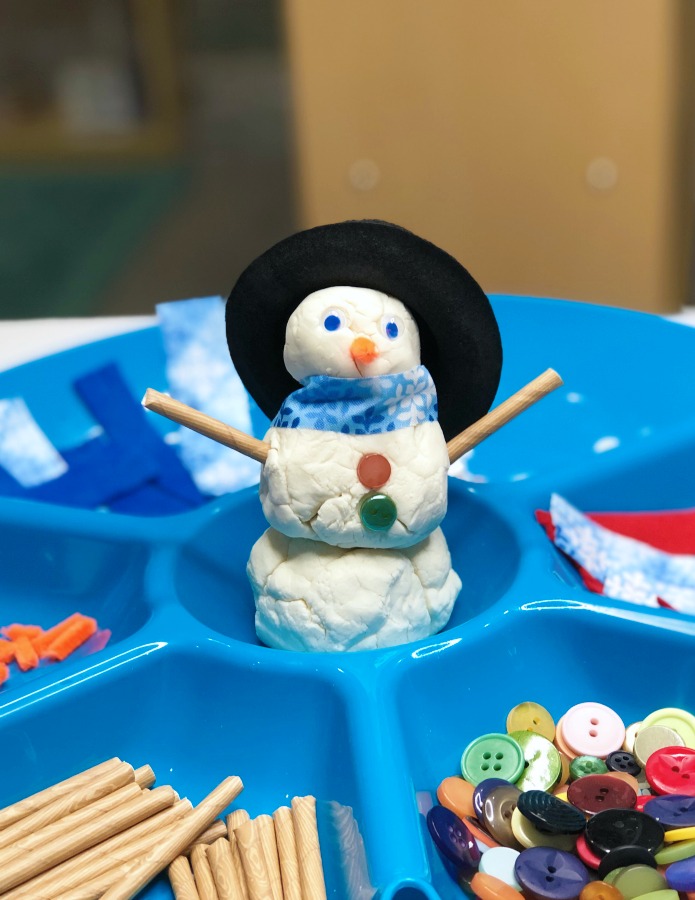 Benefits of a Play Dough Invitation
Here are just some of the benefits children get from engaging in play dough invitations.
Creativity – Give them an opportunity to use their imaginations by encouraging them to use their own ideas rather than a template to follow. This will help them solve problems later in life.
Communication – A relaxed environment to chat with their peers (oral language development.)
Solo or Group Work – Perfect for children to do alone, with a small group of friends, or in a preschool classroom setting.
Fine Motor Skills – Rolling the "snowballs" and placing small objects in the dough is great for strengthening fine motor skills.
Add some literacy to your invitation by reading plenty of winter themed books, too!