I just love using seasons to inspire activities for the kids. Today we had fun with some spring fine motor play by making these simple button flowers. Simple is usually my aim for these activities as they usually result in easy setup as well as more interest from the kids.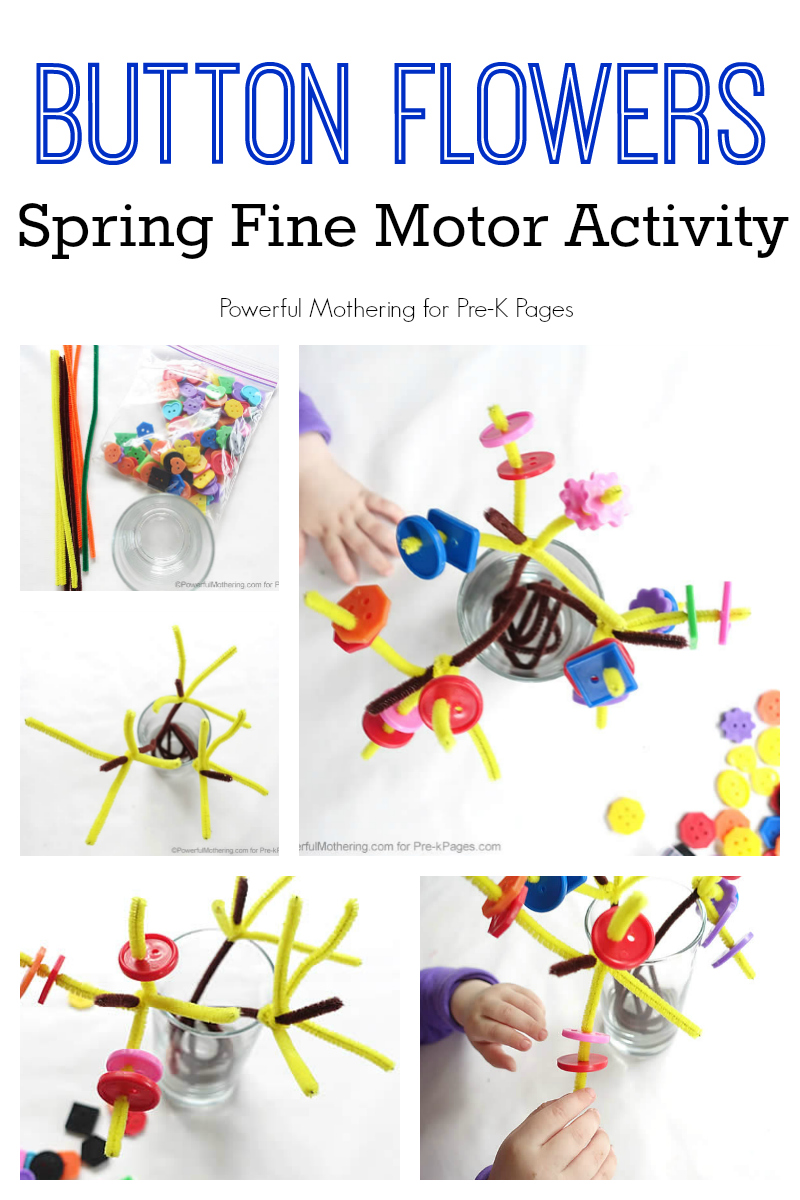 Spring Button Flower Fine Motor Activity For Preschoolers
To make these cute button flowers you will need the following supplies:
chenille craft stems – we used brown and yellow
large buttons
container or vase of your choice
scissors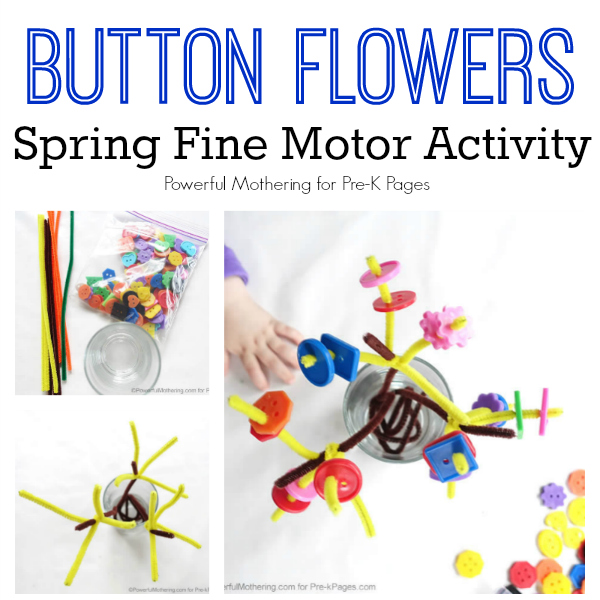 Cut the yellow craft stems in half and twist 2 halves around a stem; this will anchor each "branch" to the base. If necessary, fold the brown craft stem in a circle to fit your vase or container of choice. This will help the flower or tree remain upright.
We used yellow and brown chenille stems but you could really use any colors you already have on hand.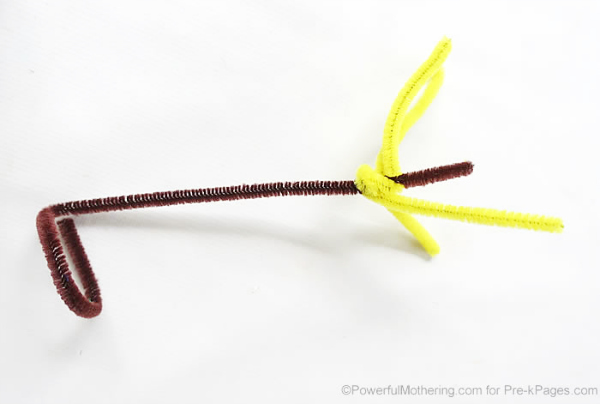 Put the buttons in a easy to reach place and invite the kids decorate their spring button flowers in whatever fashion they like! Encourage their creativity and experimentation.
The holes in the buttons are perfect for threading onto the pretend flowers or trees!
Other items you could use instead of buttons includes things like pony beads or colored pasta.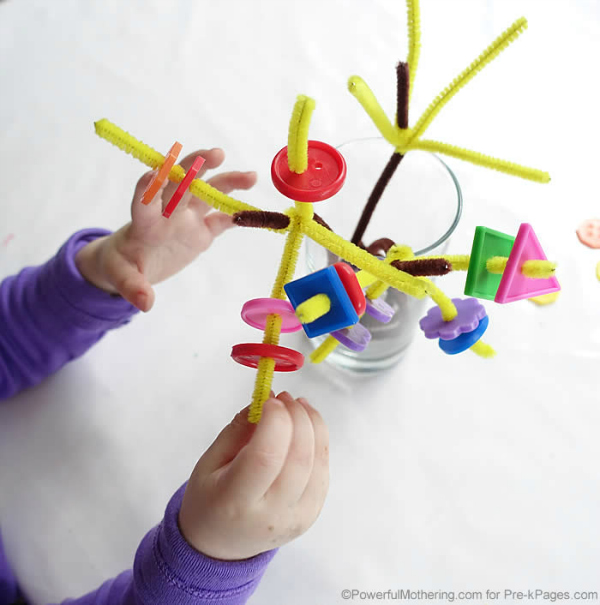 Skills at play in this activity include fine motor skills like threading, color sorting (if they are making a single color flower), and hand-eye coordination!
Manipulating the buttons and threading them onto the stems requires concentration and control. As your children create and explore with their pretend flowers (or trees!) they will refine the movements of the small muscles in their hands. Developing dexterity will be helpful for all kinds of later skills, including writing.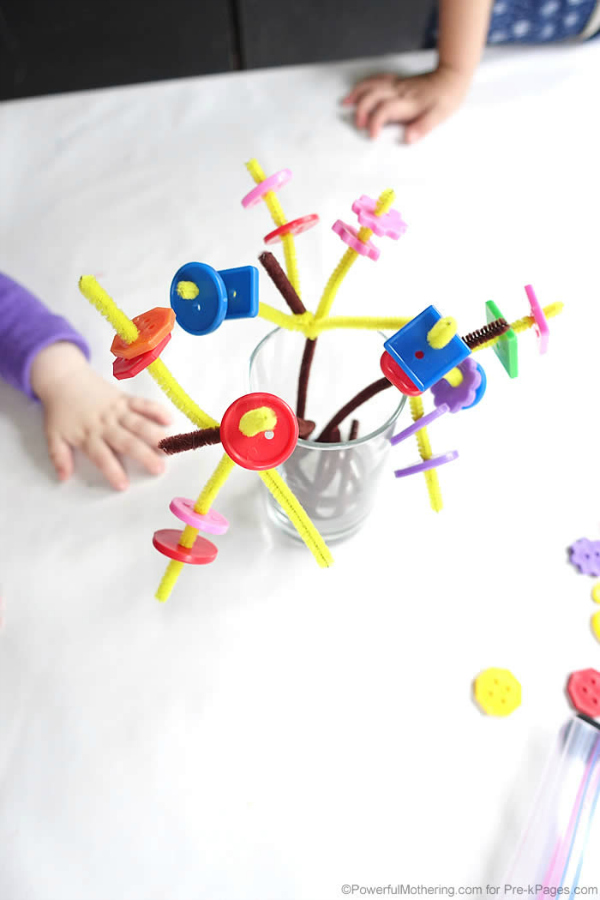 These button flowers also make great displays! Make a few vases of flowers and arrange them on a table or windowsill. Enjoy your indoor spring blooms! 😉
BIO: Do come visit Nicolette on her blog at Powerful Mothering. She loves to share simple and easy crafts, activities, printables, and learning ideas for babies, toddlers, and preschoolers! She is also a co-author of 99 Fine Motor Ideas.
More Spring Ideas
Spring Movement Games (Pre-K Pages) – This is a fun and active movement game to work on gross motor and literacy skills. And, you only need a few supplies to prepare the whole group activity.
Spring Splat Art (Pre-K Pages) – Gather your kids together, cover as many surfaces as you can, lay out the supplies and stand back. Splat art might be messy, but it's fun and beneficial in many areas of your preschoolers development.
Retelling a Spring Book with Puppets (Pre-K Pages) – sing puppets, along with other storytelling props, is an easy and fun way to make books come to life for preschoolers. We've found a wonderful book to incorporate into puppet storytelling and it's perfect for Spring!