Meet Carla, she's been teaching her pre-K class virtually since March 2020. In this post, she shares some of her best teaching tips for virtual teachers. These tips have helped her students, other teachers at her school, and they're sure to help you be the best virtual teacher you can be.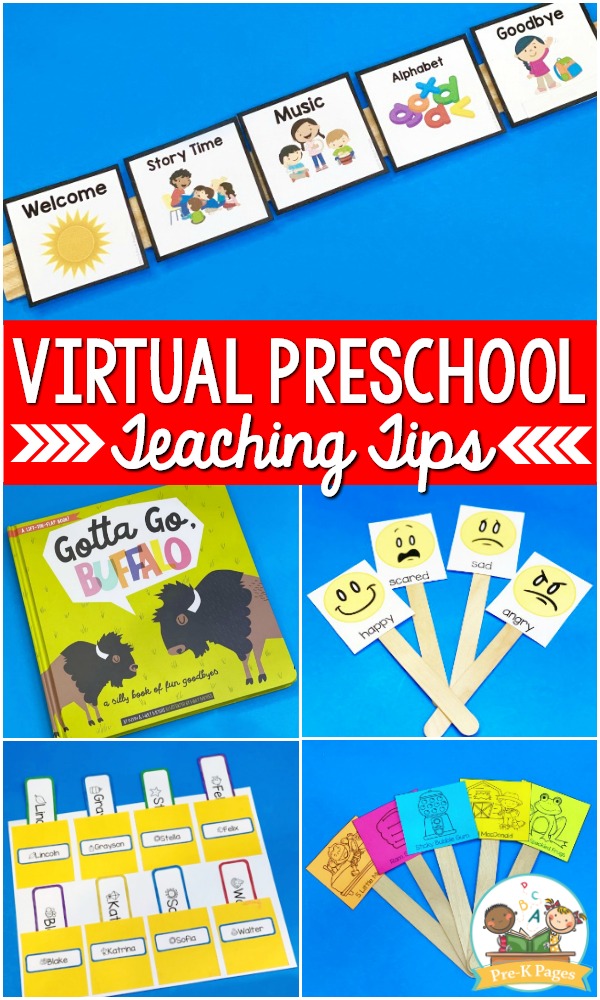 Tips for Virtual Teaching
Let's face it, young children love to play, dance, sing and create. The good news is that you can still do all of these things when teaching virtually. Here are some of my best tips to help you be the most successful and amazing virtual teacher I know you can be!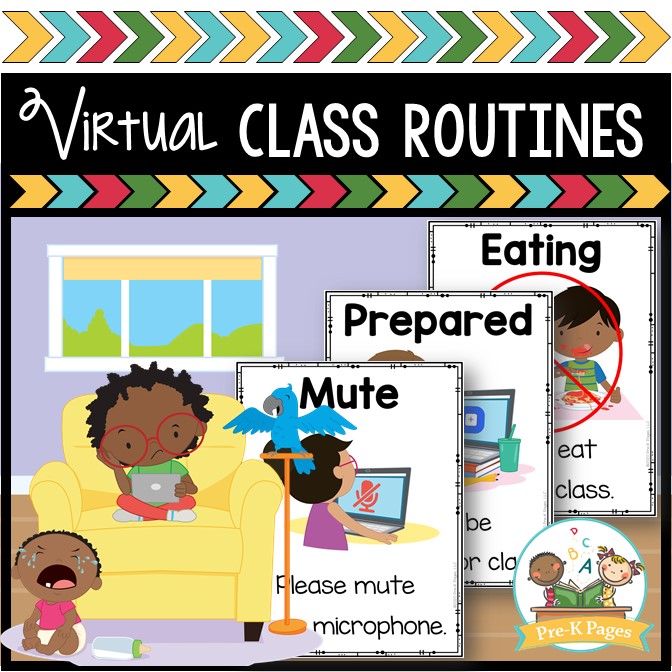 Use Visuals
When young children are participating in virtual lessons from home, there will be some distractions and interruptions that are out of your control. A visual of what you want your students (and their families) to do is extremely helpful to keep your students focused. You can find posters with pictures depicting the most common distance learning visuals inside the Take Home Lesson Plan Bundle here.
Let Kids Talk
You can encourage kids to talk by incorporating a Daily Challenge. To create a challenge, invite your students to find something specific and send you a picture. The next day, incorporate the photos you received into your slide presentation. Invite each child to talk about their picture. Ask questions like: Which animal is taller? How many stars does it have? Does your stuffed animal have a name?
Make Daily Slide Presentation
Make a slide presentation you can use each day. You can use the "Share Screen" option so your kids can see your slides on the screen. This will remind you what is up next and help you keep your lessons focused and on track. You could also incorporate Daily Challenge pictures during this time, too.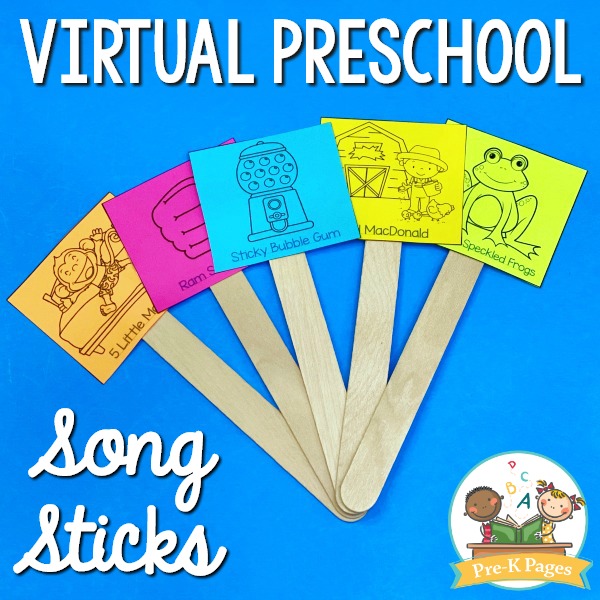 Spice It Up Ideas
If your virtual lessons begin to feel stale, or you just want to spice them up, try incorporating puppets, sing a new song or finger play, or teach sign language signs you will eventually use in the classroom. You can find the free printable song choice cards here.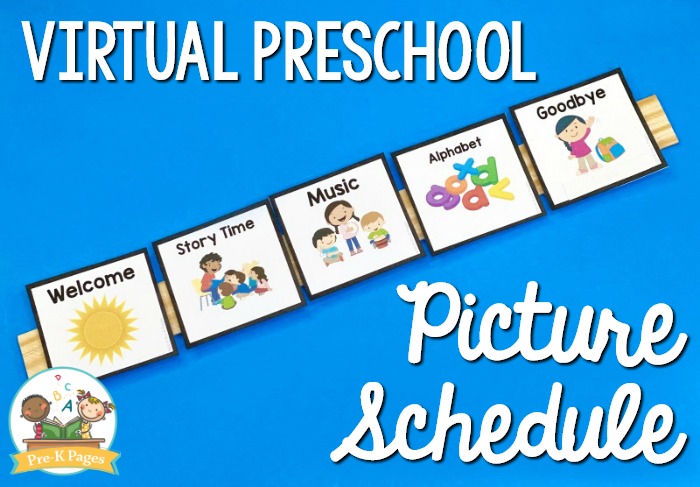 Virtual Preschool Schedule
Stick to a schedule. Young children thrive on routine. Pictured here you can see the visual picture schedule, I just printed it out smaller and put the pictures on a paint stick with Velcro to make it screen friendly.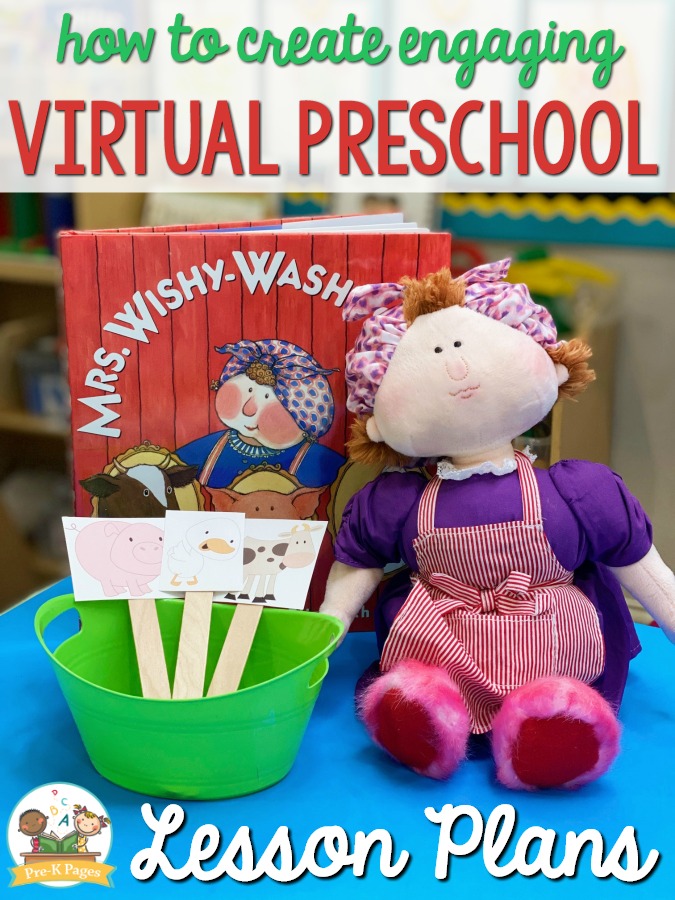 Virtual Preschool Lesson Plan
Here is a sample virtual teaching schedule you may find helpful:
Start Early – Open your virtual classroom 5 minutes early. Allow kids to chat with one another.
Greeting – Use the spotlight feature on each child, one at a time. The spotlight feature allows you to make 1 child large on the screen. Invite your students to say hello and wave as you greet each child by name.
Sing a Good Morning Song – Here's a list of some great Good Morning songs for preschoolers on YouTube that you can use.
You can find an editable, virtual lesson plan template inside the Take Home Lesson Plans Bundle here.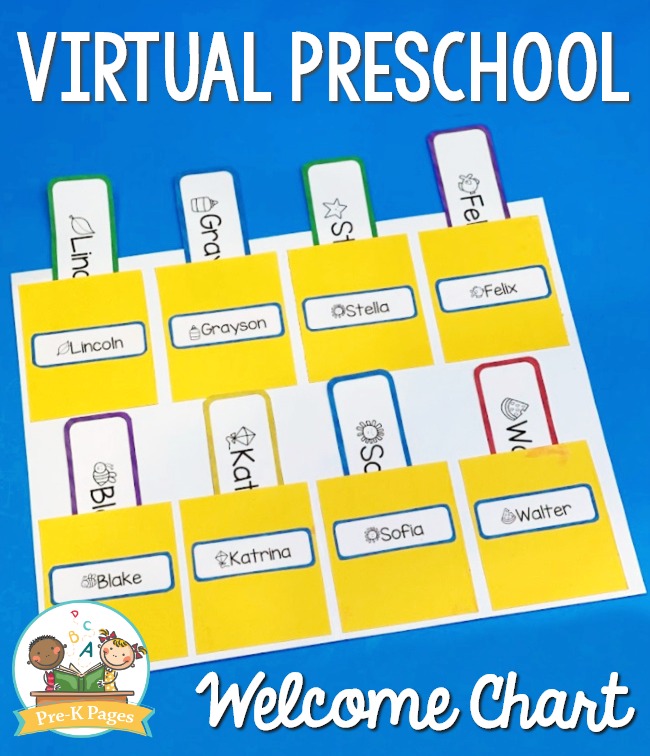 Virtual Preschool Attendance Chart
Attendance – You can quickly and easily make your own name attendance chart to show who is present and who is missing like the one pictured above. Say "If you remember saying hello to Harrison, give me a thumb up." You can find the editable name cards here. You could also do a virtual Wish You Well after you take attendance, it's even more important now than ever before during this time.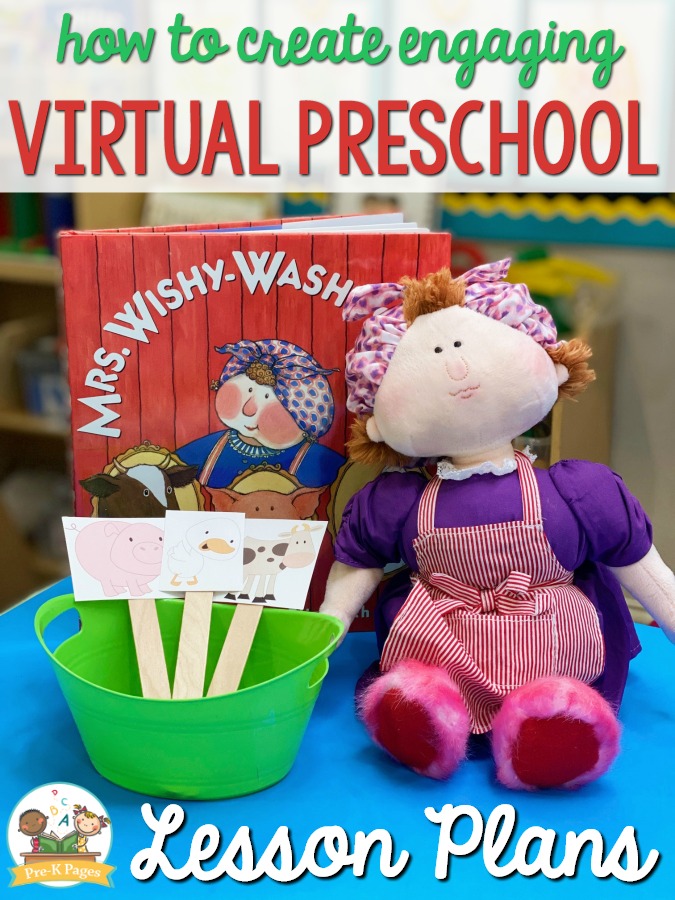 Activity – read a book and do a fun, interactive companion activity.
Daily Challenge – Invite your students to talk about the pictures they sent in from the day before.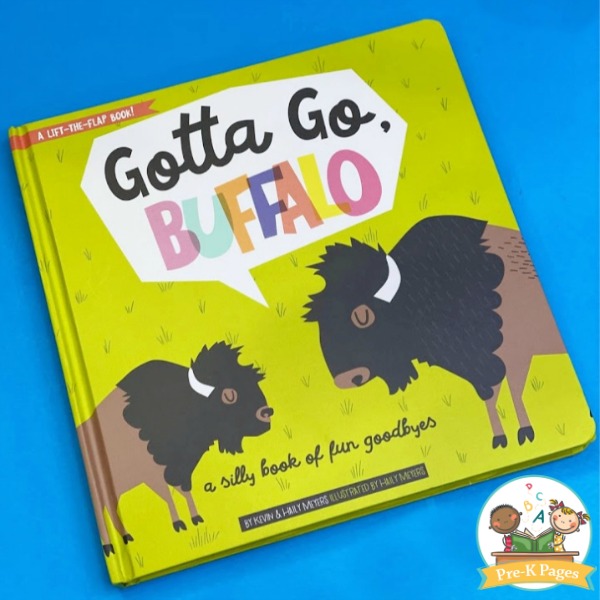 Closing– You can read a good-bye story such as Gotta Go, Buffalo, or use the printable book included in the Distance Learning Toolkit available here. It's super fun to incorporate hand motions to go with each animal, too!
Spotlight each student again, allowing everyone to say good bye.
Virtual teaching may pose some unique challenges, but the way young children learn has not changed. The best thing you can do is to continue doing what you have always done – singing, dancing, reading, and getting children excited about learning!
Contributed by Carla Goldberg
You can find my very best tips for keeping preschoolers engaged during distance learning here.
You can use these good morning songs in your virtual teaching (or in the classroom).
These cards can help lead your preschoolers in a feelings check-in time.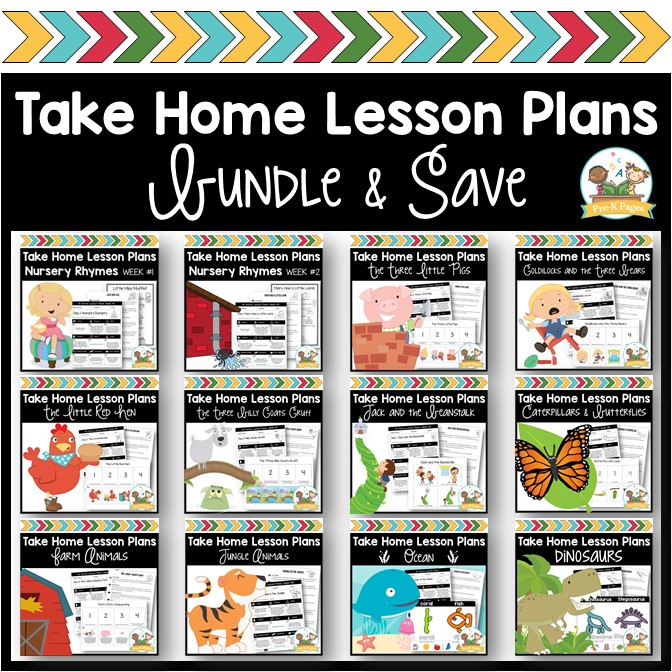 If you really want to knock your virtual lessons out of the park, you need the Take Home Lesson Plan Bundle. It includes 15 weeks of done-for-you, at-home lesson plans. This bundle also includes the popular Distance Learning Toolkit, plus the Distance Learning webinar replay.
More Teaching Tips