Here are more than 10 ideas for Valentine's Day discovery bottles. Whip up some of these and put them in your science center for plenty of learning and fun!
What Is A Discovery Bottle?
Discovery bottles, or sensory bottles, are great for kids to explore and discover. They are also easy to make and easy to use.
You can adapt or adjust the ingredients for whatever you have or hand. Or for whatever theme or concept you want to emphasize.
Valentine Discovery Bottles
1. Alphabet Discovery Bottle for Valentine's Day (Sunny Day Family) – Laura will show you how you can use those classic conversation hearts to create a discovery bottle. The bottle will help your preschoolers learn the alphabet. And the candy hearts are still edible after too! That's a win win for me.
2. Valentine's Day Sensory Bottle with waterbeads (Sugar Aunts) – Pink and rose colored waterbeads are used to make a sensory bottle perfect for the holiday. You can create this yourself or have the students help create the discovery bottles!
3. I Spy Valentine's Day Heart Bottle (The Pleasantest Thing) – With some white pom poms and conversation hearts, a discovery bottle can also be turned into a fun game of I Spy!
4. Heart Glitter Jar (Fun-a-Day) – This discovery bottle has all the fun of glitter without any of the mess! And this post also includes a printable of directions.
5. Suspended Heart Discovery Bottle (Lemon Lime Adventures) – This is a simple 2 ingredient discovery bottle! With heart shaped erasers and a clear syrup it's a fun suspended discovery bottle that is easy to make.
6. Valentine Sensory Bottle with Glitter Glue (Litte Bins for Litlte Hands) – With some glitter glue that's available from the Dollar store, and a recycled water bottle you can create an easy Valentine sensory bottle. Just give it a shake!
7. Magnetic Heart Jar (JDaniel4's Mom) – For a discovery bottle that also incorporate scientific exploration this is the perfect one. With pipe cleaners and some magnets this is a sensory bottle that will definitely engage your young learners.
8. Floating Hearts Sensory Bottle (Teaching Mama) – With some heart stones, glitter glue, and a bit of food coloring you can create this beautiful floating hearts sensory bottle. Your preschoolers will have fun shaking this bottle and watching the stones swirl around.
9. Valentine Sensory Bottles with neon rice (Adventures of Adam) – With homemade neon pink rice and heart shaped buttons this discovery bottle can be explored under a UV light! This is a fun way to play in the dark!
10. Color Mixing Sensory Bottle (Preschool Inspirations) – This discovery bottles also combines color mixing. It's an easy 3 ingredient sensory bottle. It's perfect for Valentine's day or any time of the year!
11. Slow Falling Hearts Sensory Bottle (Rhythms of Play) – With a few simple ingredients, like soap and glue, these slow falling hearts make a great gift or discovery bottle play.
More Discovery Bottles Ideas To Use In Your Classroom
Discovery bottles can be used throughout the year in your classroom. They can be used to  create wonder.  Encourage conversation. Build vocabulary.  Develop visual skills. And they are great fun!
I like to use baby soda bottles to create my discovery bottles. A baby soda bottle looks like a test tube and has a lid like a regular soda bottle.
You can use these great discovery bottles in your science center for observation or put them in your calm down center (or safe spot) for calming. Many of these bottles also work great on a light table.
You can also make distant concepts that might otherwise be out of their reach, like outer space, fit literally in their little hands. These Star Gazing Discovery Bottles let my toddler and preschooler explore stars, star formations, and inspired lots of awe as well.
More Valentine's Day Ideas
There are so many activities that you can incorporate into your classroom for Valentine's Day! You can incorporate the holiday into your math activity literacy activity or use books to celebrate Valentine's Day!
A light table activity is also a great way to center the lesson around Valentine's Day. When your kids are picking up and manipulating the plastic hearts on the light table they'll be engaging in sensory play. They will also be developing those important fine motor skills too!
And no preschool Valentine's Day theme would be complete without a Valentine play dough activity. Playing with play dough is a great way for kids to practice their fine motor skills.   In a fun, hands-on way! The simple act of pressing chenille stems, beads, cookie cutters into dough has so many benefits for young children.
Your pre-K or kindergarten students could also work on their sight words during the holiday as well.  Using Valentine card sight words is a  highly engaging and fun activity can help your pre-k or kindergarten students get even more excited to practice their sight words.
You could also incorporate songs into the holiday. You can sing Valentine songs during circle time, transitions, or whenever your kids just need to refocus and get their wiggles out!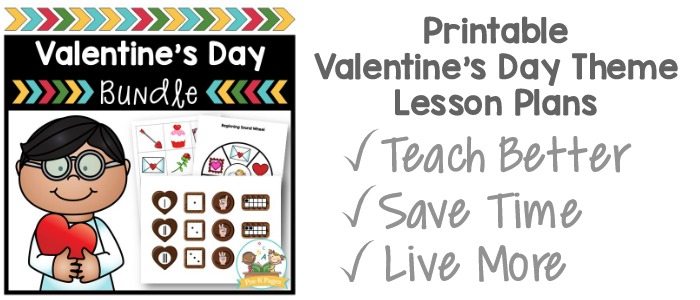 More Valentine Ideas