A ball theme can be a fun exploration for preschoolers. Or perhaps you want to include balls in your ocean and beach theme. These ball books will enhance your classroom library and encourage preschoolers to extend their learning and build their vocabulary and literacy skills. Find these books at your local library or shop online for used books to keep your costs down.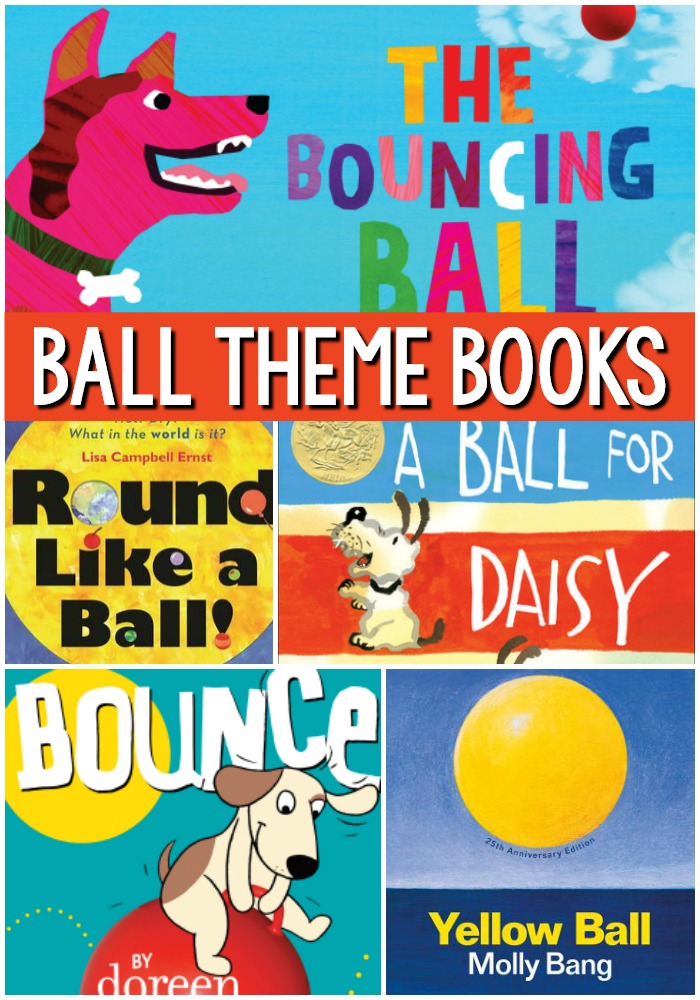 Ball Theme Books
A story about a ball is always a fun, engaging one! These ball themed books are a perfect resource to accompany an ocean or beach theme in your classroom.
A Ball for Daisy by Chris Raschka
In this wordless book, a dog named Daisy has a red ball that she loved to play with. But at the park something happens to her favorite toy. What will Daisy do now? (Your preschoolers can create the story that goes with these pictures.)
Yellow Ball by Molly Bang
Simple text with large simple pictures tell the story of a ball that floats away from shore but eventually ends up home again.
Bounce by Doreen Cronin
A book all about bouncing – both balls and your bodies.
Hit the Ball, Duck by Jez Alborough
Duck and his friends play baseball. Duck hits the baseball high into a tree. Now it's stuck. How can they get it down?
The Bouncing Ball by Deborah Kelly
A bouncing ball travels down the street and a great many other places.
How Far Will it Bounce? by DC Swain
A ball bounces out of the house and down the street. The rhyming text follows the ball's bouncing journey.
ABCs of Balls by Nina Snyder
This alphabet book explores all kinds of balls.
Ball by John Hutton
Simple text naming different kinds of balls (with various kinds of adjectives–shiny, small, and so forth).
Round Like a Ball by Lisa Campbell Ernst
This book is a riddle, giving clues throughout, for kids to discover the answer at the end.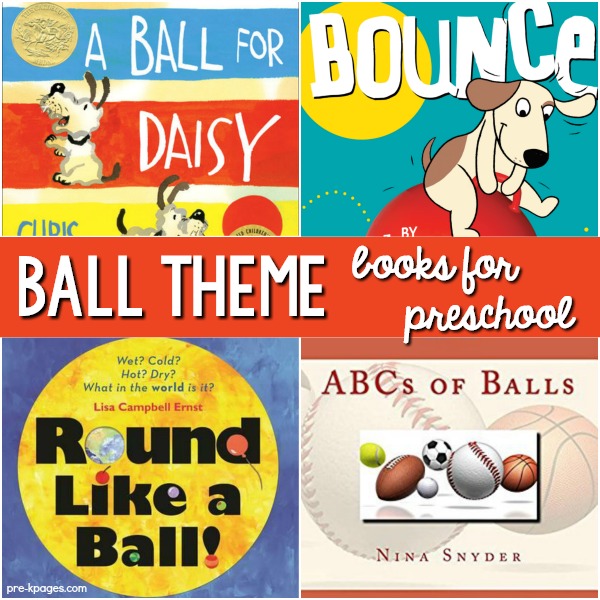 Preschool Ball Theme Books
If you have a sports theme, or a sports lover as a student then one of these sports ball books are a perfect read for your preschooler!
Little Football by Brad Herzog
Preschoolers can learn more about the sport of football with these simple rhymes and illustrations.
Little Basketball by Brad Herzog
Simple rhyming riddles introduce equipment and vocabulary associated with basketball.
Little Soccer by Brad Herzog
Introduce soccer vocabulary and related equipment to preschoolers with this book of short riddles.
Little Baseball by Brad Herzog
Short poems lead preschoolers to name different items and words related to baseball.
Ball by Mary Sullivan
A dog's joy, disappointment, and obsession related to chasing a ball.
Books That Drive Kids CRAZY!: This Is a Ball by Beck Stanton and Matt Stanton
The text says one thing but the picture shows another. This book can be a fun interactive experience with preschoolers.
Balls by Melanie Davis Jones
Explore all kinds of balls and how they are used.
The Story of Red Rubber Ball by Constance Kling Levy and Hiroe Nakata
A red rubber ball lies in the garden. What will happen to it?
More Book Lists