Fall is a great time to read about pumpkins. Pumpkins connect with a farm or harvest theme, can connect with Halloween, and can even lead to talking about Thanksgiving. Here are some favorite books about pumpkins to build background knowledge and encourage literacy skills in the process.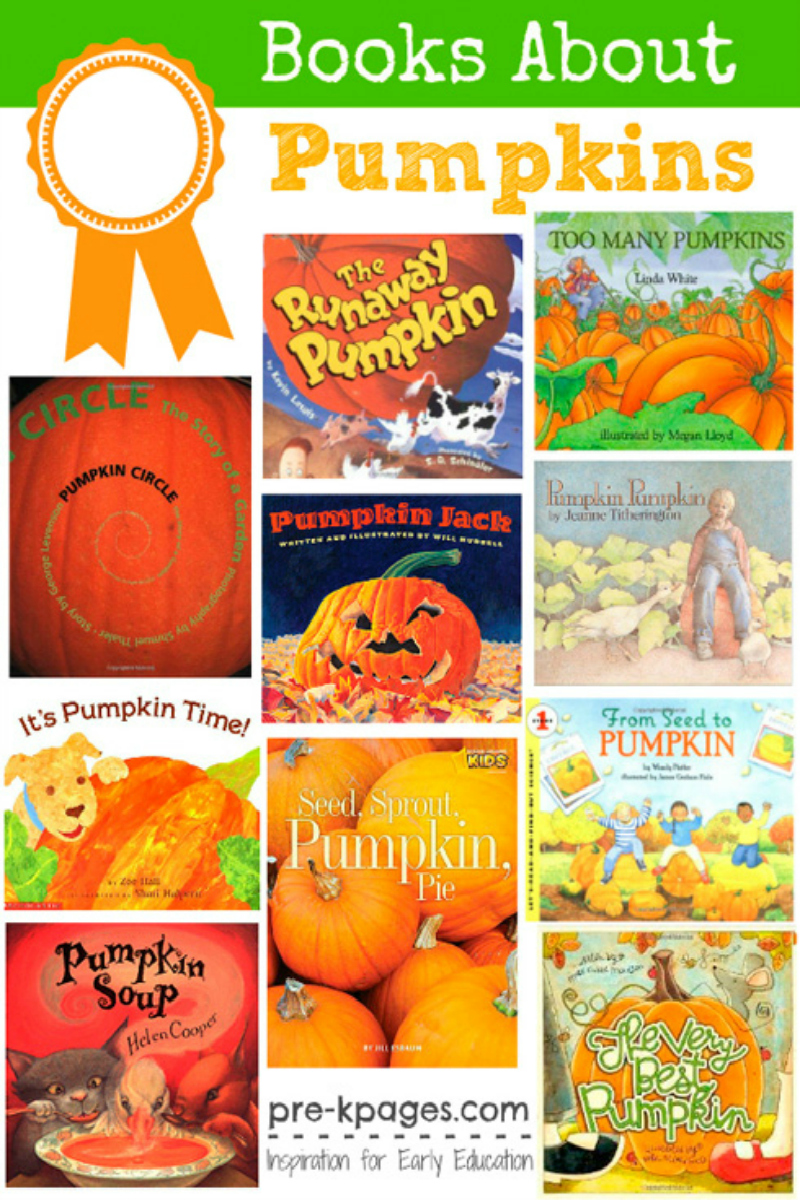 Books About Pumpkins
Biggest Pumpkin Ever by Seven Kroll
Two mice find the same pumpkin and want it. Clayton comes every day to care for it. Desmond come ever night to care for it. The pumpkin grows and grows.
From Seed to Pumpkin by Wendy Pfeffer
A farmer plants hundreds of pumpkin seeds that grow into plants and produce pumpkins. This book includes introduction to some basic science concepts about plants and how they grow.
How Many Seeds in a Pumpkin? by Margaret McNamara
Mr. Tiffin places three pumpkins on his desk–large, medium, and small. "How many seeds are in a pumpkin?" he asks. The class makes many guesses. Then they open up the pumpkins to find the answer. A good book for talking about math concepts.
It's Pumpkin Time by Zoe Hall
A girl and her brother plant a jack-o-lantern patch to prepare for Halloween.
Pumpkin Circle: The Story of a Garden by George Levenson
From pumpkin seeds to pumpkins to pumpkin seeds again. This book contains lots of photos that illustrate (with the text) all aspects of the pumpkin life cycle.
Pumpkin Jack by Will Hubbell
Tim carves his first pumpkin and names him Jack. After Halloween, Jack begins to rot. Tim places the pumpkin in the garden and watches what happens to Jack.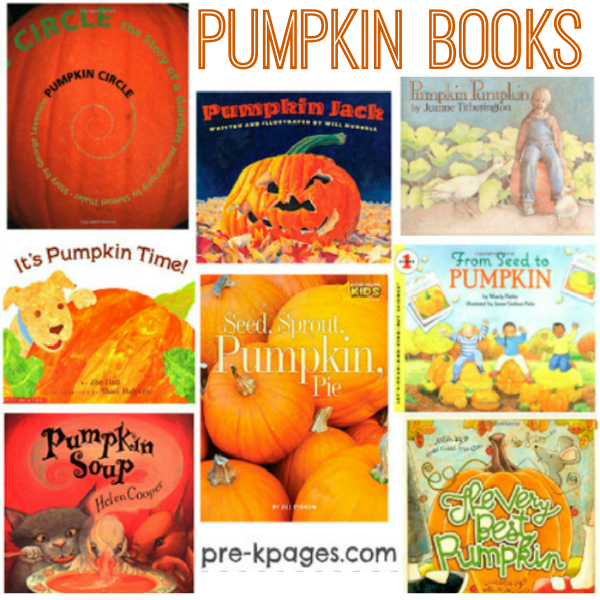 Books About Pumpkins
Pumpkin Pumpkin by Jeanne Titherington
Jamie plants a pumpkin seed and watches it grow. It grows into a large pumpkin.
Pumpkin Soup by Helen Cooper
In an old white cabin, three friends work together to make pumpkin soup each night. Each one has his own special job in the soup making. One day, Duck wants to change jobs and this causes trouble.
The Runaway Pumpkin by Kevin Lewis
The Baxter children harvest a large pumpkin at the top of a hill. But the pumpkin gets away and begins rolling down the hill. What will happen to that runaway pumpkin?
Seed, Sprout, Pumpkin, Pie by Jill Esbaum
This nonfiction book contains more complex vocabulary. Instead of focusing on the life cycle, this book tells more about pumpkins and their uses.
Too Many Pumpkins by Linda White
Rebecca Estelle hated pumpkins and would never plant any. But one day a huge pumpkin falls off a truck into the edge of her yard. Splat! She covers the mess and ignores it. Vines begin to grow. She ignores them too. Until fall when her yard is covered with pumpkins. What will she do?

The Very Best Pumpkin by Mark Kimball Moulton
Peter lives on Pumpkin Hill Farm, where his family grows all kinds of pumpkins. Peter follows a long wandering vine to find a small lonely pumpkin. Every day he tends the pumpkin. He saves the pumpkin to give to a special friend.
More Pumpkin Ideas