Pumpkins are a great learning tool for the fall. Touching them, measuring them, cutting them, exploring them. In my classroom, we sang about pumpkins and decorated them as part of our exploration. Use this activity as you explore pumpkin, fall, harvest, Thanksgiving, or related themes. This activity is easy to do with minimal supplies – and your kids will love it.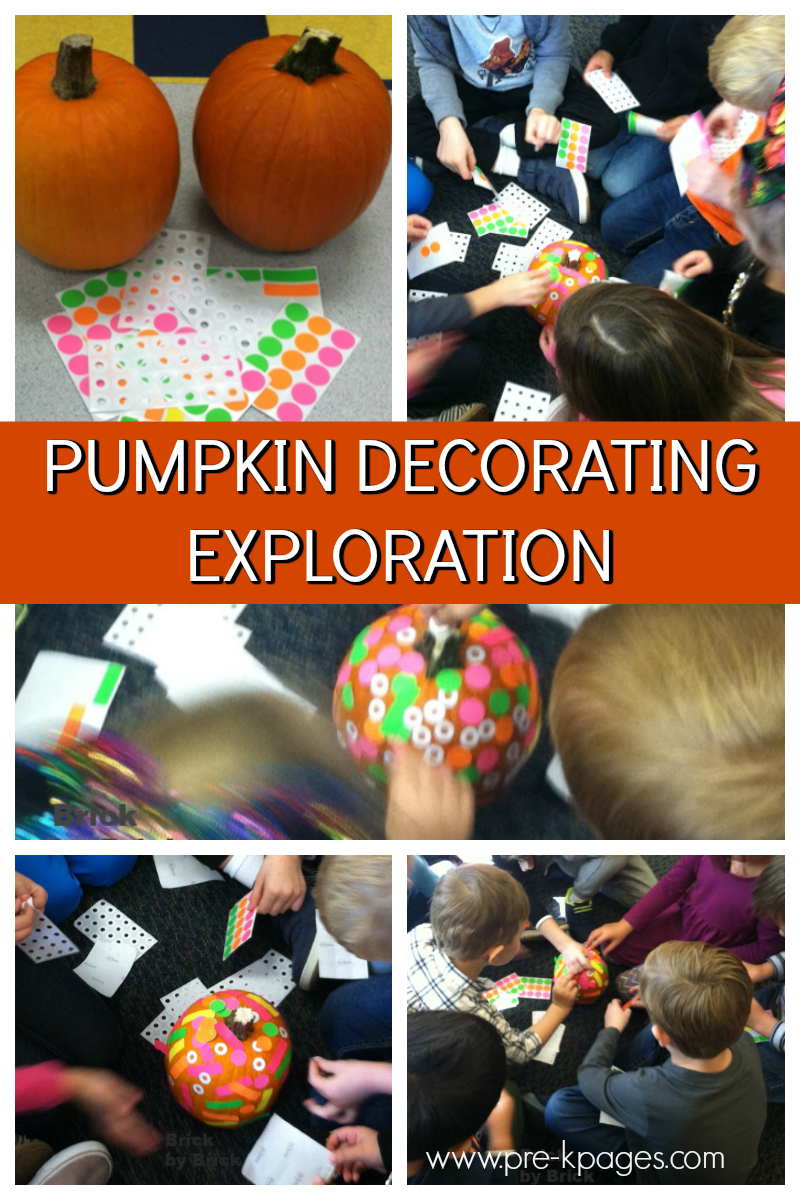 Pumpkin Decorating and Exploration
What you need:
Pumpkin (or several)
Stickers
In this activity, you can use a large pumpkin, a couple of medium pumpkins, or small individual pumpkins. It is easily adaptable for a group activity, a center, or a small group exploration.
For stickers, I used ones I purchased in the office section of a big box store. My kids love stickers and buying ones that are basic shapes and colors is more cost effective. (And I can find them easily!) The ones in these pictures are neon circles and rectangles and white hole reinforcements.
Pumpkins Exploration
Show the pumpkins to your class. Talk about the shape, color, texture, and other attributes. For more detailed explorations, add magnifying glasses. Encourage kids to touch the pumpkins and even smell them. You could also offer paper and pencils for kids to record their observations. (Use this Science Observation Notebook.)
Set the pumpkins on the floor or a table. Place a few sheets of stickers around each pumpkin. Let the kids start decorating. They will attach stickers as long as I let them. And I love how they look when complete.
While this activity is fun, it's also building those fine motor skills as they peel the stickers and attach them to the pumpkins. And it's helping to build your community as kids work together and complete cooperative projects.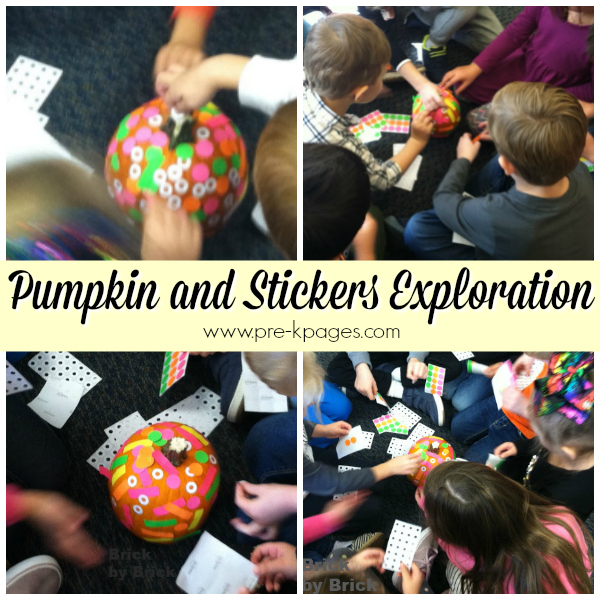 Pumpkin Song/Chant
Here's a song/chant I created to use with our pumpkins. (Use your own tune or just say the poem rhythmically.)
One little pumpkin, orange and round
One little pumpkin sitting on the ground
Whoosh! The fall wind blew that day
Blew the pumpkin far away.
No little pumpkins, orange and round
No little pumpkins sitting on the ground
Whoosh! The fall wind blew again
Blew the pumpkin right back in.
(By R. Scott Wiley)
We say/sing the words and blow after saying the third line. Then I move the pumpkin behind my back for the last line. If you have more than one pumpkin, start with several and sing that number. Take one away each time and repeat the song as you count down.
When we blow on the second stanza, I bring the pumpkins back in front of me.
Enjoy exploring pumpkins this fall!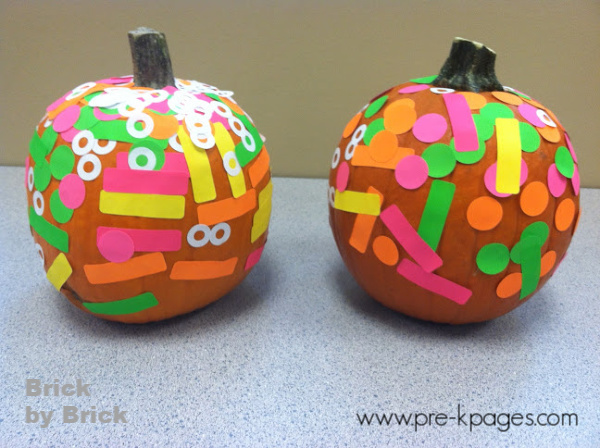 BIO: Scott Wiley, an early childhood educator for 30 years, is managing editor for Pre-K Pages. He is currently music teacher for 1s through 4s at a church preschool. His blog Brick by Brick explores the connection between play and learning. Connect with Scott on Twitter, Facebook, and Pinterest.
More Pumpkin Ideas