In the fall, you often see lots of pumpkins and gourds in the stores and farmers markets. Pumpkins and gourds are great inexpensive resources for learning. Children need experiences with nature items, especially in a world that is more and more digital and indoors. These pumpkin activities for preschool will encourage your preschoolers to get hands-on with pumpkins and gourds.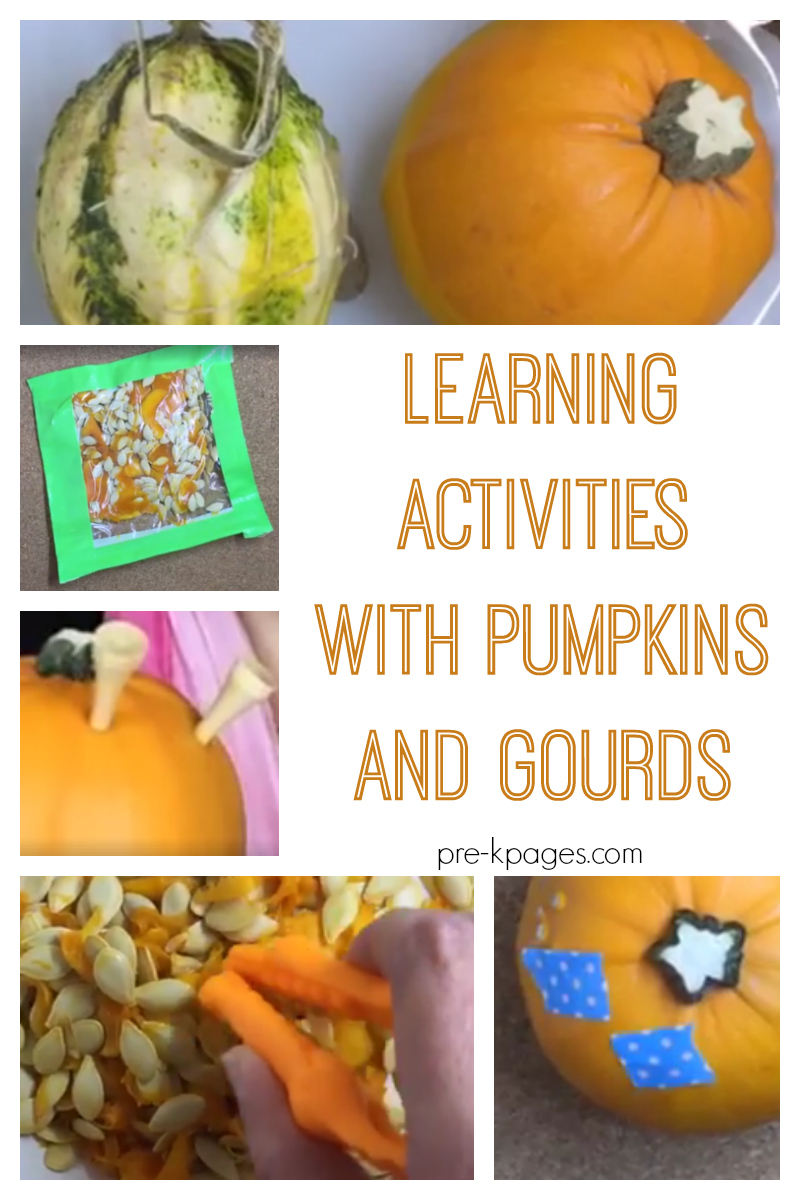 Pumpkin Activities For Preschool – In the Science Center
Introduce the pumpkins and gourds during your circle time. Talk about what they are and discuss things like color or texture. Build vocabulary with different words to describe them. Compare and contrast them…and even sort them by shape, size, color, or texture.
Then place the pumpkins and gourds on a tray and set them in your science center. Add magnifying glasses for the preschoolers to use. (Increase opportunities for investigation and conversation by adding pinecones, too.)
Encourage children to record their observations. You can use blank paper. Or use this free printable: My Science Observation Notebook. Preschoolers can draw what they see in the book. Keep the science notebooks in the science center so children can add more observations (of these items or other items added to the center). Recording observations encourages purposeful writing and builds literacy skills.
You could even try Planting Pumpkin Seeds in a Pumpkin!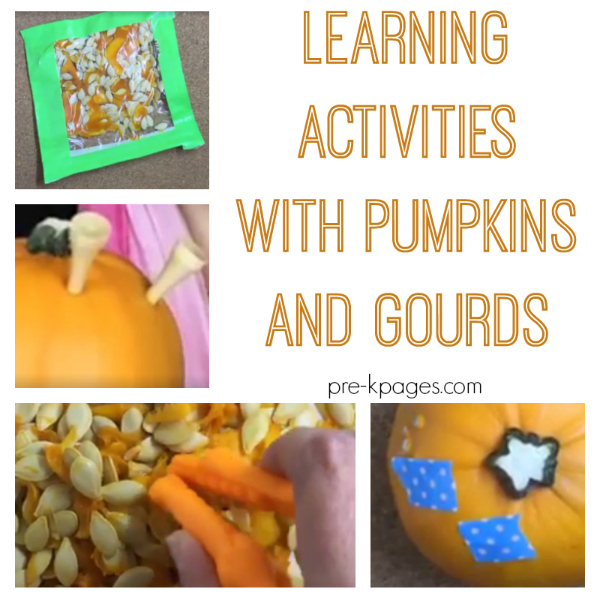 Explore the inside of the pumpkin.
Cut open the pumpkin and clean it out. Explore the "guts" and the seeds. (See Pumpkin Science Exploration.) After you have cleaned out the pumpkin, scoop the "guts" into a sandwich bag. Tape around all four sides with duct tape. Make several bags. Put the bags in a tub in your science center. Children can press and explore the insides of a pumpkin without the mess. This activity is good for children with sensory issues and those who do not like to get too messy. Refrigerate the bags when not in use so they will last longer.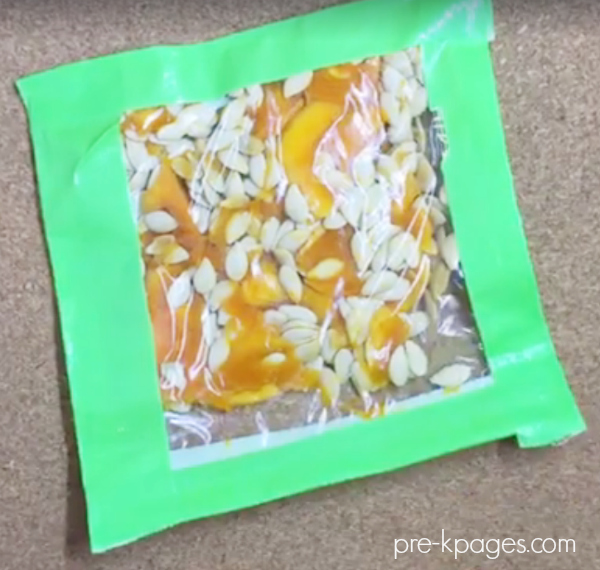 Pumpkin Preschool Activities in Math Center
Measure them. Place tape measures with the pumpkins and gourds. Make a dot on the pumpkin for where to start measuring (to place the 0). Wrap the tape measure around the pumpkin and help read the number. Or place different lengths of yarn with pumpkins and measure around (or part way around) the pumpkins. (For more information, see How Does Your Pumpkin Measure Up?)
Note: Check IKEA for paper tape measures.
Weigh them. Place small pumpkins or gourds with the balance scale. Add other items (or find items around the room) and test to see what's heavier or lighter than the pumpkin or gourd. Use a large piece of paper to create a T-chart and record what is heavier and lighter.
Count. Use pumpkin seeds as counters. Wash and dry them before handling. Encourage children to estimate how many seeds are in a pumpkin when you first open it. Incorporate seeds in your regular counting games.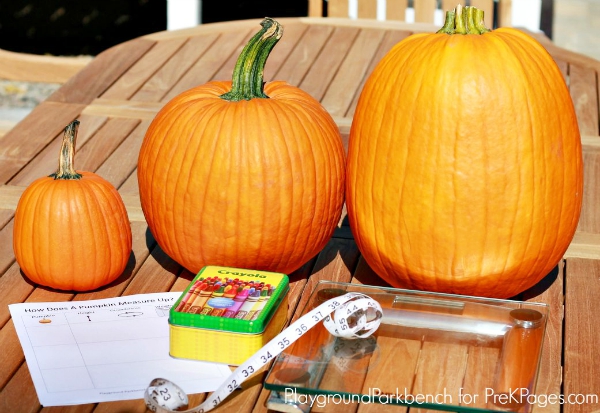 Pumpkins and Gourds in Fine Motor or Sensory Center
Transfer seeds. Place some of the pumpkin insides in a bowl. Place large tweezers (like Gator Grabbers) and another bowl nearby. Invite children to use tweezers to pull seeds from the insides and transfer the seeds to another bowl.
Sink and float. Place a variety of items–pumpkins, gourds, pinecones, stones, and so forth–on a table with a bin of water. Children can guess if items will sink or float and then test their ideas. Chart or graph the sink-and-float data.
Hammer. Invite children to use wooden crab mallets to hammer wooden golf tees into larger pumpkins. After children have hammered several tees in a pumpkin, children can connect the tees with rubber bands like a geoboard.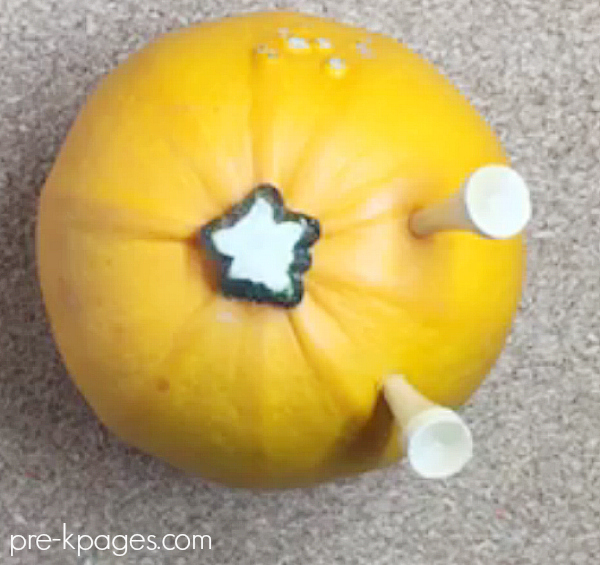 Other Pumpkin Preschool Activities
Draw on them. Use washable markers to draw on pumpkins. Wet wipes will erase the markers from the pumpkin.
Match them. On stickers, draw shapes, letters, or other symbols. Make pairs of each shape/symbol. Put the stickers on the bottoms of small pumpkins or gourds. Set the pumpkins/gourds on the floor in a group. Invite children to choose two and look at the bottom to find matches.
Bowl with them. Fill water bottles with sand or rice. Set up several water bottles in a group. Roll a pumpkin and knock down the bottles. Ask questions like: "How many did you knock down? How many more do you need to knock down?" (Start with groups of 5 bottles.)
Decorate them. Tear pieces of washi tape and stick to the pumpkins. Or paint on them. (White pumpkins are great for this.) You can even use melted crayons to decorate your pumpkins. Here are 25 No Carve Preschool Pumpkin Decorating Ideas to use with your preschoolers!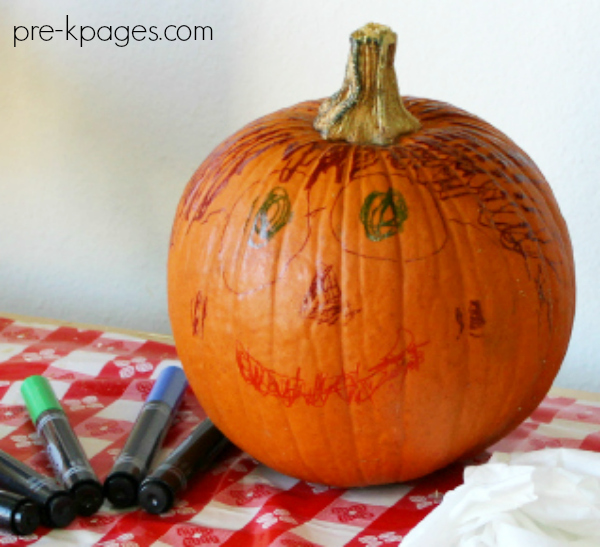 Watch the Video
Check out the video to see more about these activities and think about how to use them with your preschoolers.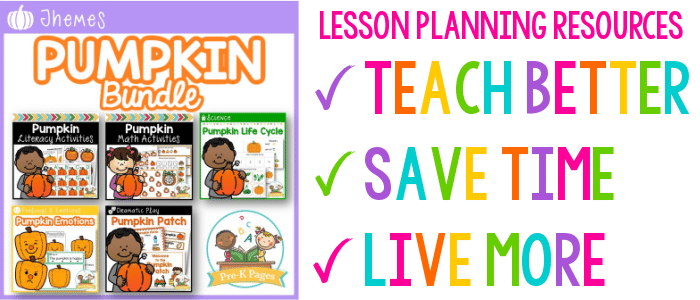 More Pumpkin Ideas