Christmas packages in pretty paper and bows are among my favorite things during the holidays, although I am terrible at wrapping presents. I always buy way too many rolls of gift wrap and end up with lots of scraps here and there that won't fit anything.  I've found the perfect use for those leftover bits of gift wrap and created a really fun Christmas sensory bin or holiday sensory experience for my preschoolers in the process.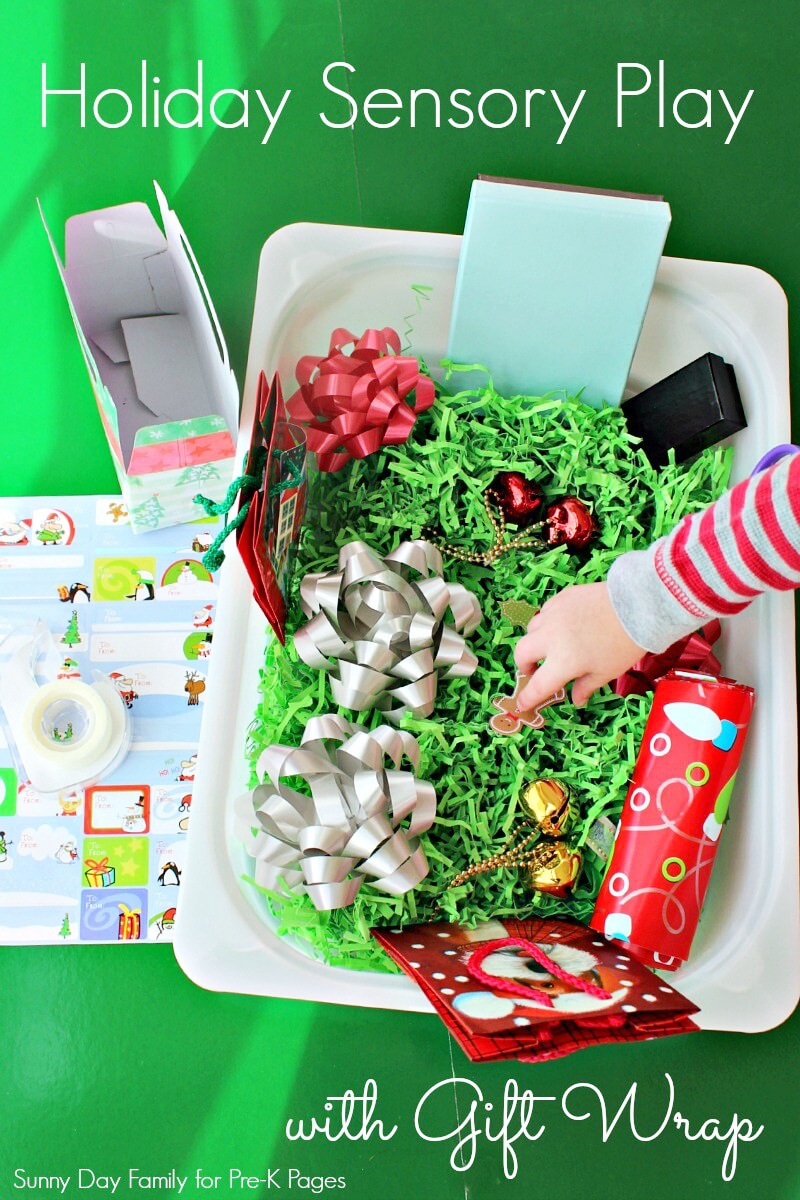 Christmas Gift Wrap Sensory Bin
This Christmas sensory play activity is easy to put together and uses materials that you may already have on hand during the holiday season. It's a wonderful way to reuse gift wrap, boxes, and bows in a way that encourages learning and fun!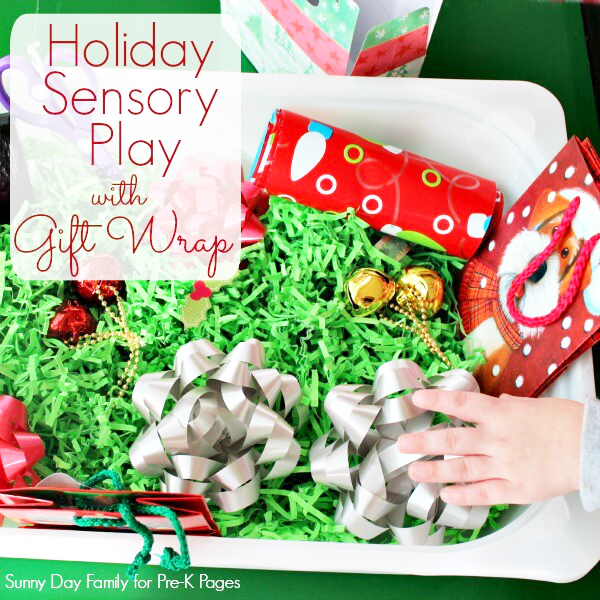 Prepare the Christmas Sensory Bin
To put together a Holiday Gift Wrap Sensory Bin, you'll need:
Shallow plastic bin
Gift bag filler (you can purchase this or just shred some colored paper)
Bows
Decorative accents (I used jingle bells and some paper embellishments.)
Small empty boxes and gift bags
Safety scissors
Tape
Self-stick gift tags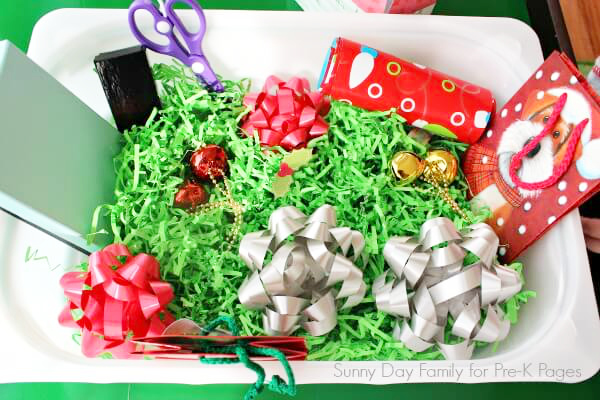 Fill the holiday sensory bin about half full with the gift bag filler or shredded paper. Then put your bows, embellishments, small boxes, and gift bags inside.
Place the labels, tape, and scissors to the side of the bin. I made a small bin for two children to use at the same time.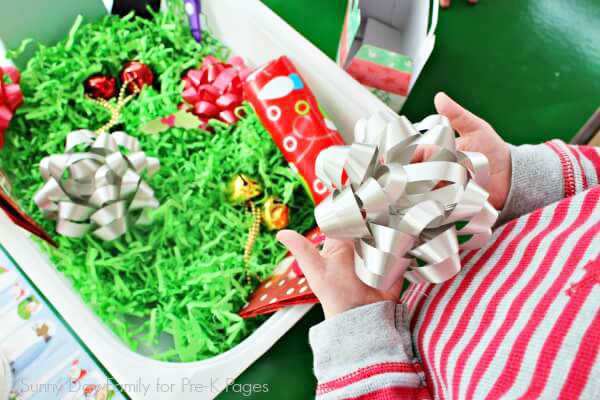 Explore the Christmas Gift Wrap Bin
Invite the children to explore! The bows were an instant hit – my boys loved holding them and exploring their curves and shapes. This was a great opportunity for us to discuss colors and shapes and to count the loops.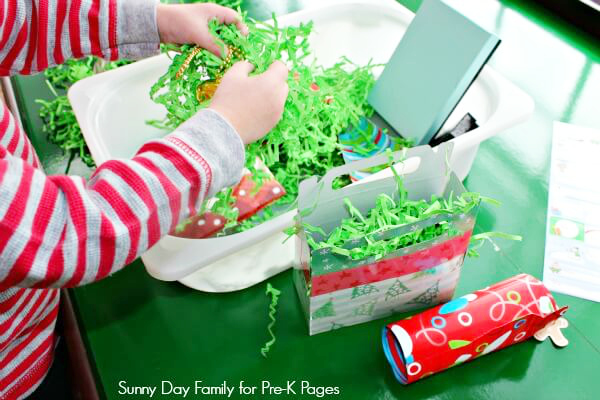 Next they decided to dig into the shredded paper. I encouraged them to check out the gift bags and boxes and wrap their own presents. They loved packing the paper and embellishments into the empty bags and boxes.
Aside from being tons of fun, it helped them to learn about volume and space as they tried to see how much paper they needed to fill their package.
We also had some fine motor practice sticking the gift tags to the boxes and bags.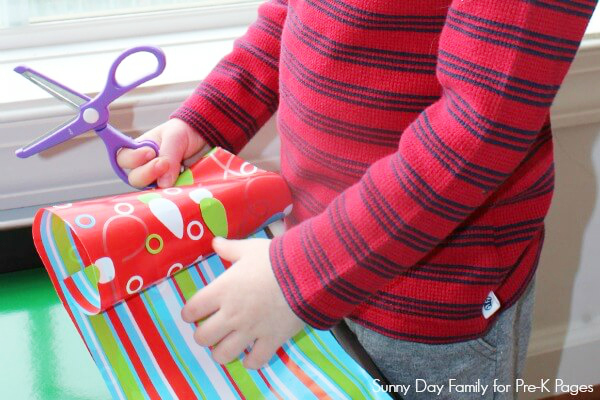 The pieces of wrapping paper were perfect for scissor practice! I encouraged them to work on their cutting skills and showed them how they could tape the pieces onto the boxes.
We had so much fun playing with this gift wrap bin, and it provided a number of learning opportunities as well. It was inexpensive and easy to put together, and also helped me to encourage a spirit of giving for the holidays.
You can re-purpose this idea through the year for birthdays and other holidays, too!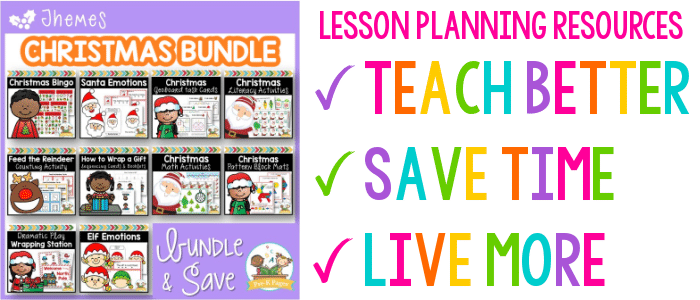 More Sensory Bin Ideas
BIO: Laura is a mom to twin boys and the author of Sunny Day Family, where she shares fun activities, home organizing tips, and easy recipes. Connect with her on Facebook, Pinterest, Instagram, and Twitter.