Looking for some fun, non-candy Halloween party snacks for school?
There's nothing worse than an entire classroom full of preschool or kindergarten kids on a sugar high after a classroom party.
Parents and teachers alike will appreciate these great ideas for healthy Halloween snacks that will (hopefully) help keep your party from getting out of control.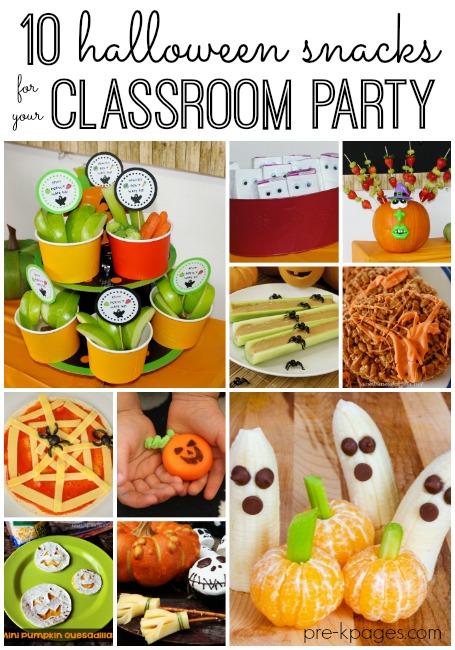 Healthy Halloween Party Snacks
Your kids will have a blast eating or making these creative, healthy Halloween snacks, and their parents will thank you for offering Halloween candy alternative snacks at the school Halloween party!
10 Halloween Snacks for School
1. Fruit and veggie cups with dipping sauce are always a hit with little kids. I even created printable treat toppers for you that say "Fruit Doesn't Scare Me!" or "Veggies Don't Scare Me!" Get your copy HERE.
2. Ghost Bananas and Tangerine Pumpkins: These are quite possibly the cutest snacks ever! Invite kids to add 3 chocolate chips to half a banana to make ghosts. The pumpkins are peeled tangerines with a piece of celery added as a stalk. Eating fruit has never been so much fun!
3. Kids will love eating the fruit from these Pumpkin Fruit Skewers!
4. Mummy Juice Boxes are super easy to make and even more fun to drink!
5. Spiders on a Log: A fun Halloween twist on the traditional ants on a log snack; celery, peanut butter, and raisins. Invite children to spread peanut butter on celery stalks and add raisins to represent spiders. Even your littlest party goers can make this one. You can use cream cheese as an alternative if you have children with peanut allergies.
Healthy Halloween Party Snacks
6. These Gluten Free Pumpkin Rice Krispie Treats from Mess for Less look delicious!
7. Spider Web Pizzas: Here's one that older children can make on their own. Invite kids to spread pizza sauce on a tortilla or English muffin, and then tear strips of sliced cheese to create a web. Toast the webs in your toaster oven and add olives to represent spiders.
8. Crafty Morning shares how to make these yummy and adorable Jack-O-Lantern Quesadillas!
9. Who could resist these not-so-spooky Mini Jack-O-Lantern Cheese Wheels from Mama Papa Bubba?
10. String Cheese Witches Brooms are sure to wow the crowd! Simply add a chunk of string cheese to the bottom of a straight pretzel and tie with a string of chive. Slice the bottom of the cheese up to create the whisps of the room. This would be the perfect snack to go along with the book Room on the Broom!
Bonus Halloween Snack Idea
These Jack-O-Lantern Mandarin Orange Fruit Cups from Crystal and Comp are too cute not to include! All you need is a permanent marker and you're good to go, your little goblins will gobble these up!
More Halloween Ideas