These pretend play apple activities for your dramatic play apple orchard center are both fun and educational.
Your kids will love to pretend baking apple pies, cooking apple butter and applesauce and more!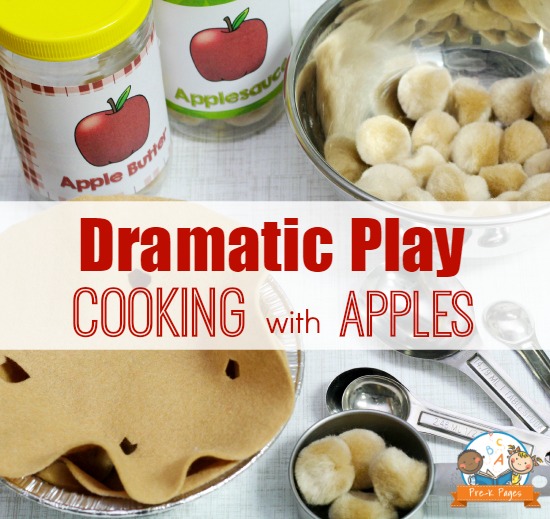 Apple Activities for the Dramatic Play Center
I used brown pom-poms that are similar in color to cooked apples. Invite the children to use the pom-poms to cook and bake apple goods to sell in the dramatic play apple orchard market stand.
Include mixing bowls, rolling pins, measuring cups and spoons in your dramatic play center to encourage scooping, pouring and rolling. As children cook they are using math skills such as:
Estimation: How many more pom-poms will fit in this jar?
Counting and Measuring: How many scoops of apples will fit in the pie?
More and Less: Which jar of applesauce has more apples? Which jar has less?
In the picture above you can see the plastic containers I used to hold the pretend apple butter and applesauce. The children scoop and pour pom-poms into the containers to create apple butter and applesauce to sell at the apple orchard market.
I also created a free set of labels for you to use in your dramatic play apple orchard center, keep reading to grab your copy!
Dramatic Play Apple Orchard Video
I created a video tour of my apple orchard dramatic play center, I hope you like it!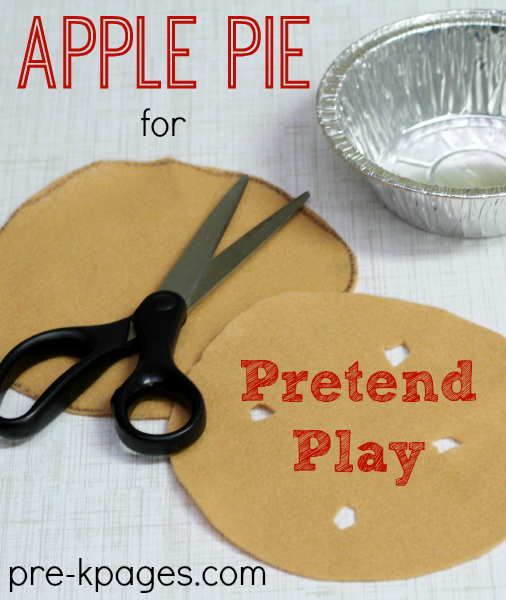 Felt Apple Pie Supplies
Here are the supplies you will need to create your own felt apple pie.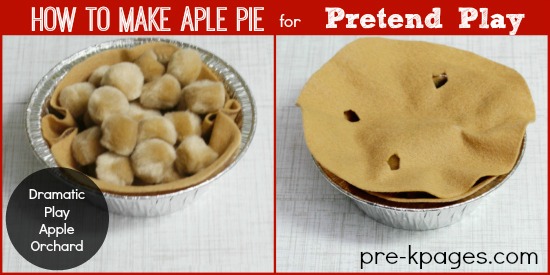 How to Make a Felt Apple Pie for Pretend Play
To create an apple pie for pretend play, first use the marker to trace around a small paper plate on the felt. Trace two circles, one for the top crust and one for the bottom crust.
Next, cut out the circles and make a few small cuts in the top crust to resemble the vents in the top of a real pie.
Then, place the pom-poms, felt crust, pie pans, and cooking utensils in your dramatic play center and watch the kids have tons of fun creating apple pies!
Free Printable Apple Labels for Pretend Play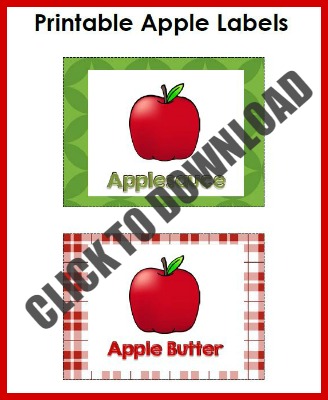 Click on the picture above to download the free printable apple labels for your dramatic play center. Just print the labels, cut out, and attach to the front of plastic containers.
More Apple Themed Ideas
Apple Print Number Line (Pre-K Pages)
Read the book Ten Apples Up on Top and create a life-size number line with apple prints.
Apple Hedgehogs: Fine Motor Activity (Pre-K Pages)
Use apple halves and toothpicks to create hedgehogs and develop fine motor skills.
Apple Counting Book (Pre-K Pages)
Make and count seeds on the numbered apples in this free printable book.
Apple Tree Alphabet Game (Pre-K Pages)
Identify letters on the tree and cover them with "apples" (pompoms); use a clothespin or tweezers to add fine motor practice.
Handprint and Fingerprint Apple Tree Art (Pre-K Pages)
Paint, trace, and cut to create an apple tree in this multi-step art exploration.
Apple Pizza Snack Activity (Pre-K Pages)
Make (and eat) your own apple "pizza" using this fun interactive snack activity.
Apple Tree Play Dough Activity (Pre-K Pages)
Explore trees and apples using play dough (and a free printable).