As we move into fall, we begin thinking about pumpkins. This snack activity connects to one of our favorite rhymes, Five Little Pumpkins. It is super fun to make and eat!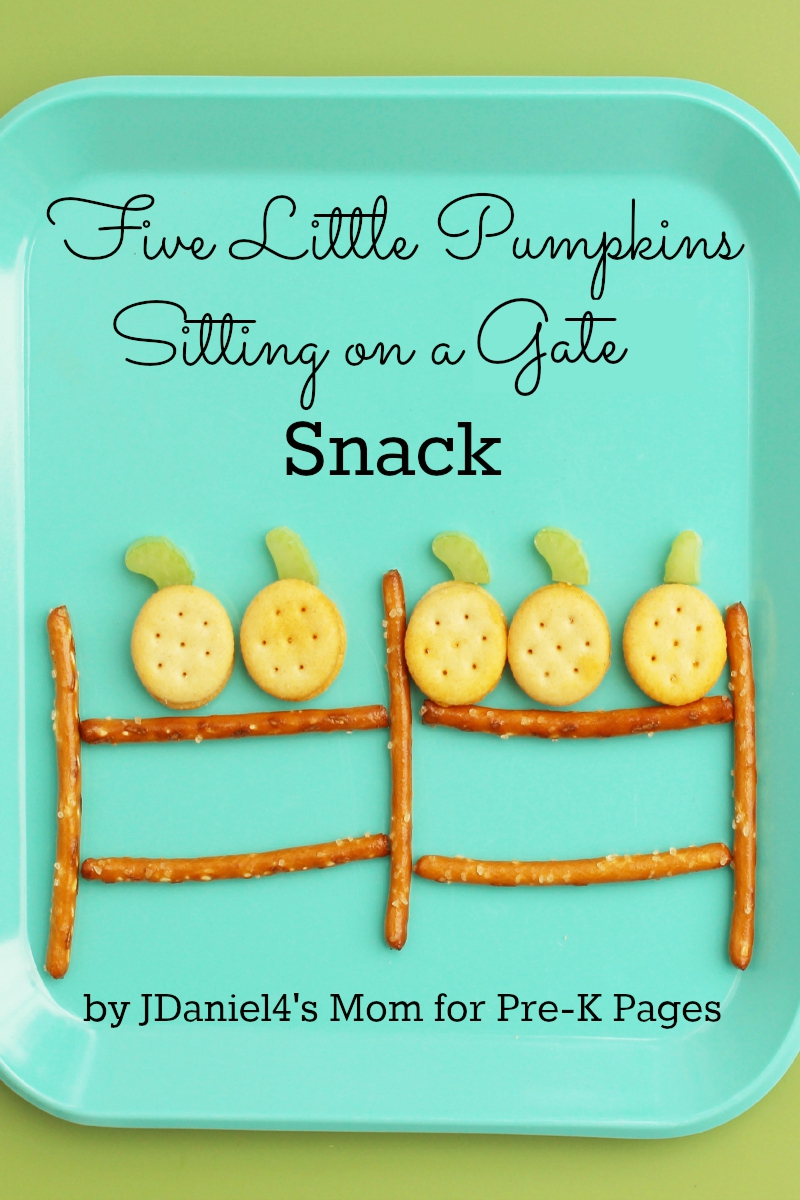 Pumpkin Snack
When my son was little, we must have read the book Five Little Pumpkins a zillion times. He just loved the rhythm of the text and the repetitive nature of the words.
It was tempting to make the pumpkin book disappear for a bit after reading it multiple times in one day. (Your children probably have favorite books like that, too.) We read it so many times that my son memorized the words. He used to "read" it to himself. This is a fun book that I bet your children will love, too.
To extend the concept of pumpkins disappearing from the story I decided create a fun snack that your children can make disappear.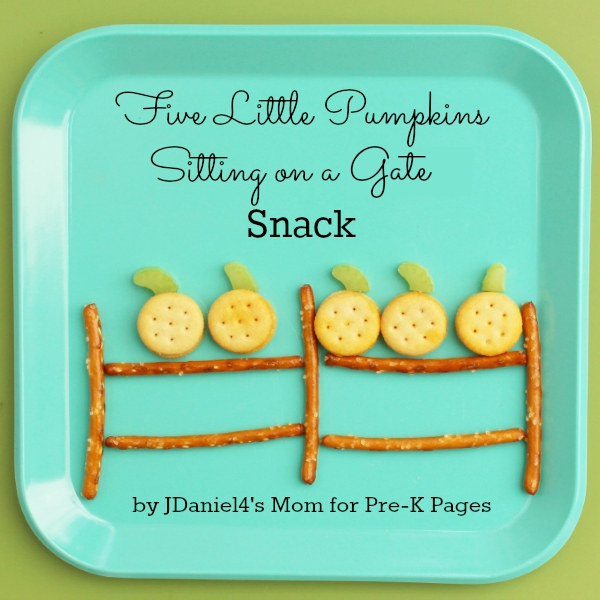 Make the Snack
Let me walk you through how the pumpkin snack was constructed!
Step One
Create a fence with pretzel sticks. If you children don't like pretzels, you could use potato sticks, narrow carrots sticks, or slivers of cheese.
Step Two
Place five small crackers on the fence to represent "Five Little Pumpkins". We used small cheese filled crackers. Plain crackers, carrot circles, or pretzel rings would work, too.
Step Three
Finally add stems to the "Five Little Pumpkins". We used horizontal slices of celery cut in half. Slivers of green peppers or green grapes would work too.
Your children could create the snack after reading the book Five Little Pumpkins . You could also have them deconstruct the snack while reciting the rhyme with you. That would be a fun way to have the children make their pumpkins disappear!
Say the Rhyme
If you are not familiar with the "Five Little Pumpkins" rhyme, let me share it with you.
Five Little Pumpkins Rhyme (Public Domain)
Five little pumpkins sitting on a gate.
The first one said, "Oh my, it's getting late!"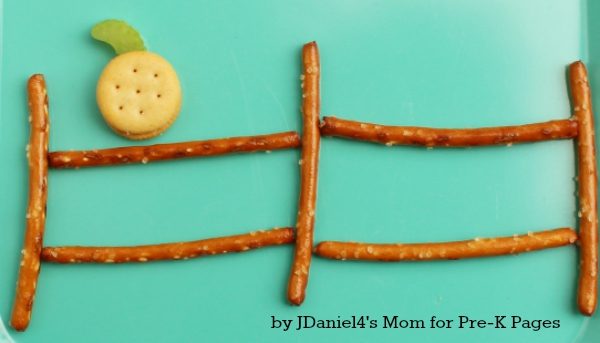 The second one said, "There are witches* in the air!"
(*Change to "leaves" or "birds" for a fall theme rather than Halloween theme)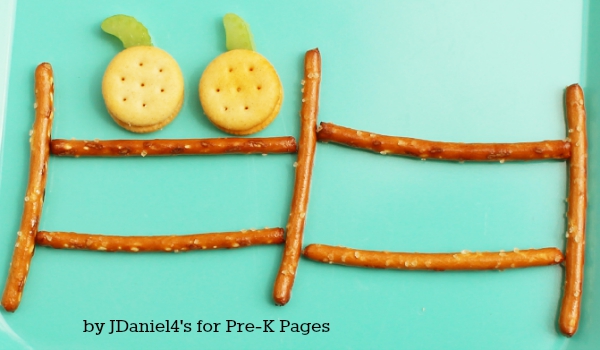 The third one said, "But I don't care!"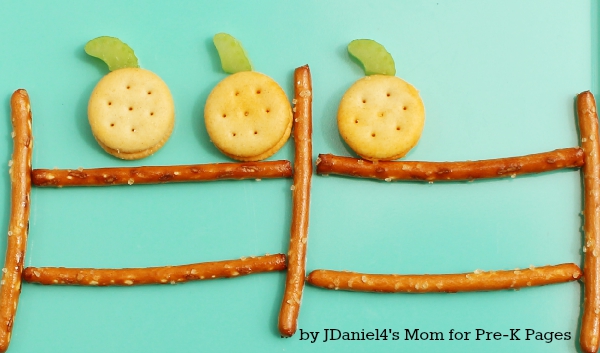 The fourth one said, "Let's run and run and run!"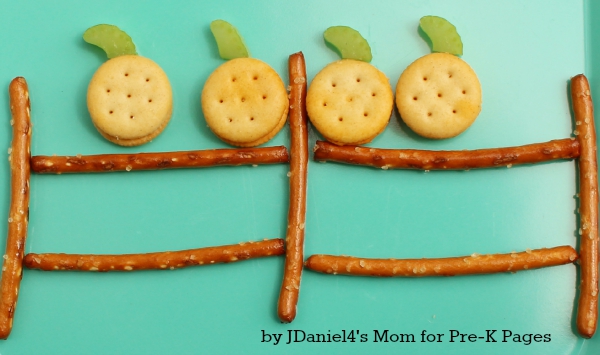 The fifth one said, "We're ready for some fun!"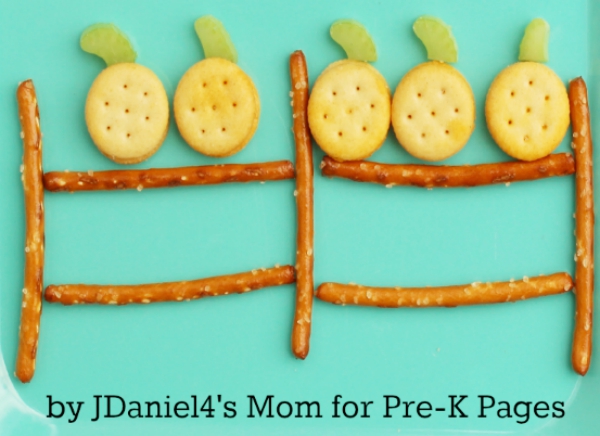 "Ooooooo" went the wind and out went the lights.
And the five little pumpkins rolled out of sight.
Have fun eating your pumpkin snack!
BIO: Deirdre is the author of JDaniel4's Mom where she shares other learning activities, printables, crafts, and food creations. She loves growing and learning beside her son. You can find her on Pinterest, Facebook, and Instagram.
More Pumpkin Ideas