It can be challenging to find activities that engage mixed age groups. Sensory bins are my indoor go-to for experiences that occupy both my 2 and 4 year olds, they can complement all themes and learning areas.  This week, we introduced a Christmas sensory bin, filled with peppermint-scented rice, holiday shapes, and letters. This bin incorporates some writing practice, too. This activity is great for a Christmas theme.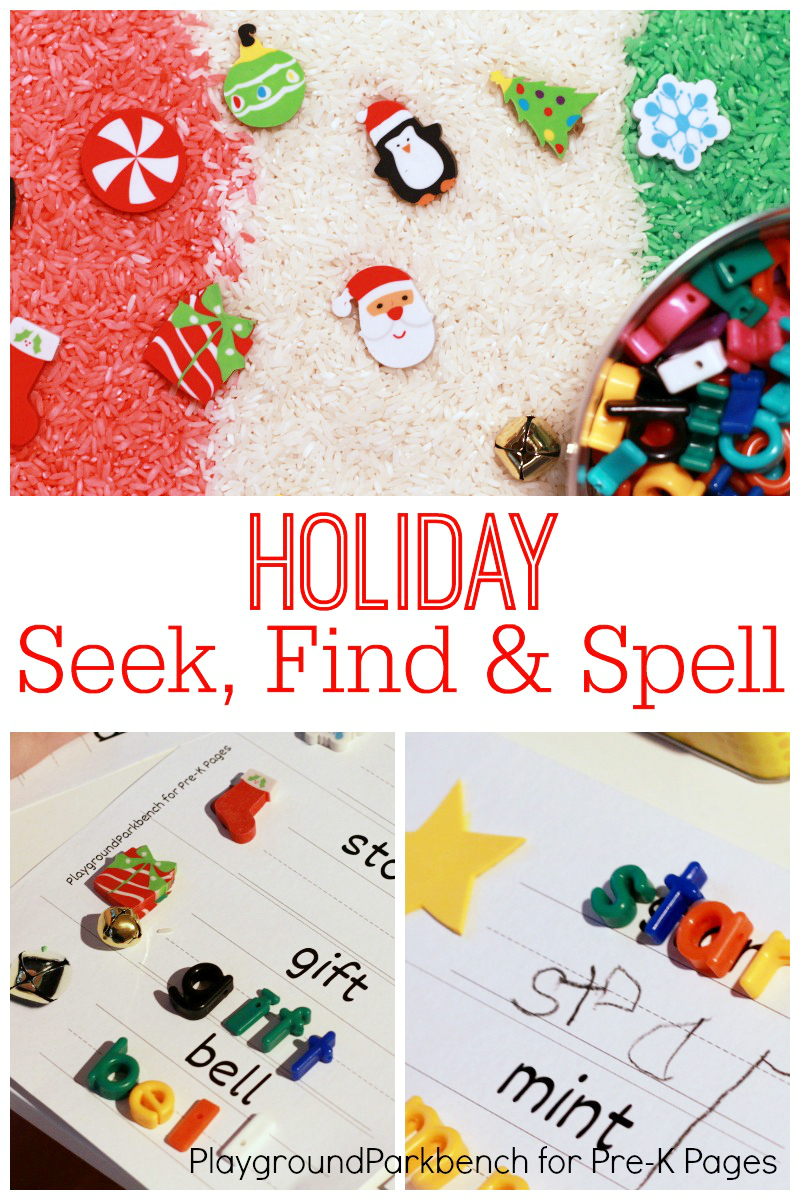 Sensory Bins
A sensory bin is any container filled with a large quantity of filler and props that allow children to freely explore and discover using multiple senses. In this case, the filler is peppermint-scented red, white, and green rice. The props in this bin are holiday erasers you can find at your local Dollar Store and lower-case letter beads.
Sensory bins, like this Christmas sensory tub, are great to use among children of multiple age groups because you can add different activities to make it more challenging for older preschoolers, while younger children may just be interested in free play and exploration in the bin.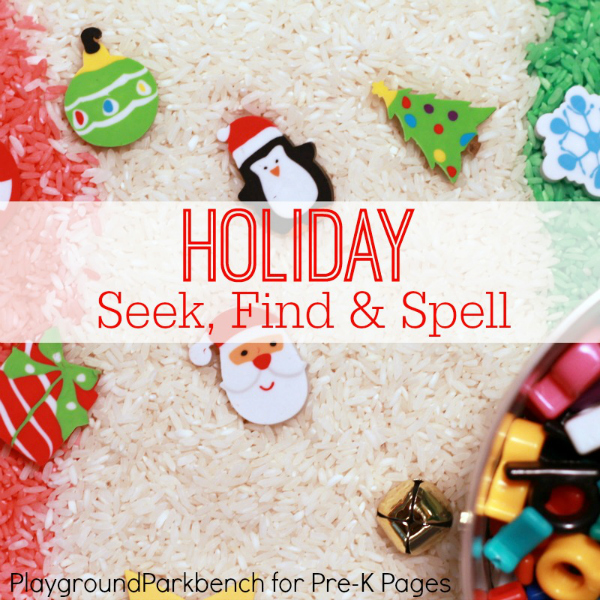 Making the Christmas Sensory Bin
Materials:
White Rice
Vinegar, peppermint extract, food coloring
ziplock bag, cookie sheet
Large container or bin
Holiday erasers or other holiday items
Smaller container for the letters (optional)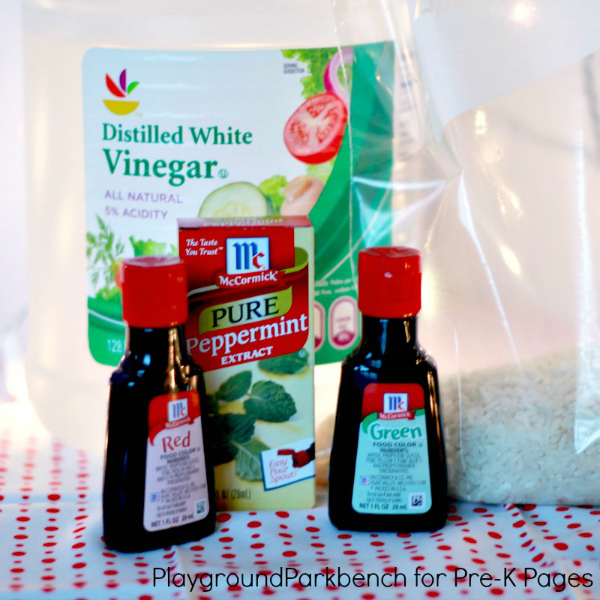 Making Your Christmas Sensory Bin
Rice is an easy and inexpensive sensory bin filler. It is also easy to scent and color, adding to the sensory elements.
To make your own colored, peppermint rice:
Place 2 cups of white rice in a Ziplock bag with 1 TBSP vinegar, 1 TBSP peppermint extract and 10-20 drops of food coloring.
Shake the bag until color is evenly distributed.
Pour the rice onto a cookie sheet and allow to dry for 2-3 hours.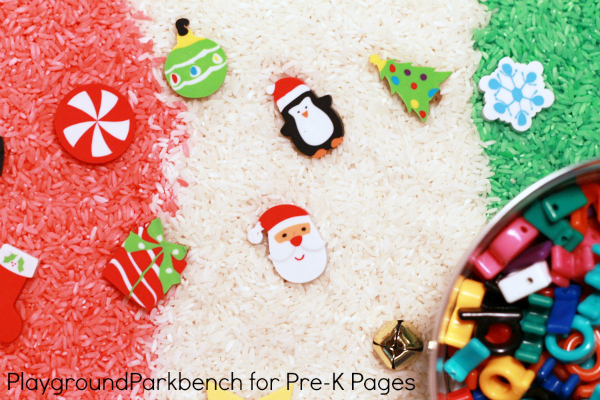 Once the rice is dry, add it to a large container, and then add your holiday shapes. If your bin is large enough, you can add the letters too, or leave them in their own container on the side.
Seek, Find, and Spell
Using the writing printable as a search guide, the kids split up the pages and began digging in the peppermint rice to find the holiday shapes. Digging in the rice and pointing out various letters she recognized was as far as my 2 year old went with the activity.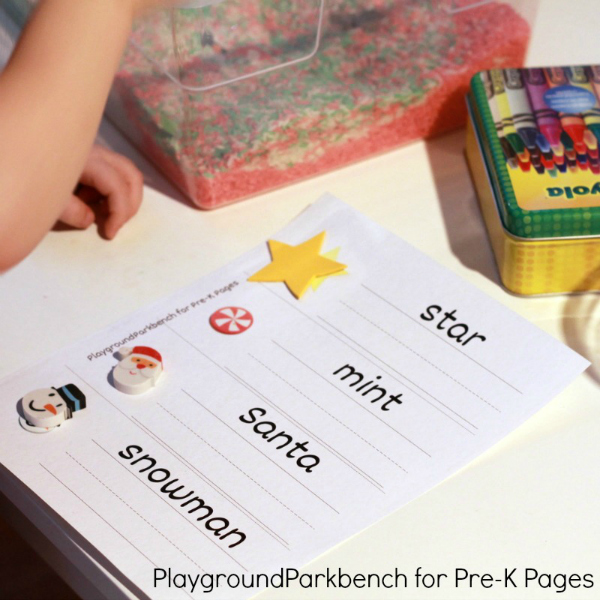 My preschooler, age 4, took it two steps further. After finding and matching her holiday shapes to her search guide, she matched letters to the printed labels for each shape.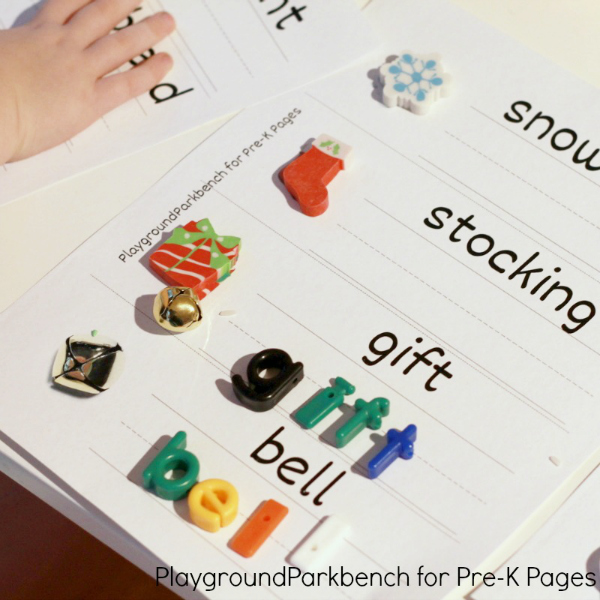 And then, she wrote the words herself as well! She is very proud of her emergent writing skills.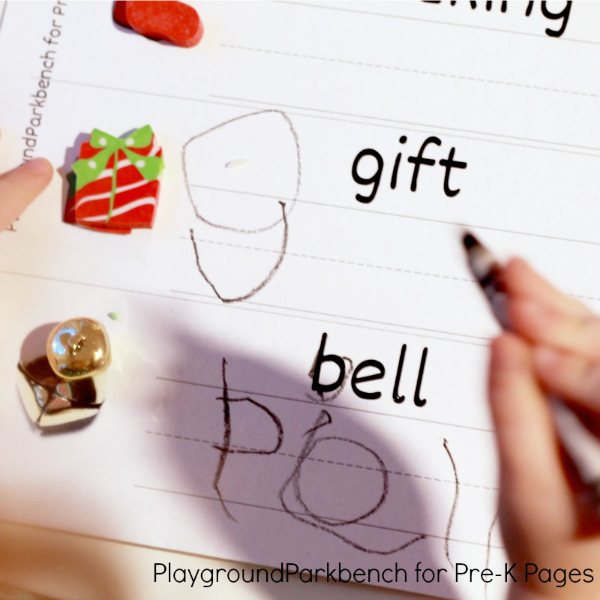 Easy Clean-Up, Storage
Another great thing about sensory bins is that they are self-contained, making clean-up a breeze. Put all the pieces back inside, put the lid on, and store it for another round of play.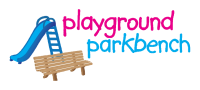 BIO: Meghan is a former hedge fund professional turned SAHM to Big M (4), Lil' M (2), and Baby M (1 month). She writes at Playground Parkbench, where she shares at-home kids activities, parenting tips, and financial savvy for the household CEO. When she's not busy changing diapers or dying filler for sensory bins, you can find her on Facebook, Instagram, Pinterest, and Twitter!
More Christmas Ideas
Christmas Tree Sensory Bin Printable– Sensory bins are great ways to engage preschoolers in exploring and to build conceptual knowledge. This Christmas sensory bin builds pre-literacy skills. Children can find and match alphabet letters. They build visual discrimination skills, identifying the differences among letters. And they have so much fun digging in the bin to find the letters.
Five Senses Activities for Christmas – The five senses are key tools for preschoolers to explore and understand the world around them. When teachers can engage one or more of the senses, the learning experience becomes more concrete and more memorable. Here are over 20 activity ideas that will engage the senses as you invite preschoolers to learn more about Christmas.
Salt Dough Christmas Ornaments Kids Can Make- Salt dough ornaments are a classic Christmas craft, but they're also tons of fun for kids and super easy to make.  The best part? You probably already have the ingredients you need sitting in your pantry at home!
Candy Cane Slime (Pre-K Pages) – This a fun activity you can do with your kids for Christmas at home or in the classroom. It's perfect for those cold winter days when you can't get outside as much as you (or the kids) would like!
Christmas Jingle Bell Sticks (Pre-K Pages) – Learning and playing music is one of the great joys of the season for kids, and my preschoolers are really getting into it this year. To help them enjoy Christmas music even more, we made our own instruments inspired by one of our favorites – Rudolph the Red Nosed Reindeer!