Do you struggle to find time to change out the props in your dramatic play center? These printable props will help you easily transform your dramatic play center into a Vet Clinic.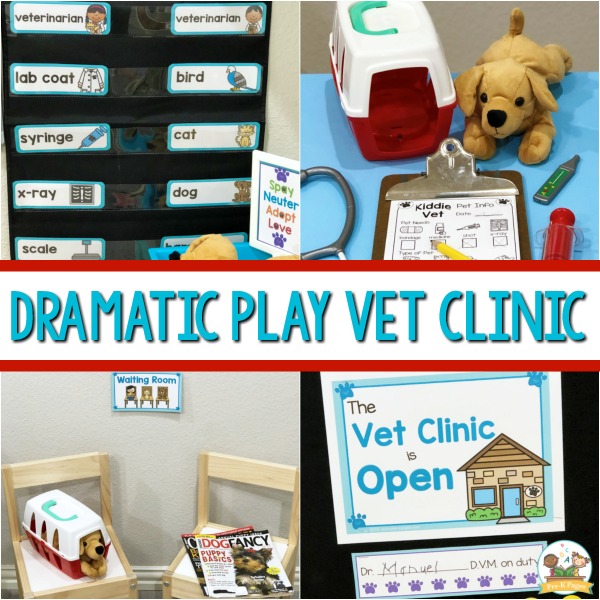 Give your basic housekeeping or dramatic play center a makeover by adding some stuffed animals and a few simple props. Your kids will love taking care of their pretend pets and making them feel better in their very own animal hospital!
Vet Animal Hospital Dramatic Play
This packet also provides research that explains how dramatic play supports academic learning. The Vet Clinic play kit is infused with literacy and writing opportunities that support current learning standards.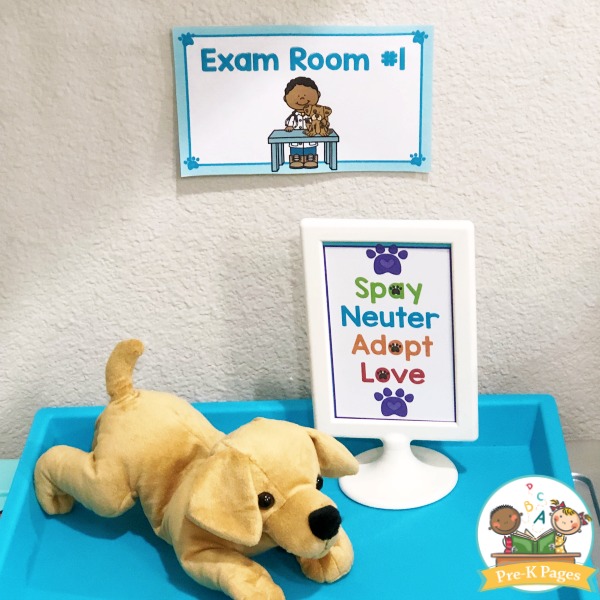 What You Get
The 72 page Dramatic Play Pet Vet Clinic Kit includes the following printables:
25 Signs (color + b/w)
1 Banner (color + b/w)
24 Picture Cards (color + b/w)
4 EForms (b/w)
Labels (color + b/w)
Role Playing Name Tags (color)
Book List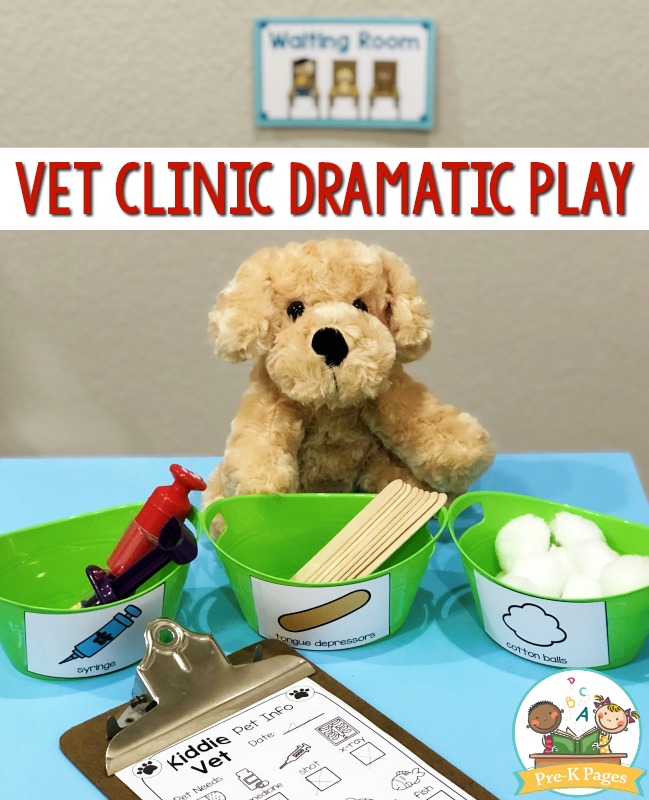 Labels
Quickly and easily label the supplies in your dramatic play vet clinic with these editable labels.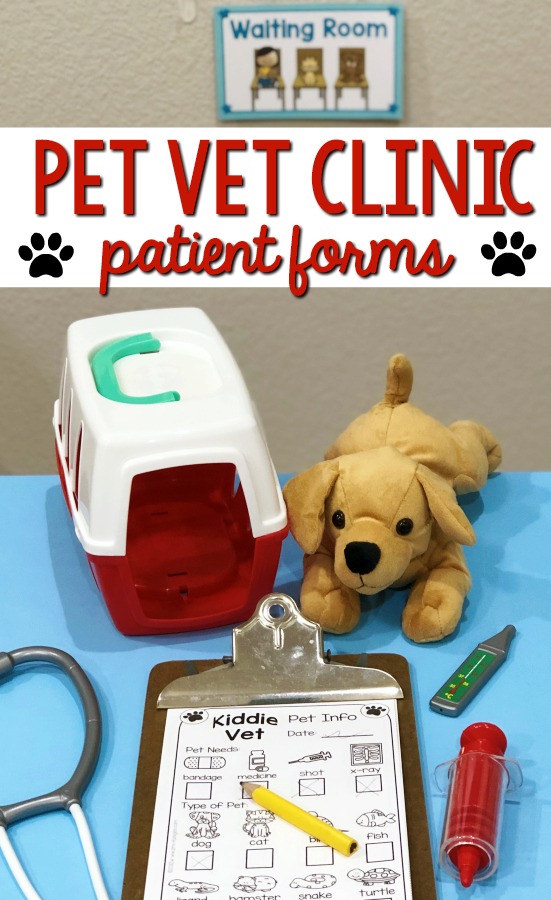 Patient Information Forms
What seems to be the problem today? Print multiple copies of the patient information forms and place them in your dramatic play center with clipboards and pencils. Your little learners will love diagnosing and treating their pet patients!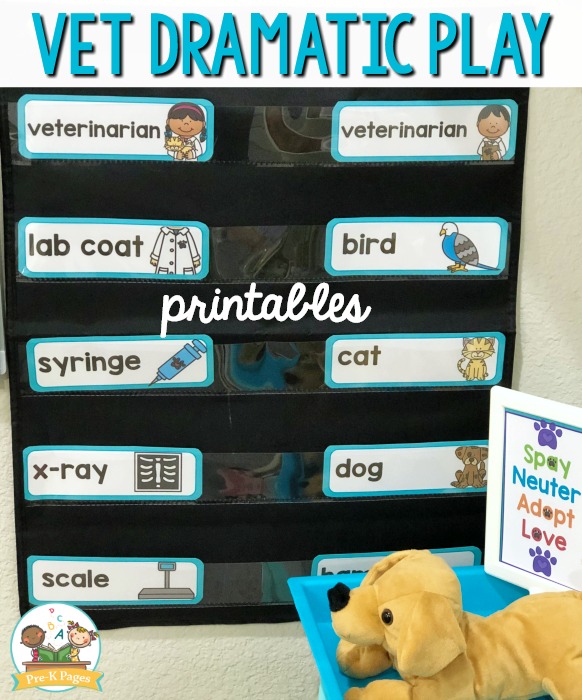 Printable Picture Cards
Add these picture cards to your vet clinic to create a print-rich environment for your little learners.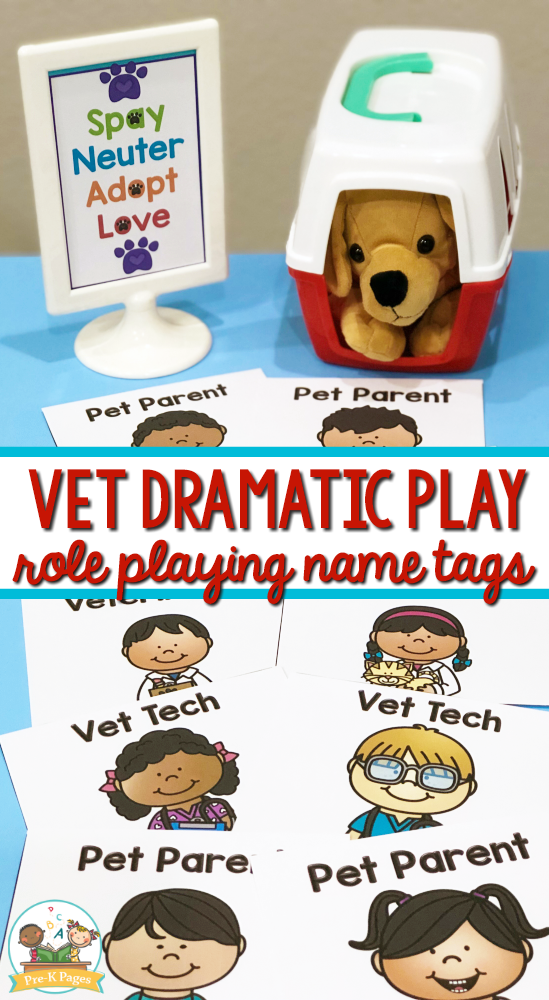 Role Playing Name Tags
There are so many things to do in the vet clinic! These printable name tags will help your little learners identify and choose a role to play in the vet clinic dramatic play center.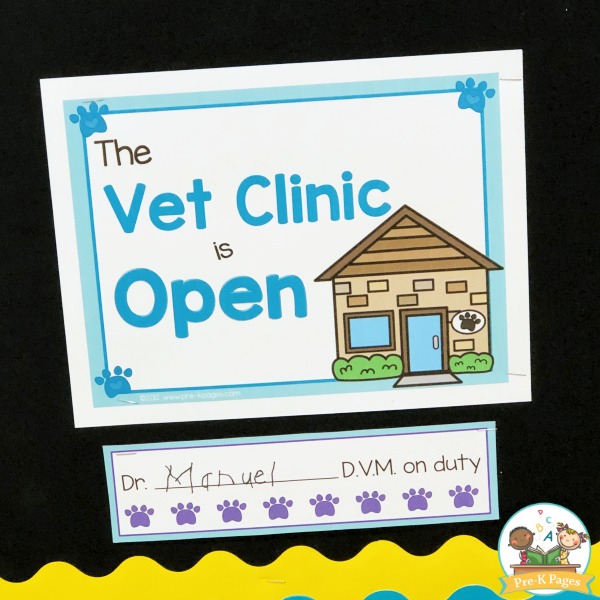 Dr. on Duty Printable Sign
You can laminate the "Dr. on Duty" signs and students can use Vis-a-Vis or dry erase markers to fill in their own names.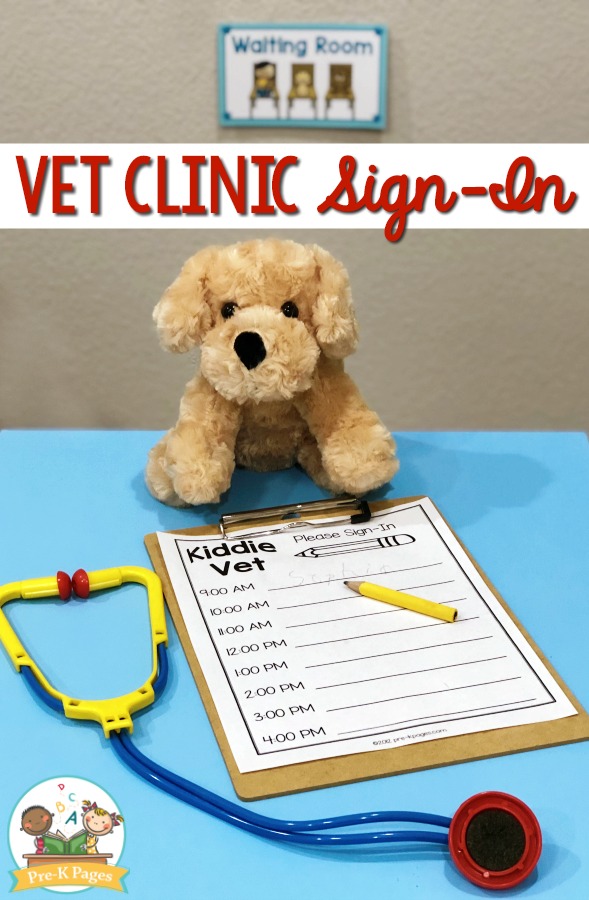 Please Sign-In
Signing in when they arrive at the vet clinic will motivate your kids to write for a purpose.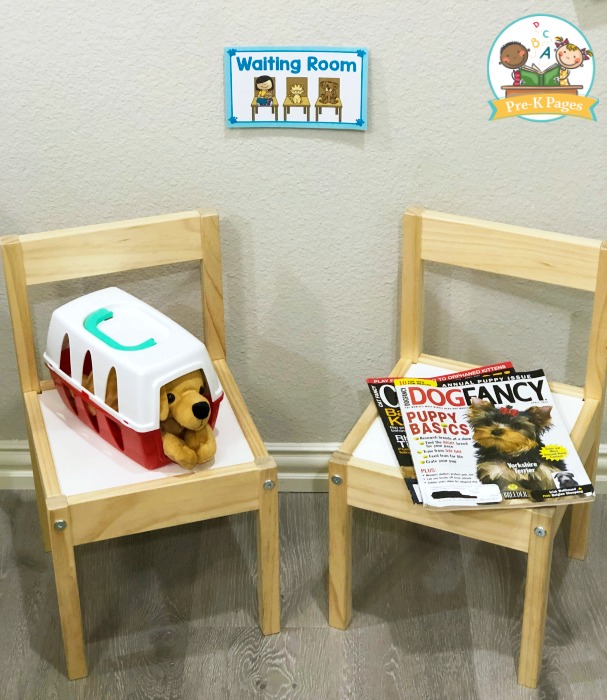 Vet Clinic Waiting Room
After they sign-in, your little learners and their pets can wait in the waiting room. If you can find some old issues of dog and cat magazines, they can look at them while they wait.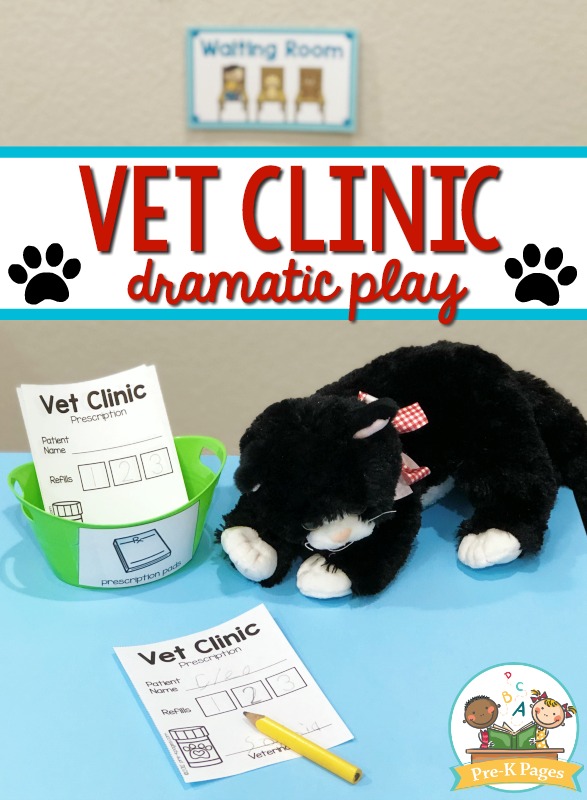 Prescriptions
If your pet needs medicine, the doctor can prescribe some using the printable prescription forms.
Pretend Play Pet Carrier
You can make your own pet carrier with two plastic baskets from the dollar store attached together with chenille stems.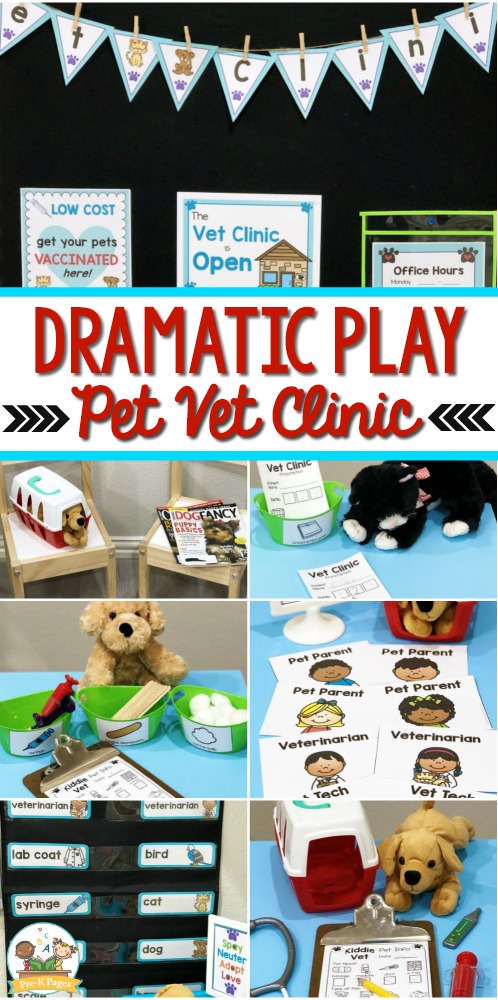 Purchase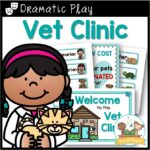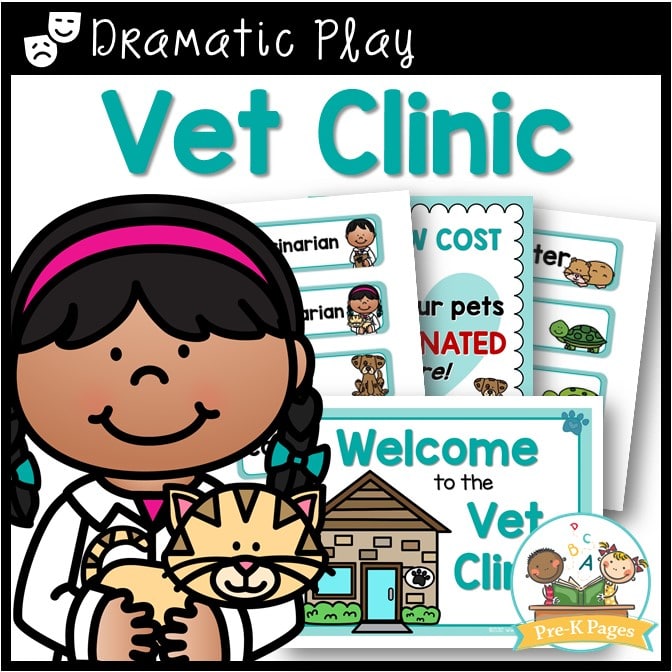 82 pages of printable props to help you easily transform your dramatic play center into a Veterinarian's Office.
More Dramatic Play Themes from Pre-K Pages
Veterinarian Play Resources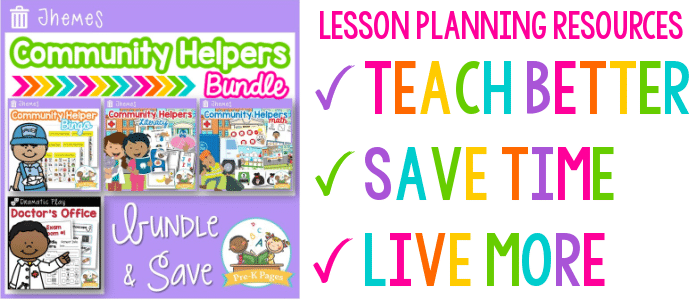 More Vet Play Ideas
Vet Dramatic Play Center from Prekinders