Earth Day is a time to think about caring for the world we have. Reusing and recycling materials are ways to be responsible. In this activity children can use recycled materials to use for painting and can explore the letters of the alphabet, too.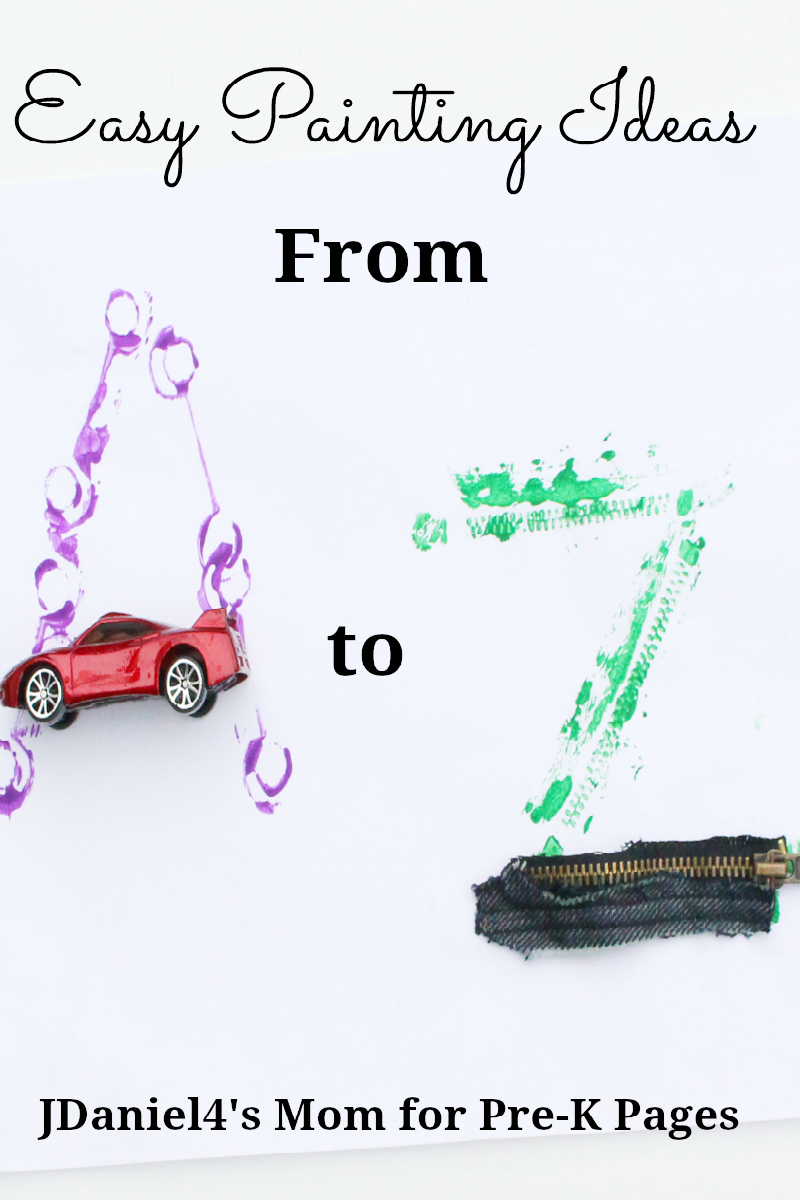 Painting with Recycled Objects
It is such fun to explore fun and easy painting ideas using a wide variety of objects. Earth Day would be a great day to focus on ways to paint with recycled objects.
We did a grand search to find objects to paint with that began with each letter of the alphabet.
Some of objects we found were not recycled, but the children did use the object in a new or different way. We decided that is a form of recycling, too.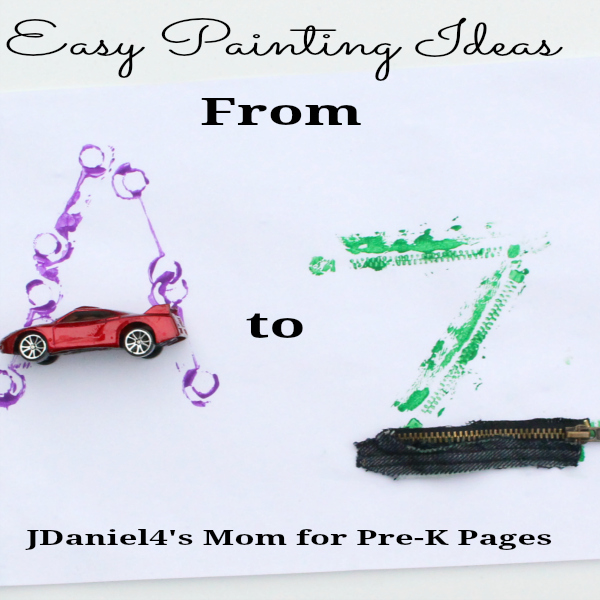 We tried to create letters of the alphabet with the painting idea that started with that letter although you really wouldn't have to paint this way.
You could easily let your children come up with their own easy painting ideas for each of the letters of the alphabet.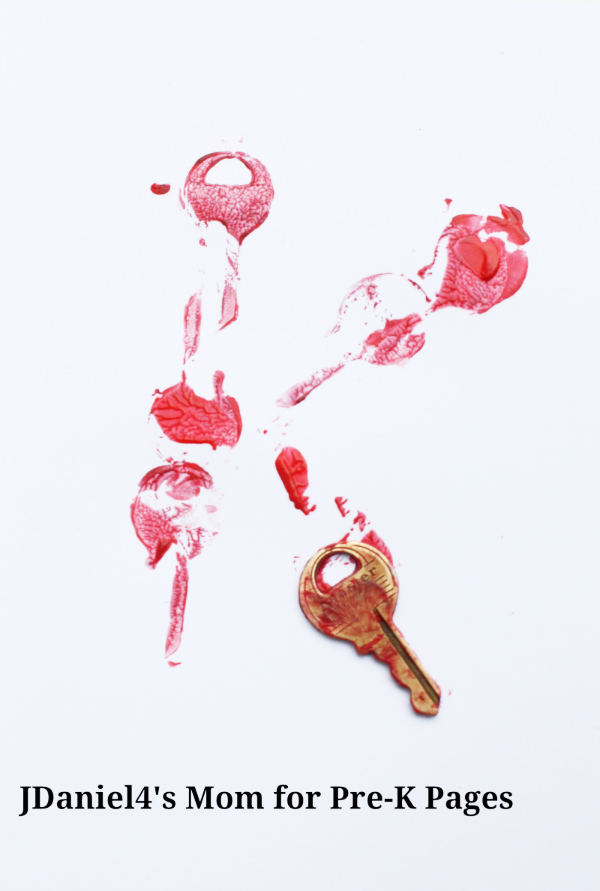 Another easy painting idea using painting tools for A to Z is to have them use the tool that would come before and after each letter to create a letter.
It would give your children who are ready for a challenge a chance to work on letter order.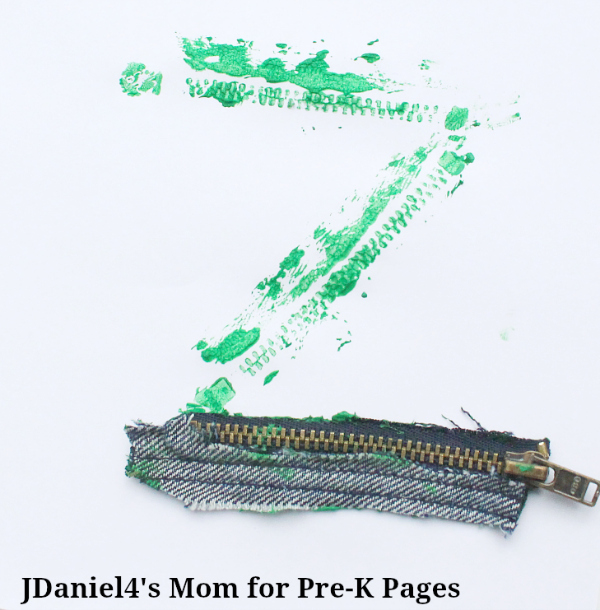 Honestly the most creative easy painting idea would be to put out all the recycled materials and found objects.
Then set your children loose to paint letters or explore the various designs that the objects make and create their recycled art.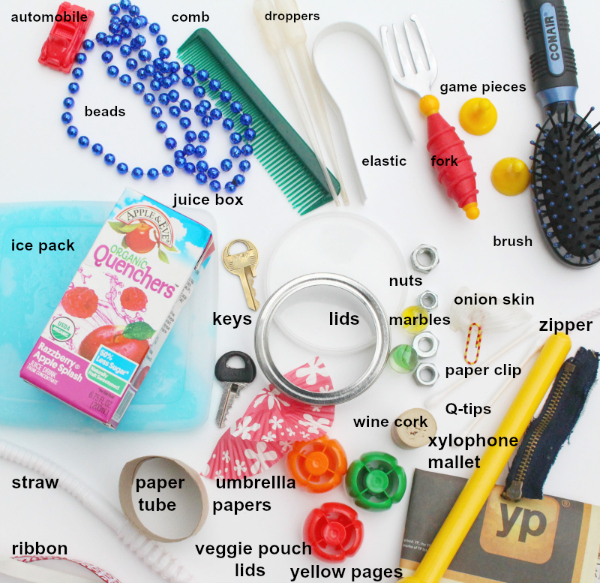 Painting Tools
Let me share with you the list of materials we gathered from A to Z to create our recycled art:
A= Automobile (You could use acorns instead if you have some.)
B= Beads on a Mardi Gras necklace
C= Comb
D= Droppers
E= Elastic Strip
F= Fork
G= Game Pieces
H= Hairbrush
I= Ice Pack
J= Juice Box (We used an empty juice box.)
K= Keys
L= Lids
M= Marbles
N= Nuts
O= Onion Skin
P= Paper clip
Q= Q-tips
R= Ribbons
S= Straw
T= Tube Made of Cardboard (We used a cut down paper towel tube.)
U= Umbrella Tops Made Cupcake Liners (Yes, This is a little bit of a stretch.)
V= Veggie and Yogurt Pouch Caps
W= Wine Cork
X= Xylophone Stick
Y= Yellow Telephone Book Page (We wadded ours up into a ball to paint with it.)
Z= Zipper from Old Blue Jeans with Worn Out Knees
Abstract Thinking
The goal of this project was to come up with a way to explore the alphabet using found objects to paint with. As I mentioned above we found a couple of easy painting ideas we could try while exploring the letters.
Using recycled materials or repurposed objects for painting helps children develop their thinking and creativity skills. They can begin to see things in different ways, thinking about using items in ways other than their intended use.
This kind of thinking helps build abstract thinking and helps children begin to see things in more than one way. As you help children begin to think abstractly, you are helping create a foundation for future math and literacy thinking.

BIO: Deirdre is the author of JDaniel4's Mom where she shares other learning activities, printables, crafts, and food creations. She loves growing and learning beside her son. You can find her on Pinterest, Facebook, and Instagram.
Earth Day Paper Plate Weaving (Pre-K Pages) – Paper plate weaving is a fantastic fine motor challenge. With Earth Day right around the corner, this simple paper plate weaving activity is a fun way to spark discussion with your students about stewardship of the earth while encouraging creativity!
Alphabet Clean Up (Pre-K Pages) – Earth Day is the perfect time to teach children about the environment and how they can help care for our planet. Today I'm sharing a way you can help your kids learn about the environment and the importance of not littering.
Sensory Play for Earth Day (Pre-K Pages) – Animals are a vital part of planet Earth and it's a wonderful idea to celebrate them on Earth Day. This sensory play activity for Earth Day is a great way to engage the senses while also talking about creatures that live on Earth.
Homemade Seed Paper (Pre-K Pages) – A great way to celebrate Earth Day for Kids is by making homemade seed paper. It makes a great process art activity for preschoolers, requiring very simple materials. It is also a great fine motor skill challenge and makes for fun sensory play with a little science mixed in, too.
Celebrating Earth Day (Pre-K Pages) – Most preschool and kindergarten teachers teach their students about fire safety and dental health; but teaching students to respect our planet is just as important.