Pumpkins are everywhere during the fall season and kids just love exploring pumpkins in the classroom! While it's fun to explore the inside of a pumpkin with children, it can be messy, smelly, and too slimy for some.  Today, I'm sharing an option for children to learn what's inside of a pumpkin and feel pumpkin "guts" without getting their hands dirty! Keep reading to learn how to create these super easy pumpkin sensory bags your kids will love.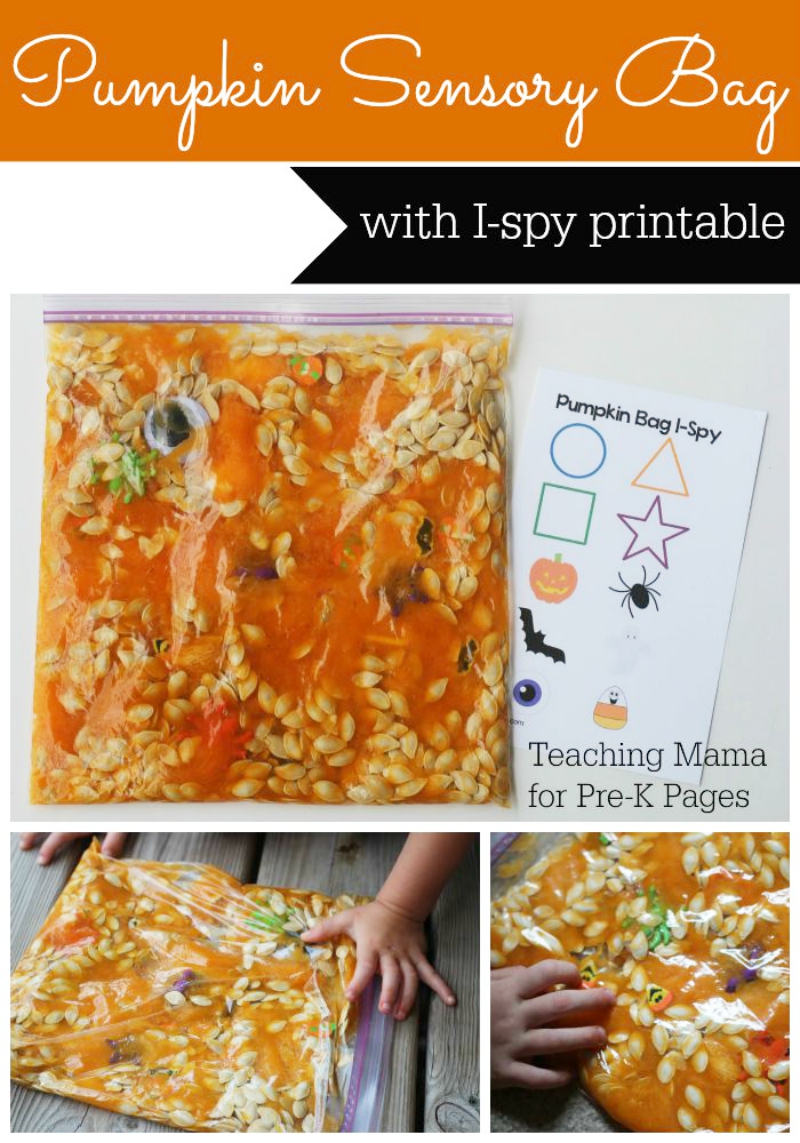 Pumpkin Sensory Bag
Sensory play is a great activity to expand a child's sense of touch. Sensory bags are an awesome way to bring sensory play into the classroom.
It allows the child to explore materials without being overly messy. Sensory bags are so fun to touch even I had a hard time putting them down! These are also great to use with children who have sensory issues.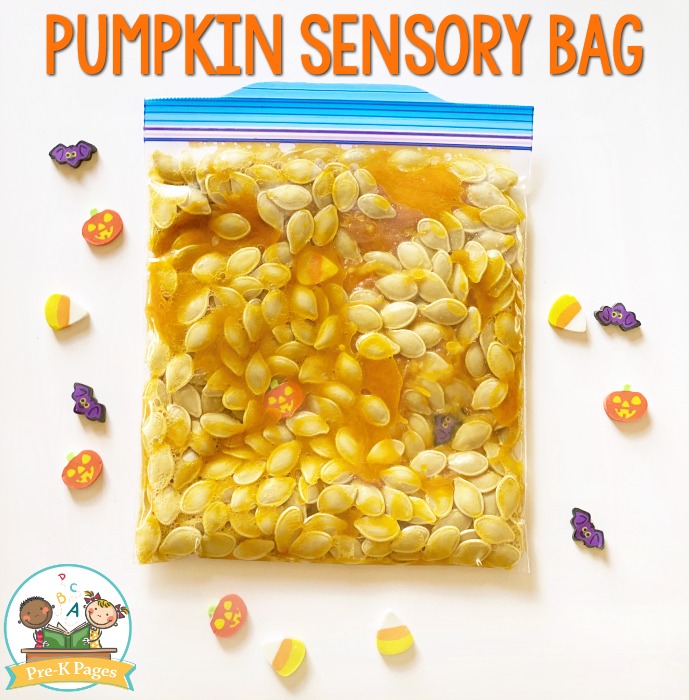 Prepare the Pumpkin Sensory Bag
Materials Needed:
pumpkin guts (scoop out the insides of a pumpkin)
Ziploc gallon-sized freezer bags
items to fill the bag for an I-spy activity (we used Halloween erasers found in the Target dollar bins and plastic shapes. You can also find the erasers on Amazon.)
I-spy printable (see below)
To prepare the sensory bags, scoop out the inside of a pumpkin and place it in a gallon-size Ziploc bag. I like to use freezer bags because they are thicker and don't tear open easily.
You can make your bags with just pumpkin guts inside, or you can add other items inside for an I-spy activity. We used Halloween erasers found in the Target dollar bins. I also included some plastic shapes I found at the Dollar Store.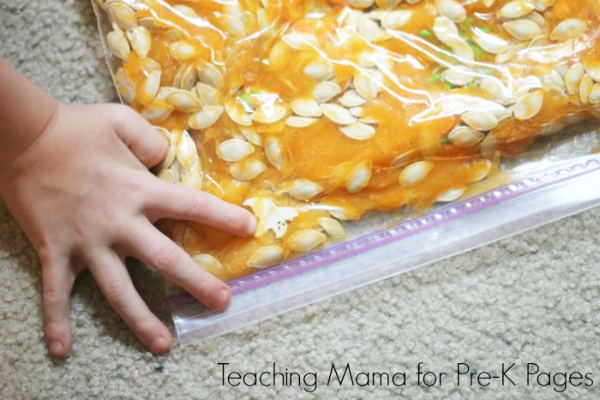 Explore the Pumpkin Sensory Bags
After the bags are prepared, invite the children explore them. Let them squish the bags and search for items inside. I gave my children a checklist of items to find. They loved finding the items on the I-spy printable.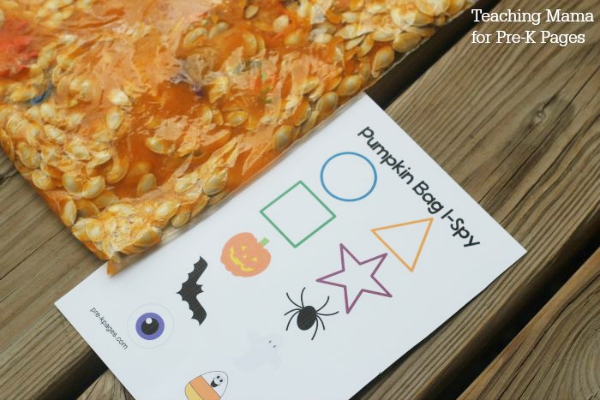 My kids helped me scoop out the pumpkin and they definitely preferred the pumpkin sensory bags over touching the pumpkin guts with their hands!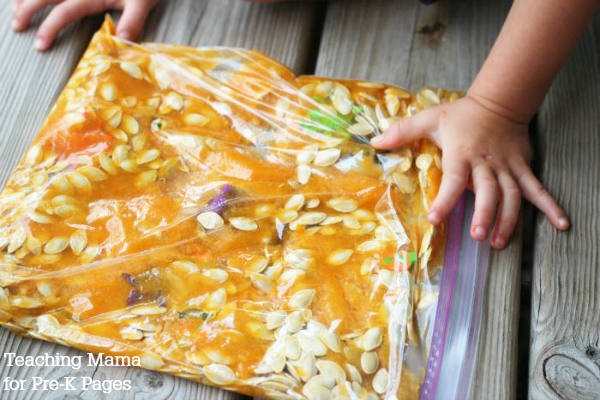 This pumpkin sensory bag would be a great sensory play center idea or even a whole class activity. I love using this with children because it teaches them what's inside of a pumpkin and what pumpkin guts and seeds feel like. And there's no mess!
Click on the image below for the I-Spy printable!


BIO: Angela is the writer of Teaching Mama, where she shares hands-on learning activities for babies, toddlers, and preschoolers. She is a former teacher, turned stay-at-home-mom to 3 wonderful boys. She is also the author of The Preschool Journey, a resource for preparing your child for Kindergarten. You can connect with her on Facebook, Pinterest, or Instagram.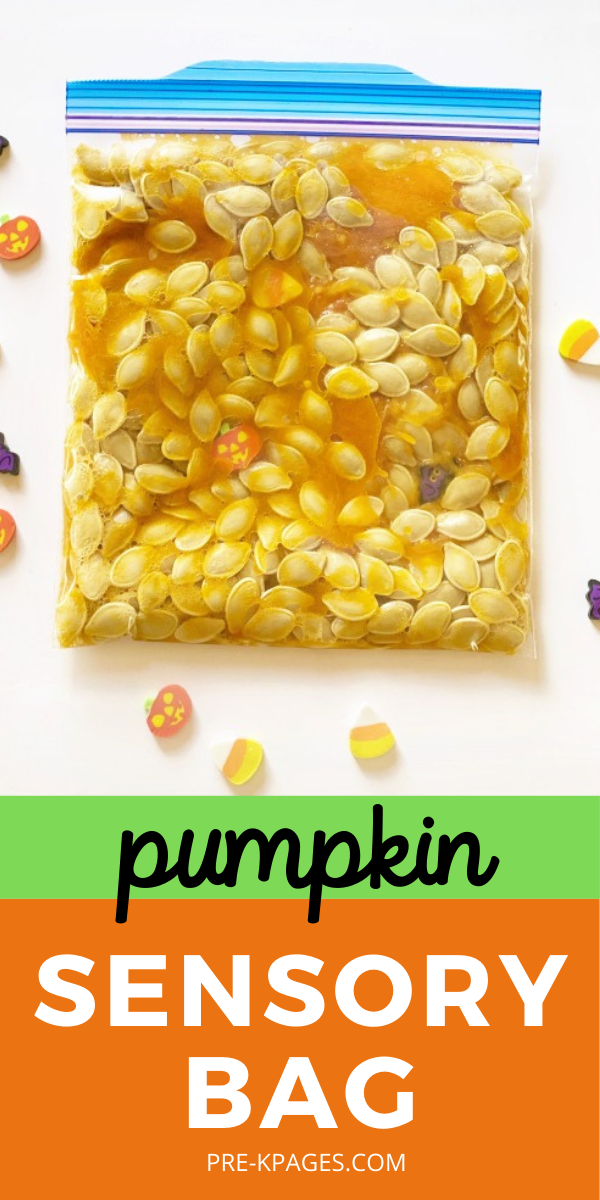 More Pumpkin Ideas