Does your center or classroom choose not to focus on Halloween? Spiders can be an alternative that is not Halloween but offers a fun theme. While this activity could be used for a Halloween party, it could also fit in an exploration of nursery rhymes (Little Miss Muffet or Isty Bitsy Spider), spiders and insects, or even fall. This activity is great for a math center or fine motor center.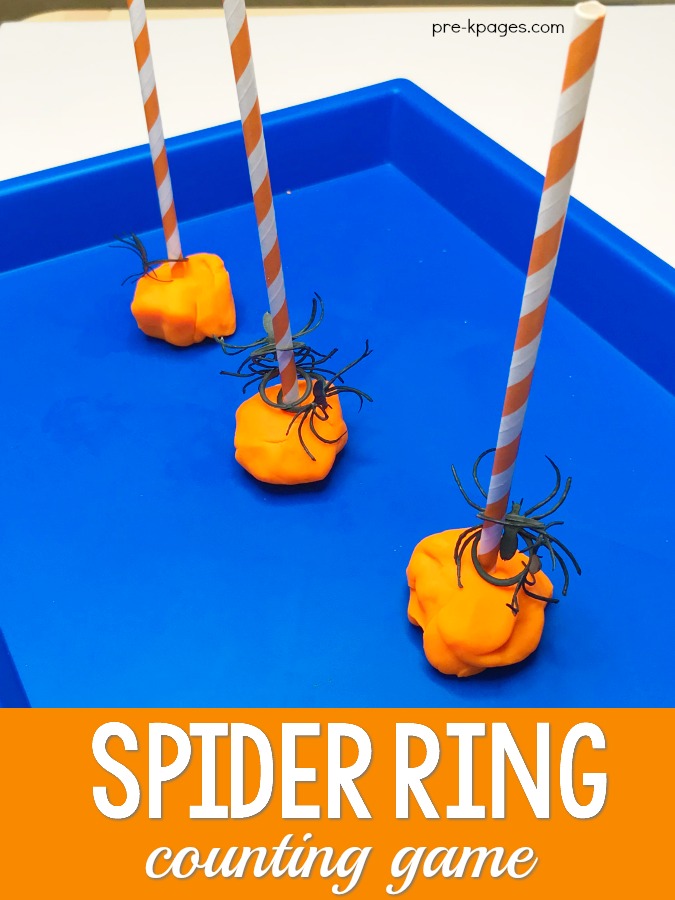 Spider Ring Game
Counting is an important skill for preschoolers. As they count objects, they begin to understand that the number they are saying (three) means a group of a certain quantity (three objects). They must grasp the meaning of quantity before they can understand that the symbols (numerals) mean that quantity.
As children count, they can learn that to get the correct quantity, they must say one number per object, without skipping objects or counting an object twice. (This is one-to-one correspondence.)
So much math learning and development is happening when children count objects.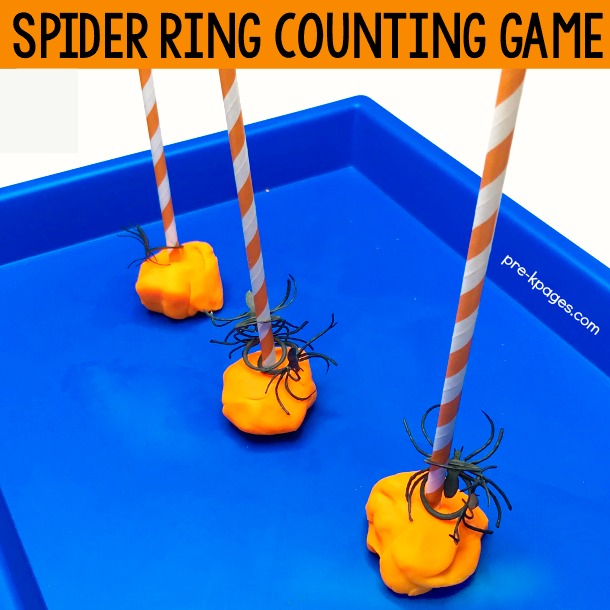 Supplies Needed For Spider Ring Toss Game
Here are the supplies you will need to set up your spider ring toss counting game.
Invite a child to form a ball of play dough. Help him stick a straw straight into the top of the ball. Flatten the bottom of the ball slightly so the straw will stand vertically from the dough. Place the play dough and straw on a tabletop or tray.
Set a bucket of spider rings and the die nearby. Invite the child to roll the die. He can count the indicated number of spiders, sliding them onto his straw. Two children could play this game together, alternating rolling and counting. Or provide several dice so each child can play independently.
For younger preschoolers, make the play dough and straw poles ahead of time. Provide spiders without the die. Invite the preschooler to slide spiders on the straw (great fine motor practice!) while you count.
This activity is easy to prepare, inexpensive, and fun. It is also easy to adapt to other themes or seasons. Change the color of play dough and straws. Use appropriate beads or rings to slide onto the straws. And, when you change it up, it's a new game for preschoolers!
Watch the Video