Do your kids have lots of extra energy? Try this super simple and easy Valentine's Day relay race that also supports the development of early literacy skills!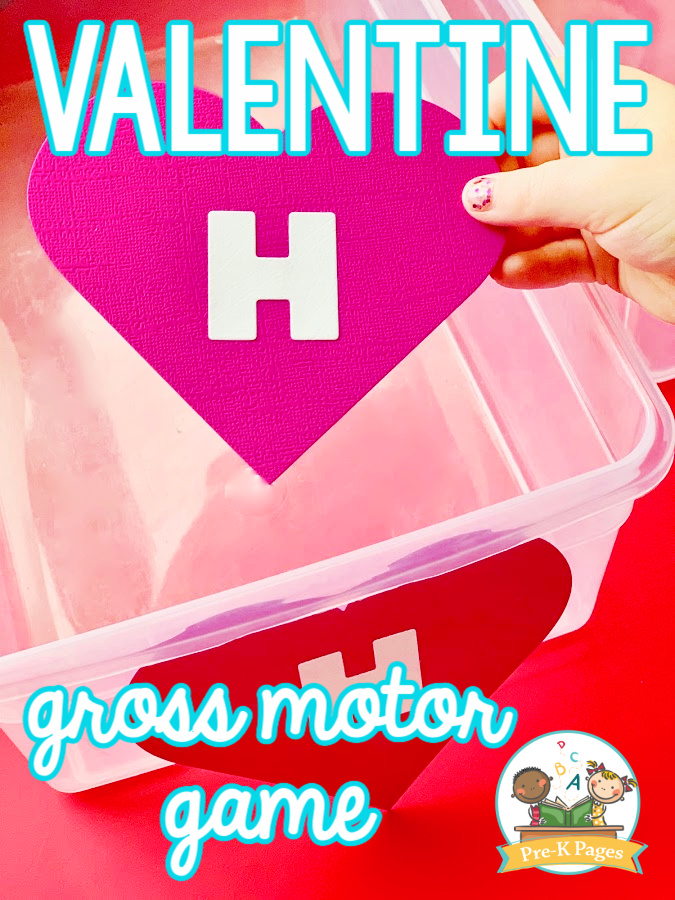 Every teacher knows that by the time February rolls around, your little cherubs are restless and eager to move – a lot!
You can combine learning and fun with this teacher approved and kid-friendly game for an amazing Valentine's Day activity!
This game builds gross motor and alphabet recognition skills in a fun and playful way that have your kids begging for more.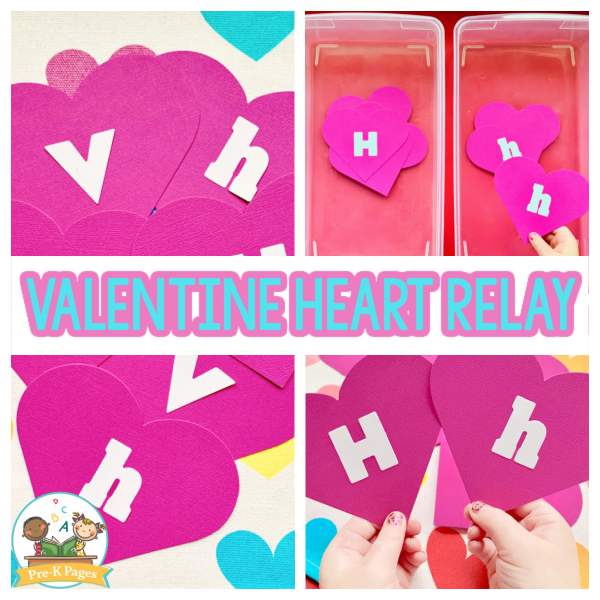 What Are Examples Of Gross Motor Skills?
Gross motor skills are activities that involve the large muscles such as the legs, arms, and torso.
Examples of some gross motor skills are walking, running, climbing, throwing, and kicking.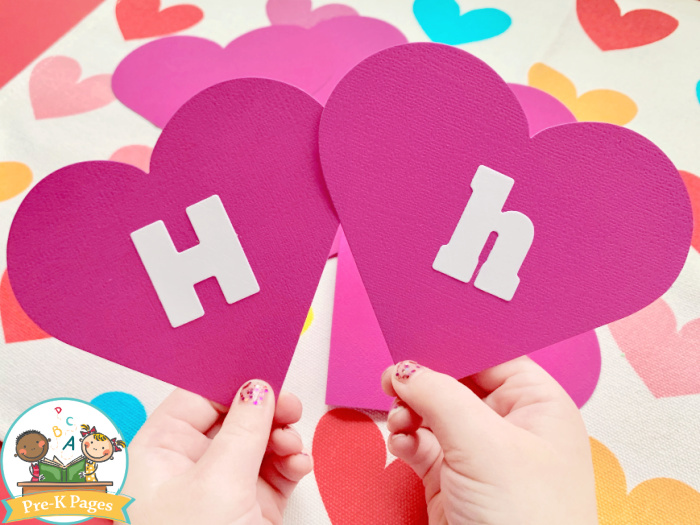 Gross Motor Skills For Valentine's Day
In this fun movement game, students will work together to fill letter buckets. The gross motor skills covered in this activity include:
Literacy
demonstrating knowledge of the alphabet and letter sounds
following directions
Gross Motor
demonstrating basic locomotor skills (jumping, running, etc.)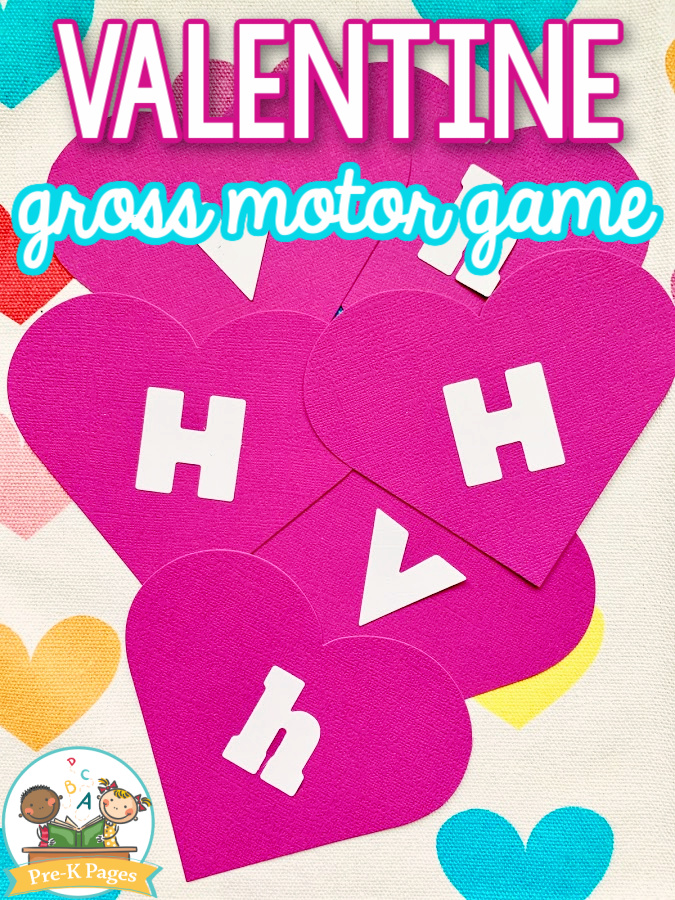 Game Supplies
4 plastic containers (shoe box size)
24 foam hearts (paper hearts work, too)
masking tape
permanent marker
2 cones
Setting Up the Gross Motor Skills Game
Choose two (or more) letters to feature in the game. Write a letter on each heart. Create six hearts using the uppercase version of your first chosen letter, then do the same for your second letter. Example: We chose Vv and Hh. Six hearts had an uppercase H and six had a lowercase h. Six hearts had an uppercase V and six had a lowercase v.
As an alternative, you could choose four letters and use just upper case or lower case.
Attach one letter to the front of each container and place the containers at one end of the room. Choose a room that has plenty of open space.
Place a cone on the floor at the opposite end of each pair of containers.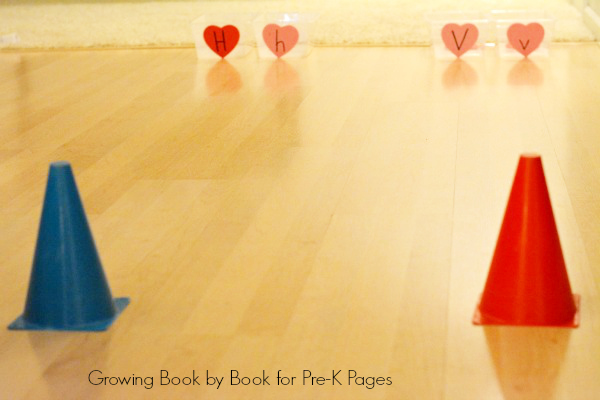 Playing the Game
Divide your class into two groups.
Give each student a letter heart to hold. Each group should have the same letter either in lowercase or uppercase.
Invite the children to sit in a line behind each cone with their group.
Say, "You will each take a turn running (hopping, skipping or galloping) your heart to the container at the other end of the room. As you move, say the name of your letter (or the sound your letter represents). Place your heart in the matching container. Then, run back to the line and sit down behind the last person."
Play the game until all the hearts are in the buckets.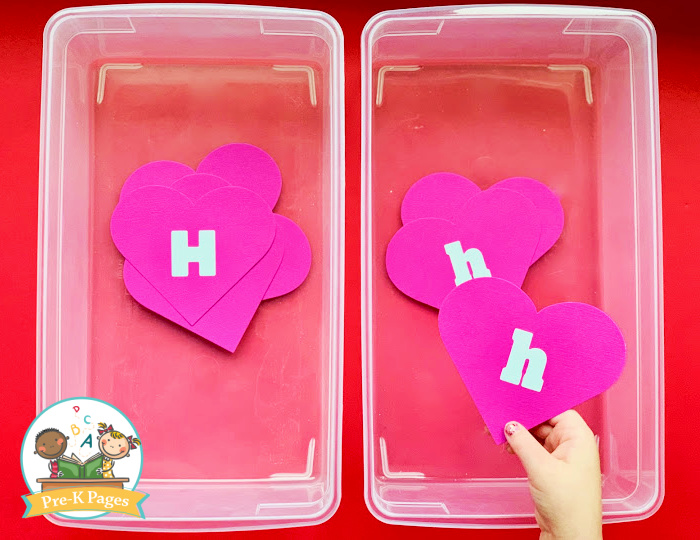 Remind your kids to encourage each runner, which helps motivate each person to do his best. Repeat the game, but switch sides and letters.
Build letter recognition, letter sounds, and get a good dose of gross motor work in this gross motor skills game for Valentine's Day. It's a win, win, win!
What Are Some Gross Motor Game Activities For Preschoolers?
Gross motor game activities are something that your preschoolers are going to enjoy throughout the year. They are great ideas for rainy days or anytime you want to work on gross motor skills.
During Christmastime, your preschoolers will love engaging in this Christmas gross motor game with Christmas motor action cards.
And when it turns nice outside, then be sure to grab a beach ball and engage in this gross motor beach ball game.
More activities you might enjoy: dinosaur roll and move gross motor activity, jack be nimble gross motor activity, moon crater gross motor activity.
For more gross motor activities be sure to check out this list of gross motor toys and tools for your pre-K classroom.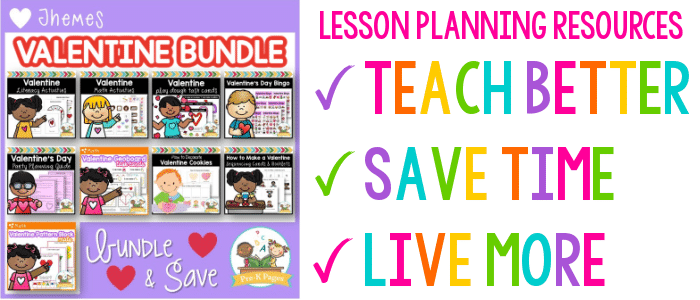 More Valentine's Day Ideas
Contributed by Jodie, the creator of Growing Book by Book where she shares book lists, reading and writing activities, and literacy-building tips for young children. She is also the proud mom of 2 little boys- check out their playful preschool year! You can connect with her on Facebook and Pinterest.