Valentine's Day can be a very fun and exciting time for children. This homemade Valentine snack idea is a healthier option you might consider to replace the more traditional holiday sweets. Make a jam of fresh strawberries and use heart shaped cookie cutters to create a healthy valentine snack that kids will love!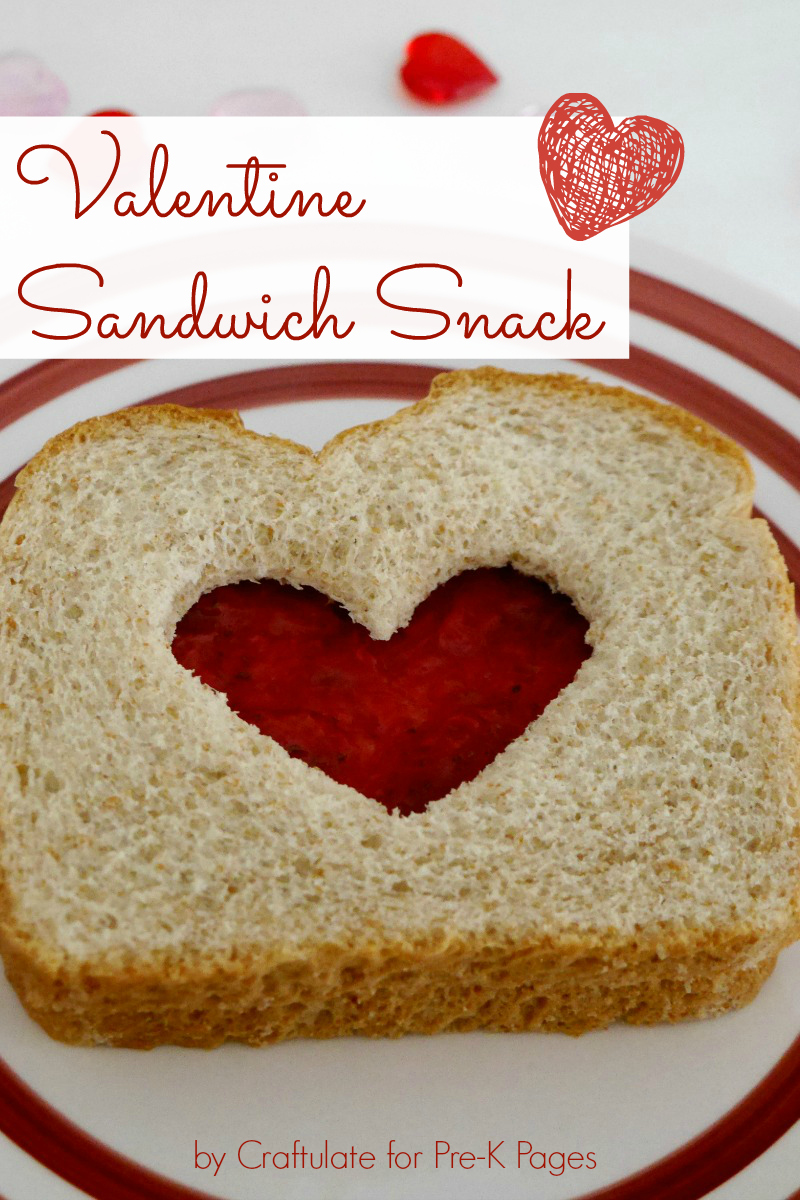 This homemade fresh strawberry jam uses just three natural ingredients and is easy to make!
Assembling the snack takes under a minute and kids will love the tasty simplicity of it. It's also a great opportunity to cook with kids at home or in the classroom!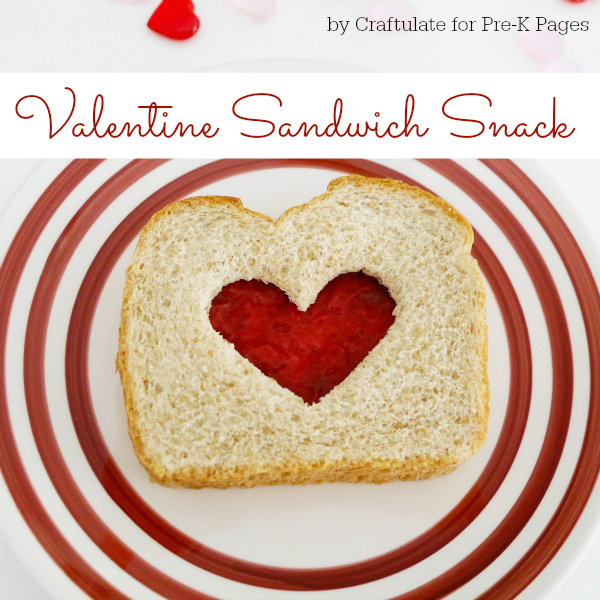 Fresh Strawberry Jam
To make the jam:
2 lbs fresh strawberries – cleaned, hulled and quartered
1/4 cup honey
1/4 cup lemon juice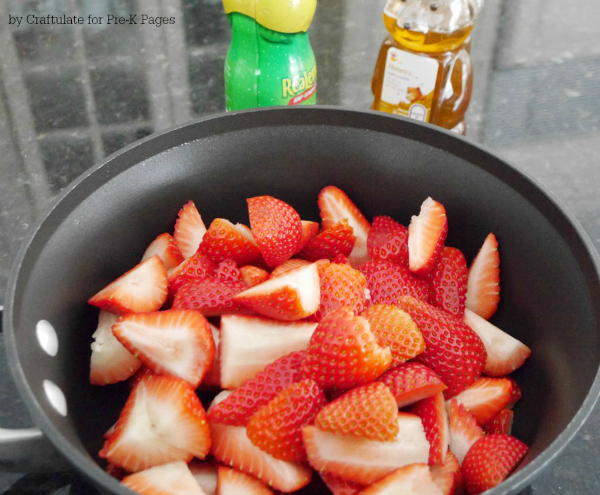 Place all three ingredients into a large saucepan, cover, and place over a medium-high heat for 10 minutes.
Remove the lid, lower the heat and cook for another 35 minutes, stirring occasionally.
Allow to cool.
Transfer to a jar or container with a lid and store in the fridge for up to a week.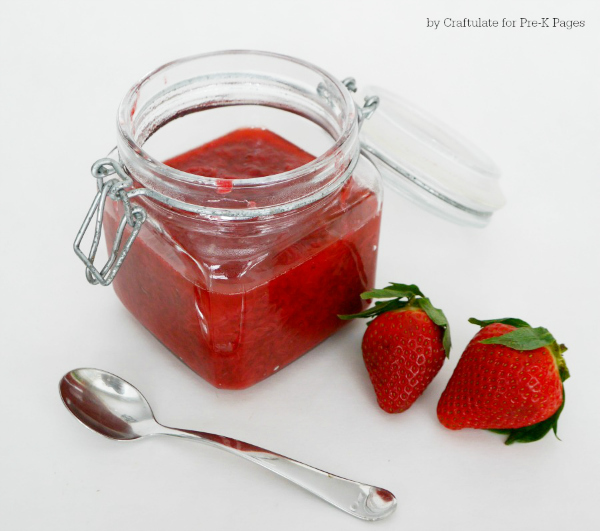 Valentine Sandwich Snack
For each Valentine jam sandwich:
Gather two slices of bread (we used wholegrain white bread) and 1 tablespoon of strawberry jam.
Use a heart-shaped cookie cutter to cut a heart out of the center of one piece of bread.
Spread the jam over the non-cut slice, then cover with the cut slice.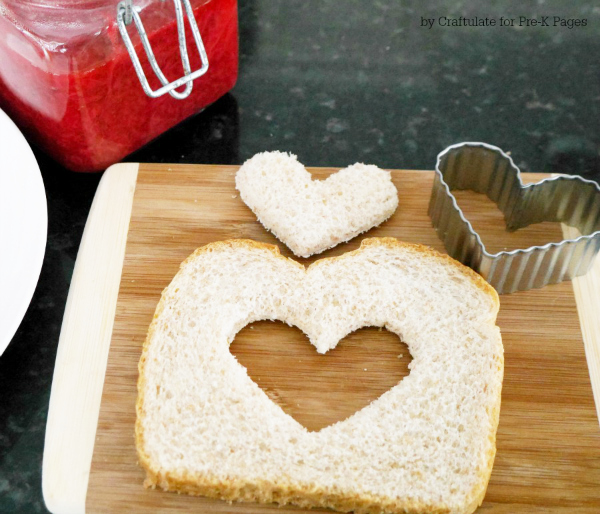 Adults could assemble this for younger children in advance, or older, more mature kids could make the sandwich themselves!
Provide each child in your small group with two slices of bread, a small bowl of jam, and a spoon. They can share the heart cookie cutter.
Inviting children to assemble this snack on their own is a great way to provide practice developing fine motor skills, hand-eye coordination, self-help, and independence.
You can use plastic knives, butter knives, or even popsicle sticks if safety is a concern.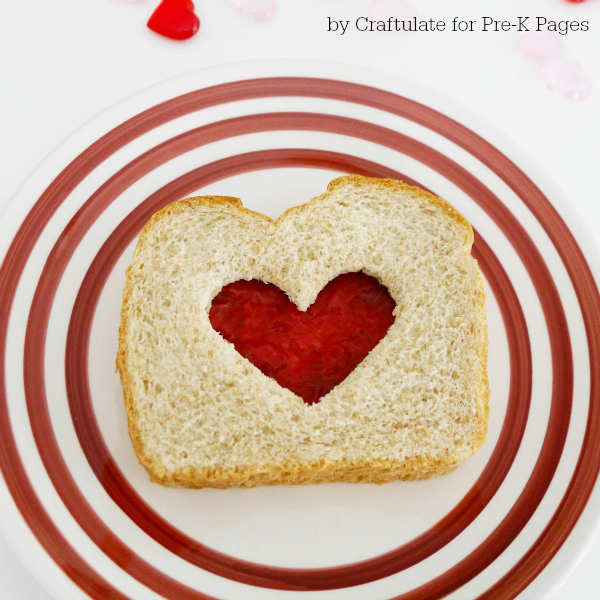 Do you have any leftover jam? Try making these jam straws! So easy!
BIO: Georgina is a mom that loves to do lots of activities with her son. She blogs about art, crafts and activities for young children on Craftulate. Connect with her on Facebook, Instagram, Pinterest, and Twitter.
More Valentine's Day Ideas
To go along with this snack here are some great ideas of Valentine theme activities for preschool.
There are so many activities that you can incorporate into your classroom for Valentine's Day! You can incorporate the holiday into your math activity literacy activity or use books to celebrate Valentine's Day!
A light table activity is also a great way to center the lesson around Valentine's Day. When your kids are picking up and manipulating the plastic hearts on the light table they'll be engaging in sensory play and developing those important fine motor skills too!
And no preschool Valentine's Day theme would be complete without a Valentine play dough activity. Playing with play dough is a great way for kids to practice their fine motor skills in a fun, hands-on way. The simple act of pressing chenille stems, beads, cookie cutters into dough has so many benefits for young children.
Your pre-K or kindergarten students could also work on their sight words during the holiday as well.  Using Valentine card sight words is a  highly engaging and fun activity can help your pre-k or kindergarten students get even more excited to practice their sight words.
You could also incorporate songs into the holiday. You can sing Valentine songs during circle time, transitions, or whenever your kids just need to refocus and get their wiggles out!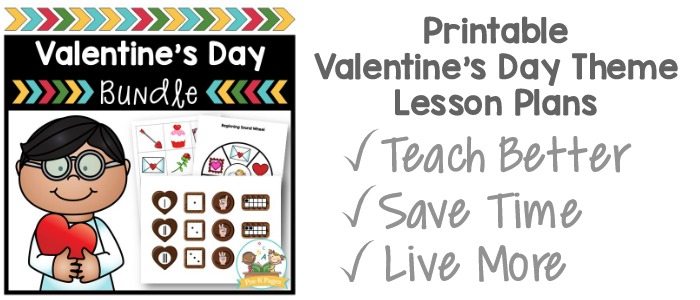 More Valentine Activities