Changing up the filler in your sensory bin frequently can help maintain interest while providing a variety of fun experiences for your preschoolers. Sometimes, just using colored fillers or items can be enough to relate to a theme and not require a lot of extra materials. This Christmas sensory bin uses green, red, and white water beads. Children will enjoy handling, scooping, and pouring the beads to enhance their fine motor skills and improve hand-eye coordination.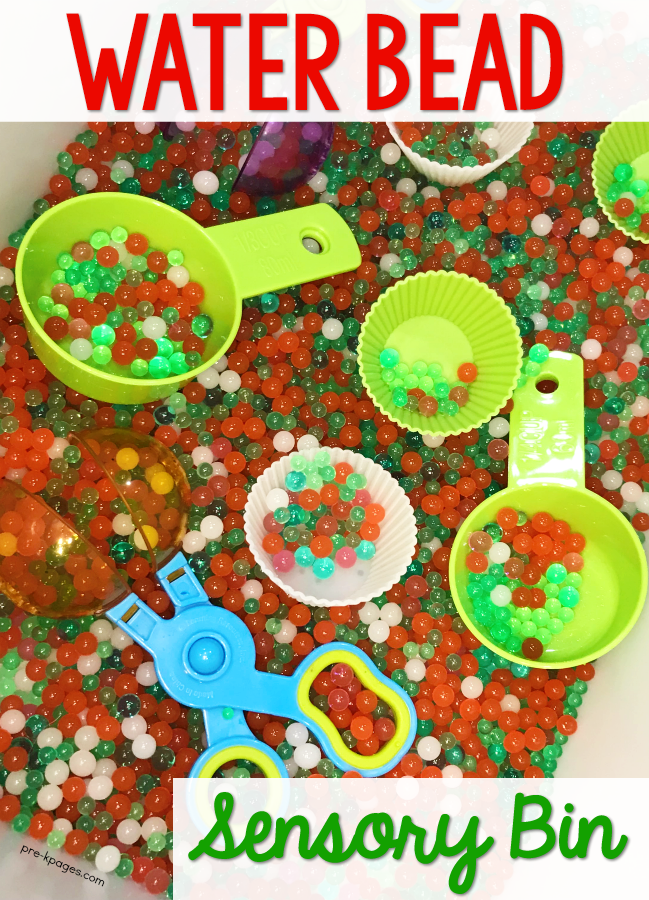 Christmas Water Beads Sensory Bin
Here are the materials you will need to set up this sensory experience in your own classroom.
Water beads – I found the "Christmas" water beads in my bin at the Target Dollar Spot. They are only Christmas because of their color. Change the colors and the sensory bin can be used any time or with any theme.
Handy Scoopers and/or other tongs
Measuring cups – from the dollar store
Put the water beads in your sensory bin and add water (to hydrate the beads). Then, add the various tools to the bin.
In addition to the tongs, measuring cups, and muffin cups, you can add other sensory bin tools.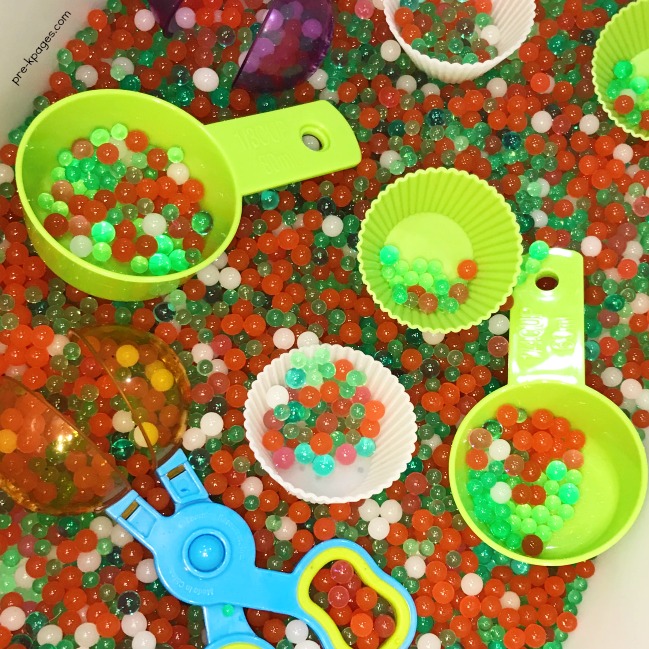 Sensory Bin Play
Invite preschoolers to scoop and pour the beads. My children love to fill the muffin cups and pour them out. The scoopers, tongs, and measuring cups will encourage different types of play and different types of motor skills. Using a variety of tools will help preschoolers gain more control over the muscles in their hands and fingers. Developing these muscles aids in writing, cutting, tying shoes, and other important life skills.
Also encourage children to scoop and pour using their hands. Water beads have an interesting texture and feel. Handling the water beads can be a soothing experience, especially for those children who crave tactile input.
To extend the activity, add a few small toys for preschoolers to find among the water beads. Some children will enjoy finding the items and hiding them for others to find.
Watch the Video
More Christmas Ideas