If there is one word that comes to mind when you think of a preschooler it's "messy". It's just in their natures to explore materials with enthusiasm! But for teachers and parents, sometimes a big mess to clean up is the last thing we have time for in a busy day. Am I right? So is it possible to explore art, to even paint with preschoolers without spending half an hour cleaning up after? Yes! It just takes some preparation and supervision. Below are three easy painting ideas that allow children to explore without creating an overwhelming mess for the adults to clean up.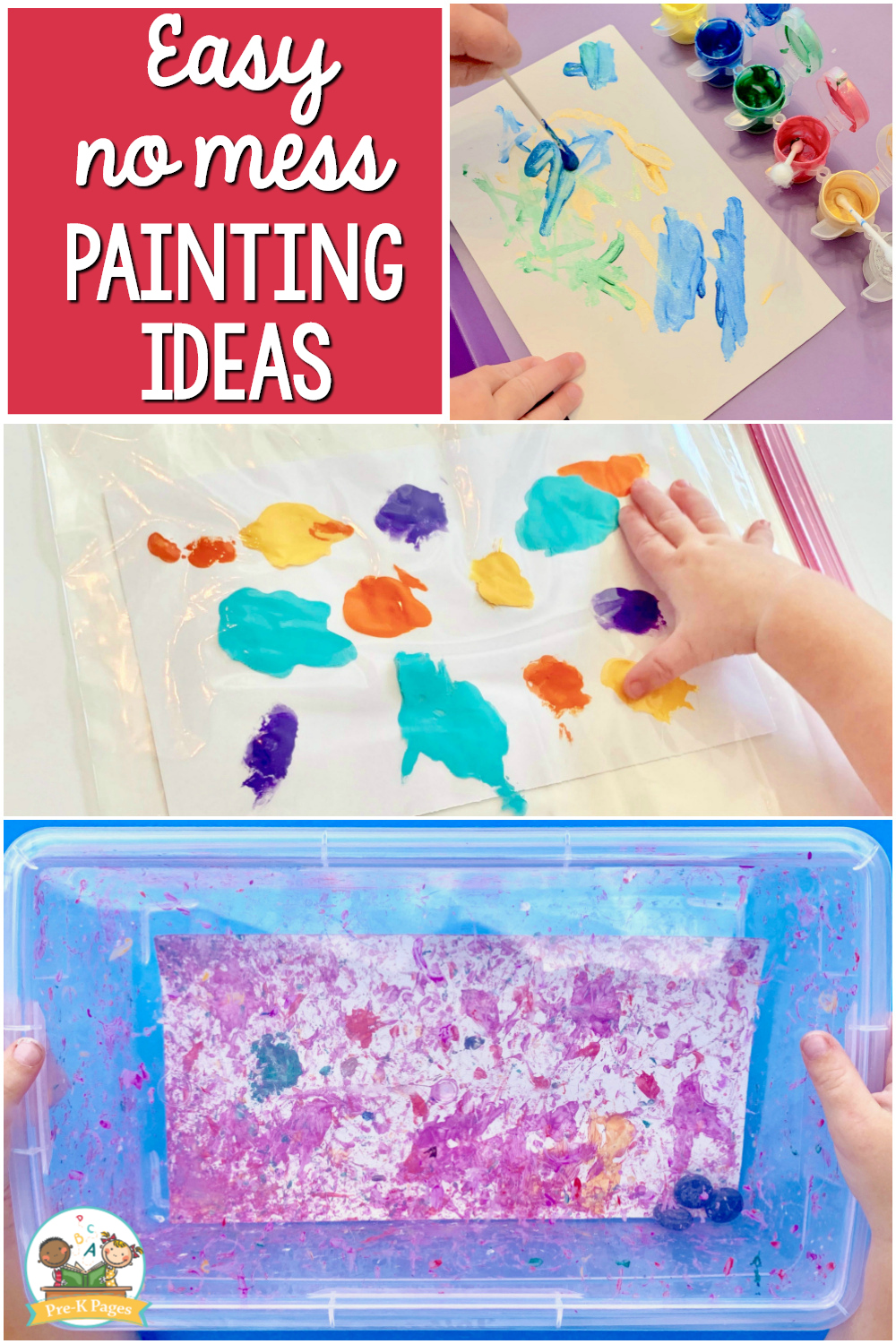 Easy Painting Ideas: Resources to Gather
You do not need a lot of resources to paint with preschoolers. Gather these items and you will be ready to explore all three of these painting ideas.
Washable paint
Muffin pan or egg carton
Paintbrushes or cotton swabs
Paper (or something else to paint-ex. leaves, aluminum foil, etc)
Cookie sheet (for low-cost option, look at the Dollar Tree for packs of baking trays)
Old shirt or paint smock (something to keep paint from clothing
Several marbles (2-3)
Box or other rectangular container with deep sides and a lid
Gallon zippered bags
Squirt or spoon a generous amount of several paint colors into the plastic bag. Seal the bag; use a zippered bag for a more reliable seal. To make more secure, tape over the opening with wide tape.
Invite the student squish and rub the paint around the bag to mix the colors. Encourage children to use their fingers to gently press into the paint and draw designs. (rRemind children not to use fingernails!)
Suggestion: Hang completed bags in a window to make suncatchers!
Alternative: Add a piece of paper inside the bag. You can slice the bag at the seams to remove the paper when painting is done.
Expert Tip: Freezer bags are made of heavier plastic and withstand the moving fingers even better.
Marble painting
Place paper in the plastic container or box. Squeeze dribbles of several colors of paint onto the paper. Drop the marbles in the container and put on the lid. Encourage the child to gently move the container back and forth to make the marbles roll in different directions. Remove the lid and look at the result. If the child wants to add to his painting, close the lid so he can move the container again. (Add more paint as you choose.) Encourage the child to experiment moving the lid back and forth, side to side, or even in circles.
Variation: Rather than squirting paint on the paper, place marbles in different areas of a muffin pan with different colors of paint. Invite the children to use a spoon to scoop out marbles from paint and drop into the container. (This method requires more marbles, but less cleaning of marbles between children. Keep an extra bowl to put used marbles in.)
Option: For older threes and fours, keep the lid off the container. Children can watch the movement of the marbles and the trails of paint.
Suggestion: Use different colors of paper to let children experiment with the effect of the paint on different backgrounds. Providing paint colors that mix well can make for a nice blending effect.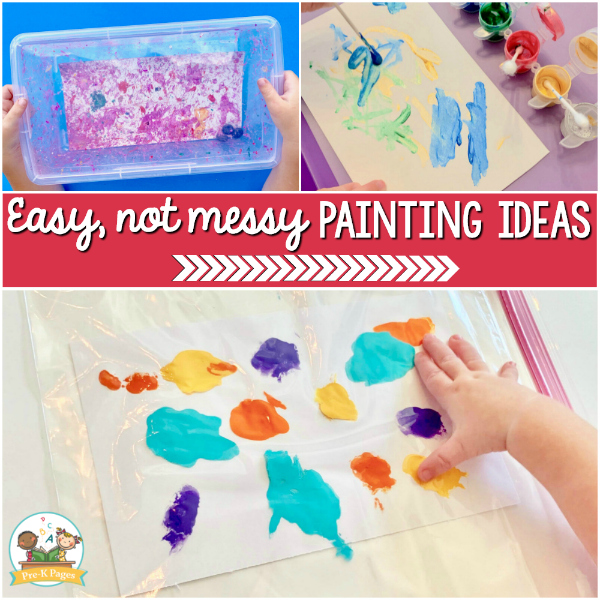 Cookie sheet painting
Place the paper (or object to paint) and muffin pan of paint on the cookie sheet. Cotton swabs make for quick and easy clean up, but paintbrushes also work well. Children can paint to their heart's content without getting the table messy!
Clean up tip: Cookie sheets can be stacked in alternating directions and placed in a well ventilated area for papers to dry without worrying about heavily painted papers tearing or dripping (edges may need to be loosened while drying)! Children can rinse paintbrushes clean and leave them on the trays to dry with their picture.
Alternative (messier) option: Forget the paper and just paint the tray! You can press a paper on top and rub gently to make a print of the child's work, if they choose.
Expert Tip: No cookie sheets? Substitute a piece of aluminum foil with the edges folded up.
Why do it?
Painting can be messy, but it's a valuable experience for children. Not only is it a form of expression for children, it's also a great way to build fine motor control for those children who might balk at using crayons or other drawing implements. Painting also gives children the opportunity to explore color theory and experiment with form and shape.
Painting also gives another opportunity for self-expression. Children can understand that they can use marks, swipes, and shapes to represent their own ideas.
Contributed by Katie Piggott
More Art Posts
Setting Up an Art Center
Art Center Tools for Preschoolers
Picture Books About Art for Preschoolers
Art Exploration Ideas