Sensory bins are a great way to provide young children with fun learning experiences at home or in the classroom. Changing out the materials in your bin is one way to keep things fun and interesting for the kids. This super simple sensory bin idea is perfect for a Halloween theme!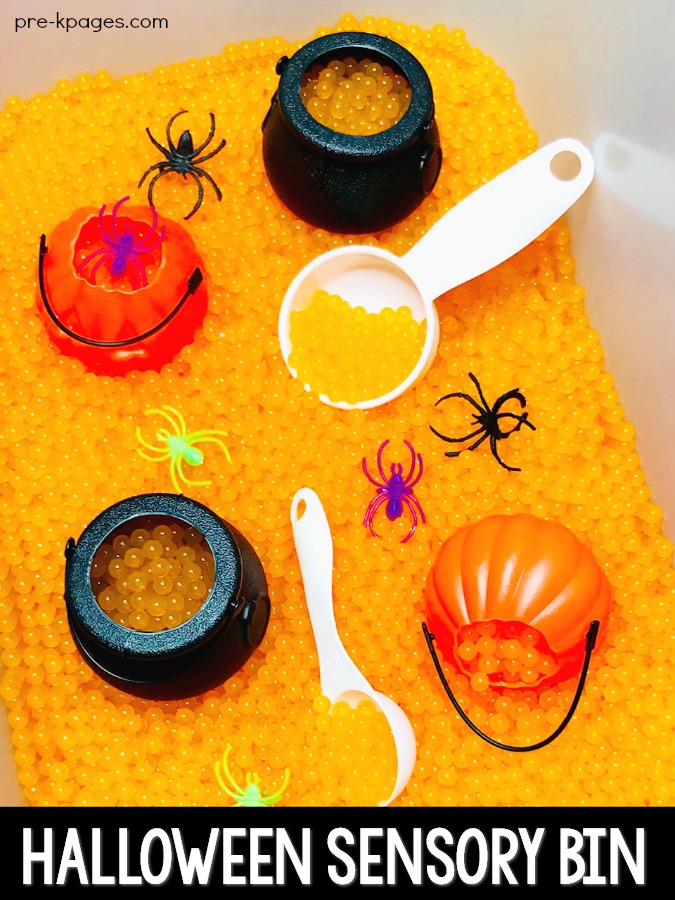 Halloween Sensory Play for Preschool
There are many choices when it comes to selecting materials for sensory play. Use things you already have in your classroom, as well as things you can find at the local dollar store to keep costs down. When it comes to sensory play,
the cheaper the better!
Sensory Bin Set Up
Here are the supplies I used to set up this fun Halloween sensory bin experience:
Mini Pumpkins (dollar store)
Mini Cauldrons (dollar store)
Plastic Spiders (dollar store)
Measuring Scoops and Cups (dollar store)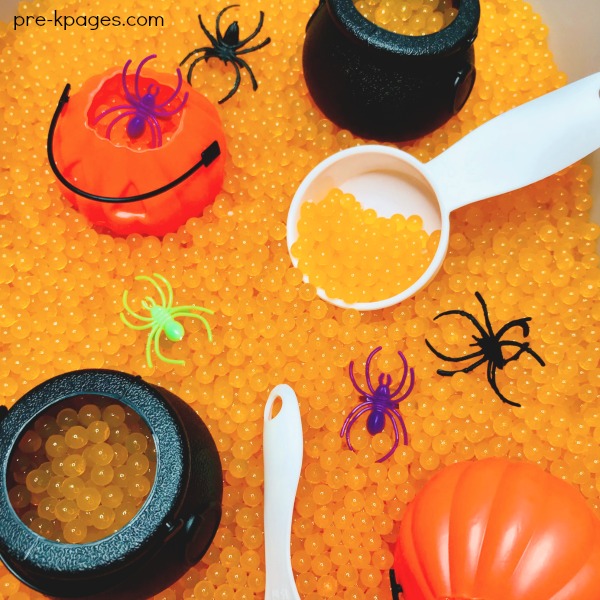 Fine Motor Skills
Start by adding the orange water beads to your bin along with some water. The beads absorb the water and expand, creating a fun, squishy sensory experience.
Close supervision is always necessary with water beads, especially if you have children who still put things in their mouths.
Next, put your accessories into the bin. For a Halloween twist, add some mini-pumpkins, cauldrons, plastic spiders, scoops and tweezers and invite the kids to start exploring the materials.
Your kids will love using the scoops to pour water beads into the pumpkins and cauldrons. Scooping and pouring are great ways to develop fine motor skills too! The handles on the tiny containers invite little hands to pick them up and move them around the bin.
Children also enjoy using the tweezers to pick up the spiders and transfer them from container to container, which will add even more fine motor practice.
You can add or remove items in your bin as you see the children's interests changing.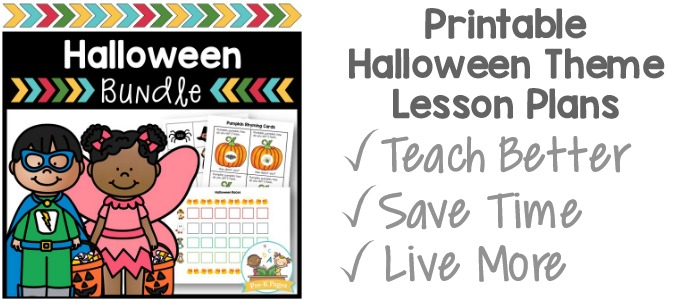 More Halloween ideas