Now that the holiday decorations have been pulled from boxes, it's time for some easy seasonal fun with all these trimmings with these holiday activities for kids. One of my favorite ways to interact with holiday decorations is with holiday patterning activities for kids.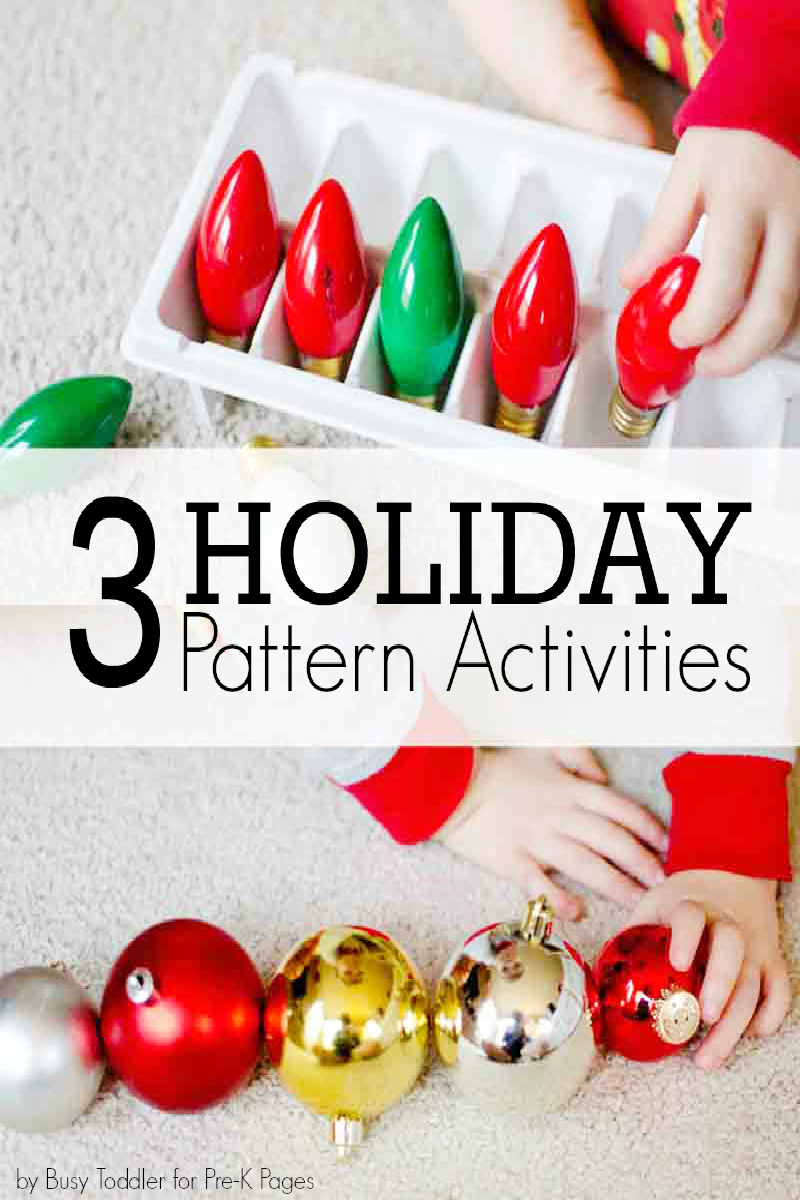 Holiday Activities For Kids
Patterning might seem like a simple concept but it's actually one that carries a lot of weight. Patterns are seen in the world around us, in science, and throughout mathematics. As children grow in their math education, they use patterns in skip counting, sequencing, and multiplication. Patterns are powerful to learn.
For these kids holiday activities, we are working on creating, recognizing, copying, and extending simple patterns using seasonal objects.
I've come up with three fast-and-easy pattern activities for holiday play. These open-ended mini lessons are perfect for the home or classroom.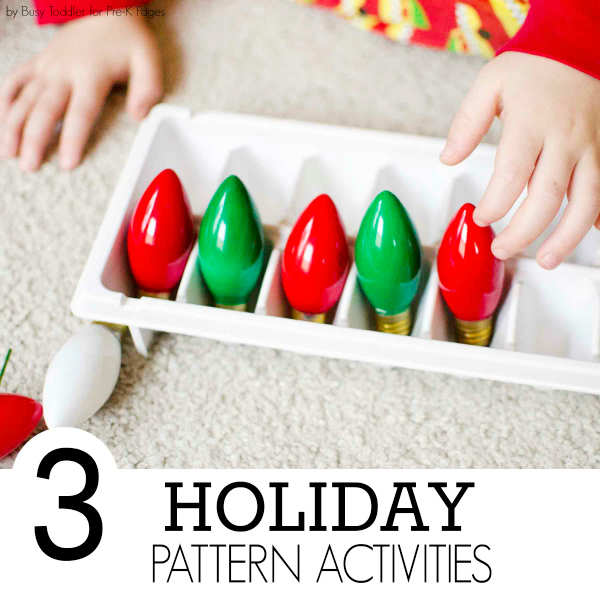 Ornament Patterns
I'm a huge fan of using ornaments in activities at Christmastime, and patterning is just another way to play. Start the patterning activity by having your child sort the ornaments into groups. This will make pattern building much easier.
When teaching patterns, I like to focus on two main learning targets. The first is learning to extend the pattern. I prompt this learning by continually asking "what comes next?" The second is to recognize a pattern by calling out the repeating part.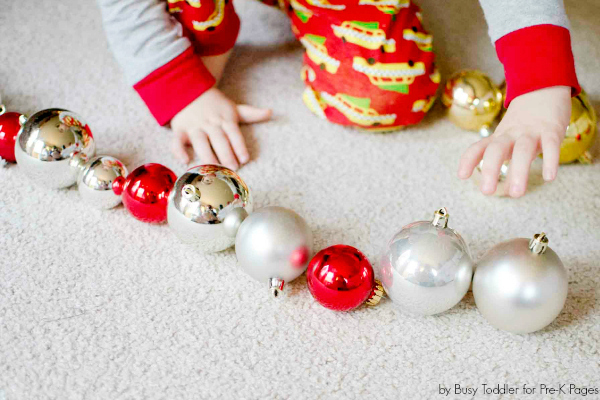 Using a variety of ornaments, you can extend this activity into patterns of repeating color, texture, or size.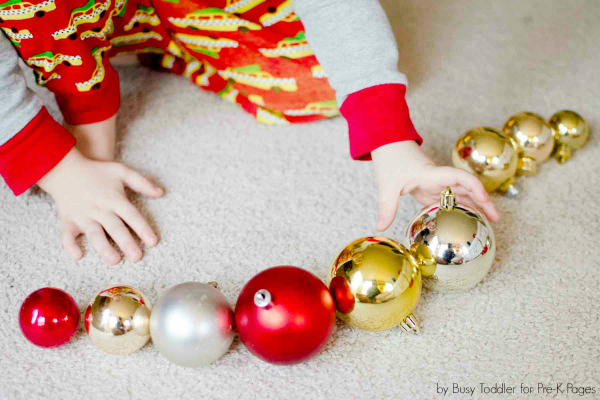 Candy Cane Patterns
I chose candy canes for one of our patterning lessons because they remove color as an option. Often, children fall back on repeating colors (red, green, red, green) as a go-to pattern option. By using only candy canes, I removed the color option.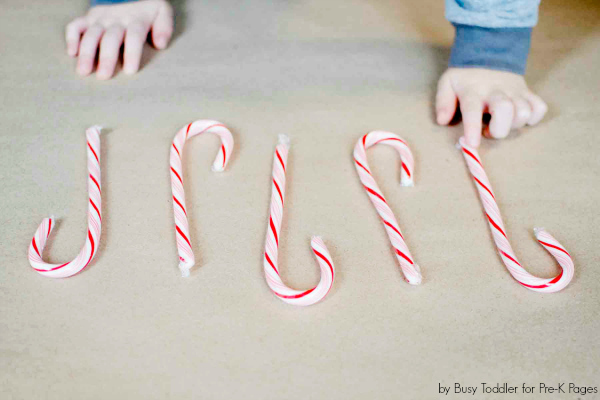 I gave my son both large and small candy canes to pattern with. Together, we made patterns of varying size (big big small big big small) and varying candy cane orientation (up, down, down, up, down, down).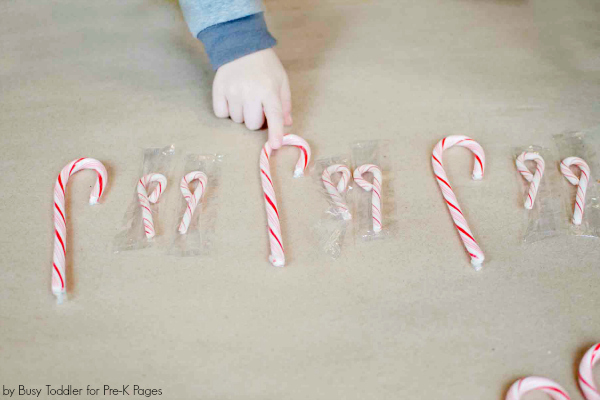 Christmas Lights Patterns
Don't throw out those burned-out bulbs just yet for this holiday activity! They can be used for patterning, of course. I like to save my burned-out Christmas lights and use them for simple patterning in ice cube trays.
By using the ice cube trays, the light bulbs stay safe and can be moved around easily. Supervision is, of course, crucial when using bulbs.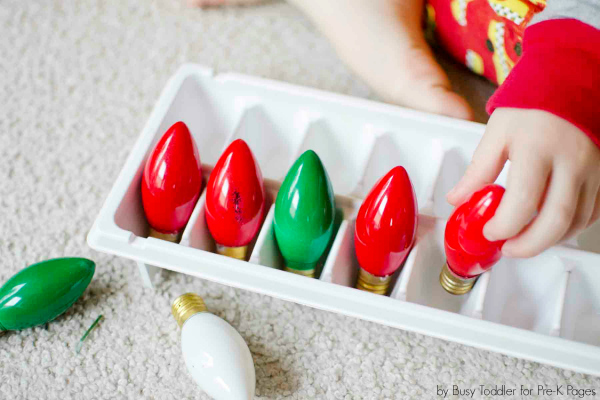 Patterning activities are always fun, but the holidays make them even more special! Using items on hand from decorating the house, holiday patterning is a great way to interact with the seasonal decor and learn at the same time.
More Holiday Activities For Kids
Candy Cane Slime (Pre-K Pages) – This a fun activity you can do with your kids for Christmas at home or in the classroom. It's perfect for those cold winter days when you can't get outside as much as you (or the kids) would like!
(touch and smell)
Christmas Jingle Bell Sticks (Pre-K Pages) – Learning and playing music is one of the great joys of the season for kids, and my preschoolers are really getting into it this year. To help them enjoy Christmas music even more, we made our own instruments inspired by one of our favorites – Rudolph the Red Nosed Reindeer
Gingerbread Jar Cakes (Pre-K Pages) –  My kids want to bake all of the time, so one of the ways I avoid having too many baked goods in the house is to allow them to make individually portioned treats. Recently, we made these Gingerbread "Mug" Cakes and they were just the right size for a single serving snack!  In a classroom setting, kids could also make these as homemade gifts for mom and dad.
Gingerbread Cloud Dough (Pre-K Pages) – Certain smells, such as the classic scent of gingerbread, remind us of the holidays. We love this smell and decided to add it into our holiday sensory activity! Today, I'm sharing our recipe for Gingerbread Cloud Dough.
The Sweet Smell of Christmas Book and Activity (Teach Preschool) – "The Sweet Smell of Christmas" by Patricia M. Scarry is one of those books that I just love for many reasons. Then gather items from the book and have your toddler explore their smells.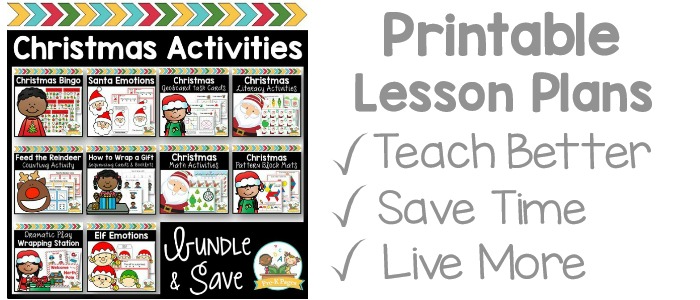 BIO: Susie is a former kindergarten teacher turned SAHM mom who's just trying to make it to nap time. She blogs about the simple activities she does with her kids at Busy Toddler. You can join her party on Instagram, Pinterest, and Facebook.