Art with preschoolers can serve many different functions. Sometimes kids are exploring colors concepts and color mixing. Other times you may be reinforcing shapes or patterns. Sometimes you are looking for specific types of results or outcomes. Other times kids can explore materials as they choose, experimenting with media and process. This painting activity is great for exploration. You also could use it in a clothing theme or as part of your exploration All About Me.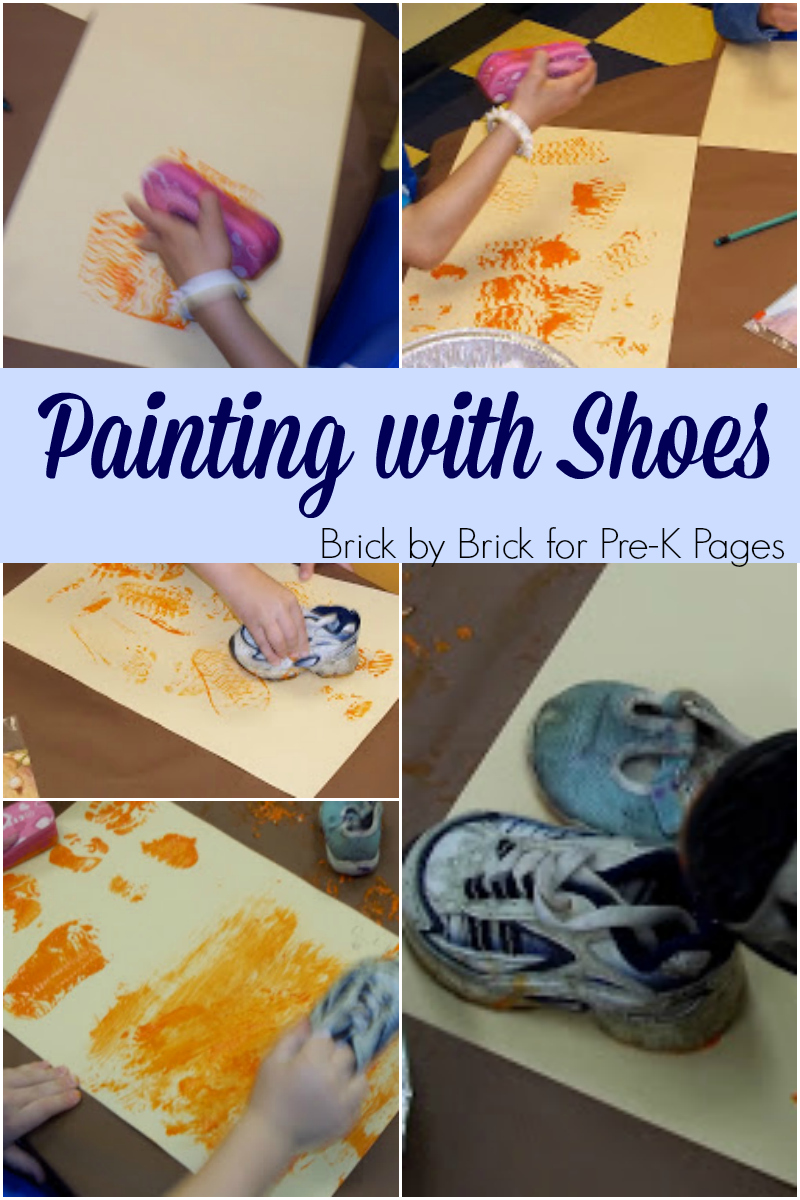 Painting with Shoes
What You Need
Small Shoes – check out thrift stores for baby or toddler shoes; choose shoes with different treads for pattern exploration
Shallow plastic or aluminum pans
Washable paint
White construction paper or manila paper
Paper towels
Set Up Tips
Fold a paper towel into fourths and place in the shallow pan. Pour paint on top of the paper towel. This functions as a "paint pad" and can help control the amount of paint on the shoe bottoms.
Cover the work surface with paper or place a tray nearby for paint-covered shoes. Otherwise the surface will get covered with paint. While this isn't a major problem, it can get messy.
You can offer more than one color of paint. The colors will get mixed (no matter how you try to set it up otherwise), so be prepared. We use only one color so we can focus on shapes, swipes, and tread patterns.
Set up to wash hands immediately after a child finishes painting. Hands will get messy with this one. This is one for smocks, too.
Use larger paper. We used 12-by-18-inch manila paper. A larger surface is easier for exploration.
Print names on paper first. Then place the name side down, so it will be on the back of the completed painting.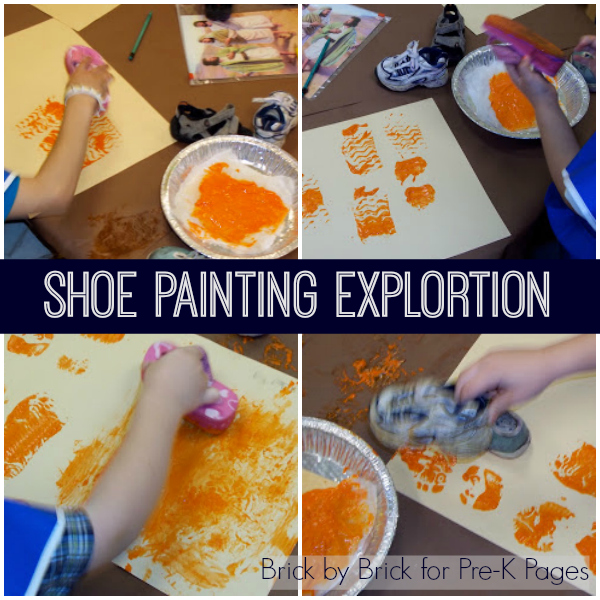 Art Exploration with Shoes and Paint
Examine the shoe treads before dipping in the paint. Talk about what shapes or line patterns they see.
Invite preschoolers to press shoes in the paint and then onto their paper. Lift the shoe and talk about the print.
Allow children to explore in their own ways. One child may use only one shoe, making multiple repeated prints of the same tread. Another may place the different treads side by side to compare and contrast.
We've seen some preschoolers make quick rapid prints all over the page. Others will swipe the shoes, making different types of marks on the page.
Variations
Include shoes in a variety of sizes. (You will need larger paper for large shoes.) Talk about growing and the need for new shoes.
Provide footwear for different types of weather. Compare the treads and the other characteristics of the shoes and boots.
Make a literacy connection by reading a book about shoes before or after painting. See the clothing theme book list for suggested books.
I hope you and your kids enjoy this fun art exploration and will experiment with other unusual items in your painting.
BIO: Scott Wiley, an early childhood educator for 30 years, is managing editor for Pre-K Pages. He is currently music teacher for 1s through 4s at a church preschool. His blog Brick by Brick explores the connection between play and learning. Connect with Scott on Twitter, Facebook, and Pinterest.
More Art Ideas