One of the first math concepts that preschoolers learn is identifying shapes. They begin to distinguish among the different shapes and categorize items according to shape. They learn the names of shapes and their characteristics. They find shapes in everyday items. This collection of shape activities for preschoolers can lead preschoolers to explore shapes in all kinds of ways.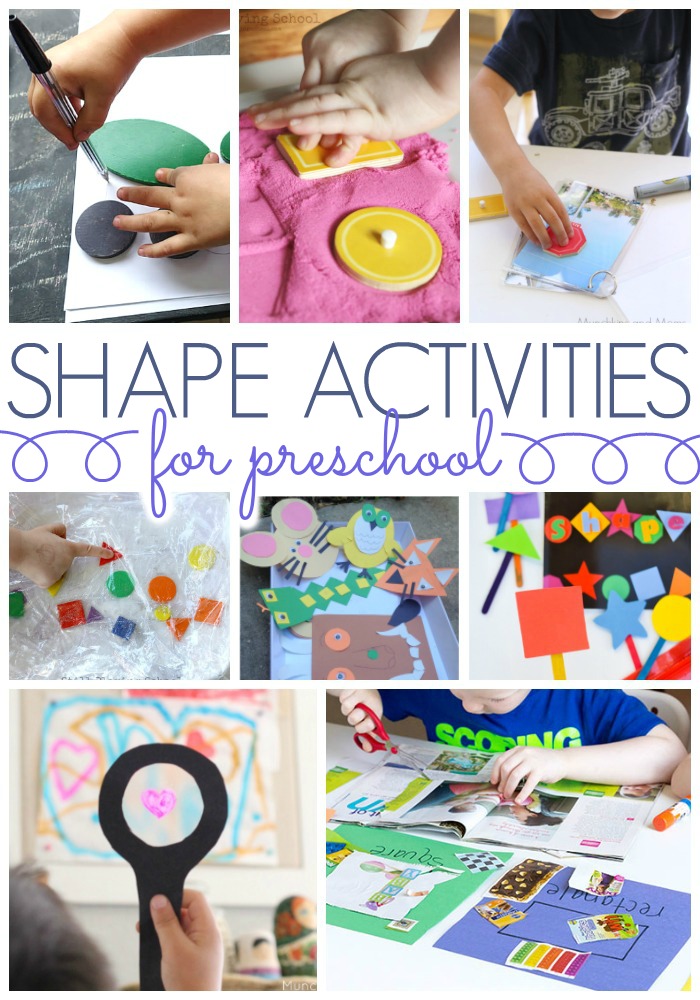 Shapes Activities for Preschoolers
These activities will help your preschoolers learn their shapes. These shape activities for toddlers, will work in your preschool classroom and your kindergarten classroom.
1. Road Shapes with Cars (Pre-K Pages) – 22 printable road shape mats to help your litte learners identify shapes.
2. Making Shapes with Play Dough (Pre-K Pages) – A fun, hands-on playful learning experience that uses play dough to teach shapes!
3. Pattern Block Shapes (Pre-K Pages) – Pattern blocks can actually help your little learners build a strong foundation for learning geometry later.
4. Making Shapes with Geoboards (Pre-K Pages) – If you haven't tried geoboard activities in your classroom yet, your kids are going to love them!
5. Create a Shapes Photo Book (Pre-K Pages) – To introduce shape concepts to my son, I grabbed the book So Many Circles, So Many Squares from our library as the anchor to our learning ship. Using this book, we went on a shape scavenger hunt and made a fun shape keepsake.
6. Perfect Square Shapes Art (Pre-K Pages) – This Perfect Square art activity is so easy to set up and totally open-ended. It goes perfectly with the book and would be an excellent addition to a shapes unit.
7. Building Shapes with Craft Sticks (Pre-K Pages) – Pair this activity with the book Shapes, Shapes, Shapes by Tana Hoban and you've got the perfect low-prep shapes lesson!
8. Teaching 3D Shapes (Pre-K Pages) – Here are some of my favorite ideas for teaching 3D shapes to young children in pre-k or kindergarten. I also wrote some very simple 3D shape songs for you that incorporate hands on learning; keep reading to download the 3D shapes printable song charts.
9. Nature Shape Scavenger Hunt (Pre-K Pages) – A Star in My Orange is a great way to reinforce shape recognition with your preschoolers. They will also immediately want to run outside for their very own shapes scavenger hunt in nature!
10. The Shape of Things Chalk Drawings (Pre-K Pages) – Shapes are found, identified, and drawn in all preschool classrooms! Discovering just how often circles, squares, and triangles occur in our everyday life make them relevant to children.
11. Shape Wands (Pre-K Pages) – Make some shape wands and turn your home or classroom into the perfect place for kids to learn and identify shapes.
12. Shape Exploration (Pre-K Pages) – After reading the wonderful book Mouse Shapes by Ellen Walsh, I thought it would be fun to make a mouse that could be used in a shape game. The mice in the book explore shapes so, why shouldn't we?
13. Make a Tortilla Shape Snack (Pre-K Pages) – We have the perfect recipe for exploring a math concept. Read aloud one great children's book. Make a healthy and yummy treat. Combine the two together and you have a lesson on shapes.
14. Shapes Word Chart (Pre-K Pages) – This word chart focused on shapes but you can make a word chart for any topic.
15. "I Have Who Has" Shapes Game (Prekinders) – You may have seen the "I Have, Who Has" card games circulating the internet a lot lately, so this is a fun twist for Pre-K to teach shapes.
16. Games and Activities for Teaching Shapes (Prekinders) – Here are a fun few ways to teaching shapes, like shape bingo and a memory game.
17. Tracing Shapes on the Flannel Board (Teach Preschool) – A wonderful way to introduce letters and shapes while building pre-writing skills!
18. Hunting for Shapes (Teach Preschool) -Explore shapes with a fun and interactive game!
19. Exploring Shapes with Blocks on a Table Top (Teach Preschool) –  A simple and engaging exploration of shapes and colors!
20. Learning Shapes by Rolling a Ball (Hands On As We Grow) – Try a fun hands on activity for toddlers for a creative twist to learn shapes!
21. Finding Shapes at the Playground (Buggy and Buddy)- Just print out the free shape hunt printable and go searching for shapes at the playground with this fun geometry activity for children!
22. Geometric Shapes Math Activity (Little Bins for Little Hands) – This simple geometric shapes activity for kids is easy to do at home or as a math center in school. It also makes a terrific STEAM project including a bit of art and design too.
23. Gruffalo Themed Shape Animals (Educators' Spin on It) – Exploring shapes with young children can be such fun when you involve a few animal friends from The Gruffalo.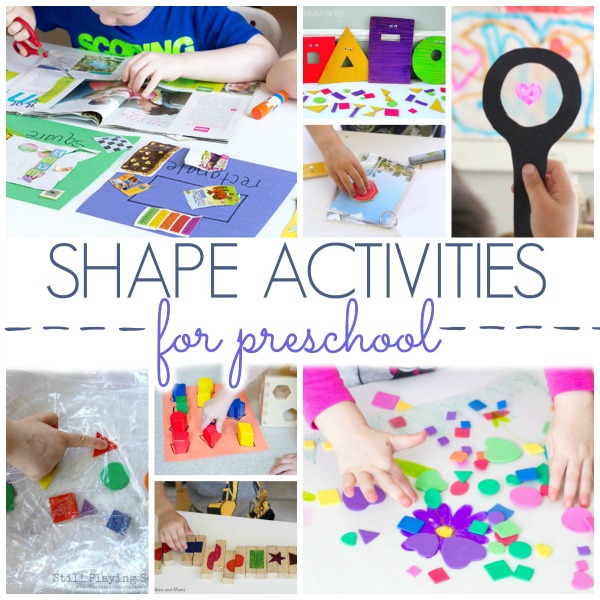 Shapes Activities for Preschoolers
24. Feed the Shape Monster Game (Imagination Tree) – Make a fun activity for preschoolers and school aged kids with this feed the hungry shape monsters sorting game!
25. Sticky Shape Bugs Activity (Mom Inspired Life) –   This was a great way to develop fine motor skills and critical thinking skills while learning about shapes.
26. Learning Shapes with Spaghetti Noodles (Teaching Mama) – Looking for a fun way to teach shapes? Well here's a very fun way using spaghetti noodles! This hands-on activity also is a great sensory activity.
27. Matching Shapes to Outlines (Busy Toddler) – Create this fun easy DIY shape mat to practice shapes with your preschoolers.
28. Chalk Shapes Jumping Game (Craftulate) – All you need for this shape activity is some sidewalk chalk!
29. Open and Closed Polygons Game (JDaniel4's Mom) Grab some LEGOs and have fun with these polygon games, like hockey!
30. Shape Sensory Squish Bag (Still Playing School) –  Create this sensory squish bag with triangles, circles, and squares. It's irresistible to touch and talk about in the window or on the table. It's super easy to make, too!
31. DIY Shape Puzzles (Munchkins and Moms) – If you have some Jenga blocks and markers, then this easy DIY shape puzzle will be a fun engaging activity for your preschoolers.
32. Stamping Shapes in Kinetic Sand (Still Playing School) – Stamping shapes into kinetic sand is a great opportunity to work on shape identification, count the sides and corners, and compare and contrast the shapes.
33. Making Trucks from Shapes (Powerful Mothering) – Using your wooden blocks to draw and create trucks!
34. DIY Waldorf Square (Rhythms of Play) – An easy DIY toy for kids made with wooden blocks and liquid watercolor paints.
35. Magazine Shape Hunt and Sort (Mom Inspired Life) – This magazine shape hunt is jam-packed with learning! Kids will learn shapes while they practice cutting, gluing and sorting. It's also an awesome way to work on critical thinking and observation skills.
36. Building Rockets with Shapes (Stir the Wonder) – Building rockets with shapes is a fun way to review shapes and colors with toddlers and preschoolers!
37. Build on Shape Outlines (Brick by Brick) – Use wooden blocks in a new fun way and work on shapes at the same time!
38. Shapes in Our Neighborhood Book (Munchkins and Moms) – Go for a walk and look for shapes in the neighborhood and then create a photo book after!
39. Sorting Shapes in the Sensory Bin (Learning 4 Kids) – Your preschoolers will practice their shapes and fine motor skills while having fun with this shape sensory bin.
40. I Spy Shape Hunt (Munchkins and Moms) – Create these fun easy spy glasses and go on a shape hunt!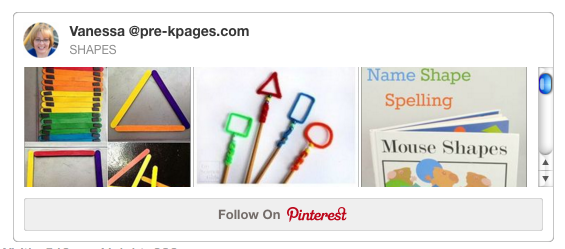 Follow my Shapes Pinterest Board for more great ideas!