Are you ready for Halloween? Teacher halloween costumes can be time consuming to put together! And most schools don't allow students or teachers to dress-up for Halloween any longer, but many do have a "Book Character Parade" instead. So here is a super simple and easy idea for preschool teachers.
Teacher Halloween Costumes
I love Halloween and would like to dress-up for the kids, but I am always too busy to put together a good teacher halloween costume. Besides, how many Mrs. Wishy-Washy's do you really need in a parade?
One year we had a staff development day on Halloween and several of the teachers arrived wearing unique shirts and teacher accessories. I was inspired by this idea so I made my own t-shirt, you can see the front of the shirt above and the back below.
You Can't Scare Me I'm a Teacher Shirt
After I made my own shirt I found one on Amazon that is similar.
Halloween Nails
You know you are a dedicated teacher when you do your nails Halloween style! These Halloween nail stickers are super easy to use.
Halloween Shoes
What would match the orange teacher shirt and nail polish better than a pair of orange Crocs with Halloween jibbitz?

Teacher Halloween Costume Ideas From A Book
If you want to put together more of a traditional costume, look no further than your own classroom library! What better way to encourage your preschoolers to read then to dress up like one of their favorite characters from the books you read to them. Here are a few preschool literary costume ideas:
Mrs. Frizzle
Big Bird (or any Sesame Street character)
Teacher Harriet
Any Dr. Seuss Character! – Cat In The Hat, The Lorax
Teacher Group Halloween Costumes
Maybe you have a bunch of you that want to dress up together! Nothing is more fun than getting a crew together and doing a group costumes for preschool. Here are a few ideas:
Different colored containers of Play-Doh
Different Dr. Seuss characters
Your favorite character from a chosen book
Favorite Disney characters
Teenage Mutant Ninja Turtles
Minions
Cruella De Vil and Dalmations
Different Emojis
Dominoes
Seasons
Holidays
Butcher, Baker, Candlestick Maker
Crayola crayons
3 Little Pigs
1 Fish, 2 Fish, Red Fish, Blue Fish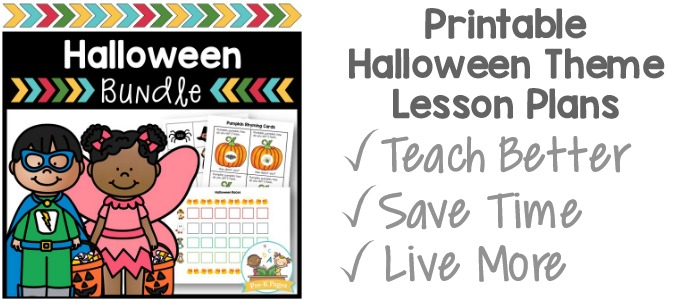 More Halloween Ideas