Feeling overwhelmed by the constant demands of lesson planning? You're not alone! Planning your preschool monthly themes can be so time consuming, but there is a way to make planning your themes for the school year easier.
When you have a solid plan—a go-to resource for each month— you'll feel much less stressed and overwhelmed. If you're ready to get started with teaching smarter instead of harder, keep reading.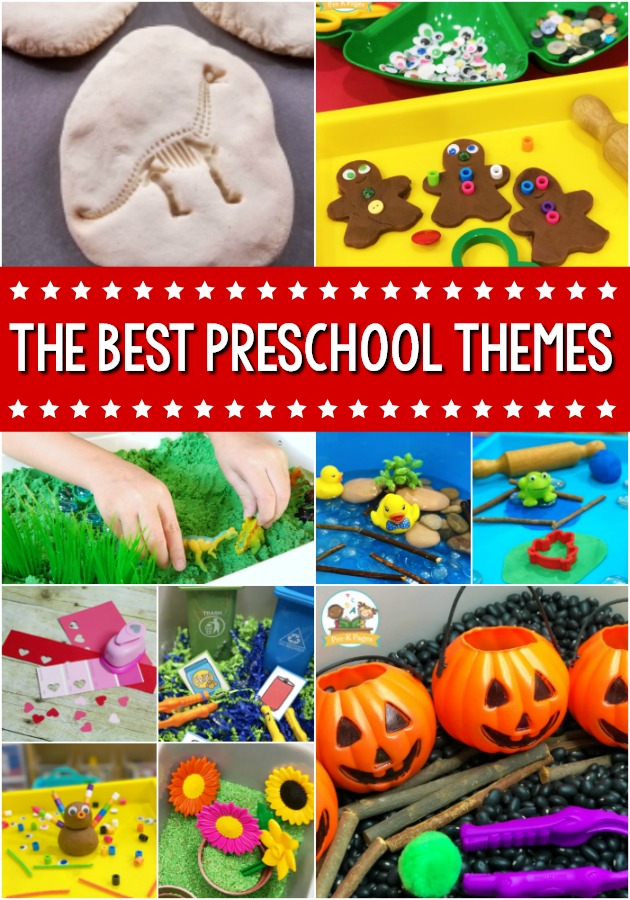 Best Preschool Themes
Here's the thing about themes that most preschool teachers get wrong, so don't skip this part. Theme planning doesn't mean that every single center in your classroom has to be completely transformed into a magical kingdom filled with unicorns and rainbows. Yep, you read that correctly.
If you're spending hours and hours on Pinterest trying to find a way to incorporate the theme "dragons" into your sensory bin, you're not on the right track my friend. But that's OK, because I'm here to help.
A theme is just a way to deliver academic content to the young children in your classroom in a more fun and inviting way. You see, as teachers we're tasked with teaching our little learners academic content that—let's face it— isn't very exciting. We're constantly searching for new and creative ways to capture (and hold) our student's attention and interest.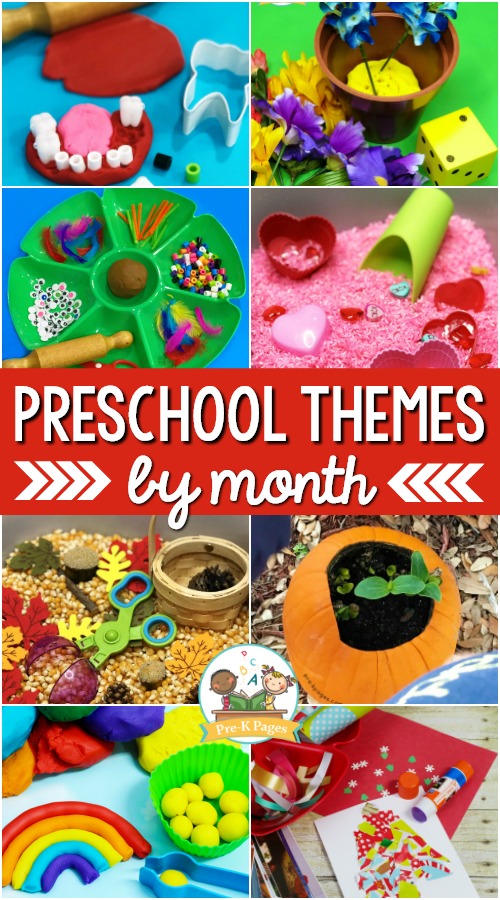 Monthly Themes for Preschool
The truth is that the standards, guidelines— or whatever you call them, are the actual framework for teaching. Those fun and engaging learning activities are the delivery methods we use to teach the standards, and the themes are the glue that sticks everything together. Make sense so far?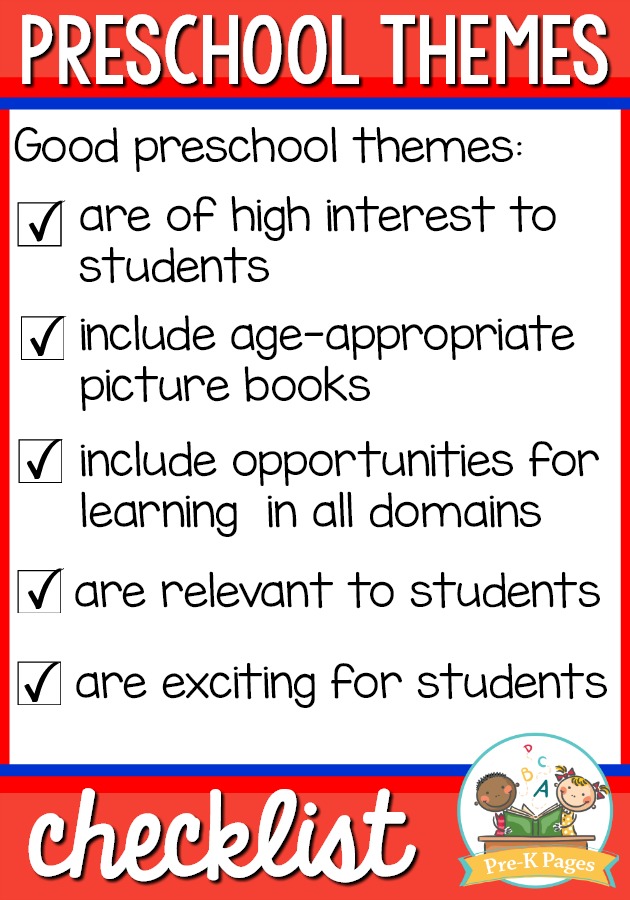 Preschool Themes by Month
Choosing themes for each month can be challenging. Here's some more food for thought when it comes to choosing themes— I'm on a roll!
Good preschool themes:
are of high interest to students
include age-appropriate picture books
include opportunities for learning in all domains
are relevant to students
are exciting for students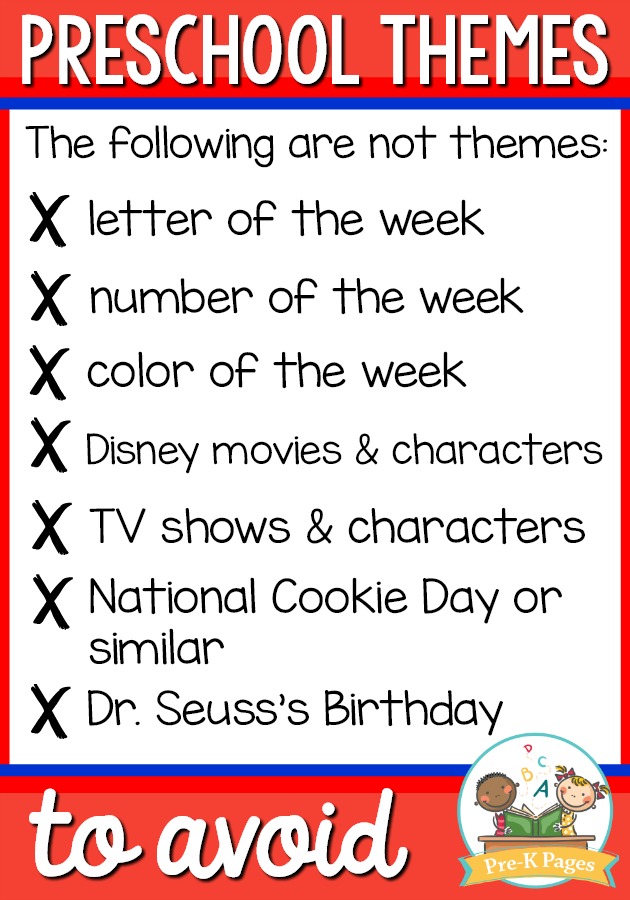 Just Say No to These Preschool Themes
You might be wondering about certain themes you've heard of or seen on Pinterest. Let's take a closer look at some topics to avoid when it comes to choosing preschool themes.
These are not themes:
Letter of the Week (or day)
Shape of the Week (or day)
Number of the Week (or day)
Color of the Week (or day)
Disney movies or characters
TV shows or characters
National Cookie Day, National Pancake Day or any other "National" day
Dr. Seuss's Birthday
Before you start warming up your fingers to fire off a testy email, let me explain the thinking behind this a little more in depth. A theme is not a skill and a skill is not a theme. Confused yet? In plain English— skills are things like letters, numbers, shapes, and colors. Skills are embedded into our daily routines and learning activities in the classroom; they can be taught within themes, but they aren't themes themselves.
How to Use Preschool Monthly Themes
Disney movies, TV shows, or characters from either are not appropriate themes for a number of reasons. The first reason being that there are no high-quality picture books to go along with these themes. Books based on TV shows or movies and are not considered high-quality. Just because a movie or show is popular does not make it a good theme. Do we really want to encourage our students to have more screen time?
National Cookie Day is a made up day, it has absolutely no meaning to children. Is National Cookie Day of high-interest for children? Not if they don't know how to read a calendar. Are there plenty of high-quality picture books to support a National Cookie Day theme? Probably not. Is National Cookie Day relevant to your students? No, there are so many other more relevant and appropriate topics out there to choose from.
I saved the most controversial for last. So many teachers do a Dr. Seuss theme in March to celebrate the birthday of this iconic and beloved children's author. There's absolutely nothing wrong with doing a book-based unit or author study, it's actually a great way to teach. Many teachers do book-based literature units or author studies for popular children's authors such as Jan Brett, Mo Willems, Eric Carle and many others. The only sticking point with Dr. Seuss's birthday is the reason behind why you choose this theme. If it's just because March is his birthday and having a birthday party sounds like fun, then you're missing the mark entirely. If you're doing an in-depth author study because it allows you to teach certain skills to your students they need to be taught, then go for it!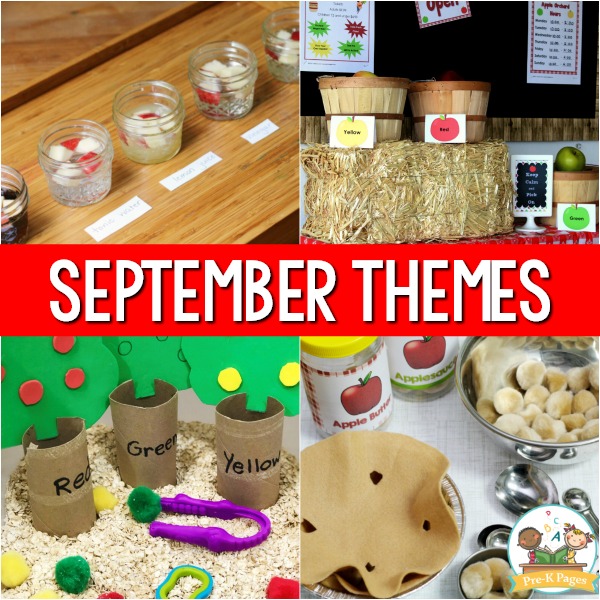 September Themes
Apples – An apple theme offers many opportunities for exploration and learning. Connect with folk tales as you talk about Johnny Appleseed (birthday on September 26). With this theme, you can also build on gardening or farming themes.
All About Me – Lead the children to think about themselves, their likes and dislikes, their names, and the things that can do. The five senses provide many opportunities for exploration. Introducing concepts related to the five senses can build a foundation for learning throughout the rest of the year. You could develop a separate senses theme to help preschoolers focus on these important natural tools.
Pets – Pets are a part of a child's family and are often the first animals that a child experiences in a hands-on way. This September theme can guide your preschool class to think about responsibility and care for their own pets or friends' pets.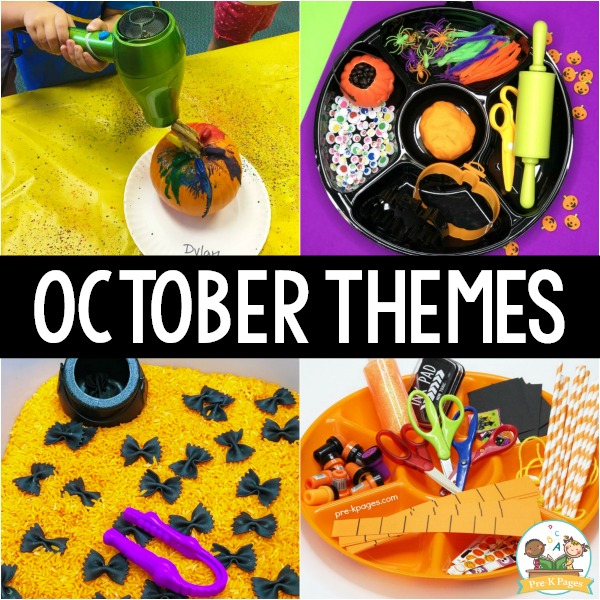 October Themes
Fall – The fall season is a natural theme for October. Weather may be cooler, fall produce appears in stores, and leaves may turn color. Even if changes are more subtle in your area, helping preschoolers recognize seasonal changes is important for their understanding of time and the physical world.
Fire Safety – October is Fire Safety Month. During October, talk about firefighters and ways to be safe in a fire. You could expand to other safety and community helpers with this theme.
Halloween – Some centers focus on Halloween as a theme or for activities and some do not. Your theme could focus on the celebrations and traditions and not on the scarier aspects of this holiday.
Spiders – Spiders are fascinating for some preschoolers and very scary for others. Exploring a spider theme or spider activities can help preschoolers learn more about these arachnids and take some of the scariness away. This theme can supplement a Halloween theme or be used independently to support a study of these animals.
Pumpkins – In October, pumpkins are everywhere. Pumpkins are a natural connection or extension of fall themes. Whether or not your center celebrates Halloween, pumpkins are a great theme to explore, with lots of possible activities.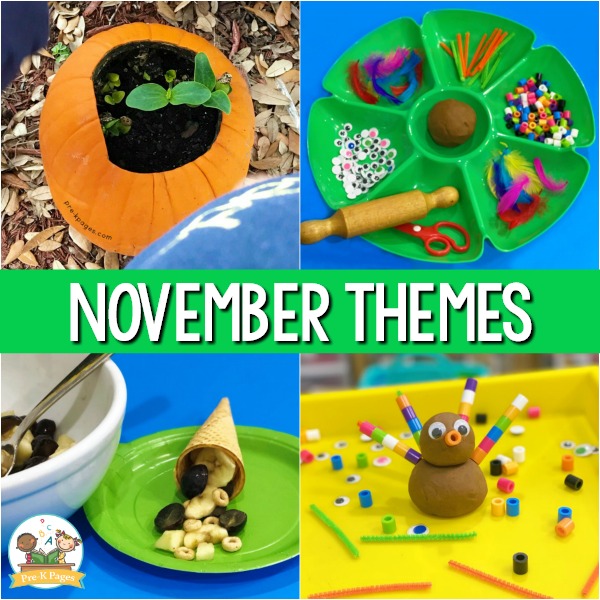 November Themes
Thanksgiving – The Thanksgiving holiday is a mix of the season, family, culture, and food. Preschoolers can have opportunities for lots of learning and exploration through activities related to Thanksgiving and harvest.
Farm – A farm theme would be a fun theme for November. Your preschoolers could think about vegetables and fruit they enjoy eating as well as explore where those foods come from. This theme could connect to Thanksgiving or focus on the harvest and food aspects of the season.
Clothing – Preschoolers are beginning to learn about themselves and the world around them. Learning things about self care, like taking care of needs or dressing themselves, are important milestones in the early years. A clothing theme can use familiar items to help preschoolers develop more of these self-care skills. Especially as the days grow colder, preschoolers can learn about putting on coats, zipping zippers, and so forth.
Weather – In November your area may experience all kinds of weather–sunny, windy, rainy, cool, snowy. A weather theme could be fun for preschoolers to explore. Weather is something that directly connects to the preschoolers' daily lives.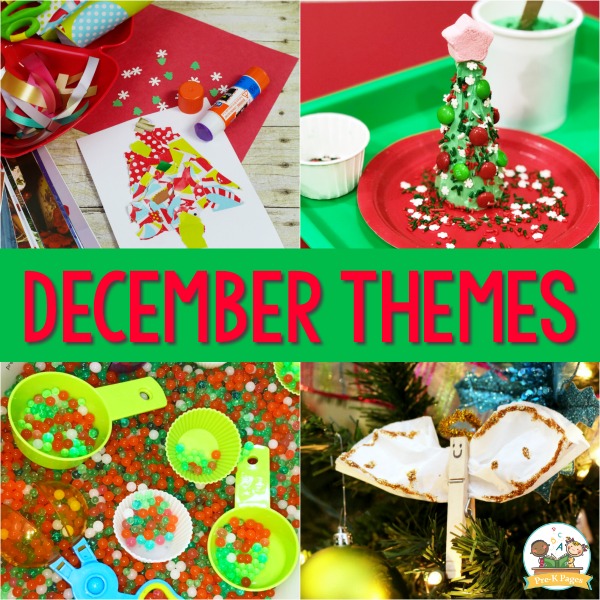 December Themes
Gingerbread Man – Gingerbread can be cooked, enjoyed, and explored as activities for preschoolers. You could connect this exploration to reading versions of the tale The Gingerbread Man or explore this bakery treat all on its own.
Christmas – The holiday season is prevalent in December. Use the natural time of year to develop concepts with preschoolers. You may want to talk about ways different people celebrate this holiday or incorporate this theme into an overall look at winter celebrations (that include Hanukkah and Kwanzaa).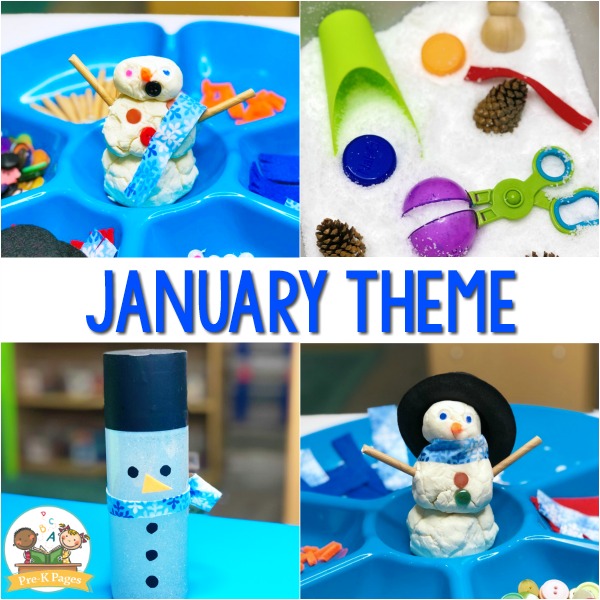 January Themes
MLK – Martin Luther King Jr Day is about celebrating the life and achievements of Dr. King. This theme could be a time to talk with children about working to get along with all kinds of people. Also in this theme, activities could help preschoolers understand how to work and play in your classroom (a good reinforcement after your winter break).
Bears – All preschoolers love to learn more about animals, and winter seems like a natural time to think about bears. Most bears are hibernating in the winter. (You may want to include information about other animals that hibernate.) Some bears are out in the snow. This would also be a good theme to use as you study the Goldilocks fairy tale.
Snow/Winter – January is a great time to think and explore winter. This theme is also a good connection between December and January, making easier transitions after the winter break. You may want to make snowmen an integral part of this theme or use snowmen as a follow-up theme.
Space – Expand on the winter weather theme and explore more things in the sky and in space. A theme that explore stars and planets and astronauts will engage many preschoolers.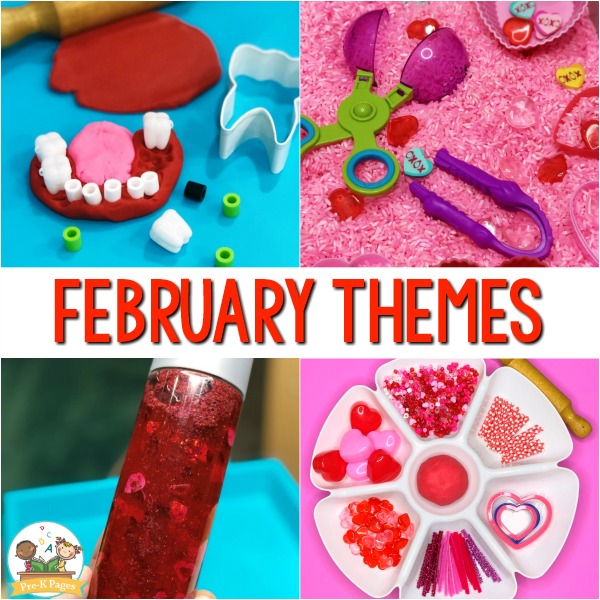 February Themes
Dental Health – Dental Health Month is February. Thinking about care for teeth and the helpers who work with our teeth can build familiarity with preschoolers and help dentist visits and toothbrushing times become less stressful.
Valentine's Day – It seems that the first part of February is consumed with Valentine's Day. Use this time of focus to talk with preschoolers about people they love and ways to show that they care for family members and others. Expand your Valentines theme with a focus on friends, friendship, and kindness.
Community Helpers – Learning more about the community and the helpers who work in it is a great theme for preschoolers. In addition to dentists, a natural connection in February is postal workers and communications. Help your preschoolers understand all about the community around them. Develop a theme to explore community places and the preschoolers' homes, neighborhoods, and towns.
Lunar New Year – The Lunar New Year (or Chinese New Year) occurs around this time of year. You could explore a different culture's traditions as a theme with your class.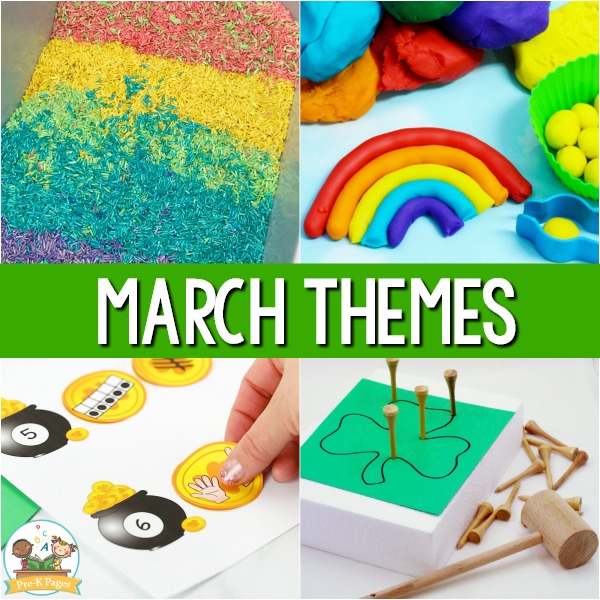 March Themes
St. Patrick's Day – This holiday on March 17 provides a natural connection for preschoolers since it relates to what is happening around them. Explore rainbows, shamrocks, the color green, and those mischievous leprechauns in a fun St. Patrick's Day theme.
Transportation – In the springtime, many families travel for spring break or to visit families for holidays. Exploring different types of transportation may be just the thing for your young travelers.
Pond – Ponds teem with all kinds of life–insects, fish, birds, amphibians, and mammals intermingle in this habitat. A pond theme offers many fun learning opportunities.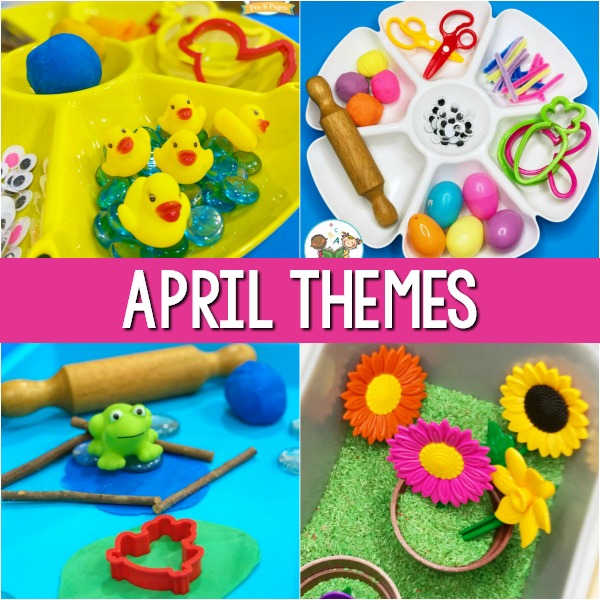 April Themes
Spring – Seasons are always a relevant theme for preschoolers. Spring activities will help your children explore the changes that are happening in the world around them.
Earth Day – Earth Day is on April 22. This theme offers opportunities for exploring how to care for the world, recycling and reusing resources, planting trees, and other spring-related activities.
Easter – If your children celebrate Easter or if your center explores different world holidays, an Easter theme would present some fun and meaningful exploration ideas.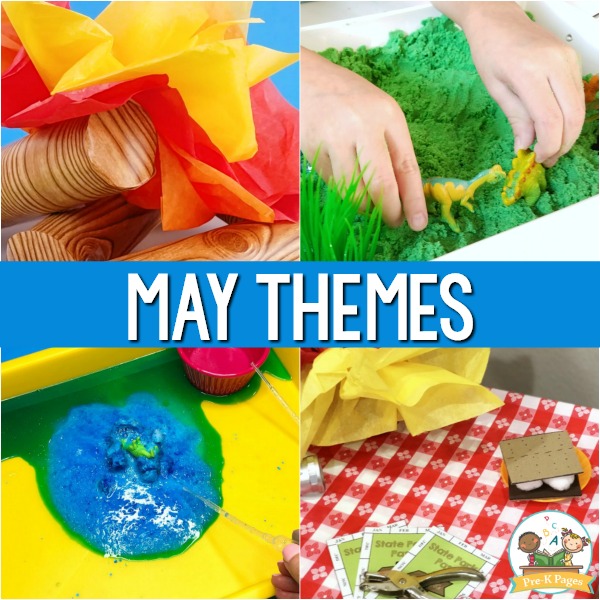 May Themes
Bugs – In the spring butterflies and other insects begin to flutter and fly around us. Learning more about insects (and other bugs) will excite some children and offer natural opportunities for science exploration in your classroom.
Camping – Camping is a fun spring activity. Explore a camping theme with your preschoolers, from setting up a campsite to tasting s'mores and trail mix. A camping theme offers opportunities for meaningful science explorations as well as cooperative activities.
Dinosaurs – Dinosaurs are always a popular topic for some preschoolers. Talk about prehistoric times, explore dig sites, or enjoy a variety of dinosaur adventures in May.
Mother's Day – With Mother's Day in this month, a focus on parents or families seems like a natural fit for May. To make sure to make your theme is relevant to all children in your classroom, do not just focus on mothers. Broaden to include fathers, grandmothers, aunts, step-parents, and foster parents.
June July and August Themes
Ocean – In the summer, many preschoolers and families go swimming at the pool or travel to the beach. Explore the ocean and beach in the summer to celebrate these fun summer days.
Zoo – Preschoolers love to explore animals. A zoo theme focuses on many different kinds of wild animals. In the warmer weather, you could also plan a field trip to a zoo to see the animals up close!
Father's Day – A family-related theme around Father's Day also connects the theme to the children's lives and what's happening around them. Your theme should broaden to focus on relevant and important men or caregivers in all children's lives (grandfathers, uncles, mothers, neighbors/friends).
Construction – Warmer days mean more time outside. Exploring a construction theme provides opportunities for indoor and outdoor learning. Think about what concepts you could build with preschoolers in a construction theme.
More Preschool Monthly Themes