Do you struggle to find time to change out the props in your dramatic play center? These printable props will help you easily transform your dramatic play center into a fun Grocery Store.
Give your basic housekeeping or dramatic play center a makeover by adding some empty boxes and a few simple props like a pretend cash register, play food, and reusable grocery bags. Your kids will love playing and learning in their very own grocery store!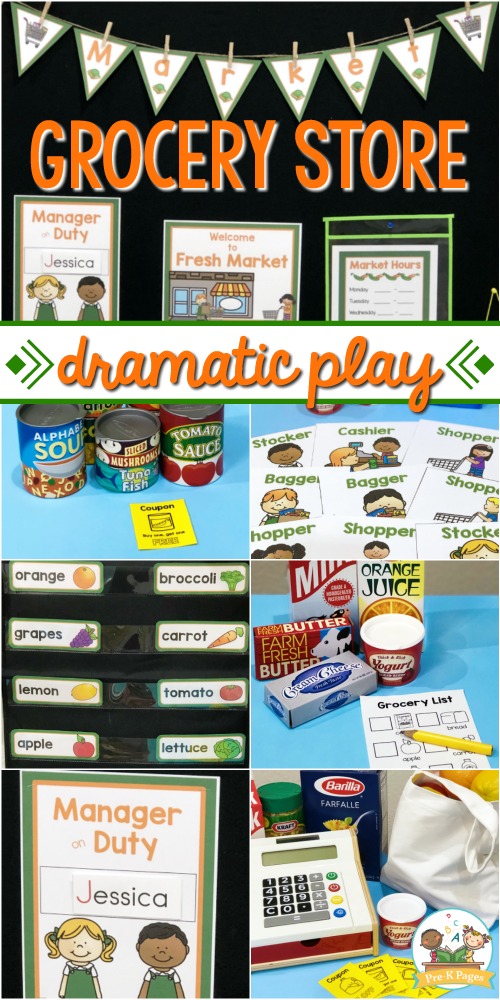 Grocery Store Dramatic Play
This packet also provides research that explains how dramatic play supports academic learning in preschool and kindergarten. The Grocery Store play kit is infused with literacy, math, and writing opportunities that support current early learning standards.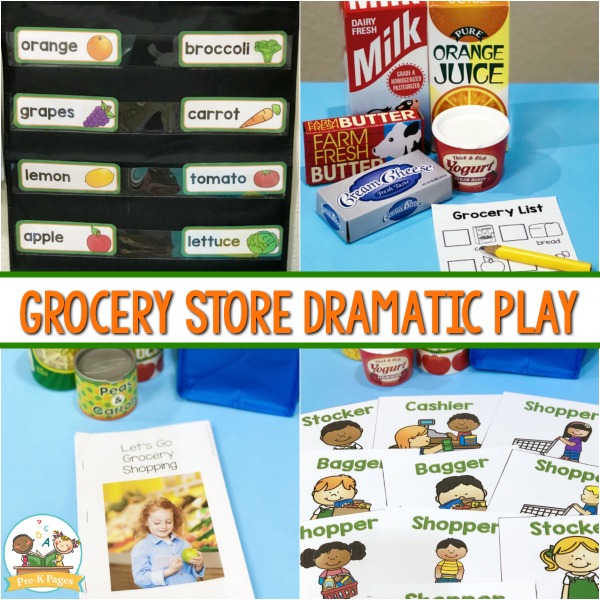 What You Get
The 112 page Dramatic Play Grocery Store Kit includes the following printables:
23 Signs (color + b/w)
Labels (color)
1 Banner (color + b/w)
32 Picture Cards (color + b/w)
Role Playing Name Tags (color)
2 Shopping Lists (b/w)
Non-Fiction Book (color + b/w)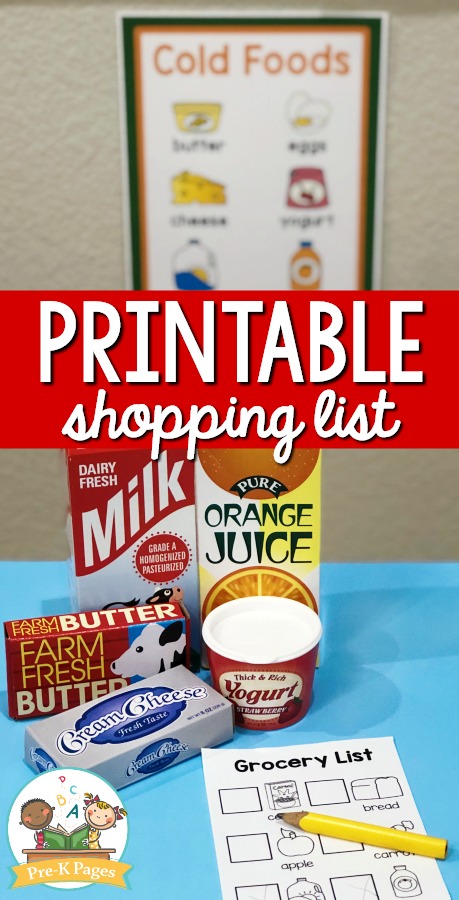 Printable Shopping List
All shoppers need a good list! Print out several copies of the list and place in your pretend play grocery store with clipboards and pencils for meaningful writing experiences. You could also laminate your shopping lists or place them in page protectors and use dry erase markers.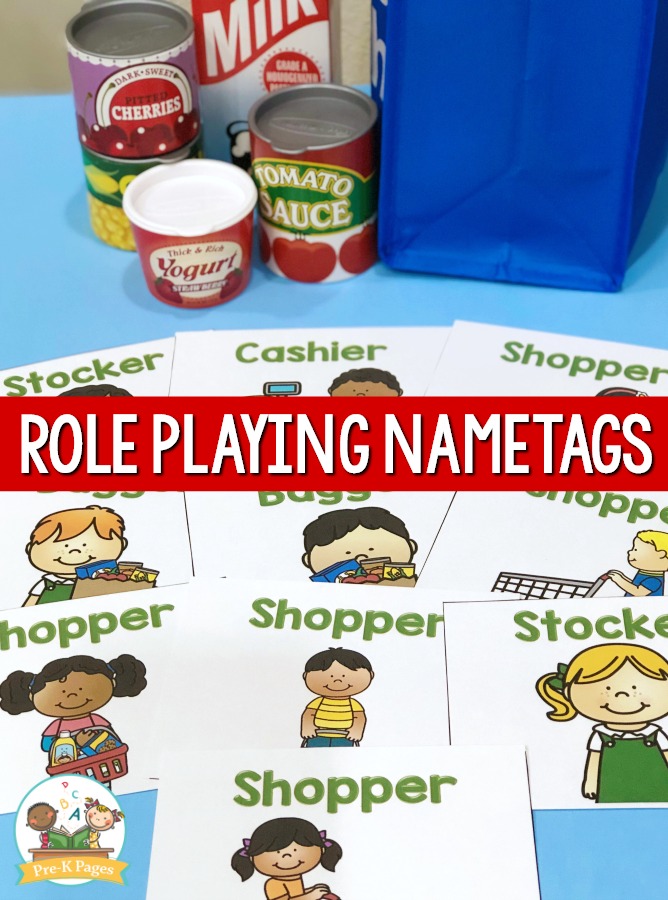 Nametags
Can I help you find something? These printable name tags will help your little learners identify and choose which roles they would like to play in this pretend play theme.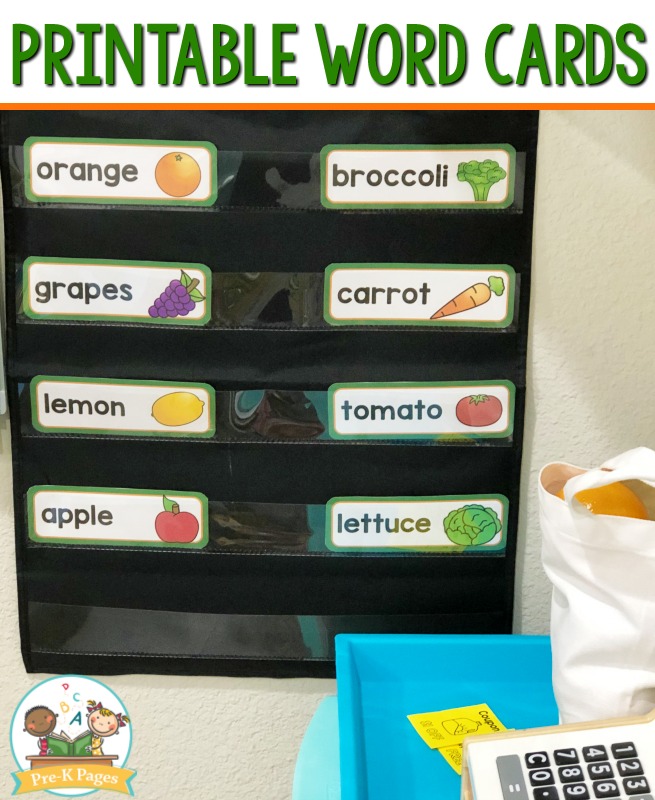 Picture Word Cards
You can print these picture cards on cardstock, laminate, and place in a pocket chart to create a print-rich environment for your little learners. Use the picture cards to spark conversations and develop vocabulary and oral language skills in your pretend play grocery store.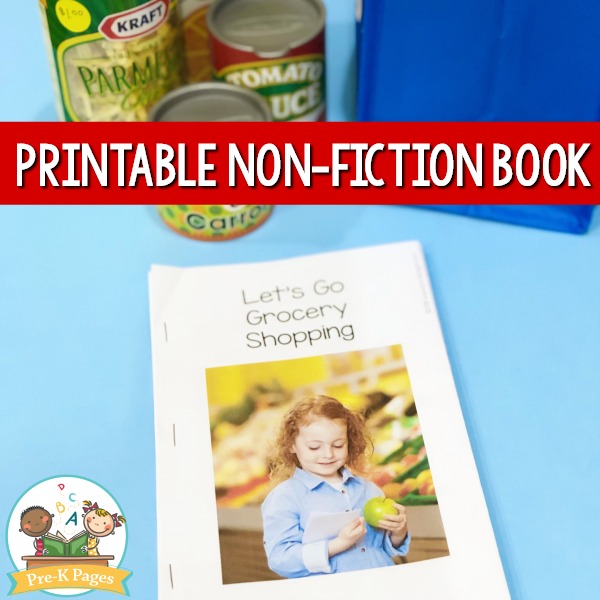 Printable Non-Fiction Book
Let's go to the grocery store! Use this printable book to introduce the grocery store dramatic play center to your students. Full and half-page versions of the book are included, choose the ones that best meets your needs and those of your students.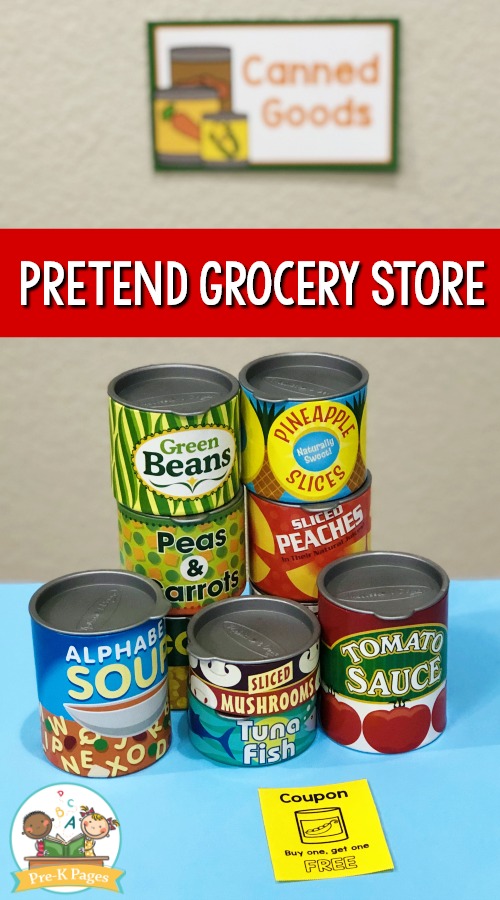 Clean Up on Aisle 4!
Isn't that the truth? Seriously though, every good grocery store needs lots of signs to let shoppers know where to find what they need. Here is just one of several aisle signs included in the printable grocery store kit. Some of the cans pictured here are from the Melissa and Doug Play Canned Food Set.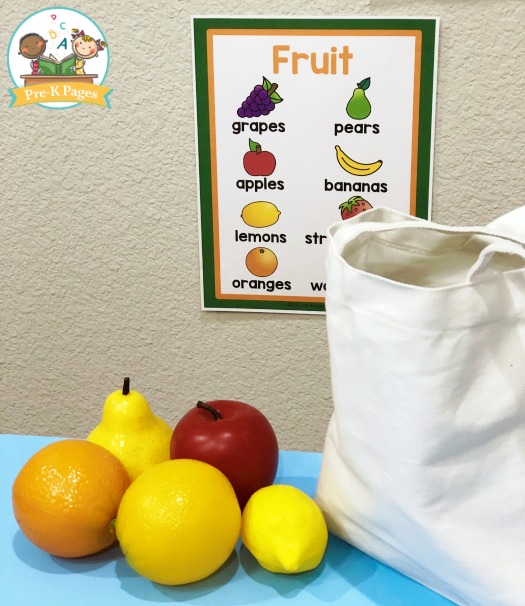 Healthy Choices
Encourage healthy eating by providing fruit and veggies in your pretend play grocery store!
BOGO Sale
Don't forget to have sales at your grocery store! There are two sale signs included in the dramatic play grocery store kit. Each one will help your students understand that print has meaning and motivate them to "read" for a purpose. I found the blue hand baskets at my local Goodwill store.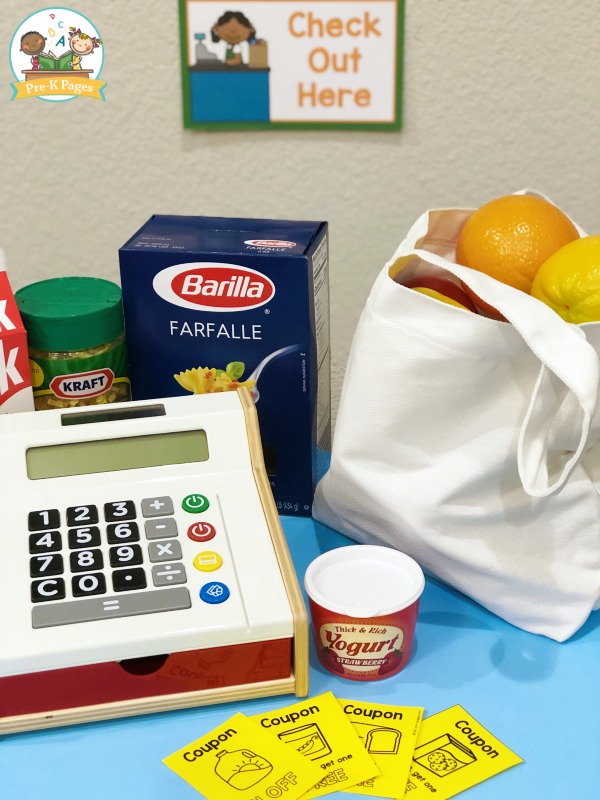 Ready to Check Out?
Did you find everything you need today? The wood cash register was purchased from IKEA, it was very inexpensive, about $5. Some of the pretend food pictured here is from the Melissa and Doug Play Canned Food Set.
Don't forget to use your coupons! You can use real coupons in your pretend play grocery store, or use the printables found in the grocery store kit. You can print these coupons on colored paper so they'll stand out.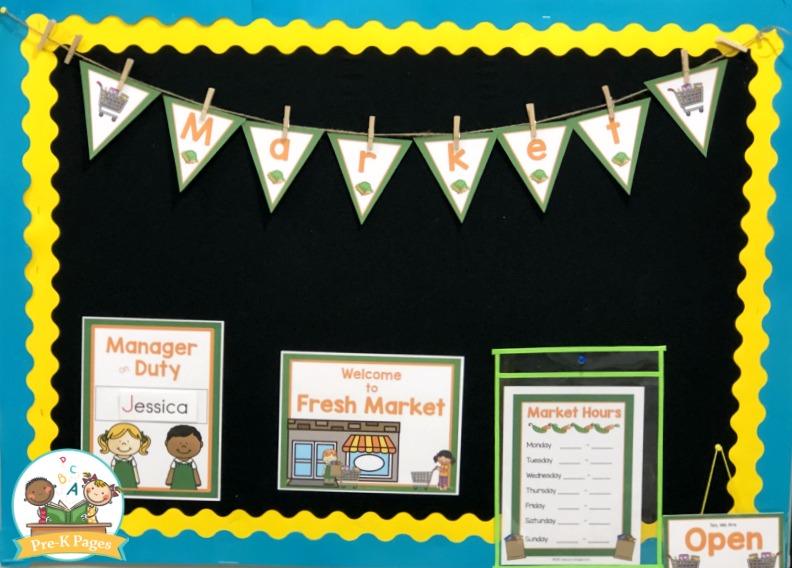 Grocery Store Bunting Banner
The colorful banner and signs will provide meaningful literacy experiences for your students in the dramatic play center as well as let everybody know where to find the best deals in town!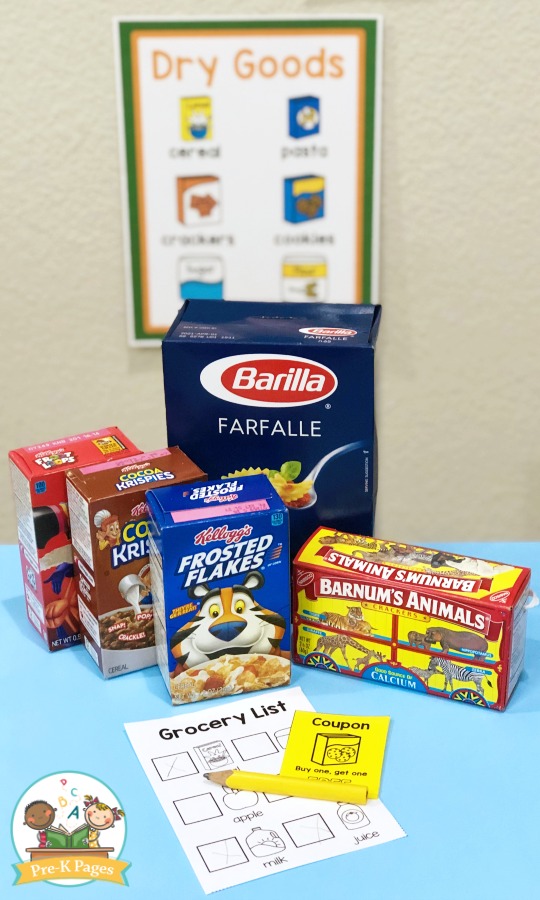 Dramatic Play Grocery Store Food
I recycled small boxes of cereal, animal crackers, and other foods by stuffing them with newspaper and taping them shut for the dry goods aisle.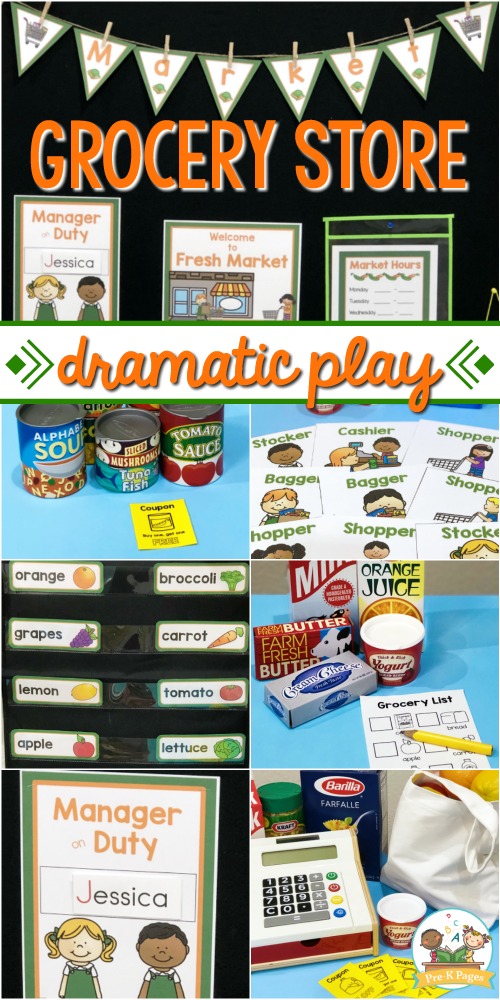 Purchase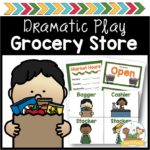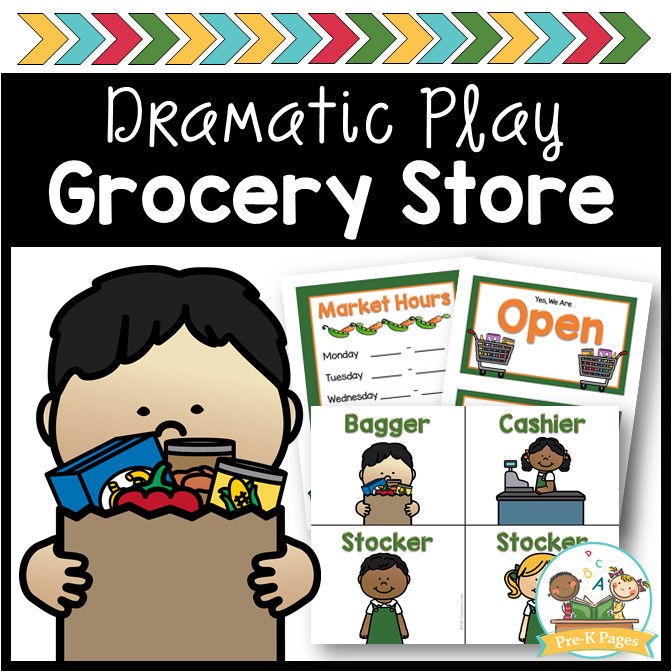 112 pages of printable props to help you easily transform your dramatic play center into a Grocery Store. Includes literacy, math, and writing opportunities that align with current learning standards.
More Dramatic Play Themes from Pre-K Pages
Dramatic Play Grocery Store Resources
More Grocery Store Dramatic Play Ideas
Grocery Store Dramatic Play Center Ideas from Prekinders