Community helpers are all around us. They do lots of different kinds of jobs and help preschoolers and their families every day. But often preschoolers may not think about what the people around them do. They may see people who work in the restaurant or grocery store and not realize what their work involves. They see food in stores or on their tables and not realize that men and women work on farms to help them have the food they need. These community helper books can help expand your preschoolers' knowledge about food-related jobs and helpers.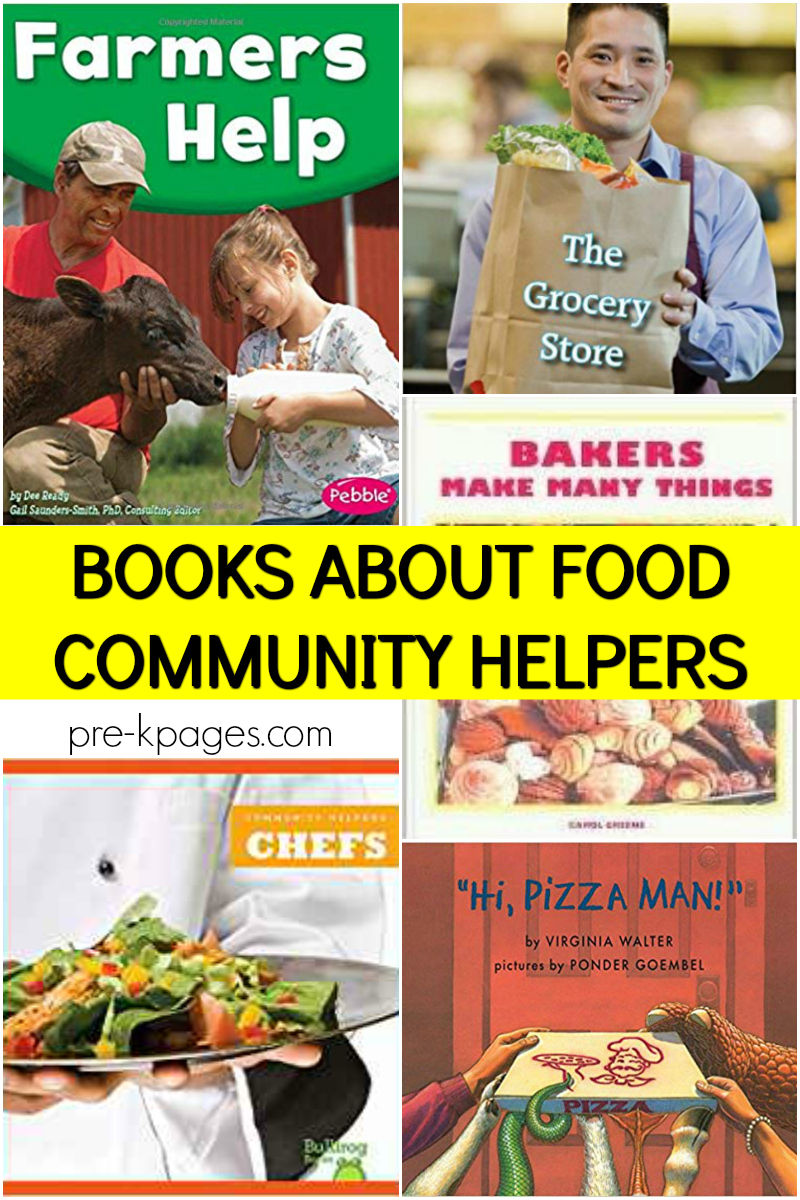 Books About Farmers and Grocery Helpers
There are so many community helper books to explore with your preschoolers! These books about farmers and grocery helpers can help show your preschoolers how work goes into the food that is on their table. And how much hard work goes into these jobs!
Farmers Help by by Dee Ready
Farmers help people have food to eat. They work hard, often from sunup to sundown. They are an important part of our communities.
Farmers by Cari Meister
The photos and text in this book lead children to discover how farmers raise crops and animals.
I Want to Be a Farmer by Dan Liebman
Check out the tools and tasks of life on a farm.
A Day in the Life of a Farmer by Heather Adamson
A look at the day-to-day work of a farmer, growing food for others.
The Grocery Store by Heather Adamson
Learn about the different areas of a grocery store and the people who work there.
Hooray for Farmers! by Kurt Waldendorf
Photographs and simple text tell the story of how farmers raise crops and animals.
Supermarket Managers by Mary Firestone
What does the manager of a supermarket do all day? What tools does he need? Find out all about the work of this community helper.
We Need Farmers by Lola Schaefer
Learn about the work of farmers in our community.
Fruit and Vegetable Man by Roni Schotter
Mr. Rubenstein gets sick and cannot run his fruit and vegetable store. But his assistant Sun Ho is ready to step in.
Before We Eat: From Farm to Table by Pat Brisson
Examine who helps provide the food we eat.
The Beeman by Laurie Krebs
A girl visits her grandfather and learns about his work caring for bees and harvesting honey.
Jobs on a Farm by Nancy Dickmann
Farmers have all kinds of work to do. Discover the many different tasks that they face every day.
What Happens in a Supermarket? by Amy Hutchings
Many people work in a supermarket to make sure people have the food they want to buy.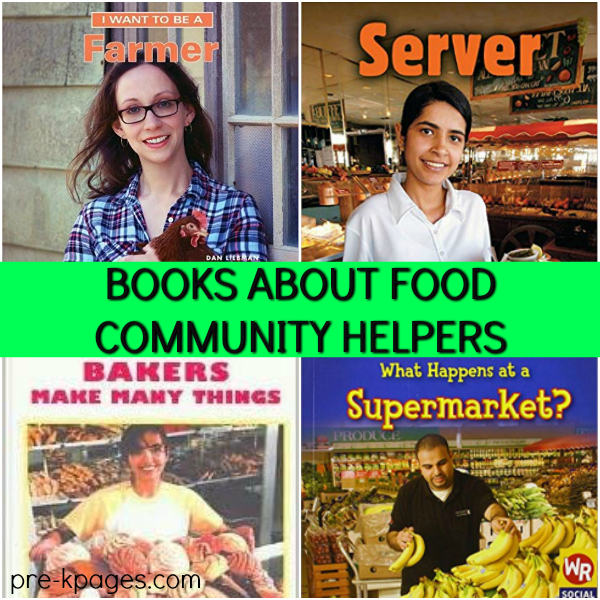 Community Helper Books About Chefs, Bakers, and Other Food Helpers
Mr. Cookie Baker by Monica Wellington
Step by step, Mr. Baker prepares his delicious cookies in this community helper book.
Pizza at Sally's by Monica Wellington
The ingredients for Sally's pizza come from all different places. A community works together to make sure Sally has what she needs as a pizza maker.
Chefs by Cari Meister
Explore the tools and tasks in a restaurant kitchen.
I Want to Be a Chef by Dan Liebman
Learn what happens behind the scenes in a restaurant, including all the work that chefs do.
Hi, Pizza Man! by Virginia Walter
Mom says she will open the door and say "Hi Pizza Man" when the pizza arrives. But Vivian wonders what Mom would say if the pizza was delivered by a woman, a cat, and many other characters.
I Have a Restaurant by Ryan Afromsky
From opening to closing, find out all the work that happens in a restaurant.
Meet My Neighbor, the Restaurant Owner by Marc Crabtree
Learn what the owner of a Chinese restaurant does throughout the day.
Chef (People Who Help Us) by Amanda Askew
Rory is a chef who works in a diner. This book is a good introduction to this community helper for younger preschoolers.
Hooray for Chefs! by Kurt Waldendorf
Large clear photos of chefs at work along with simple text to challenge children to think about the work of chefs.
Server by Ann-Marie Kishel
Taking orders, pouring drinks, and working hard in the restaurant are all tasks of a server.
Bakers Make Many Things by Carol Greene
Explore the jobs of people in a bakery.
Clive Is a Waiter by Jessica Spanyol
Clive explores what it means to be a waiter.
More Book Lists