Are you looking for fun cutting activities to help your little learners practice cutting with scissors? Learning how to cut with scissors can be very tricky for many young children. They may need a little extra encouragement and motivation to feel comfortable cutting with scissors. This list of more than 25 cutting activities is full of fun and engaging ideas that your littles will find irresistible!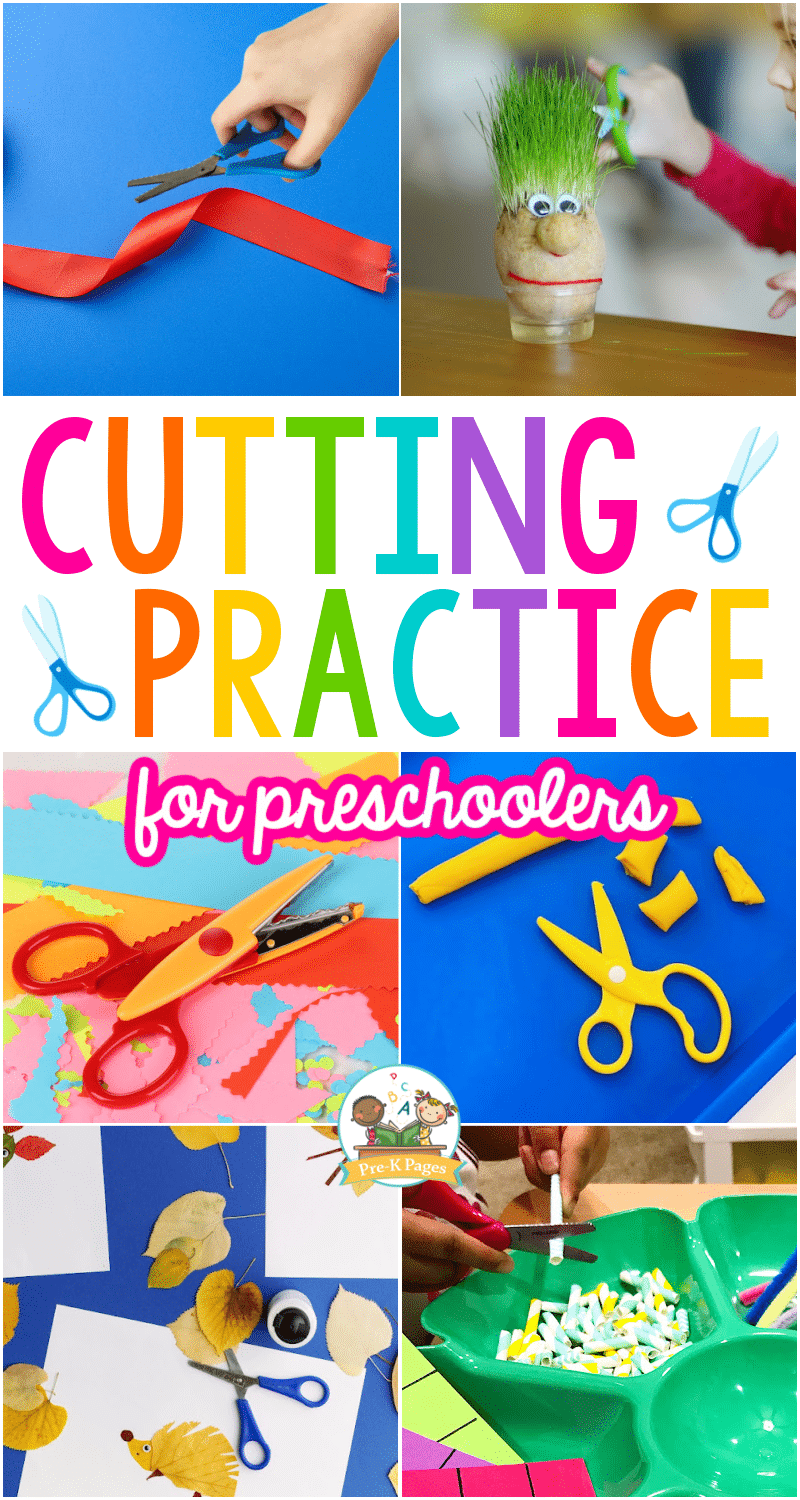 Cutting Activities for Preschoolers
But before we jump right to cutting activities, let's talk about fine motor skills in general. Fine motor refers to the small muscles in the hands that will eventually be used to hold writing tools.
The act of cutting with scissors is a fine motor skill all by itself, but there are plenty of things your kids can do to strengthen their fine motor skills before they ever hold a pair of scissors in their hands.
The more opportunities you have for your kids to exercise their fine motor skills throughout your daily routine, the better prepared they'll be to cut with scissors.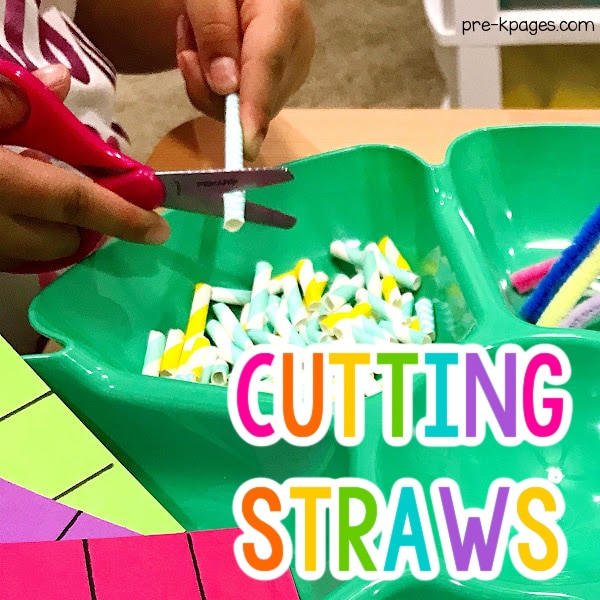 How Do You Make Cutting Fun?
Before you introduce cutting straight lines, curvy lines, or right angles out of paper, you should first provide your students with lots of opportunities to cut other things besides paper with lines.
Your ultimate goal is to help young children learn how to cut paper, but what they want to cut is everything else! Spice things up and make cutting more appealing by offering your kids a variety of different types of paper to practice cutting. Here are some of my favorite materials to use for cutting activities that will motivate your little learners to use scissors:
Junk Mail — We all have it! Instead of tossing it in the recycling bin, invite your kids to cut the junk mail with scissors. The mail that's printed on cardstock type paper is particularly good for young children who are just learning how to use scissors because it offers more resistance than regular paper.
Store Ads — Kids love cutting out pictures from toy catalogs around the holidays. My kids particularly liked cutting out pictures of their favorite books from the monthly Scholastic Book Flyers. Add some glue sticks and blank paper and your kids can make collages from their clippings in the art center.
Wrapping Paper — I've saved used wrapping paper from gifts and used it as a cutting center in my classroom. Just cut up the paper into strips and place it in your sensory bin along with scissors and let your kids snip away – they love it!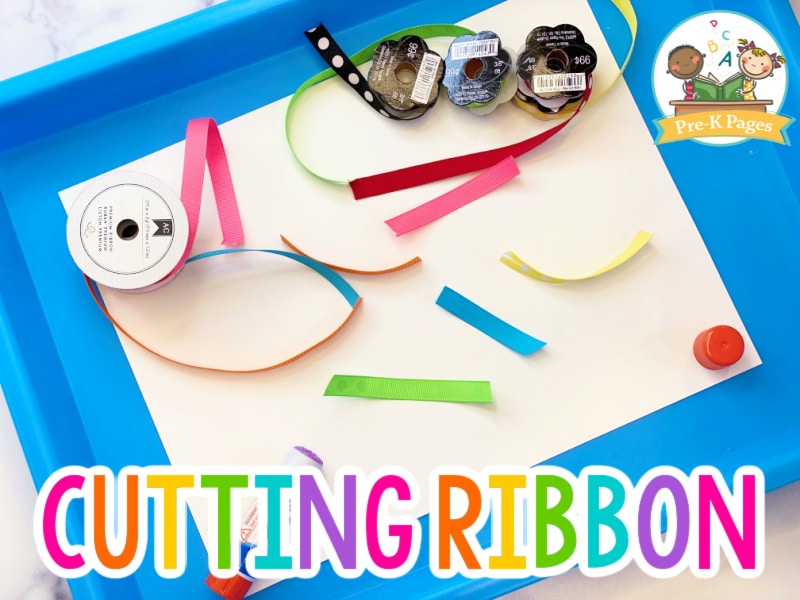 Motivating Children to Cut with Scissors
Scrap Paper — I've always had a dish tub of scrap paper in my classroom, any scraps leftover from project go into the tub. I keep this tub in my art center with scissors so my kids can make collages. There are no limits on how much scrap paper they can use, which they take full advantage of.
Magazines — I personally no longer subscribe to any magazines, but you may have friends, colleagues, or neighbors who do. I've had good luck asking the local senior center to send me their old magazines for use in my classroom. I've also asked my colleagues and they were more than happy to lighten the load in their recycling bins.
Wallpaper — You can ask stores that sell wallpaper if they will give you their out of date wallpaper books, most will be glad to get rid of them. In my area we have a Reusable store that collects discarded items that can be used by teachers and artists like skeins of yarn, spools of thread, wallpaper, and a large assortment of other things that are perfect for cutting practice.
Scrapbook Paper — If you've got any leftover scrapbook paper lying around the pretty designs and bright colors are great for motivating your little learners to cut.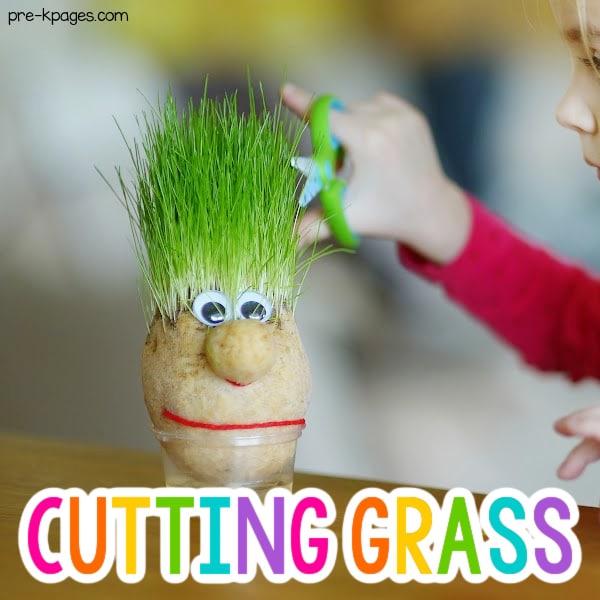 Materials for Cutting Practice
Sometimes you just need to think outside the box when it comes to making cutting practice more fun for your kids. You can use items found in nature, or even raid your recycling bin to pique your kids' interest levels.
Grass — Growing grass in the classroom is always a huge hit with the littles! Make this activity even more fun by inviting your students to give the grass "haircuts" with their scissors. Even your most reluctant cutters will flock to participate in this activity.
Leaves — Making leaf people or creatures is a great open-ended art activity to do in the fall. Just add scissors to this popular activity and now your students can cut the leaves to make different shapes, designs, and types of animals.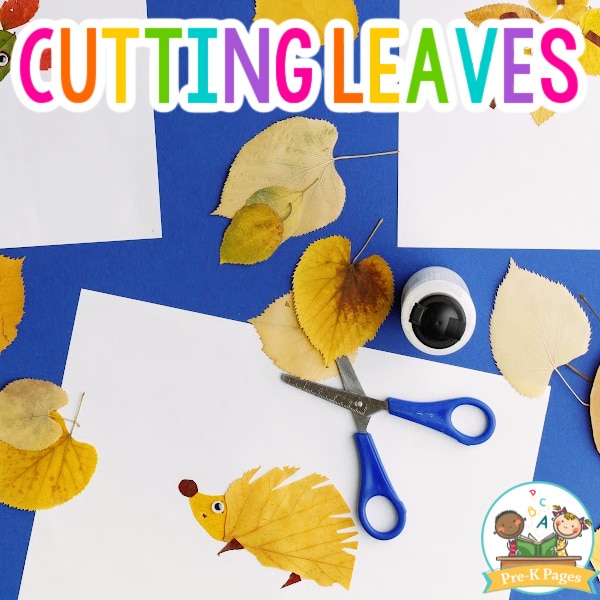 Using Materials From The Kitchen for Cutting Practice
Wax Paper — Cutting wax paper can be a fun way for your kids to practice cutting and fine motor skills.
Parchment Paper — Another way to change things up is to cut parchment paper. Draw straight lines on parchment paper with a permanent marker to see if your kids can cut on it.
Aluminum Foil — Foil is shiny and looks fantastic in art collages. Cutting foil is also an age-old trick to sharpen scissor blades, so it's a win-win for everyone!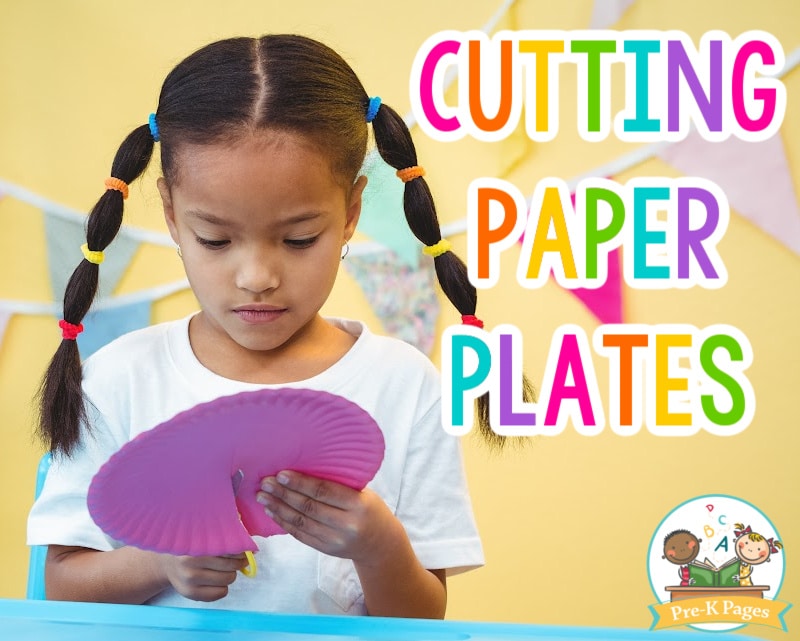 Craft Supplies For Cutting Practice
Did you know you probably already have a lot of supplies you can use for cutting practice in your supply cabinet? Yep, lots of common items we use in the art center are perfect for cutting practice too!
Paper Plates — There are lots of different ways to cut paper plates. Cut fringe around the edges to create a lion, or a leprechaun! Notch the edges and use yarn to create a spider web – the possibilities are endless.
Coffee Filters — Of course, everybody loves to make coffee filter snowflakes with scissors. But your kids can cut them in a variety of different ways to make flowers and other interesting designs too.
Straws — I love a good fine motor tray, especially one that includes paper straws for cutting practice. Your kids will love using cut paper straws create necklaces and bracelets.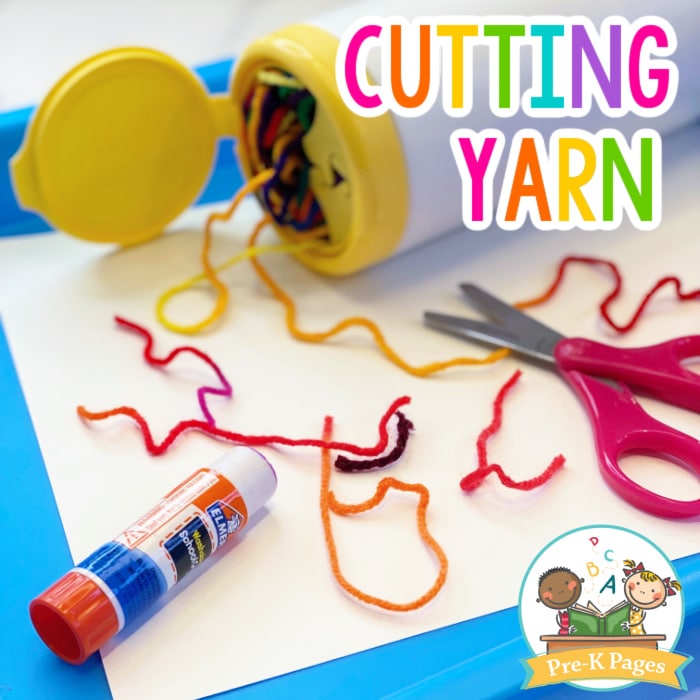 High-Interest Materials
Yarn — Kids love using yarn in their art projects. Just put some yarn in your art center and let them decide how much to cut and use to create masterpieces. Nothing scream open-ended art more than yarn!
Ribbon — Who doesn't love shiny ribbons? I find mine in the dollar section of Target seasonally, or on sale at local craft stores. I collect ribbon and keep it in the art center, kids love to cut the prettiest pieces to decorate their artwork!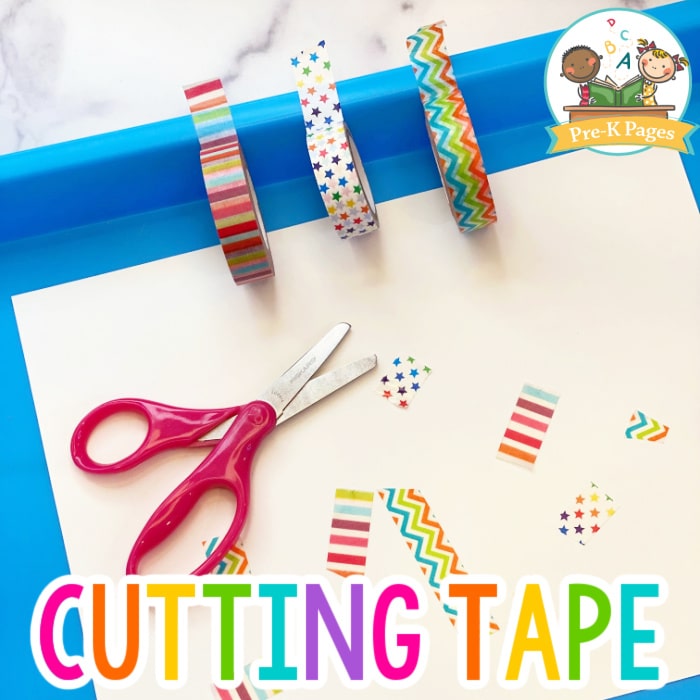 Tape — Cutting tape draws preschoolers like moths to a flame! My favorite tape for cutting is Washi tape, that colorful tape with designs that comes in small rolls at the dollar or craft stores. Washi tape is similar to masking tape and super easy to cut for little hands.
Streamers — You can find streamers at any dollar store. I like to put streamers in my sensory bin along with wrapping paper and scissors for a birthday theme cutting bin.
Fabric — They sell groups of square fabric already cut at your local craft store that carries fabric. I think these are called fat quarters in quilting, but don't quote me on that. My kids love these squares of fabric, especially cutting them up to use in art projects or making clothes for peg dolls.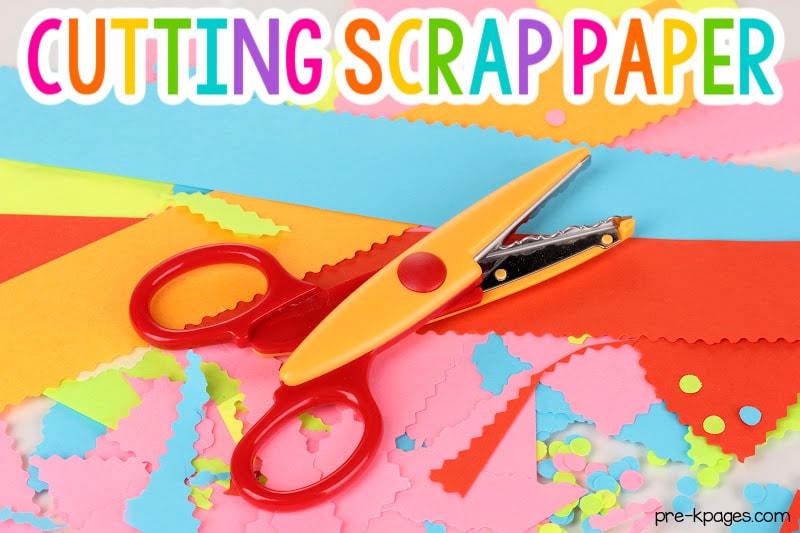 Using Recyclables For Cutting Practice
Here are a few more items you may have in your recycling bin that can be used for cutting practice in your classroom. Not only are recycled materials fun to cut, they're also completely free!
Paper Towel Rolls — These are great for cutting fringe around the open ends. You can also invite your kids to use a hole punch around the open ends of cardboard tubes.
Bubble Wrap — Got bubble wrap? It's great for popping, but did you know you can cut it too?
Cardboard Boxes — Not those thick packing boxes, but rather the much thinner food boxes that hold things like cereal or crackers. Your kids will love cutting out their favorite logos from clean food boxes!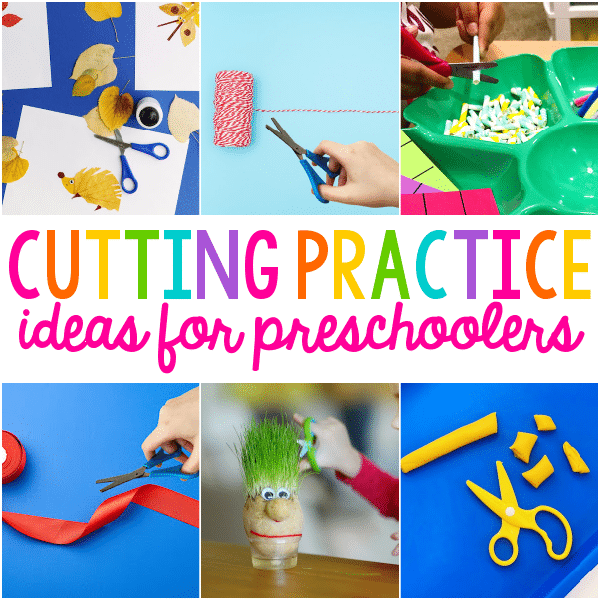 Additional Cutting Practice Ideas
Play Dough — Grab some dough scissors, put them in your play dough center, and watch the magic happen! I love dough scissors because they're plastic, not metal, which means they won't rust after being used with play dough. Dough scissors won't cut anything except dough, including hair – which makes them perfect for even your youngest students.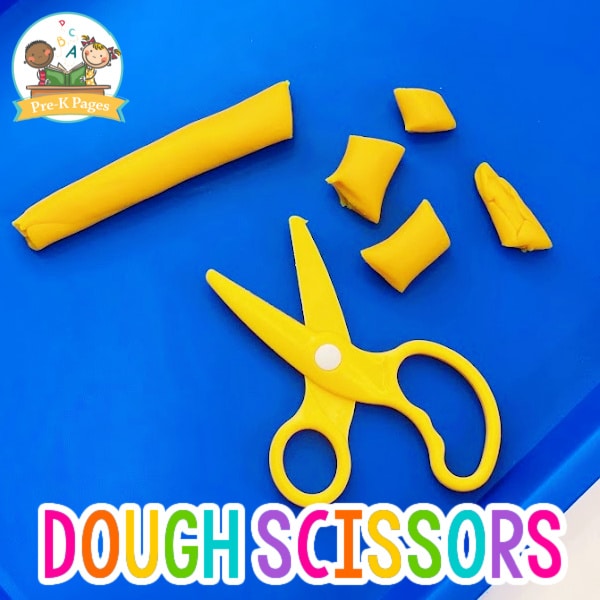 Paint Chips — If you ask your local home improvement store nicely, they may give you old paint chips to use for cutting practice. Kids love to cut paint chips because they're colorful, and the paper is sturdy which makes it easier for them to cut.
Cutting Practice Bundle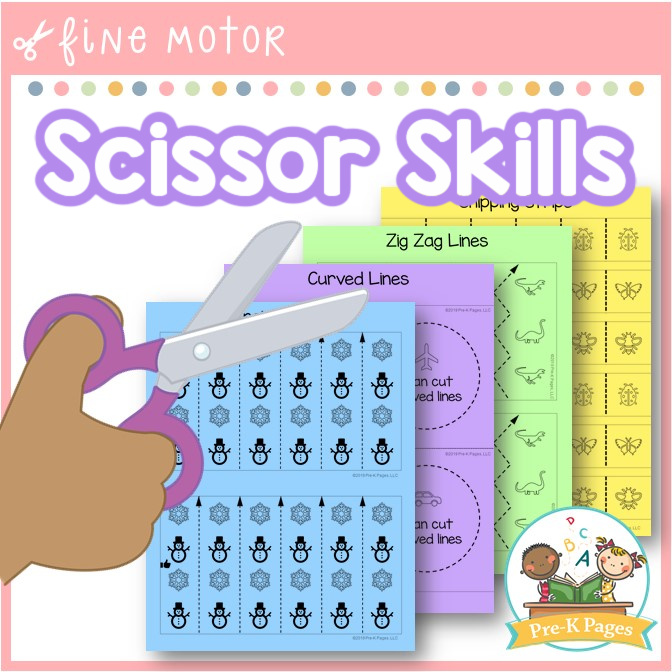 When it's time for your kids to move on to cutting on lines, this Scissor Cutting Skills Bundle includes an entire year of thematic scissor practice for your little learners.
More Teaching Tips