Dinosaur dig dramatic play theme for the preschool, pre-k, or kindergarten classroom.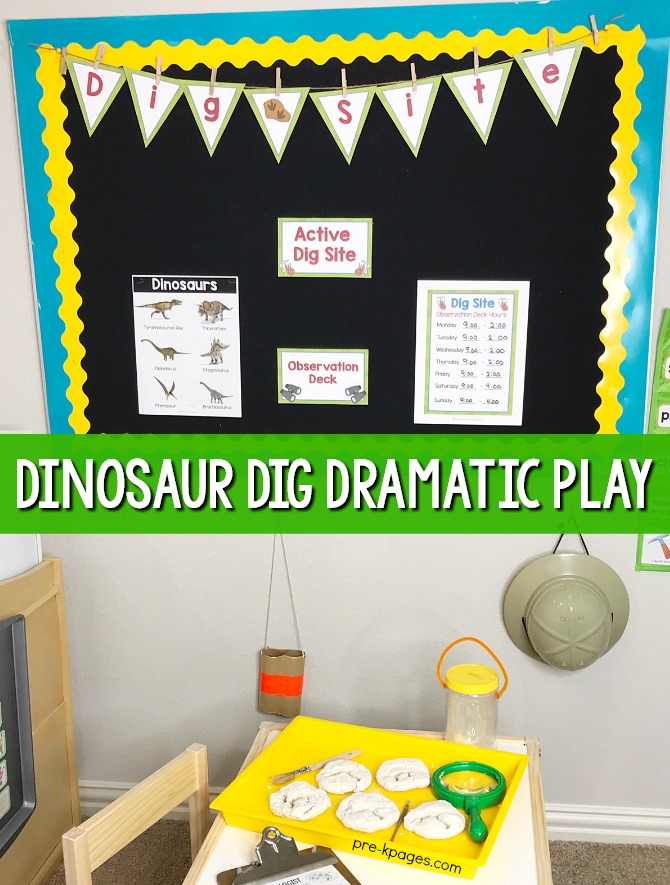 Dinosaur Dramatic Play
Do you struggle to find time to change out the props in your dramatic play center? These printable props will help you easily transform your dramatic play center into a fun dinosaur dig site.
This packet also provides research that explains how dramatic play supports early childhood academic learning in preschool, pre-k, and kindergarten. The dinosaur dig play kit is infused with literacy, math, and writing opportunities that support current learning standards.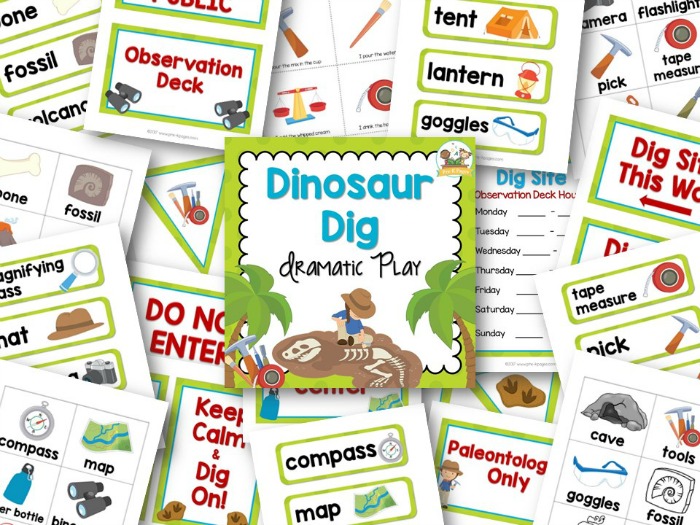 Contents
This 129 page Dinosaur Dramatic Play Kit includes the following printables:
13 Different Dig Site Signs (color + b/w, 2 sizes)
Dig Site Pennant Banner (color + b/w)
Paleontologist Checklists (b/w – 1/2 page & 1/4 page)
20 Picture Cards (color + b/w, and blank)
20 Labels (color + b/w)
Informational Book (color + b/w, 2 sizes)
6 Informational Posters (color + b/w)
Role Play Nametags (color)
How to Dig for Dinosaur Bones (color + b/w)
How to Analyze Dinosaur Bones(color + b/w)
Dig Site Map (b/w)
Field Notes (b/w, 2 sizes)
Book List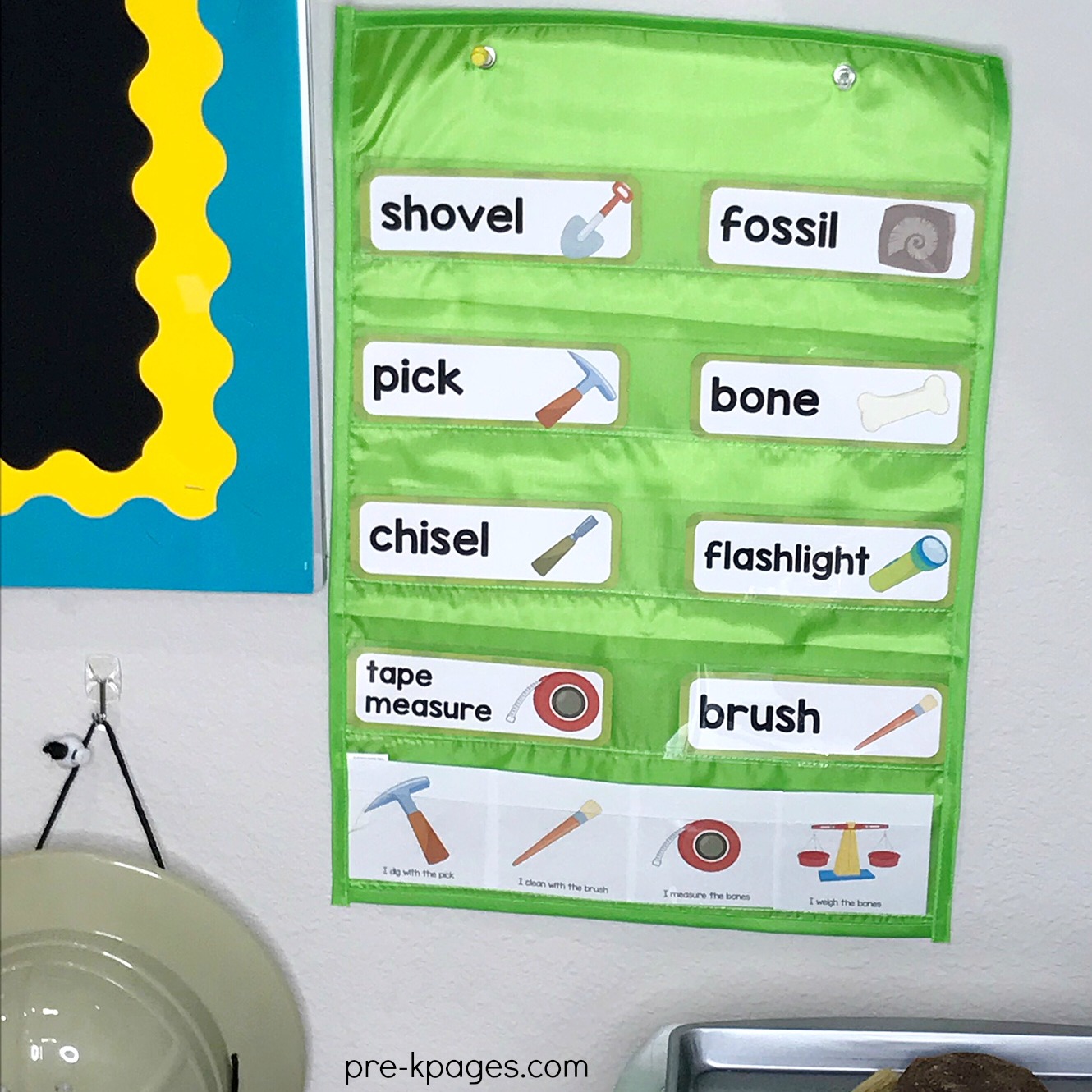 Picture Cards
The printable word cards can be placed in a pocket chart in your pretend play dinosaur dig site area. Only some of the word cards are pictured here, there are 20 word cards included in the kit as well as a black and white set and a blank set.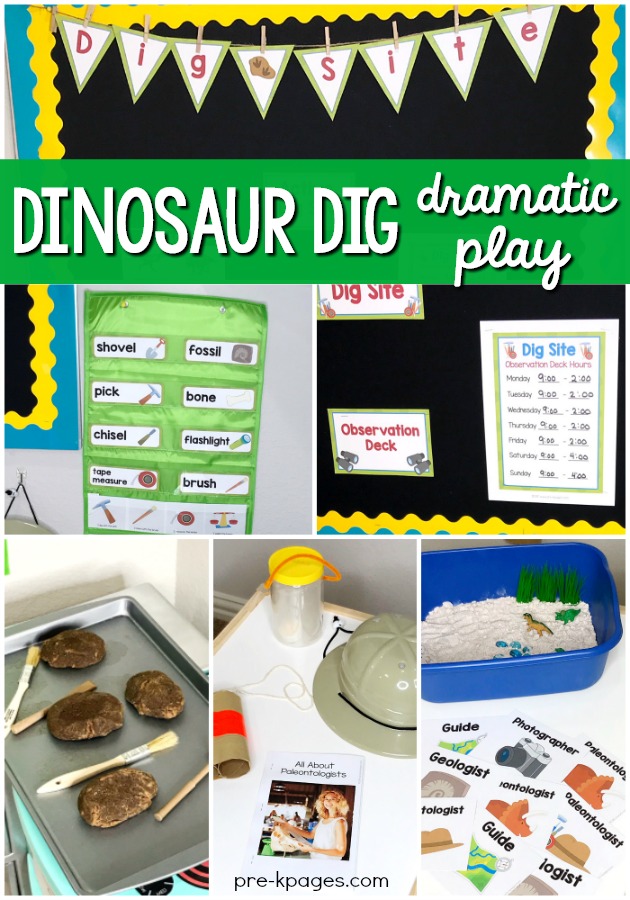 Printable Banner and Signs
These little paleontologists are hard at work! You can see the super cute banner for the dinosaur dig site above. Just print the banner on cardstock, cut out, and hang the pieces from a string in your play area using clothespins or tape.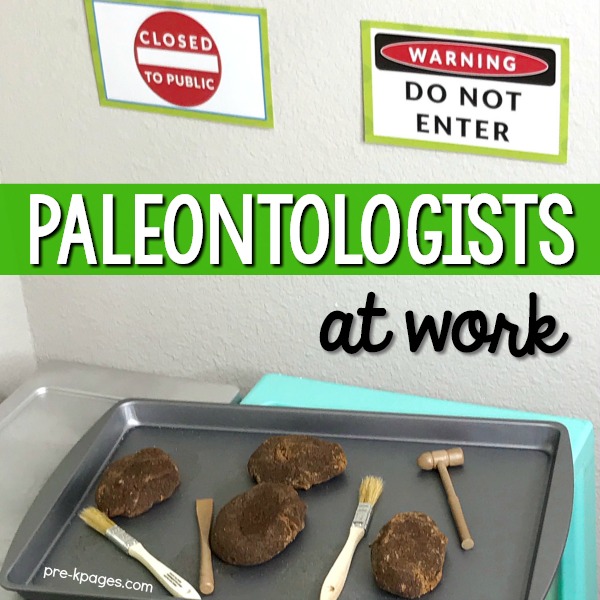 There are 13 different signs included in the kit in two sizes, both sizes are available in both color and black and white. Above you can see just two of the color signs in action. Make your own hatching dinosaur eggs with this super simple recipe.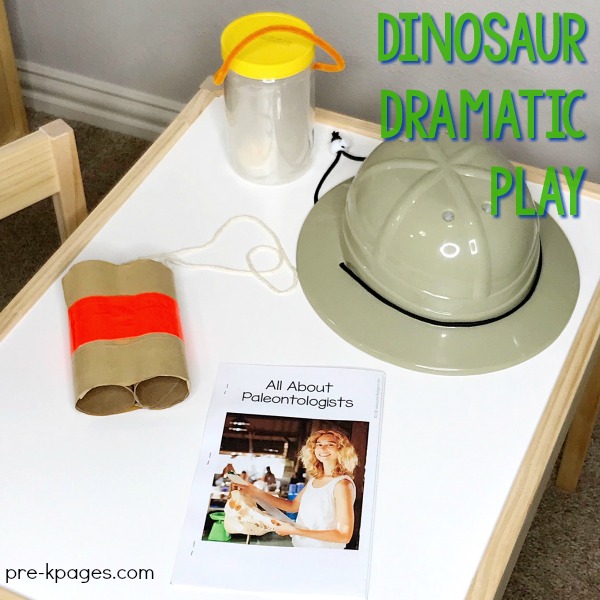 Book
Information about paleontologists on a preschool level can be hard to find, that's why I created one for you with real photographs! The very simple text on each page describes the job of a paleontologist, so you can introduce this dramatic play theme to your students with an age-appropriate read aloud. This printable book is available in both full or half-page size.
Of course, paleontologists need a few tools to get the job done. Pictured here you can see the DIY binoculars, DIY lantern, and a hat I purchased from my local party store.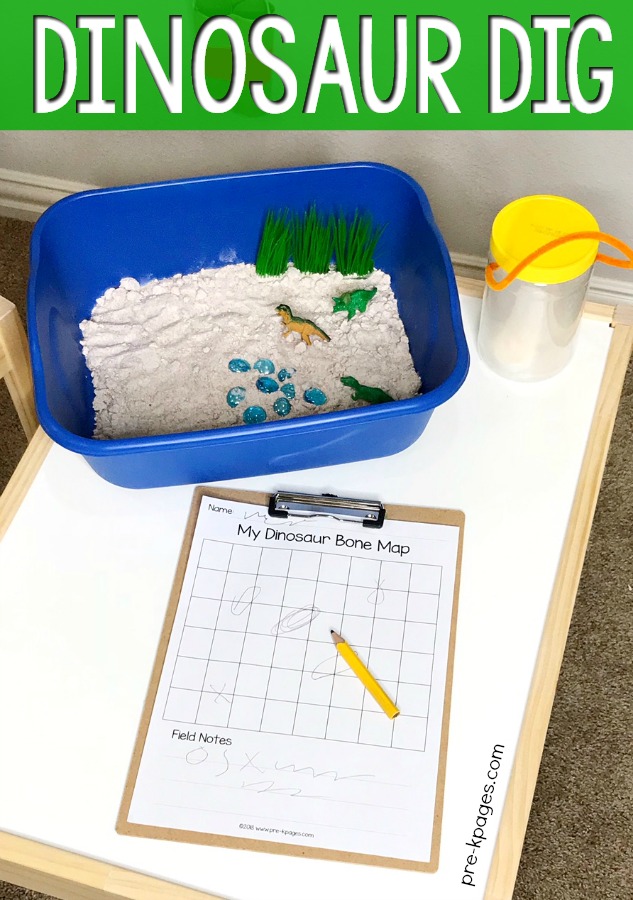 Maps
Your little paleontologists will want to mark their findings on this black and white map so can let their colleagues know where to dig for bones! They'll also have fun playing and digging for bones in this homemade kinetic sand.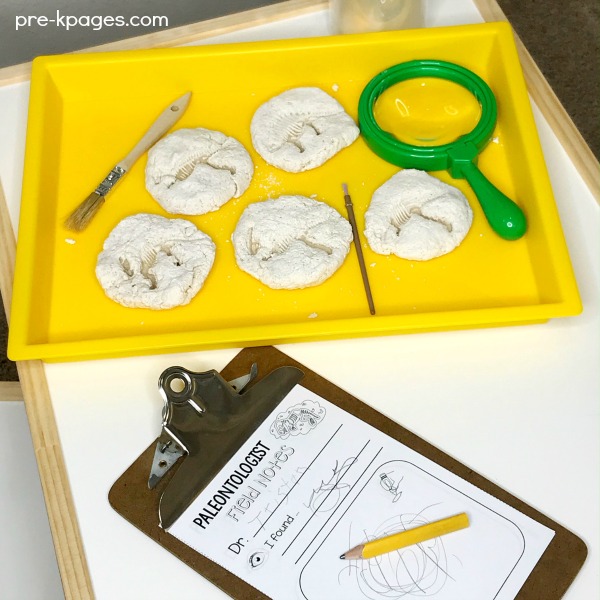 Field Notes
Your little paleontologists will have a blast digging up fossils using their paintbrushes and tools! A good paleontologist must keep careful field notes, just print these notes and place blank copies in your pretend play area along with some pencils and clipboards. These DIY salt dough fossils are super simple to make.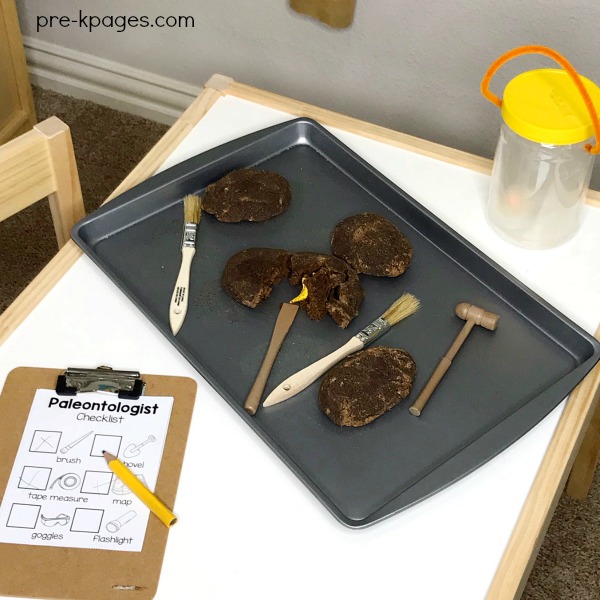 Checklist
Are you ready to dig? Your little paleontologists can use this printable checklist to ensure they have the right tools for digging for those dinosaur bones! The checklist is available in black and white and offered in two sizes, 1/4 or 1/2 page.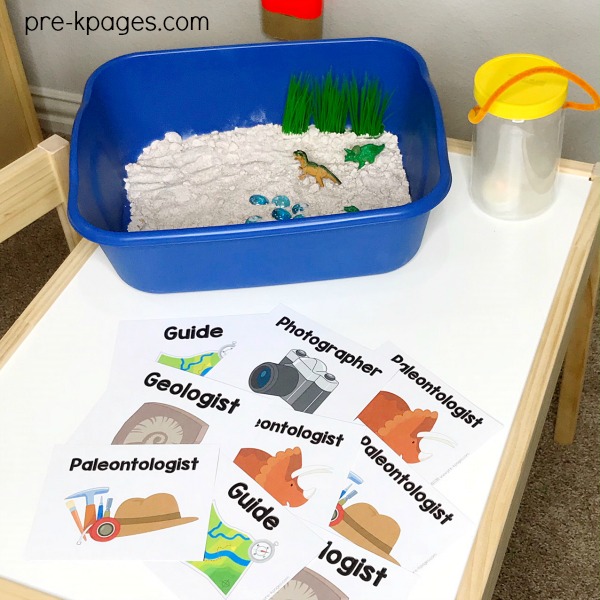 Name Tags
Did you know there are more jobs on a dig site then just paleontologists? Use these printable role playing name tags to introduce your kids to the other jobs that are available.
Purchase the Dinosaur Dig Kit
If your kids like dinosaurs, they'll LOVE this Dinosaur Dig dramatic play kit!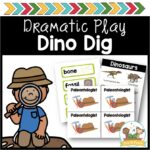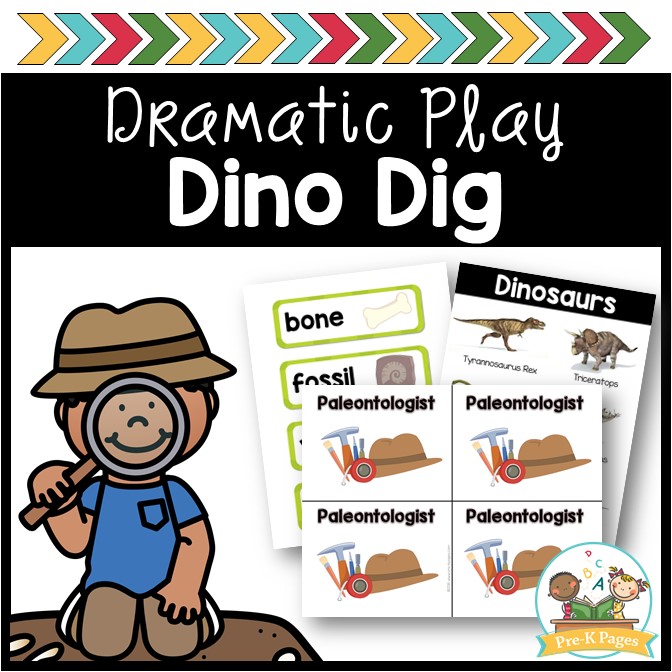 129 pages of printable props to help you easily transform your dramatic play center into a dinosaur dig. Includes literacy, oral language, and writing opportunities that align with current learning…
More Dramatic Play Themes from Pre-K Pages