A baby doll nursery theme for your dramatic play center in preschool, pre-k, and kindergarten.
Do you struggle to find time to change out the props in your dramatic play center? These printable props will help you easily transform your dramatic play center into a nursery.
Do any of your students have younger sisters or brothers at home? Are they fascinated with babies? A baby doll nursery theme is perfect for any time of the year because it is very meaningful to all young children. They have a natural fascination with babies which makes this developmentally appropriate center even more fun and engaging!
Give your basic housekeeping or dramatic play center a makeover by adding some dolls and a few simple props. Your kids will love taking care of the baby dolls in their very own nursery!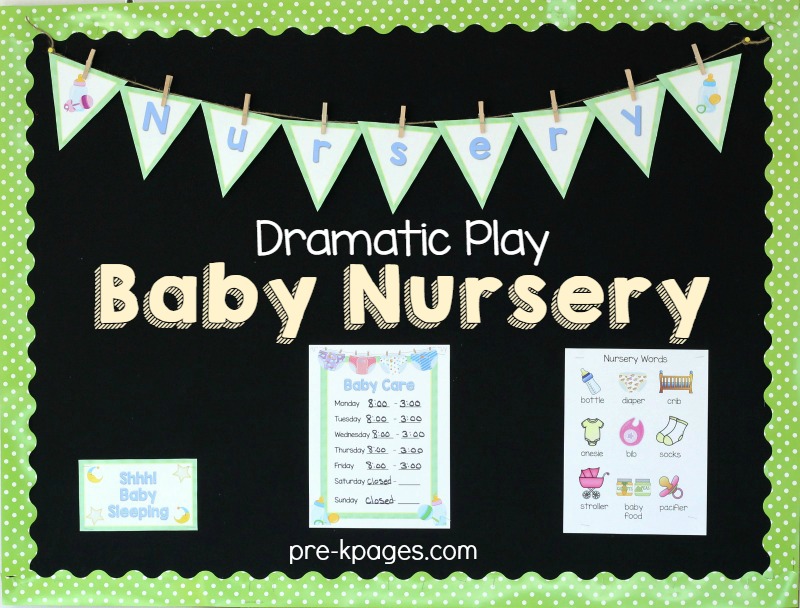 Baby Doll Nursery Dramatic Play
This packet also provides research that explains how dramatic play supports academic learning in preschool, pre-k, and kindergarten. The baby nursery play kit is infused with literacy, oral language, and writing opportunities that support current early learning standards.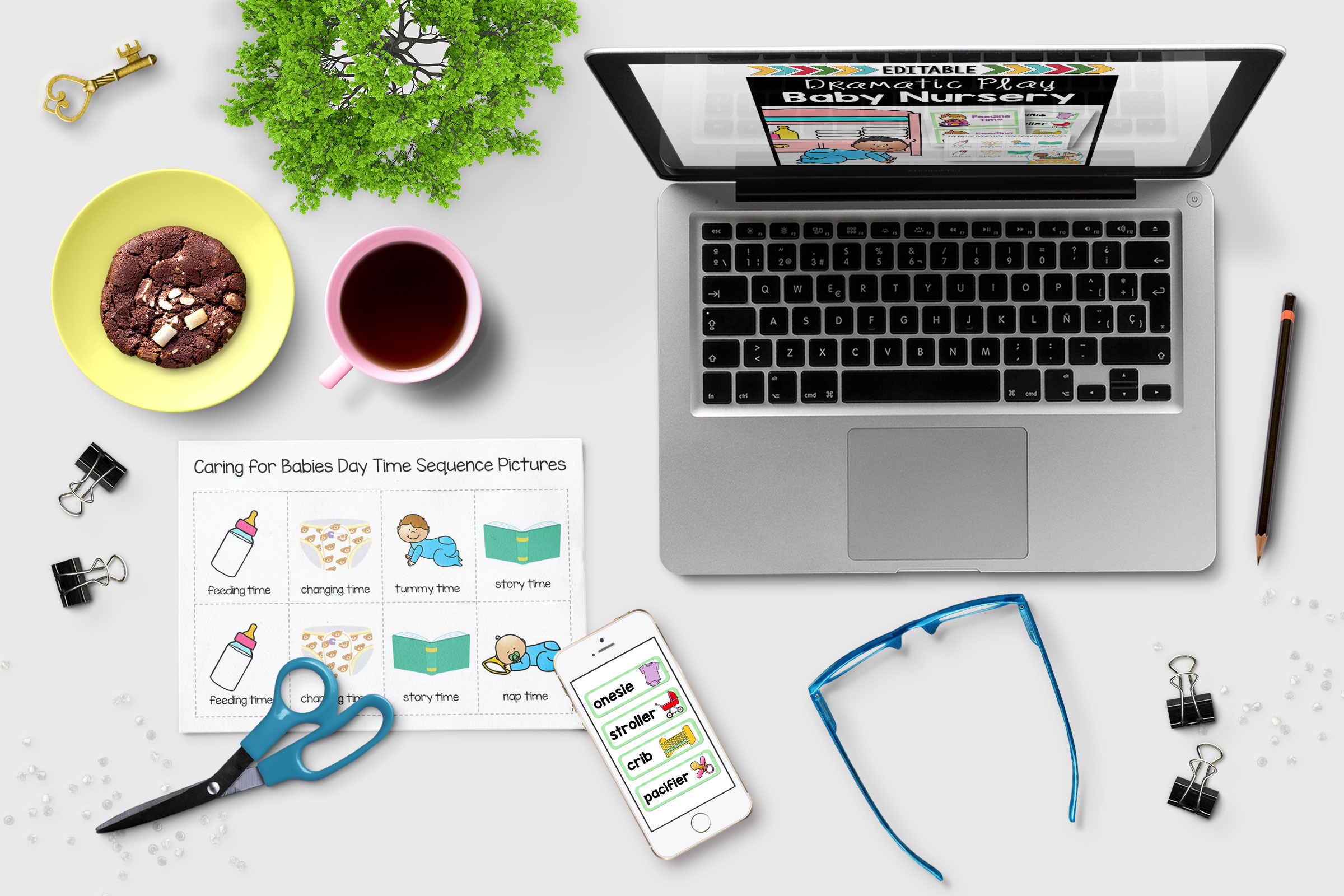 Contents
The 43 page Baby Doll Nursery Kit includes the following printables:
Baby Care Signs
Sign-In & Out Sheet
Baby Food Labels
Picture Cards
Picture Charts
Daily Reports
Reminder Slips
Bunting Banner
Schedule Pictures
Baby Item Labels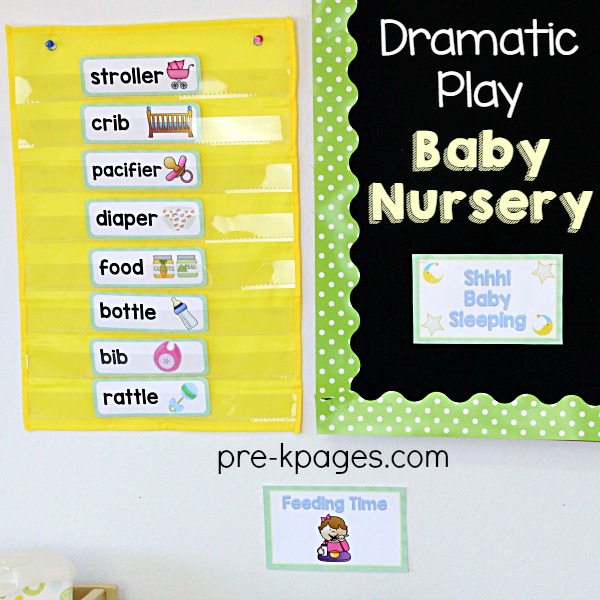 Printable Word Cards
The printable word cards can be placed in a pocket chart in your baby nursery, 12 word cards are included in the kit.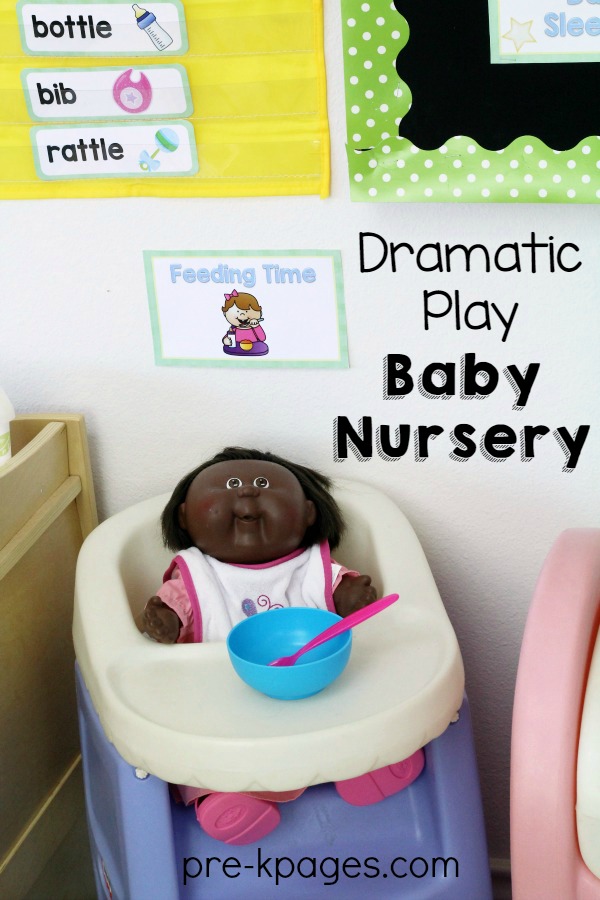 Baby Doll Nursery
I found all of my dolls at Goodwill, they were in excellent condition and have withstood many years of heavy use by preschoolers. The high chair and crib are Step 2 brand, I found them on Craig's List for twenty dollars total, 15 for the crib and 5 for the high chair- score! If you're not familiar with Step 2, I'm not sure they still make them but they are super durable and can hold up to very heavy use by many preschoolers for years and years.
Printable Nursery Banner
At the top of this page you can see the super cute banner for our nursery. Just print the banner on cardstock, cut out, and hang the pieces from a string in your center using clothespins or tape.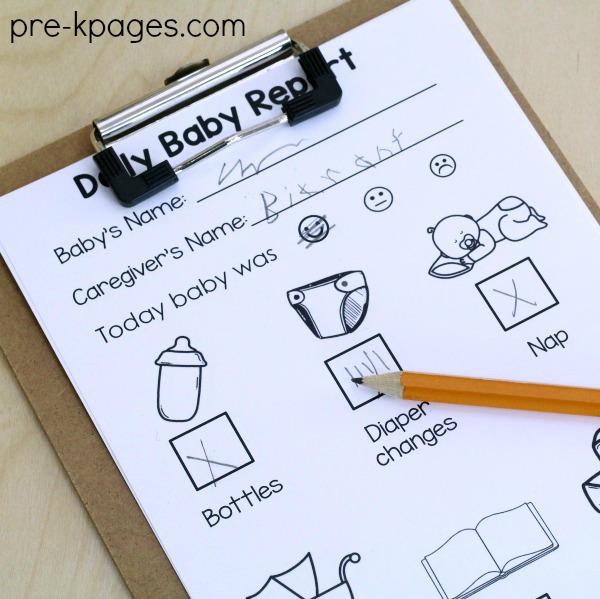 Printable Daily Reports with Pictures
How was baby's day? Was he fussy? Did he nap? Let parents know all about baby's day with these printable daily reports. Each report has picture cues for non-readers and is available in 4 different types so you can choose the one that best meets your needs. Kids can use tally marks or numbers to record information about baby's day. The reports have the words directly below the picture to help children understand that print has meaning.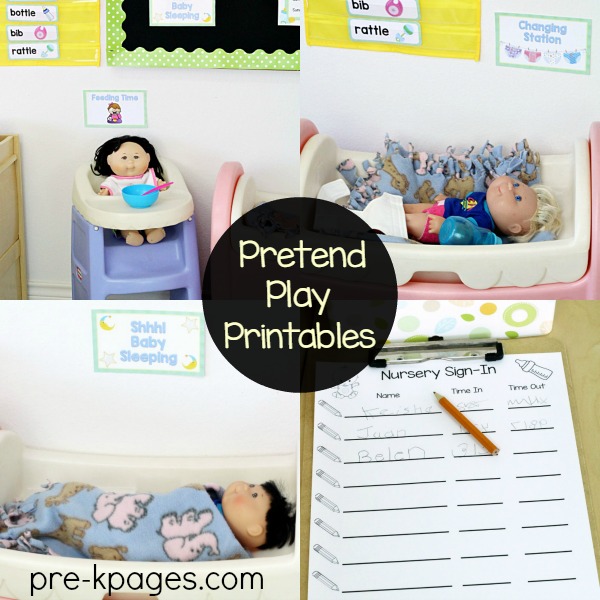 Baby Doll Nursery Labels and Signs
There are signs you can use to label different areas of your nursery center, such as Feeding Time, Shhh! Baby Sleeping, and Changing Station. What could be more fun and engaging for your little learners than changing baby diapers?
For safety, you'll want baby doll parents to sign their babies in and out of the nursery using this printable sign-in sheet. These signs add literacy elements to pretend play and help children understand print has meaning and motivate them to write for a purpose.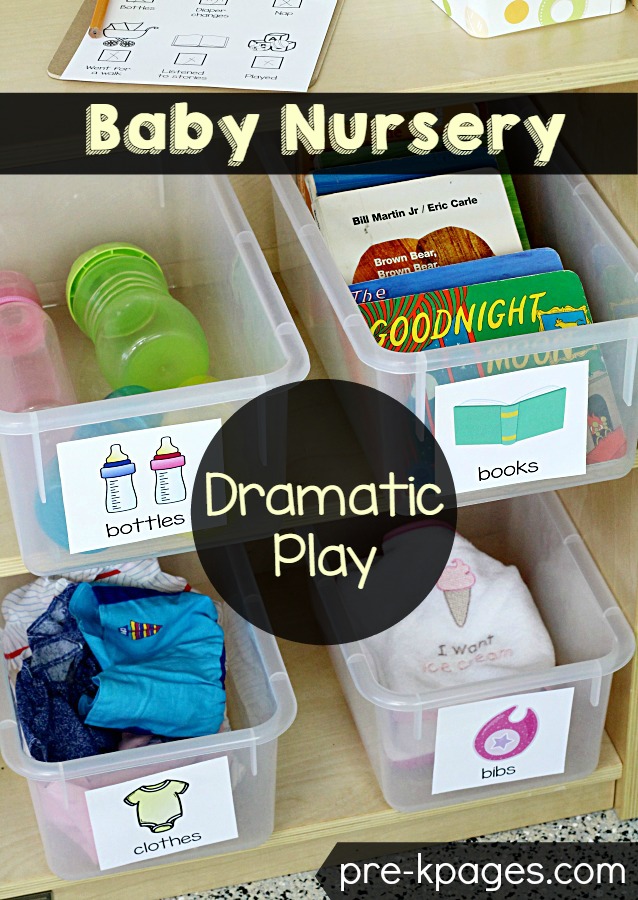 Printable Labels
Is your dramatic play center a mess? Set your little learners up for success with these printable labels to help make clean-up go smoothly.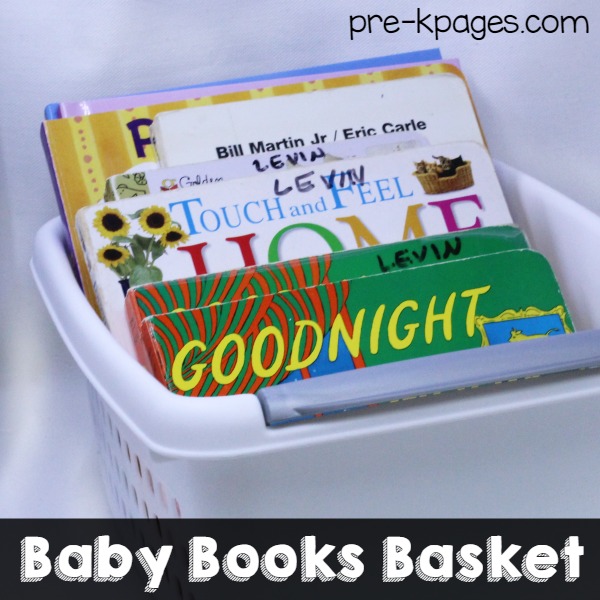 Reading Books to Baby Dolls
A basket of baby board books is a great way to encourage reading to babies from infancy! Here are some of my favorite titles to put in this book basket: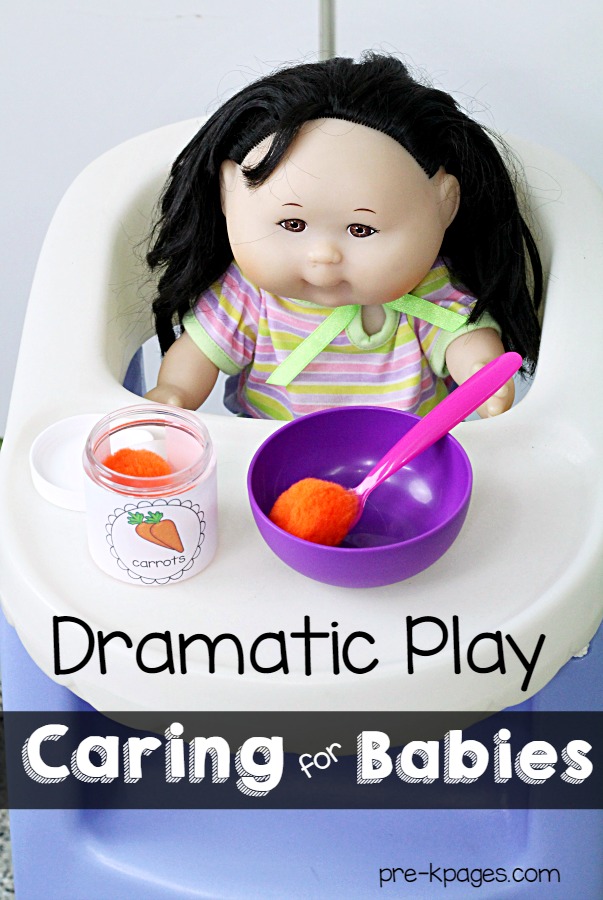 Printable Baby Food Labels
Is your baby hungry? You can use colored pom-poms in plastic jars to create pretend baby food. Your kids will love feeding their babies!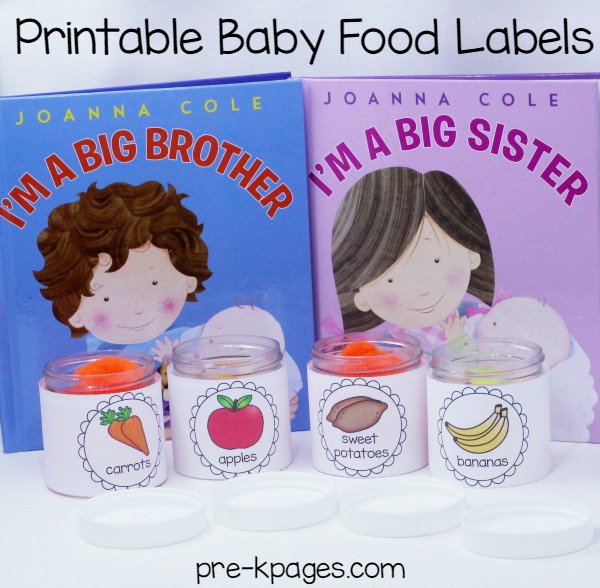 Add these printable baby food labels to your center to create a print-rich environment for your little learners! They're also included in the Caring for Babies Dramatic Play Kit below.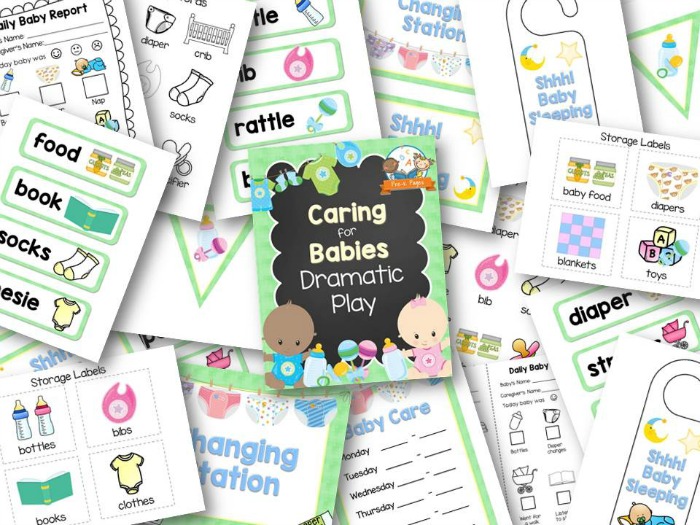 The baby doll nursery center kit will spark their little imaginations and lead to hours of open-ended play and learning!
Purchase the Baby Doll Nursery Dramatic Play Kit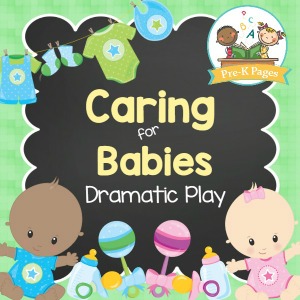 Baby Nursery Theme Resources
More Dramatic Play Themes from Pre-K Pages