Nothing says fall quite like pumpkins. And not only do they make for great fall décor, they also provide a plethora of learning opportunities for your preschoolers. After stalking our local farm stand all month, the girls were so excited when they finally had pumpkins this week. We selected an assortment of pumpkins, varying in size and shape, to learn about various methods of measurement. Explore a little pumpkin math in this fun pumpkin measurement activity.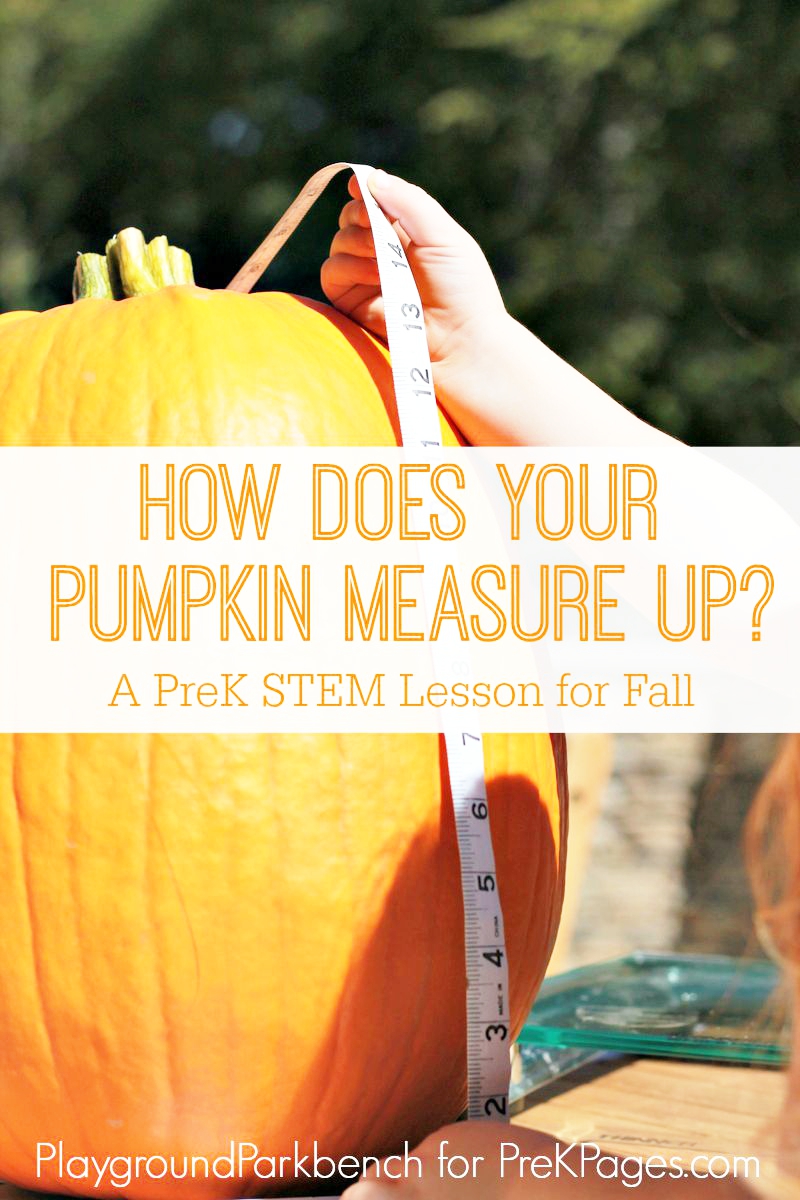 Pumpkin Investigation – Methods of Measurement
For this first introduction to methods of measure, we focused on three different ways to measure our pumpkins: height, circumference, and weight. We talked about what each of those different words mean, how they can be measured, and the units of measurement.
Height – how tall something is, measured in inches with a measuring tape
Circumference – how big around something is, measured in inches with a measuring tape
Weight – how heavy something is, measured in pounds on a scale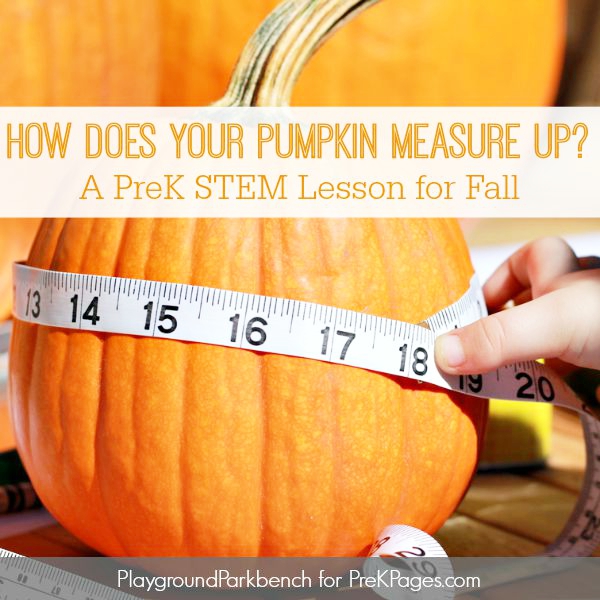 Pumpkin Math Activity Supplies
At the farm stand, I encouraged Big M, my 4-year-old, to select pumpkins of varying size. Specifically, we looked for a small pumpkin, a medium-sized one, and a large pumpkin. We also tried to select varying shapes as well. For our pumpkin measuring activity, we used the following supplies:
small pumpkin
medium, round pumpkin
large, tall pumpkin
measuring tape
bathroom scale
How Does A Pumpkin Measure Up (printable) – pumpkin measurement worksheet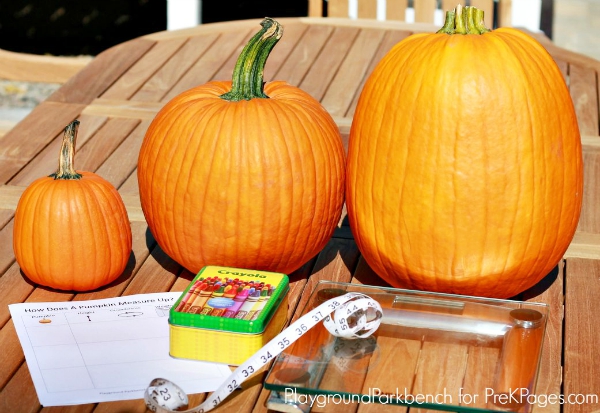 How Does Your Pumpkin Measure Up?
With our supplies gathered, Big M started by drawing a picture of each pumpkins on our measurement recording table. Big M then named them Small, Round, and Tall. Before we actually started measuring, I asked Big M to estimate (or guess) which pumpkin she thought was the tallest and shortest, which would have the largest and smallest circumference, and which she thought would be heaviest and lightest.
Starting with the small pumpkin, we measured its height, circumference, and weight. I showed Big M how to hold the measuring tape at the bottom of the pumpkin with one hand, starting at the end with the 1, and stretch it taught upwards with the other hand to find the height. Next, I showed her how to wrap it around the middle of the pumpkin, like a belt, to measure the circumference. Last, I helped her lift it onto our bathroom scale to weigh the pumpkins.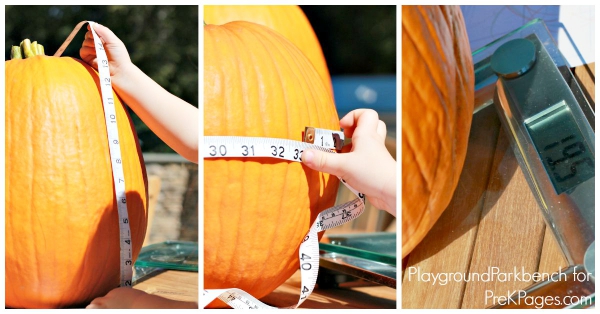 Pumpkin Measurement Activity
After each measurement, we recorded the result on our pumpkin measurement worksheet. While Big M is becoming quite adept at writing her letters, this pumpkin math activity taught me we still have some practice to do on writing numbers, so she asked me to do the recording for her!
We repeated the data collection with each of our three pumpkins. In a classroom setting, you easily could set this activity up as a STEM* center and print a recording sheet for each child in the class. Alternatively, you could make a single chart for the class on a large piece of chart paper, with students taking turns performing the different measurements for each pumpkin.
We can't wait to use our pumpkins for more great learning activities all Fall long!
Pumpkin Art Activity Extension
When you're done measuring, use those pumpkins in this fun melted pumpkin crayon activity. It's a great way to decorate your pumpkins and use up those old crayons!
You may also like: 25 No Carve Preschool Pumpkin Decorating Ideas
*STEM = Science, Technology, Engineering, and Math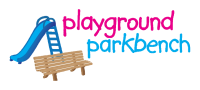 BIO: Meghan is a former hedge fund professional turned SAHM to Big M (4), Lil' M (2), and a baby boy due any day now! She writes at Playground Parkbench, where she shares at-home activities for kids, parenting tips, and financial savvy for the household CEO. Find her on Facebook, Instagram, Pinterest, and Twitter!
Use the five senses to explore a pumpkin and create a small book to record the observations. Your kids will love this pumpkin science activity!
More Pumpkin Ideas