Changing seasons offers a great time for preschoolers to explore and learn. As they see the changes around them (or as celebrations arise), they are naturally primed to know more about the world around them. Often in the spring, activities focus on planting and exploring the plant life cycle. Below are activities that explore springtime but do not involve planting anything. Use these activities to engage your preschoolers in learning in many different ways.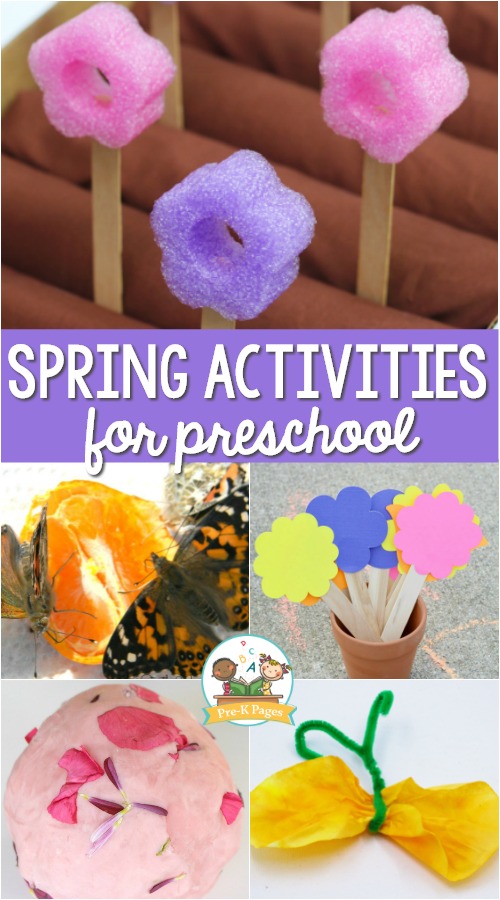 Spring Activities for Preschoolers
Spring Movement Games (Pre-K Pages) – This is a fun and active movement game to work on gross motor and literacy skills. And, you only need a few supplies to prepare the whole group activity.
Spring Splat Art (Pre-K Pages) – Gather your kids together, cover as many surfaces as you can, lay out the supplies and stand back. Splat art might be messy, but it's fun and beneficial in many areas of your preschoolers development.
Retelling a Spring Book with Puppets (Pre-K Pages) – sing puppets, along with other storytelling props, is an easy and fun way to make books come to life for preschoolers. We've found a wonderful book to incorporate into puppet storytelling and it's perfect for Spring!
Flower Play Dough (Pre-K Pages) – Kids love play dough any time of the year, spring, summer, winter or fall. When you make your own play dough you can get creative with your colors and ingredients to make it extra fun for your kids.
Flower Painting Activity (Pre-K Pages) – This flower painting activity is easy and inexpensive to set up.  One of my favorite activities is using paint to explore flowers.
Flower Alphabet Match (Pre-K Pages) – This alphabet activity will have children learning about uppercase and lowercase letters with a fun spring twist.
Beginning Sounds Activity (Pre-K Pages) – This spring flower beginning sounds sort activity is a hands-on way for children to practice identifying the beginning letter sound in a word. It's the perfect addition to your spring lesson plans!
Pretend Play Garden (Pre-K Pages) –  I love pool noodles, they're very inexpensive and they can be used for many things.  These pool noodles with contoured edges are just what I have been looking for to create a dramatic play garden!
Coffee Filter Butterflies (Pre-K Pages) – This a classic kids craft, but it's also super easy to make and uses supplies you probably already have on hand.
Raising Butterflies (Pre-K Pages) – Young children are often filled with wonder and amazement at the natural world around them. This innate curiosity makes raising butterflies the perfect science experience for preschoolers to do in the spring.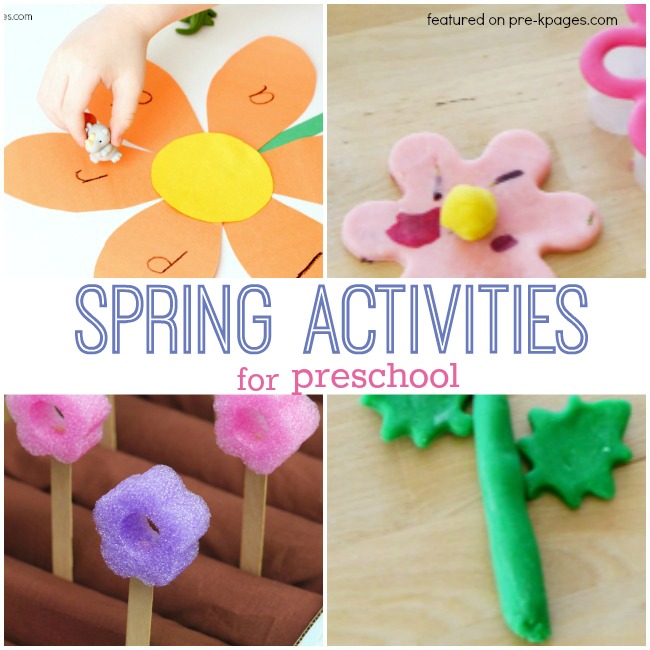 Carrot Activities for Spring
You Can't Have Too Many Carrots (Teach Preschool) – "Too Many Carrots" by Katy Hudson is a book about a rabbit who has too many carrots and can't fit them all in his house. He decides he needs to find a new home for him and his carrots. This book is about friendship, homes, spacial awareness, carrots, animals and the list could go on. After reading this book, have your students try to plant their own carrots!
Exploring Carrots (Teach Preschool) – "The Carrot Seed" by Ruth Krauss is a wonderful book for young children and after reading the book, be inspired to try out one of these carrot activities to follow up with after reading the book.
Sensory Play with Carrots (Nurture Store) – This spring sensory play tub with carrots is great for your preschool or kindergartner students!
Writing, Printing, Painting with Carrots (Nurture Store) – Create beautiful Easter art with actual carrots! Your students will love writing printing and painting with actual carrots!
Find the Carrots Sensory Play (Little Bins for Little Hands) – Your little ones will love this carrot sensory play activity. They will work on their fine motor skills as they use tweezers to find the carrots and plant them again in play dough.
Carrot Garden Sensory Bin (Mama Miss) – Create a sensory bin out of black beans and toy carrots to create a fun activity for toddlers.
More Spring Activities for Preschoolers
Spring Sensory Bin (Teaching Mama) – Have fun with this easy spring sensory bin by using black beans, noodles, and plastic toys from the Dollar Tree!
Tissue Paper Stained Glass (Fun-a-Day) – Using tissue paper, and a few other simple materials you probably have on hand your toddlers will love creating this beautiful stained glass art.
Spring Art Experiment (Fun-a-Day) – Combine art and science in this coffee filter spring art experiment.
Simple Spring Nature Sensory Bottles (Lemon Lime Adventures) – When the flowers are in bloom, have fun creating these beautiful spring nature sensory bottles out of recycled bottles.
Spring Photo Hunt (Housing a Forest) – When the weather turns nice, take your little ones on a spring photo hunt. Hand them the camera and go for a walk!
Spring Block Center Ideas (Prekinders) – Here are some Spring block play ideas you can use to transform your block center and spark kids' creativity.
Flower Petal Collage (Teach Preschool) – When the spring flowers start to droop and die off, save the petals and use them to create a flower petal collage.
String Painting Butterflies (Brick by Brick) – Gather some string and paint to create these fun butterflies!
Painted Doily Butterflies (Little Pinch of Perfect) – If you have kids who love butterflies, painting, and crafting make some lovely lacy butterflies with doilies!
Make Spring Chicks Invitation (Crafty Kids at Home) – Use some tissue paper and construction paper to create some cute spring chicks.
Butterfly Sensory Bottle (Rhythms of Play) – You can use small crystal butterflies and other materials to create a beautiful calmingsensory bottle.
Preschool Garden Observation Journal (Playground Parkbench) – Use this garden observation journal to record each stage of the plants life, from seed to vegetable, in their journals.  The complete journal includes more than 20 pages, with customized pages for all different vegetables, fruits, a generic flower page and a blank page to add as many additional plants as you wish.
What ways do you explore the springtime changes in your classroom?
And, if you are looking for planting activities for your preschoolers, check out Planting and Growing in Preschool.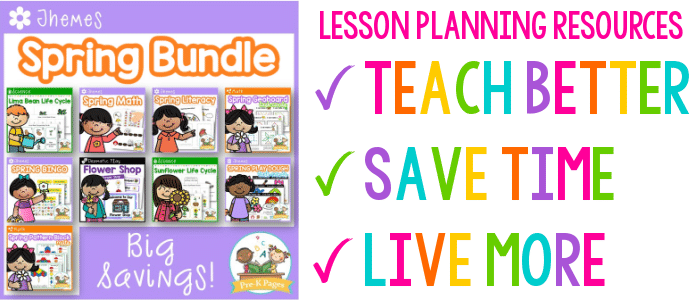 More Spring Ideas