Do your kids get tired of the same activities over and over again? Add a fun, seasonal element to renew their interests and make learning fun again!
This Valentine fine motor activity for preschool takes just a few minutes to set up. Children will have fun while strengthening their fine motor skills, developing one-to-one correspondence, and even pre-reading skills with this simple activity.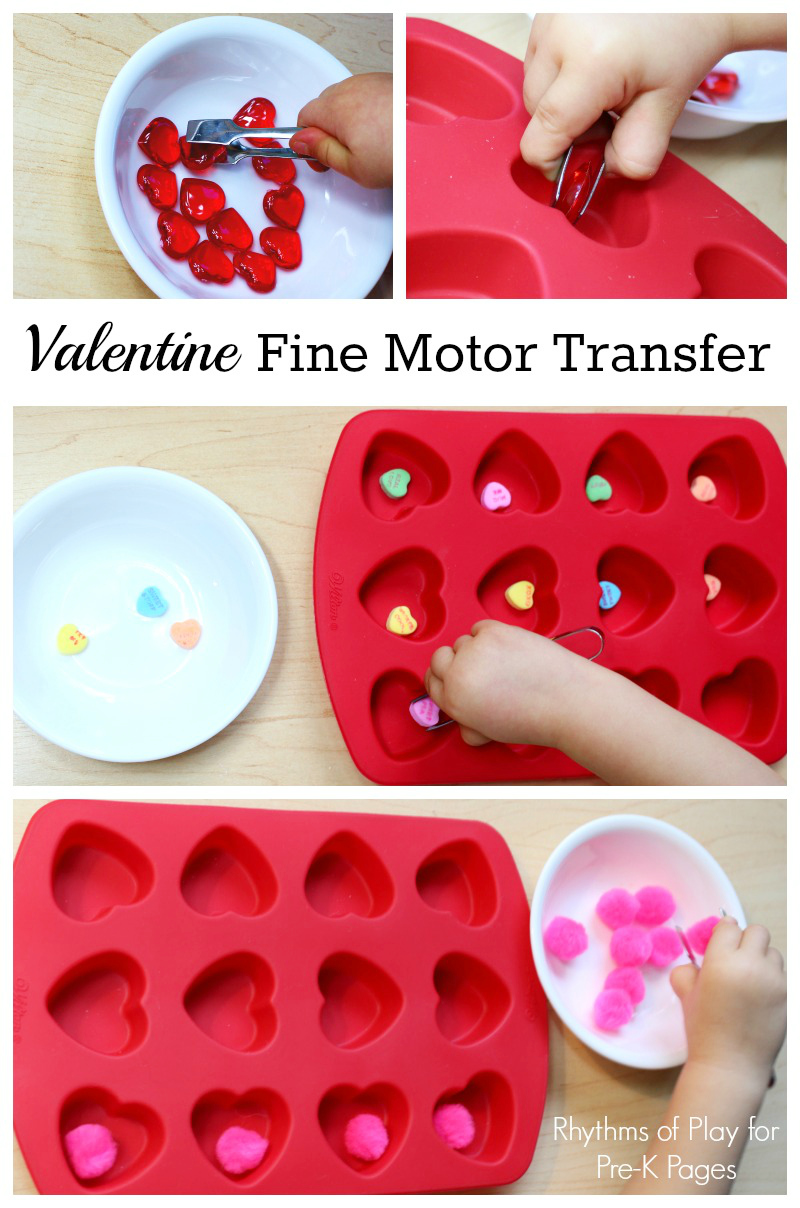 Valentine Fine Motor Activity Purpose
This is a great fine motor activity to develop fine motor control in the hand. Using tongs and tweezers works the small muscles in the hand. Holding items in the tongs and tweezers helps a child practice control over those hand muscles. Developing these fine motor skills prepares the muscles in the hand for writing and other detailed hand work like zipping, buttoning, and snapping.
Setting up the activity in different ways can build other important skills, too. Inviting children to move items from left to right and from top to bottom will help develop the nerve pathways necessary for reading. Print is read from left to right and from top to bottom. Practicing these movements guides eyes, hands, and brains to think in these directions – great pre-reading practice!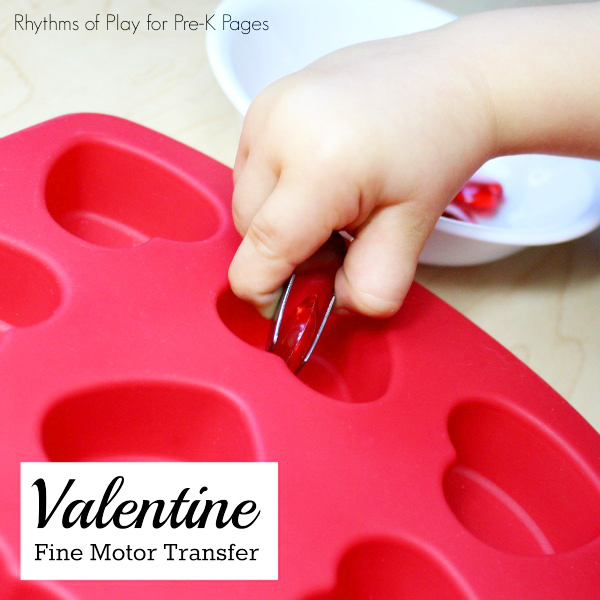 Valentine Fine Motor Supplies
Tongs or Tweezers
Silicone heart-shaped mold, muffin tin, or ice cube tray
Small bowl or other container
Pink, red, and/or white pompoms, foam hearts, conversation hearts and/or heart table scatter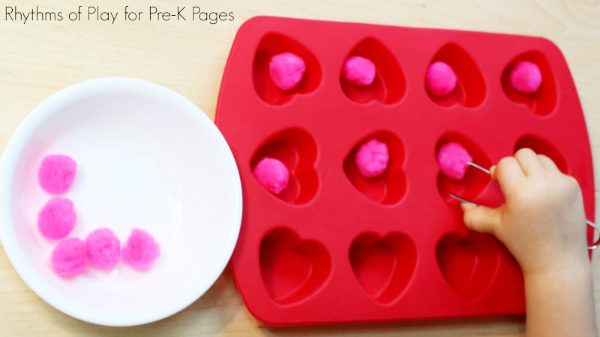 Valentine Fine Motor Activity Set Up
Fill a bowl or other container with small items to be transferred. The items are listed above in order of difficulty. Pompoms are the easiest item to pick up while heart table scatter is the most challenging.
Place the bowl and the silicone heart mold on a work surface. Placing the bowl on the left of the heart mold will set up the activity for children to transfer the items from left to right (that pre-reading practice).
If going from left to right is too difficult, just placing one item in each space is perfect for practicing one-to-one correspondence skills!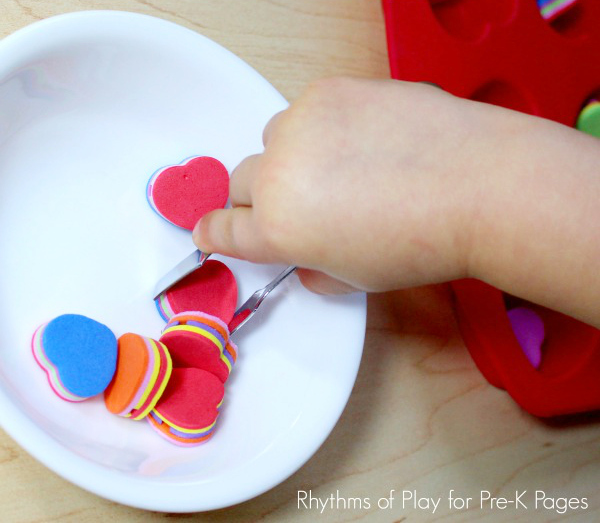 Valentine Fine Motor Activity
Invite children to use tongs or tweezers to transfer Valentine-themed items from the bowl into the heart shapes. Practice filling the tray from left to right and top to bottom. (Younger children may want to fill the tray randomly; allow them to make this choice.) Once the tray is full, move the bowl on the right and have the child transfer the items back into the bowl.
To extend the activity begin with tongs and pompoms. Once finished, invite the children to do the activity again using tweezers or one of the more challenging items. Keep the activity fun and not frustrating. This should be about play and learning! If smaller items or tweezers prove difficult, move back to the other items.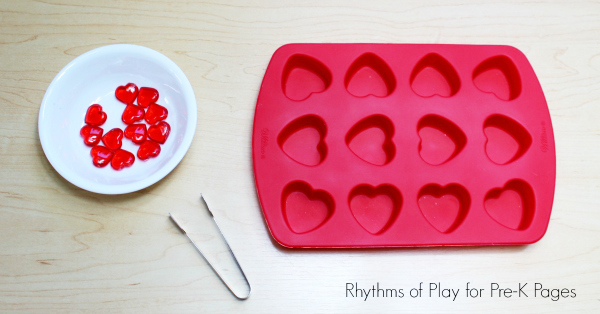 Practicing this Valentine fine motor transfer activity will allow children to promote fine motor skills and lay a strong foundation for reading while having fun!
BIO: Nell believes in the magic of childhood, spending more time outdoors than indoors, and making this world a greener place to live. She is the creator of Rhythms of Play — where parents can find simple tips, crafts and activities to keep the kids busy all day. Check out her fun Coin Sorting Activity. You can connect with her on Facebook, Pinterest, Instagram, and Twitter.
More Fine Motor Activities For Preschool
There are so many activities for developing those fine motor skills all year around. When it's springtime, have your students engage in one of these Spring themed fine motor activities.
When it gets warmer outside, this ice cream themed fine motor activity that connects to the book, The Little Icecream Truck. Another great summer themed fine motor activity is this firefly jar fine motor activity. Students will read a book on fireflies and then create their own firefly jar while working on developing fine motor skills.
During Easter, your students can enjoy one of these Easter fine motor activities! During the month of October, your students might enjoy one of these Halloween fine motor activities!
And for any time of year, this clothespin fine motor activity your students will absolutely love!
All of the activities mentioned are a great way to encourage gripping, pinching, and manipulating small objects develop these skills; these skills are important for writing, buttoning, zipping, tying, cutting, and using tools.
More Valentine's Day Ideas