For Valentine's Day, give your preschoolers the freedom of artistic expression. This invitation to create Valentine lanterns is a fun process art project, which still results in a nice gift for children to take home to their loved ones.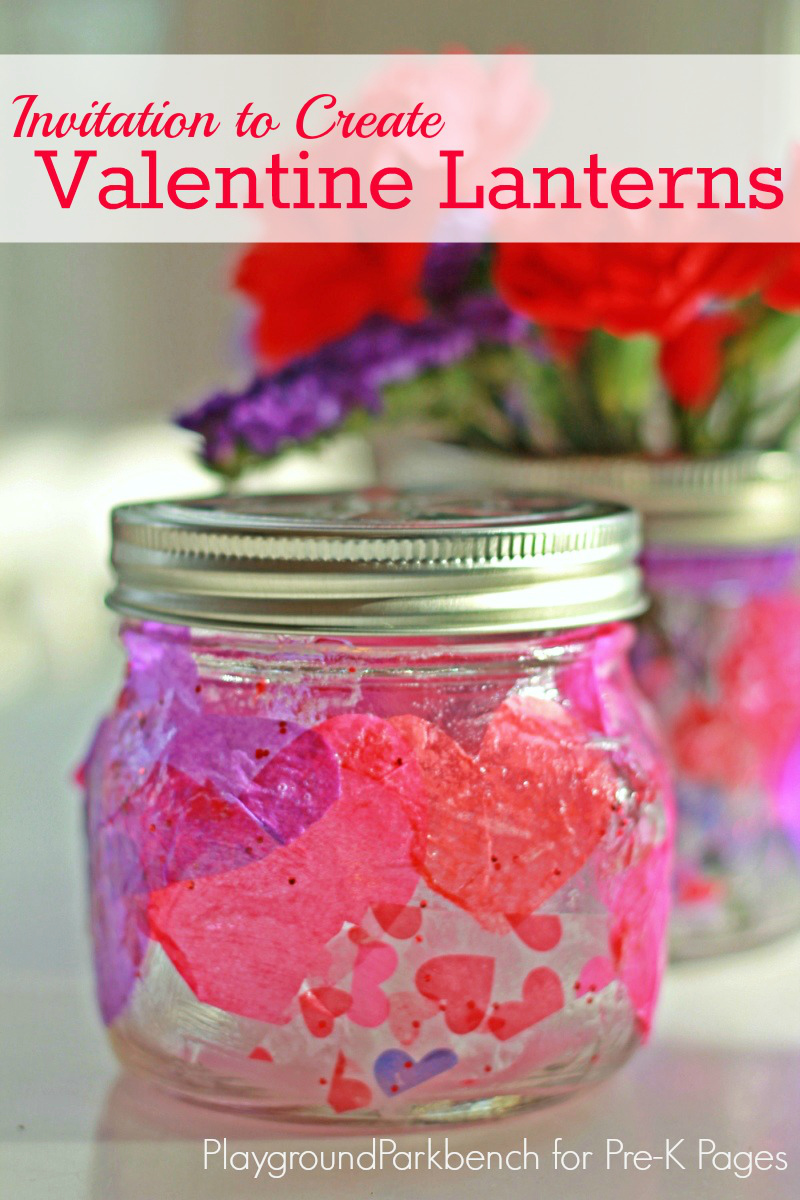 Process Art
Holidays, like Christmas, Valentine's Day, and Mother's Day, often dictate preschoolers create a prescribed craft to gift to parents. While excellent for social and cultural development, it doesn't allow them much chance for artistic expression. Process art is great for young children because it allows them to create and enjoy artistic techniques, without significant focus on the end result.
Choose activities that allow children to explore their own ideas, to try different ways to use materials, to exercise creativity, and to build an appreciation for beauty in all its forms. Process art allows these things. And often these activities increase the fun because children are making the decisions instead of adults!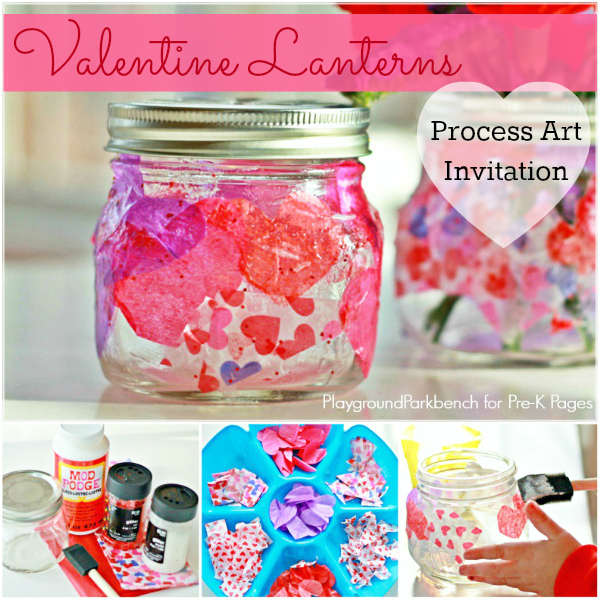 For Valentine's Day gifts this year, I invited the girls to create Valentine Lanterns. With a handful of basic materials, and minimal instruction, my 2- and 4-year-old created beautiful lanterns for Valentine's Day, which they have decided to send to their grandmas.
Valentine Lantern Supplies
To create the lanterns, you will need a few basic supplies:
Glass jars
Decoupage medium (Mod Podge) or watered-down glue
Sponge brush
Assorted tissue paper, cut in hearts and squares
Red Glitter (optional)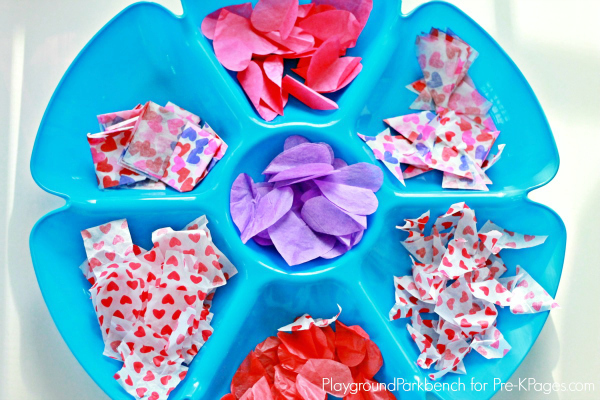 I set each of the girls up with a small bowl of decoupage medium, a jar, and a sponge brush, with the tissue paper tray between them.
The Creative Process
I briefly demonstrated how to paint glue on the outside of the jar and apply tissue shapes to it. After that, the girls took over. Lil' M (age 2) dutifully painted her jar with glue and was a big fan of the cut-out tissue hearts.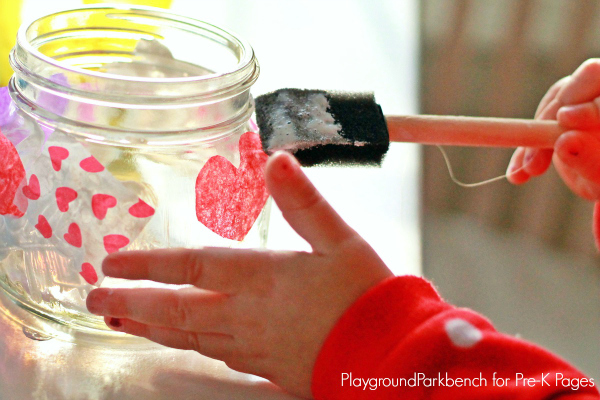 Big M, preferred the squares and patterned tissue. She created a mosaic around the rim of her mason jar.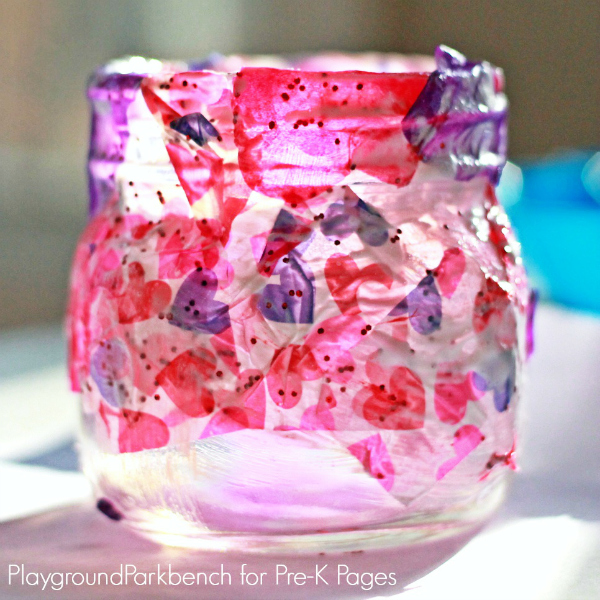 When they decided they were finished adding tissue shapes to their jar, I stirred in some glitter to their glue and invited them to paint over the whole glass jar again.
A Beautiful, Child-Made Valentine Gift
Each of their end products is uniquely beautiful. Once the jars are dry, insert a battery-operated tea light to complete the safe, festive holiday lantern. If you use mason jars, you can also purchase various lid inserts, including a grid to turn it into a base for flowers as well!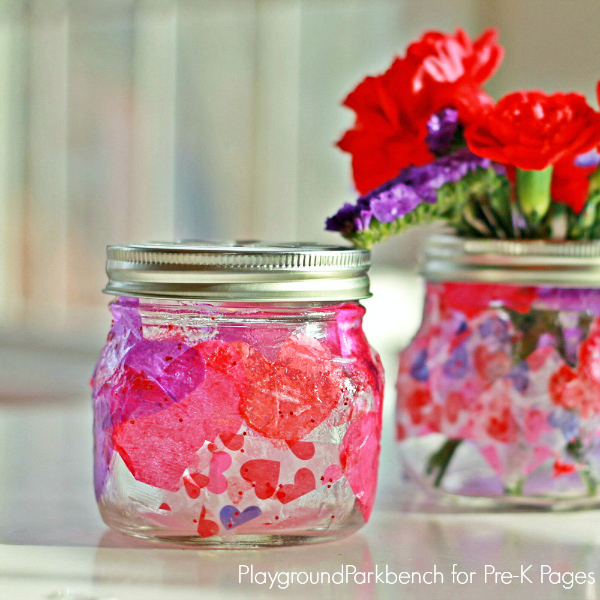 BIO: Meghan is a former hedge fund professional turned SAHM to Big M (4), Lil' M (2), and Baby M (3 months). She writes at Playground Parkbench, where she shares kids activities and parenting tips. Don't miss her latest series: Architecture & Engineering for Preschool! When she's not busy changing diapers or scrubbing Mod Podge off the craft table, you can find her on Facebook, Instagram, Pinterest, and Twitter!
More Process Art Ideas
Of course there are so many ways to incorporate more process art activities into your classroom.
When it's nearing summer time or if you have a camping theme, your students might like this campfire process art activity. This is a "non-painting" paint activity. Your preschoolers will enjoy creating campfires on coffee filters.
Or when it's turned cold, then this snowman process art activity is perfect for your preschoolers and kindergartners. They will get a chance to be creative and paint with white circles!
Maybe when it's harvest time, your students will love this tractor process art activity! This is a great activity that focuses on the creativity and not the end product. The activity uses mud paint, which is mud mixed with dish soap and water- a great outdoor activity! Then your students will create art by dipping toy tractors into the mud paint and creating tracks onto paper. Another option might be the transportation process art activity where toy vehicles are use!
Another great outdoors process art activity is this Easter egg activity where students can explore colors and dive into sensory exploration.
If you and your preschoolers are studying the nighttime, then have them engage in this nighttime process art activity! Your students will use crayons and watercolor paint to make a nighttime sky.
More Valentine's Day Ideas
There are so many activities that you can incorporate into your classroom for Valentine's Day. Your pre-K or kindergarten students could also work on their sight words during the holiday as well.  Using Valentine card sight words is a  highly engaging and fun activity can help your pre-k or kindergarten students get even more excited to practice their sight words.
You can incorporate the holiday into your math activity literacy activity or use books to celebrate Valentine's Day!
A light table activity is also a great way to center the lesson around Valentine's Day. When your kids are picking up and manipulating the plastic hearts on the light table they'll be engaging in sensory play and developing those important fine motor skills too!
And no preschool Valentine's Day theme would be complete without a Valentine play dough activity. Playing with play dough is a great way for kids to practice their fine motor skills in a fun, hands-on way. The simple act of pressing chenille stems, beads, cookie cutters into dough has so many benefits for young children.
You could also incorporate songs into the holiday. You can sing Valentine songs during circle time, transitions, or whenever your kids just need to refocus and get their wiggles out!
More Valentine Ideas