The dramatic play center is always one of the favorite centers in any early childhood classroom! The amount of learning that goes on in the dramatic play center is amazing. Everything from oral language skills, writing, math, and literacy are supported in this essential center.
Below I have listed some of my favorite props to help you set up a fun and engaging dramatic play center in your classroom.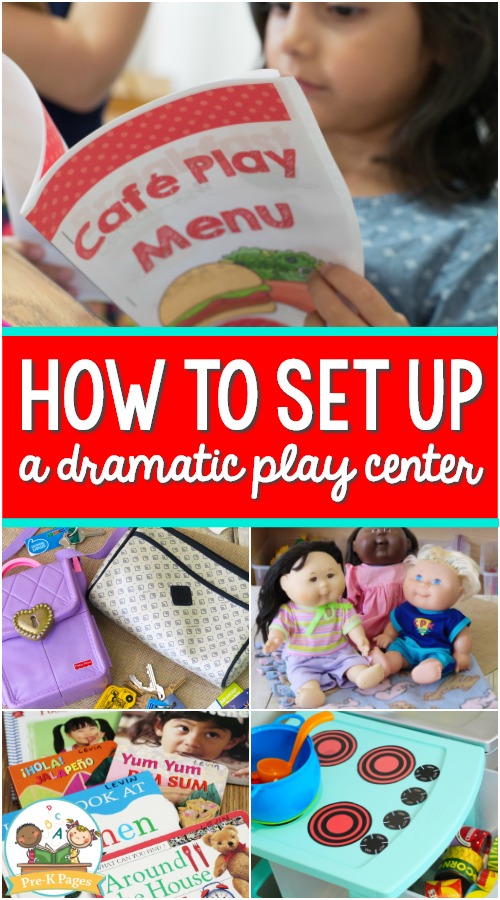 How to Set Up the Dramatic Play Center
You never know when you might need to add something to your grocery list or write down a friend's phone number in the dramatic play center. Put some mini clipboards and pencils in your dramatic play center with blank paper to encourage your kids to write for a purpose.
Phones in the Dramatic Play Center
Nothing encourages the development of oral language more than talking on the phone. You can never have enough phones in your dramatic play center. If you use old cell phones, be sure to take out the battery first.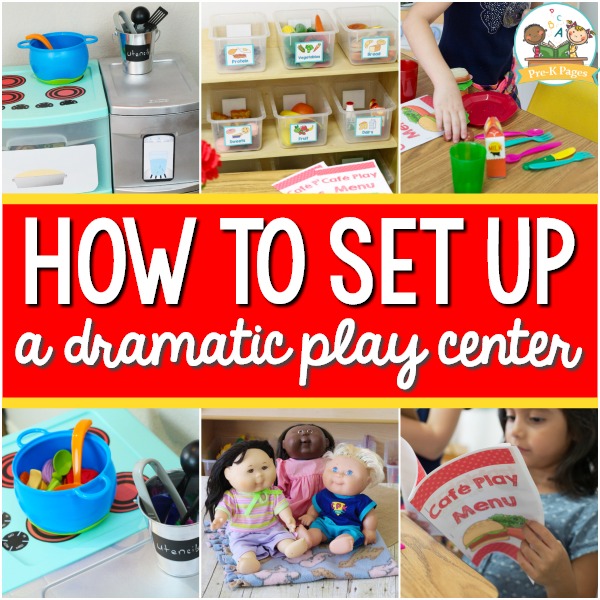 Wallets in the Dramatic Play Center
Do you have old wallets sitting around that you no longer use? Kids love playing with wallets. You can put your old wallets in the dramatic play center and your kids have a blast! You can also find wallets at garage sales or thrift stores or make your own with duct tape.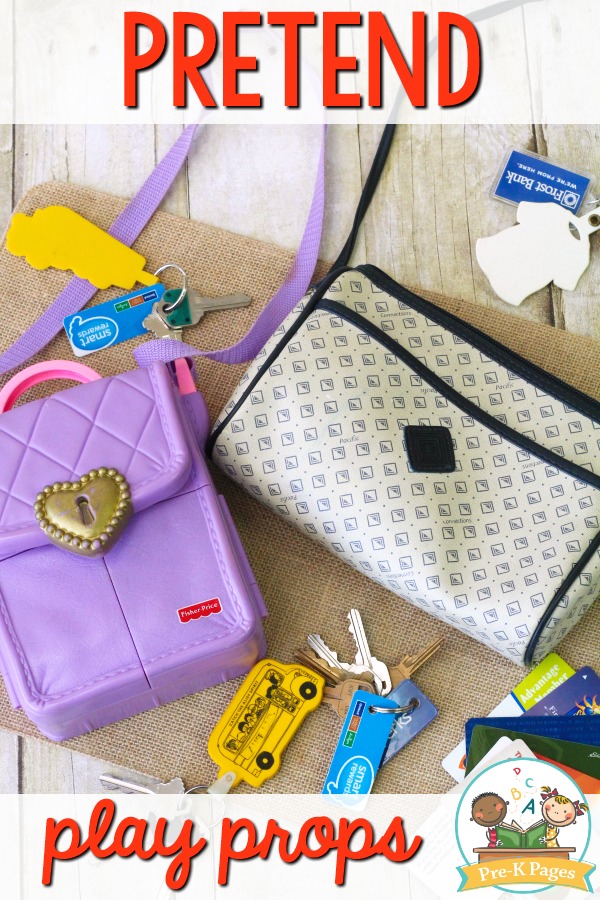 Purses
If you have wallets you have to have purses too. You can use your own old purses or pick up a few at a garage sale or thrift store. Purses and wallets lend authenticity to children's play experiences. Oh, and don't forget the keys!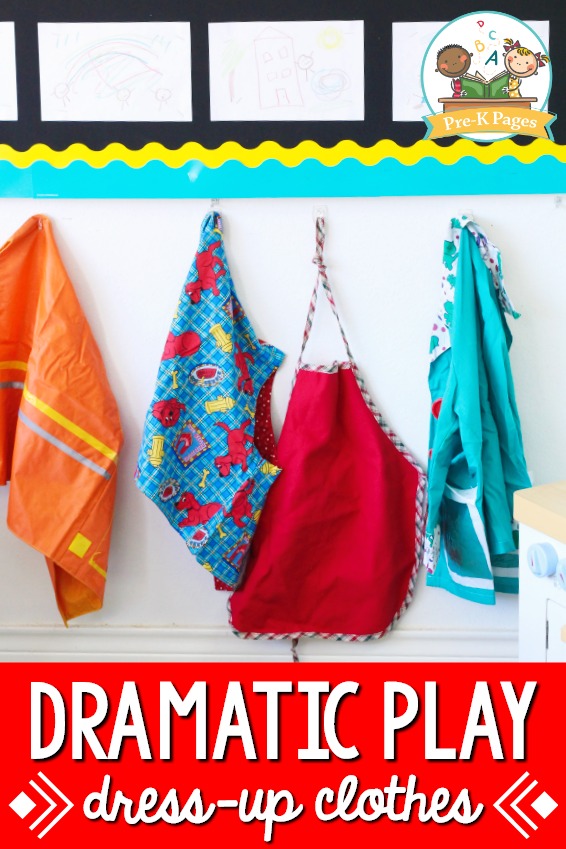 Dress-Up Clothes
A few aprons, a vest, and a dress shirt or two are all kids need to have an amazing experience in the dramatic play center. You can find child sized aprons at any craft store. The vests and dress shirts are from home but you could also look for them at garage sales and thrift stores.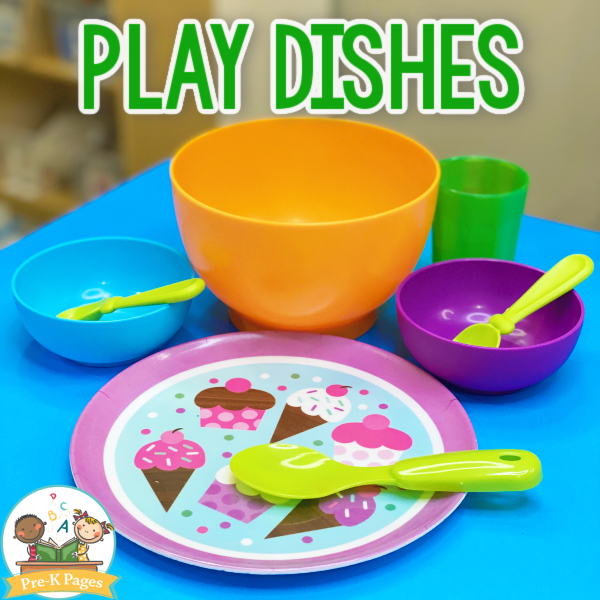 Pretend Play Dishes
Pretend dishes are a must for any dramatic play center. The trick to having a quick and successful clean-up is to provide a tub or basket to hold the dishes. When kids are cleaning up they are practicing their sorting skills as they separate the dishes from the play food.
After all the dishes are in the tub, it is placed on a shelf under the sink. You can place a label with a picture of the dishes on each end of the tub and another label on the shelf. This makes clean-up run more smoothly and also supports the development of matching skills.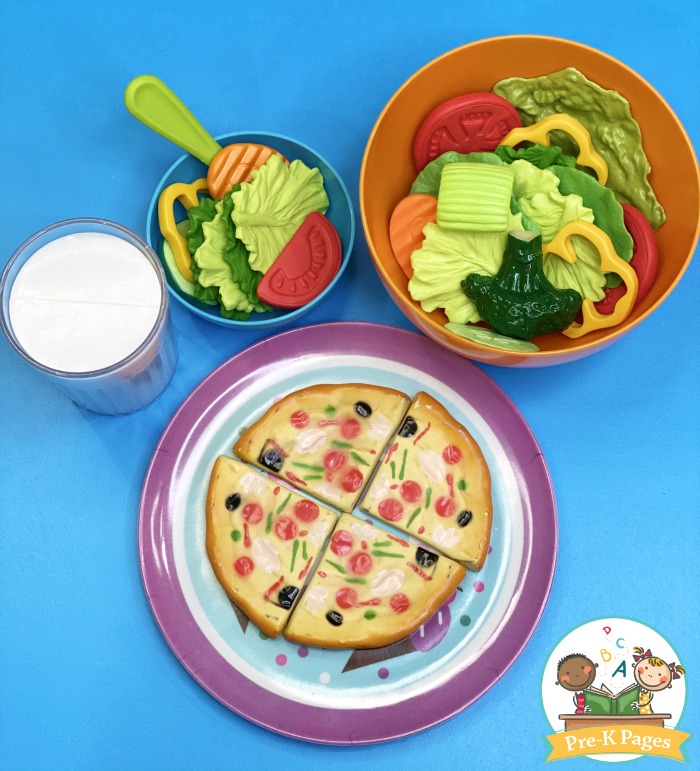 Pretend Play Food
Oh how they love pretend food! To keep kids from putting play food in their mouth, be sure to model the expectation often. I store the play food the same way I do the dishes, in a basket or tub.
I love this pretend food storage idea from Kathy Griffin's Teaching Strategies!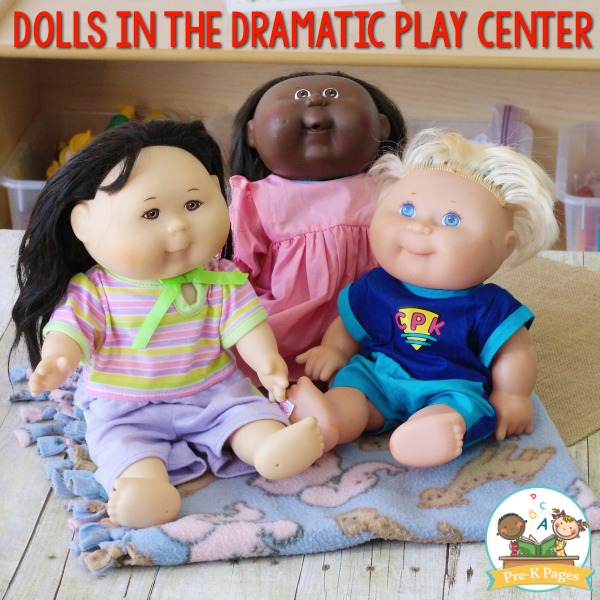 Dolls for the Dramatic Play Center
Baby dolls are an important part of the dramatic play process. As kids talk to the babies they are developing their own oral language skills. When they care for babies they are developing compassion, empathy and so much more.
I try to have dolls of various skin tones, especially those that match the skin tones of my students.
The first thing I do when I introduce baby dolls to my class is to ask the kids what they think babies need. They all know babies need bottles, diaper changes, rocking etc. I model these behaviors with a doll and then I explain that babies also like to hear stories. This is why many of the books in my dramatic play center are small board books- they are for reading to the babies!
Once the kids understand that reading to babies is an important part of the process, the babies are rocked and read to on a regular basis in addition to being changed and fed. I'm sneaky like that.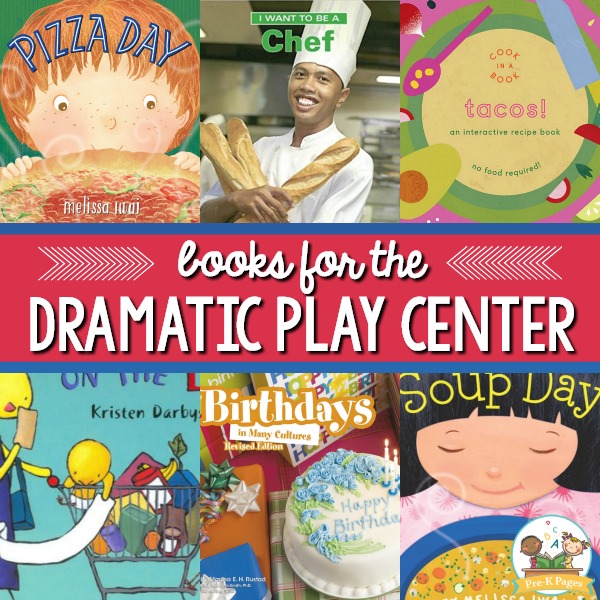 Books for the Dramatic Play Center
Here are some examples of the books I have in a tub in my dramatic play center. I place the tub of books strategically next to the baby doll bed.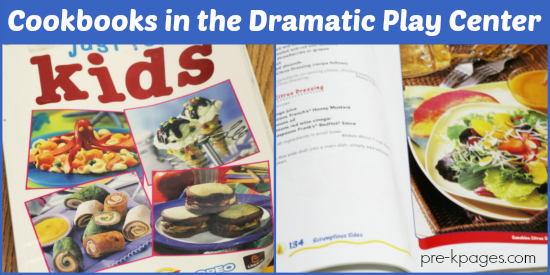 Cookbooks in the Dramatic Play Center
Adding cookbooks to the dramatic play center was one of the best things I ever did. When kids have cookbooks with colorful pictures to look at it brings the level of engagement and play up a notch.
Instead of just throwing food on a plate and pretending to eat it, when I added cookbooks the kids started looking at the pictures, gathering the ingredients and creating culinary masterpieces.
When they're cooking using the cookbooks they often pretend to read the text on the pages too. It is very clear that they understand that the print in the cookbook has meaning.
More Dramatic Play Ideas: