Turn your dramatic play center into a garden in the spring when all the flowers and plants are beginning to bloom, it's the perfect addition to your spring theme!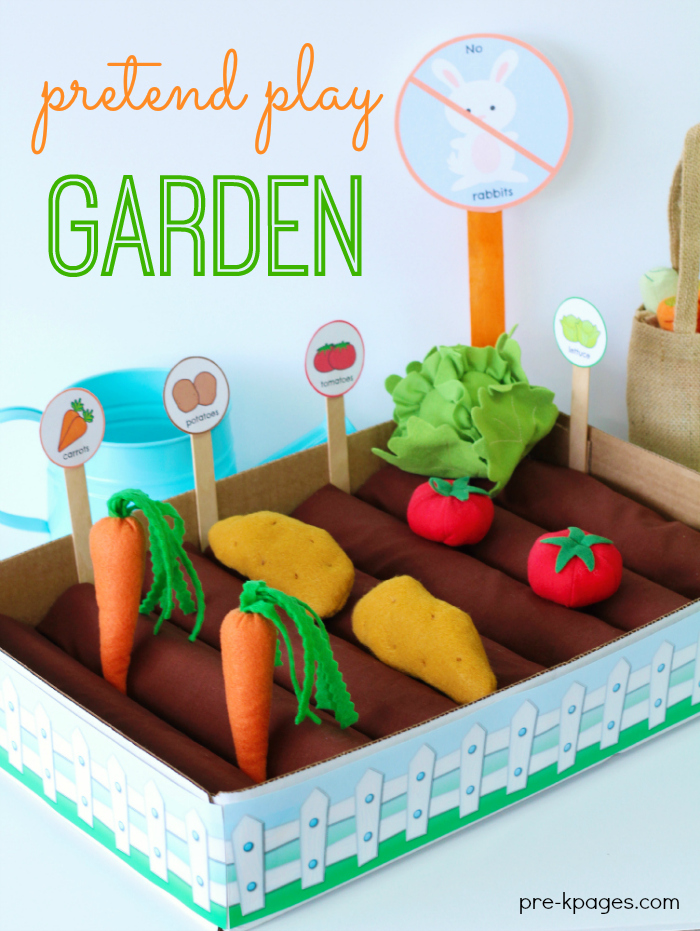 Pretend Garden
You can make a super fun pretend garden using inexpensive pool noodles! To make this garden I used the following supplies:
Pool Noodles
Knife to cut pool noodles
Brown fabric or felt
Lid to a copy paper box
Craft sticks
Play veggies
Tape
Scissors
Glue gun
Optional: I had some cute fence bulletin board border so I added it around the outside of the box lid.
First, using your knife, cut the pool noodles to fit inside the copy paper box lid. Place the cut pool noodles as close together as possible in the lid until it is full. You may also want to hot glue the pool noodles to the bottom of the box to ensure it all stays in one piece.
Next, use your scissors to cut the brown fabric or felt. Then, place the fabric over the pool noodles and tuck the fabric down in between the pool noodles.
Then, draw or cut out images of vegetables and tape them to craft sticks to make garden markers.
Now your little learners can start planting and harvesting the veggies in their very own pretend garden!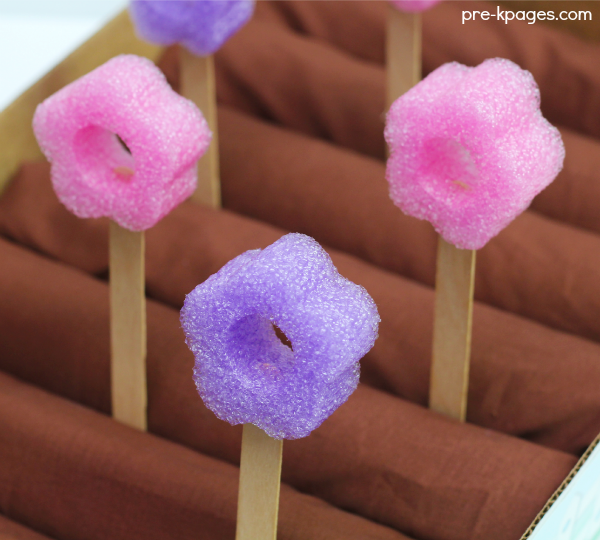 Pool Noodle Flowers
Spring time is such a fun and exciting time for your little learners! Learn how you can create a flower bed using pool noodles HERE.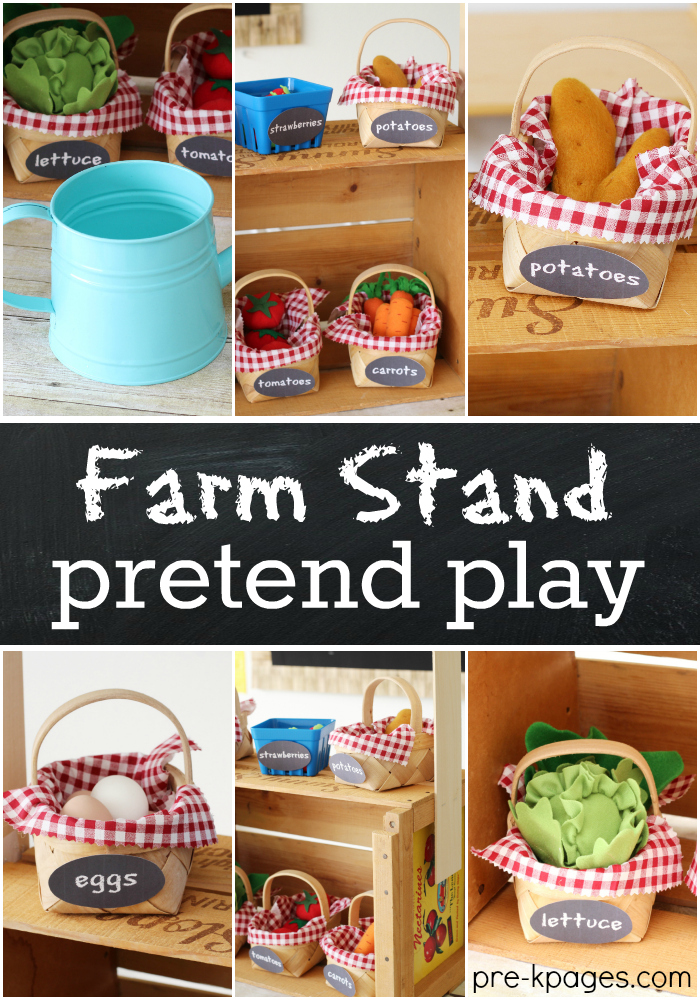 Pretend Play Farm Stand
This little farm stand was super easy to make; I used a wooden fruit crate that I had in my garage to create the base – I used this crate as an end table in college!
I chose to use only one wood crate because it takes up very little space, it's approximately 16 inches wide and 12 inches high as pictured here.
Then, I attached two thin pieces of wood to the sides of the crate with a staple gun. You could probably use paint sticks or cut a yard stick for these too.
Next, I attached some burlap ribbon I had leftover between the two pieces of wood. I attached the pennant banner flags to the ribbon with mini clothespins.
You can find baskets and eggs on sale after Easter at your local craft store.
The fabric inside the baskets is cut from scraps I also found at the craft store. I used pinking shears to cut the fabric because I don't sew – at all!
These soft veggies and fruit are a mixture of some I found at IKEA and some I purchased from Etsy.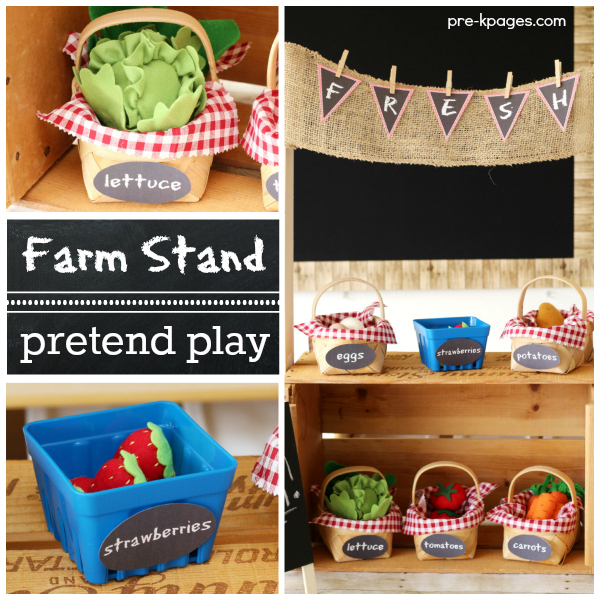 Dramatic Play Farmer's Market
The Farmer's Market dramatic play kit makes a great companion for a spring theme or a farm theme when kids are learning about seeds and how they grow, or where food comes from.
Your kids will love planting, tending, watering and harvesting the veggies in their very own garden! They'll also have tons of fun selling those veggies in the farmer's market.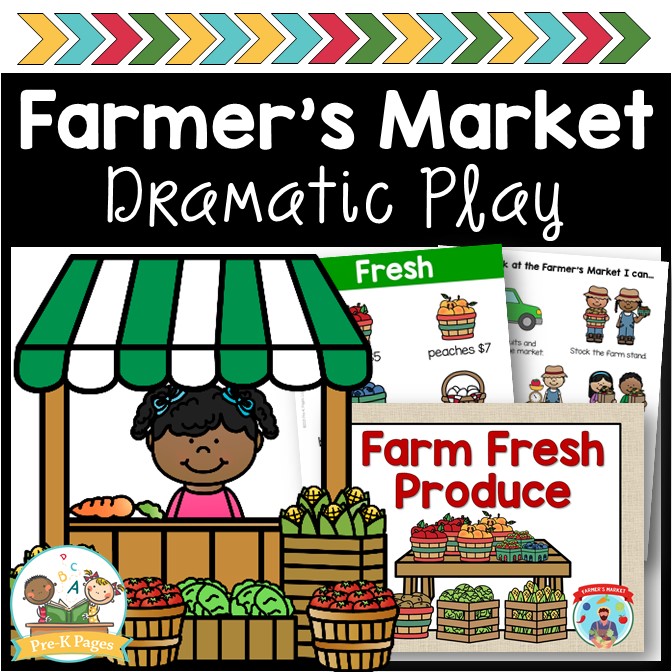 What You Get
123 pages of done-for-you printable props to transform your dramatic play center into a super fun and engaging Farmer's Market.
Supplies List
Open & Closed Signs (color + b/w, 2 sizes)
9 Signs (color + b/w, 2 sizes)
Hours Signs ((color + b/w, 3 options)
5 Posters (color + b/w)
"I Can…" Cards (color)
30 Picture Cards (color + b/w)
37 Labels (color + b/w)
Non-Fiction Book (full and small size)
Sequencing Activity (color + b/w)
Name Tags (color)
Pennant Banner (color + b/w)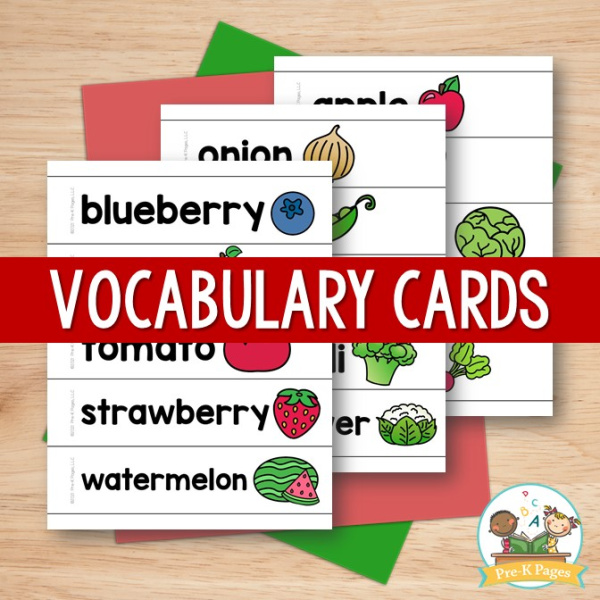 Vocabulary Picture Cards
Get your little learners excited about learning new words with these picture cards. Place the cards in a pocket chart in your dramatic play center to spark conversations and support oral language development.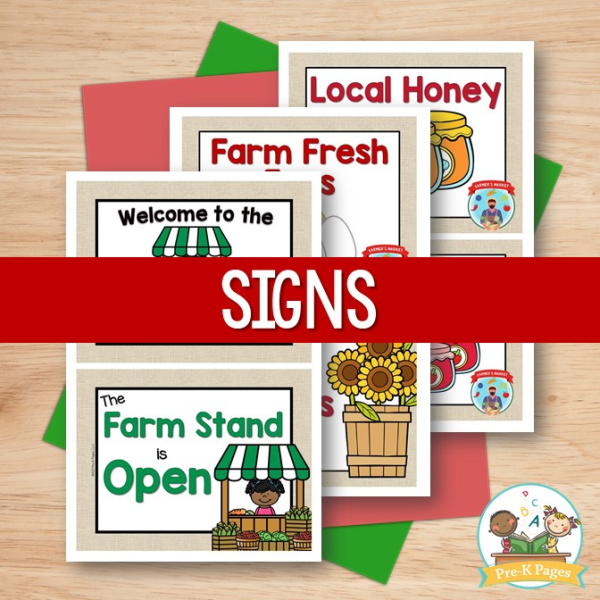 Signs
Is the farm stand open? What are the hours? Use the open and closed signs as well as the many other signs provided to create a print-rich environment for your little learners in the dramatic play center.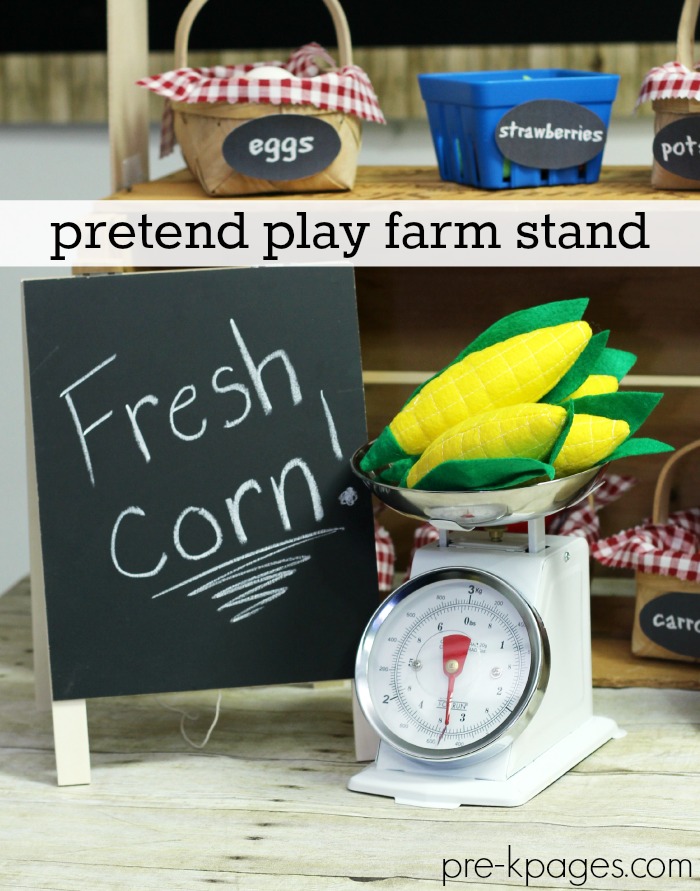 Fresh Corn
What could be more fun and engaging for your little learners than weighing fruits and veggies on a scale? Add a scale to your farmer's market for tons of measurement and math practice. Kids will love learning concepts like heavy and light, more and less while they have fun weighing corn and other items!
The dramatic play farmer's market kit will spark their little imaginations for hours of open-ended play and learning!
Purchase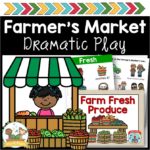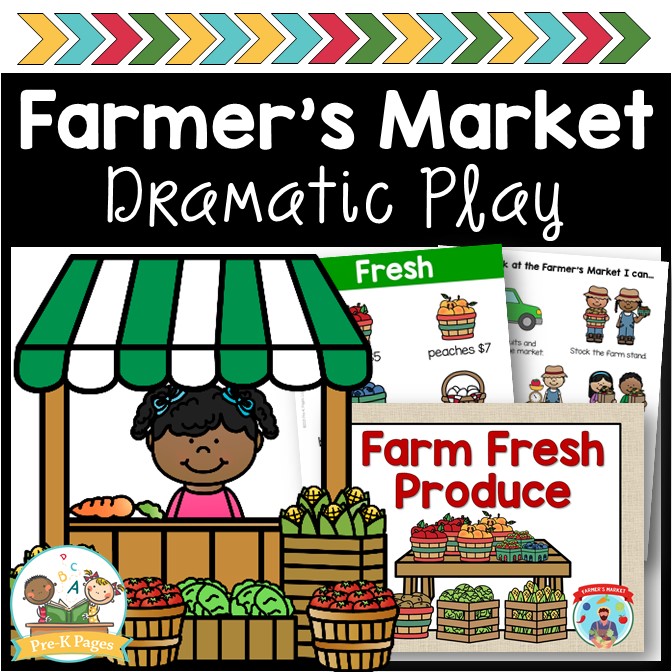 123 pages of printable props to help you easily transform your dramatic play center into a fun Farmer's Market.
More Dramatic Play Themes from Pre-K Pages