Bakery dramatic play center printables for pretend play in preschool, pre-k, and kindergarten.
Do you struggle to find time to change out the props in the dramatic play center? These printable props will help you change up your dramatic play center into an adorable bakery that's packed with a ton of learning and fun!
Give your basic housekeeping or dramatic play center a makeover by adding a few simple props. Your preschool or pre-k students will love baking and serving pretend cookies, pies, cakes and muffins in their very own bakery!
Bakery is a fun theme to do any time during the year, but can be especially fun around the holidays. During the holidays, baking may be taking place in homes and children may be tasting lots of yummy holiday treats – making this theme even more meaningful.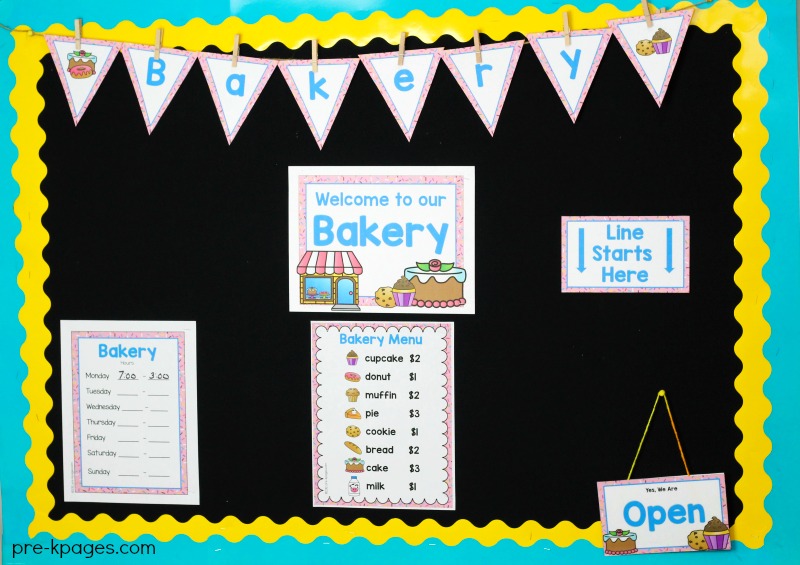 Bakery Dramatic Play
The printable bakery packet also provides research that explains how dramatic play supports academic learning. The bakery kit is infused with literacy, math, oral language, and writing opportunities that align with current early learning standards.
Contents
The bakery dramatic play kit includes the following editable printables:
Open and Closed Signs (color – large and small)
Bakery Sign (color)
Pennant Banner (color)
Picture Cards (color – one with prices and one without- USD)
Bakery Role Play Nametags (color – customer, cashier, baker, cake decorator)
How to Make Cookies Sequencing Cards (color, b/w)
Bakery Hours of Operation Sign (color)
Order Forms (b/w – 1/2 page & 1/4 page)
Bakery Menu (color, b/w – one with prices, one without, one blank – USD)
More Bakery Signs (color – pay here, line forms here, 2 sale signs – USD)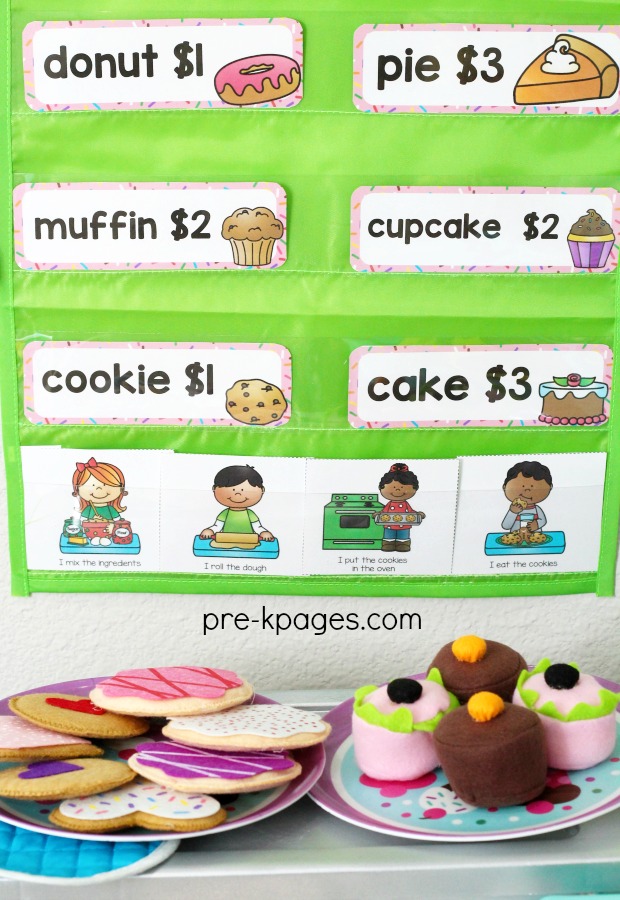 Bakery Picture Cards
Included are several different versions of the menu, in this picture above the picture cards have been placed in a pocket chart to serve as a menu. The other options included are one color menu with prices, one color menu without prices, and one menu with blanks for the children to write in their own prices. The same three menu options are also available in black and white.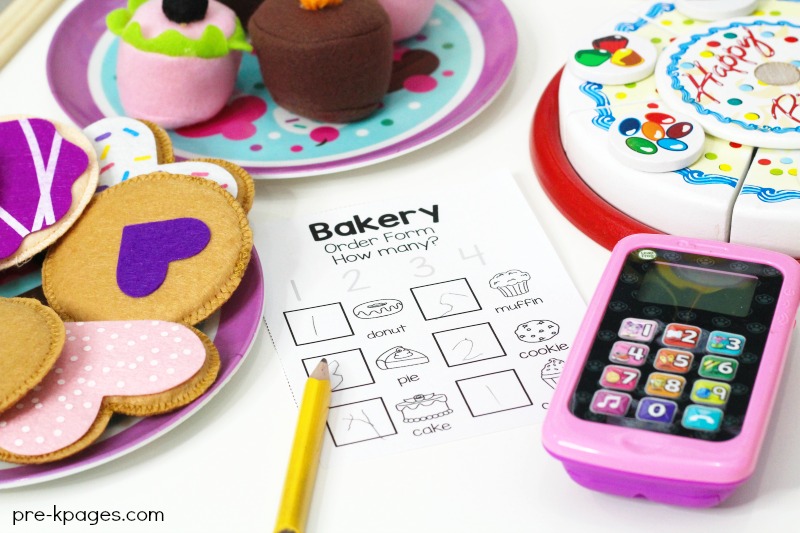 Bakery Order Forms
What can I get for you today? The felt baked goods and plates pictured above are from the Target Dollar Spot and the wooden birthday cake is from the Melissa and Doug line. The 1/4 page order form is also pictured here. Your little learners will love taking orders in the pretend bakery and serving up tasty treats to their friends!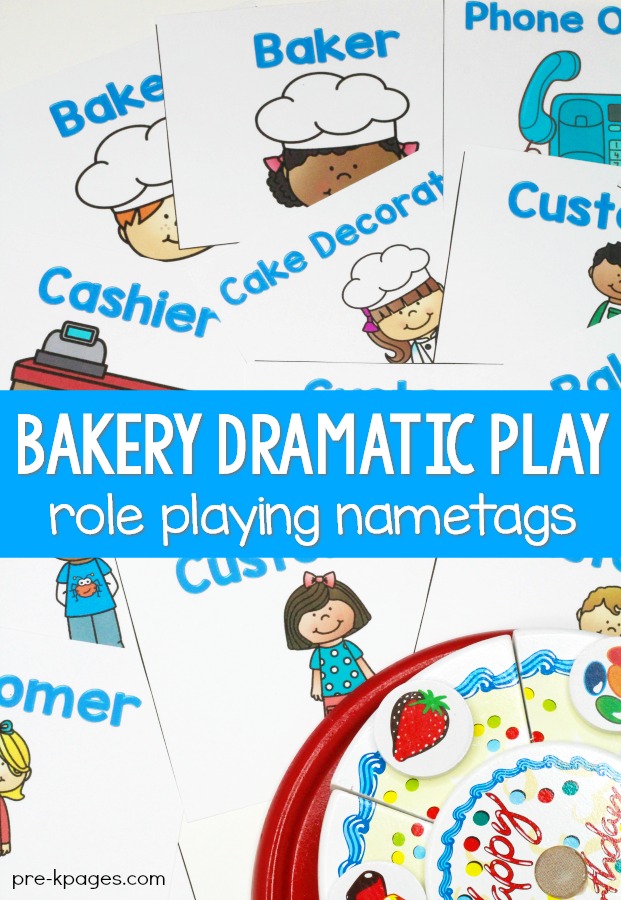 Bakery Role Playing Badges
Just print these role playing badges on cardstock and laminate for durability. Then, punch holes at the top and insert yarn or string to create necklaces the children can wear when playing in the pretend bakery to designate their roles. You could also use badge clips and have children clip the name tags to their shirts if you prefer.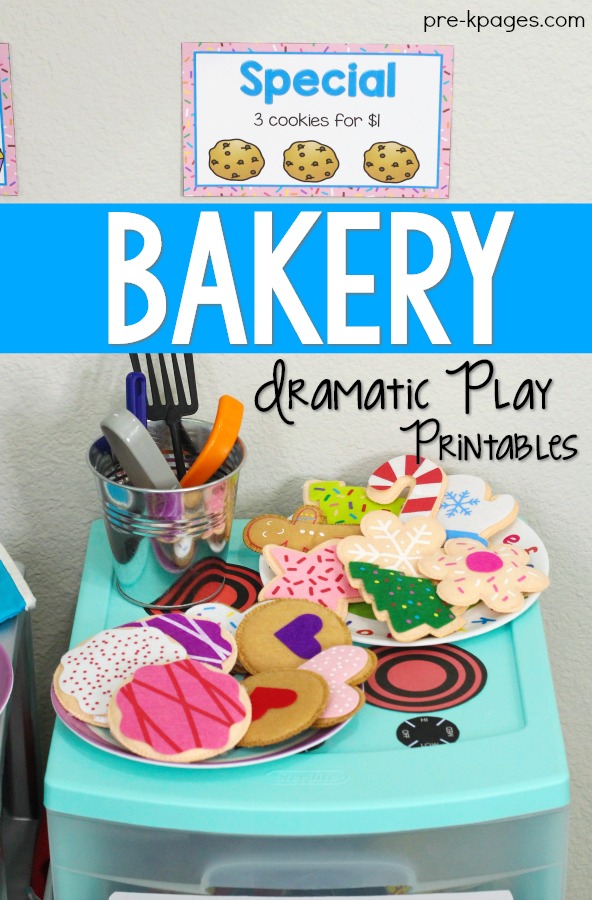 Bakery Signs
There are several different choices for signs in your bakery dramatic play center included in this kit, use the ones that best meet your needs and those of your students. The sign pictured above is for cookies, 3 for one dollar. The other signs included are:
Pay Here
Order Here
Line Forms Here
1 Dozen Cupcakes for $5
Employees Must Wash Hands
These signs will help you create a print-rich environment for your little learners.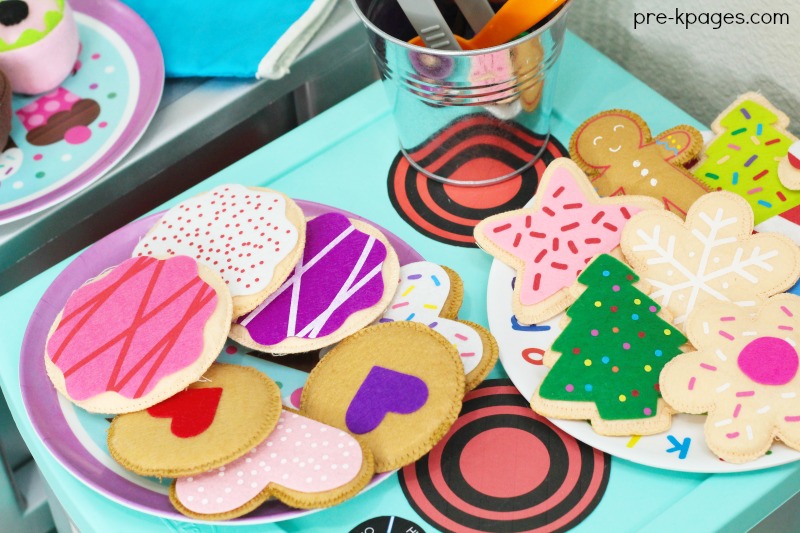 Purchase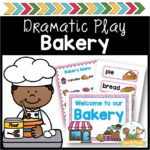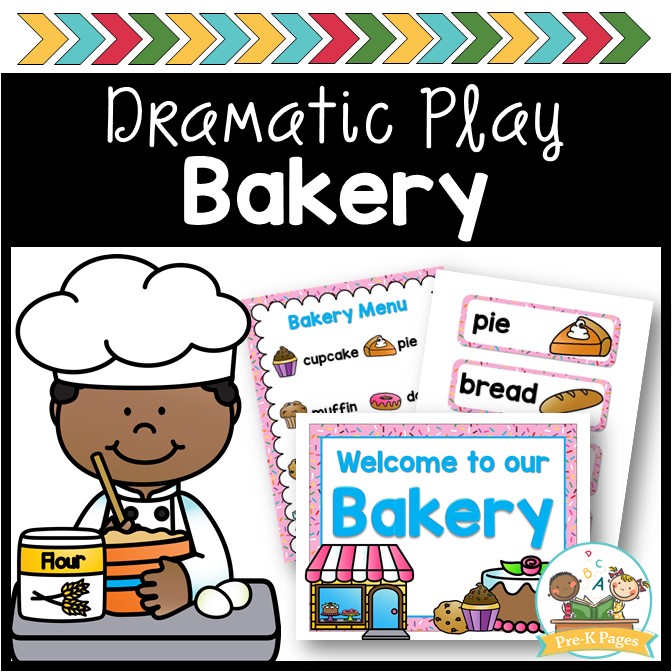 Printable props to help you easily transform your dramatic play center into a delicious bakery. Includes literacy, math, and writing opportunities that align with current learning standards.
*Note: Baked goods such as cookies, pies, and cakes can be made using healthy ingredients such as whole wheat flour, oatmeal, and natural sugar substitutes. Dounuts can be baked instead of fried. Include a lesson about healthy cooking and eating before introducing the bakery center to your students if it is a concern.
More Dramatic Play Themes from Pre-K Pages
Bakery Dramatic Play Resources