Hot chocolate dramatic play theme for your preschool, pre-k, or kindergarten classroom
Do you struggle to find time to change out the props in your dramatic play center? These printable props will help you easily transform your dramatic play center into a Hot Chocolate concession stand to enhance your winter unit.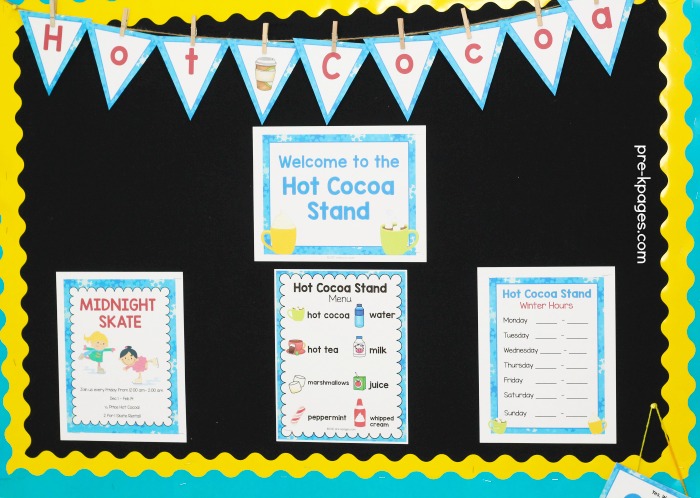 This packet also provides research that explains how pretend play supports academic learning in preschool and kindergarten. The Hot Chocolate dramatic play center is infused with literacy, math, and oral language opportunities that support current early learning standards.
Hot Cocoa Stand Video

What would an ice skating rink or ski slope be without a concession stand? The Hot Chocolate dramatic play kit is a great way to incorporate a winter theme into your dramatic play center.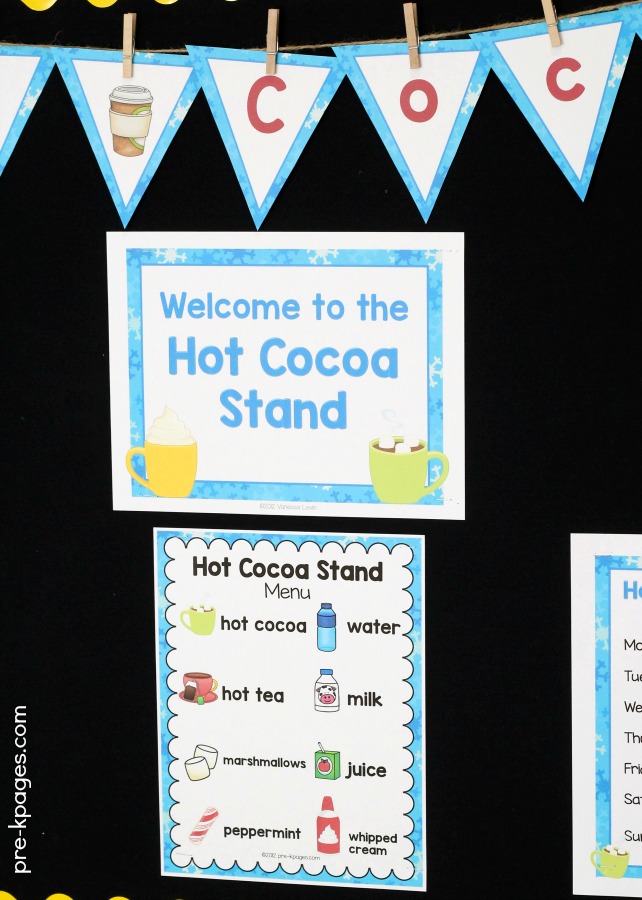 What You Get
The 65 page Dramatic Play Hot Chocolate dramatic play kit includes the following printables:
Open and Closed Signs (color – large and small)
Hot Cocoa Sign (color)
Menus (color, b/w – one with prices, one without, one blank – USD)
Hot Cocoa Pennant Banner (color)
Hours of Operation Sign (color)
Hot Cocoa Order Forms (b/w – 1/2 page & 1/4 page)
How to Make Hot Chocolate Sequencing Cards (color, b/w)
Hot Cocoa Picture Cards (color – one with prices & one without- USD)
More Signs (color – pay here, line forms here etc.)
Hot Cocoa Role Play Nametags (color – customer, barista …)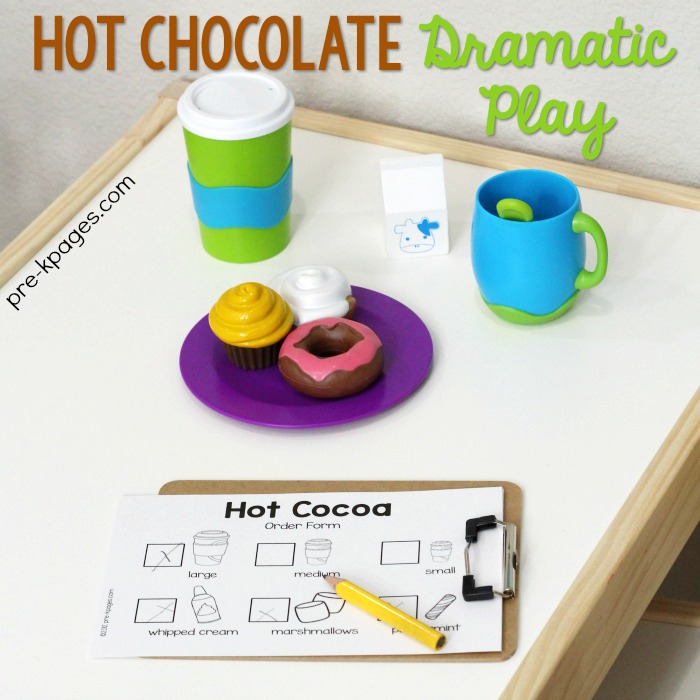 Hot Chocolate Dramatic Play
Teach your little learners to greet customers like this, "Welcome to the Hot Cocoa Stand, what can I get for you today?" Don't forget to ask your customers what size hot chocolate they want when you're writing down their orders on the order form!
The pretend sweet treats and the to-go coffee/hot chocolate cup are from the Learning Resources New Sprouts Brew It set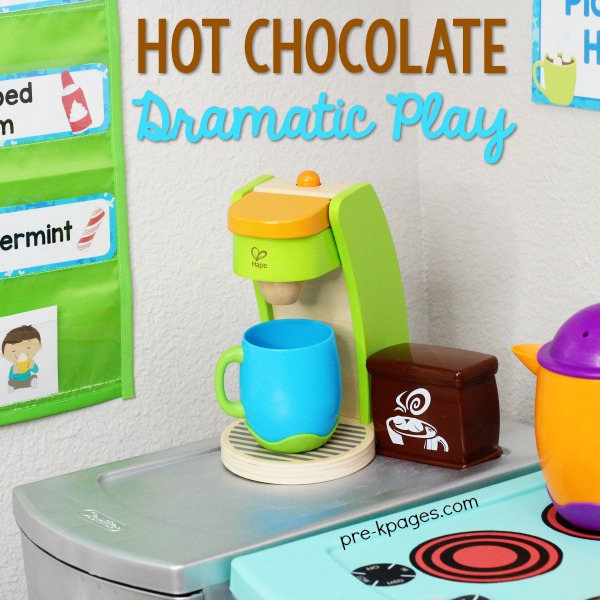 Pretend Hot Chocolate and Coffee Maker
Your kids will love making hot chocolate with this wooden hot chocolate/coffee machine from Hape. And how stinking cute is the pretend hot cocoa container that also comes with pretend marshmallows in the Learning Resources New Sprouts Hot Cocoa set.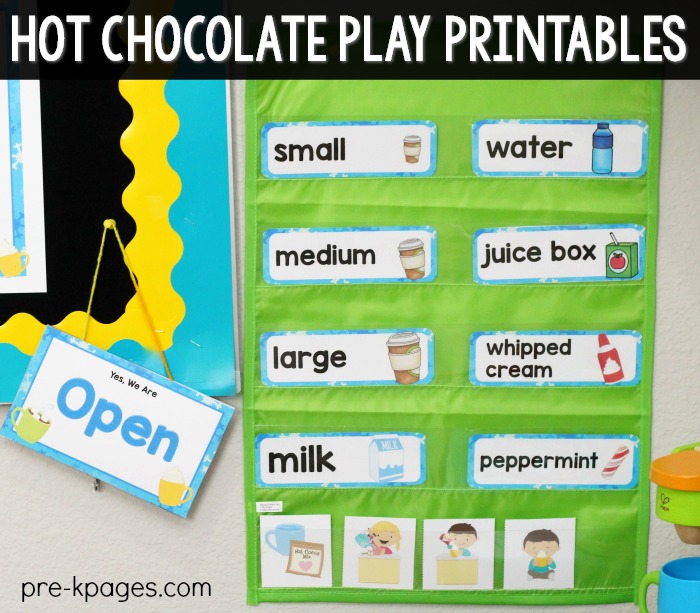 Hot Chocolate Vocabulary Picture Cards
There are 24 different vocabulary picture cards included in the hot cocoa kit. You can display your picture cards in a pocket chart to create a print rich environment, encourage vocabulary development, and create a "menu" for your hot drink shop.
Are you open? Your kids will love flipping over these open and closed signs available in two different sizes!
The sequencing picture cards show kids exactly how to make hot chocolate. There are two versions included, one with marshmallows and one without and both versions also include black and white options.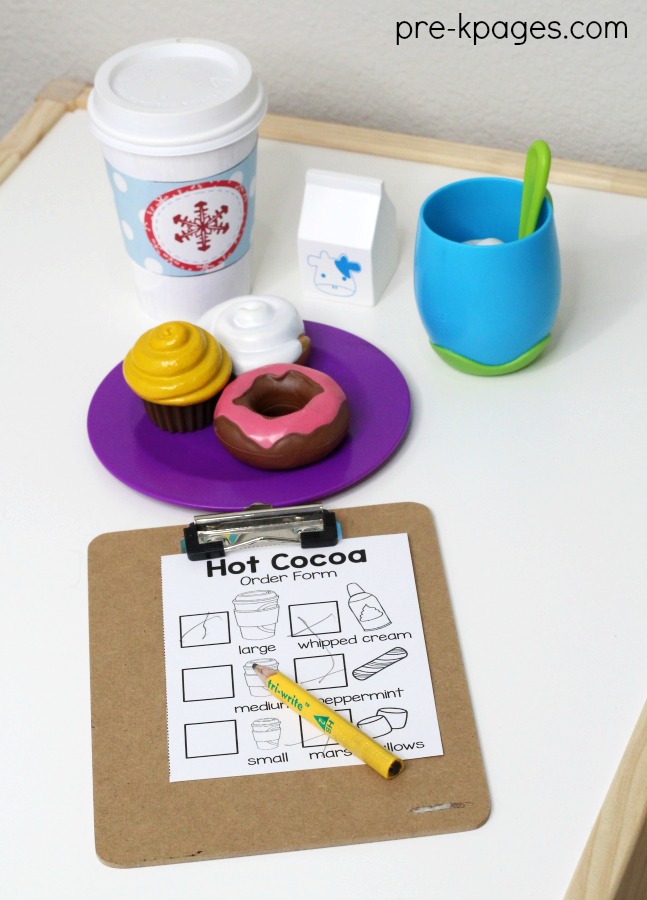 Hot Cocoa Dramatic Play
The printable cup sleeves will give your dramatic play hot cocoa shop that extra special touch. Just ask your local coffee shop if they will donate some drink cups to your class, or you can purchase them at your local grocery store. Then, print the sleeves, cut, and tape around your cups.
Print, cut, and place the order forms on clipboards in your center with pencils so your little baristas can start taking those hot chocolate orders right away! The order forms are available in two different sizes, half-page and 1/4 page, so you can choose the size that best meets your needs and those of your students.
The pretend sweets are from the Learning Resources New Sprouts Brew It set
Purchase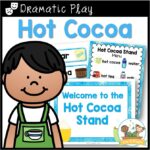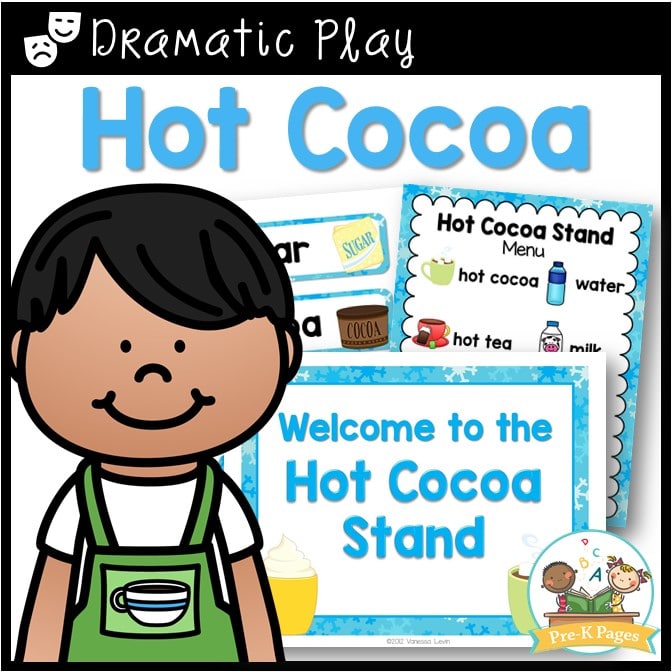 65 pages of printable props to help you easily transform your dramatic play center into a hot cocoa stand for winter. Includes literacy, math, and writing opportunities that support current…
More Dramatic Play Themes from Pre-K Pages
Dramatic Play Hot Cocoa Stand Resources