Hair salon theme for your dramatic play center in preschool, pre-k, and kindergarten.
Dramatic Play Hair Salon
Do you struggle to find time to change out the props in your dramatic play center? These printable props will help you easily transform your dramatic play center into a hair salon.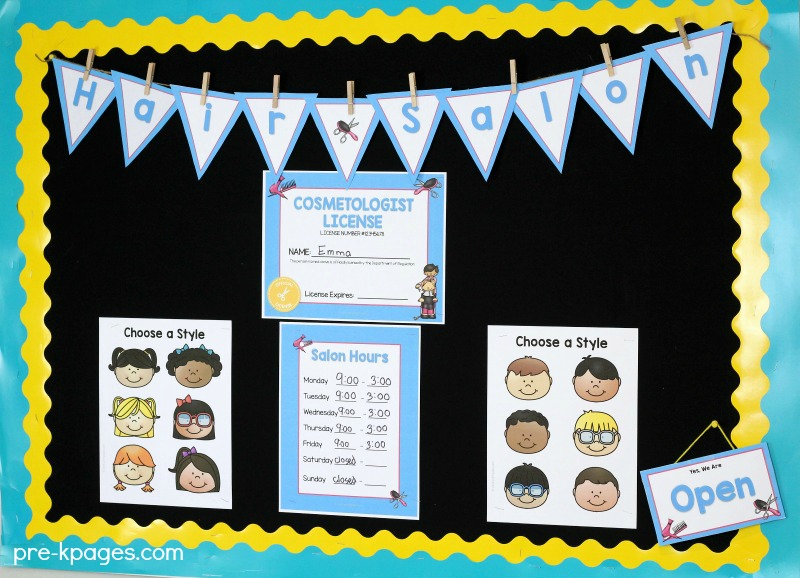 This packet also provides research that explains how dramatic play supports academic learning in preschool, pre-k, and kindergarten. The hair salon play kit is infused with literacy, oral language, and writing opportunities that support current early learning standards.
Contents
The 46 page Dramatic Play Hair Salon Kit includes the following printables:
10 different color signs
Sign-In Sheet (2 sizes)
12 Full-Color Picture Word Cards
1 Full-Color Pennant Bunting Banner
1 Set of Loyalty Punch Cards
Salon Services Form (2 sizes, b/w)
Appointment Sheet (2 sizes, b/w)
24 Full-Color Role Play Nametags
4 Style Choice Posters (color + b/w)
Salon Services Form (2 sizes, color + b/w)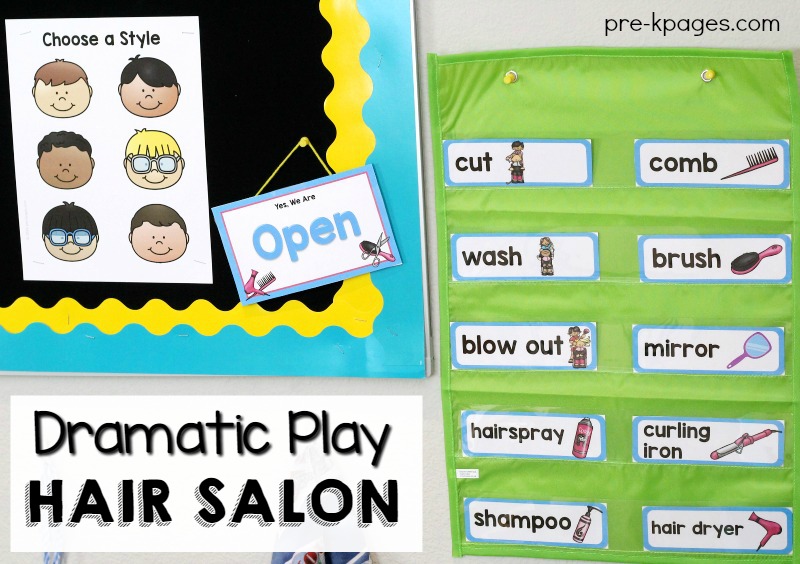 Printable Word Cards
The printable picture word cards can be placed in a pocket chart in your hair salon, 12 picture word cards are included in the kit. Spark peer-to-peer conversations and develop oral language skills by placing these cards in your pretend hair salon.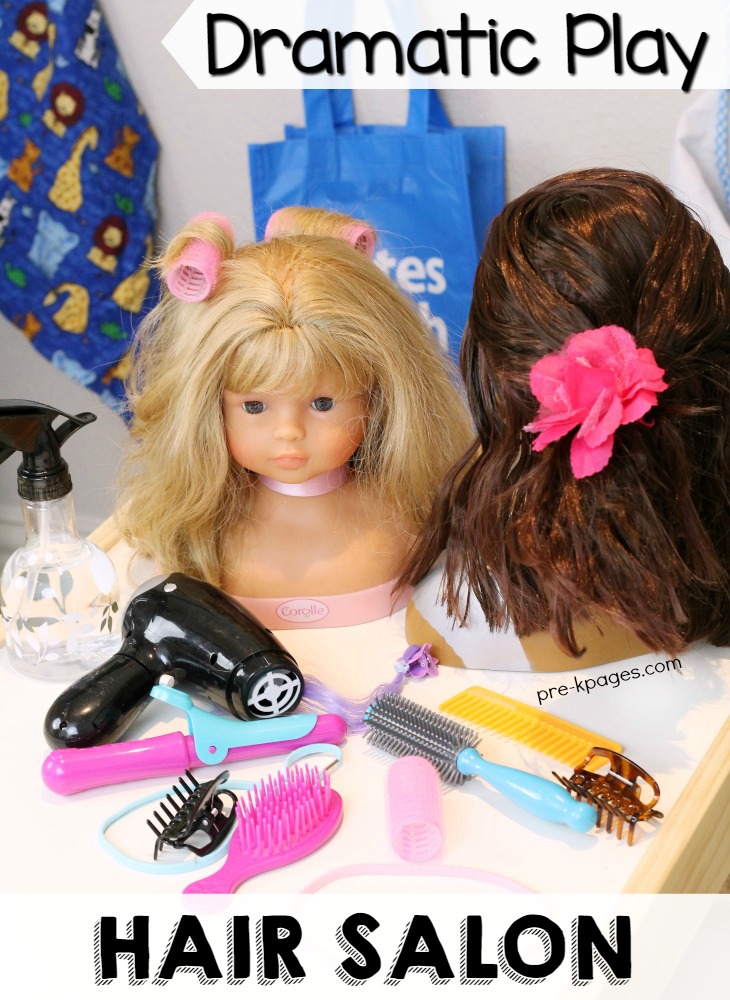 Doll Hair Styling Heads
I found the blonde doll styling head at a garage sale, and I ordered the brunette doll head from Amazon.
Printable Hair Salon Banner
At the top of this page you can see the super cute banner for the hair salon. Just print the banner on cardstock, cut out, and hang the pieces from a string in your center using clothespins or tape.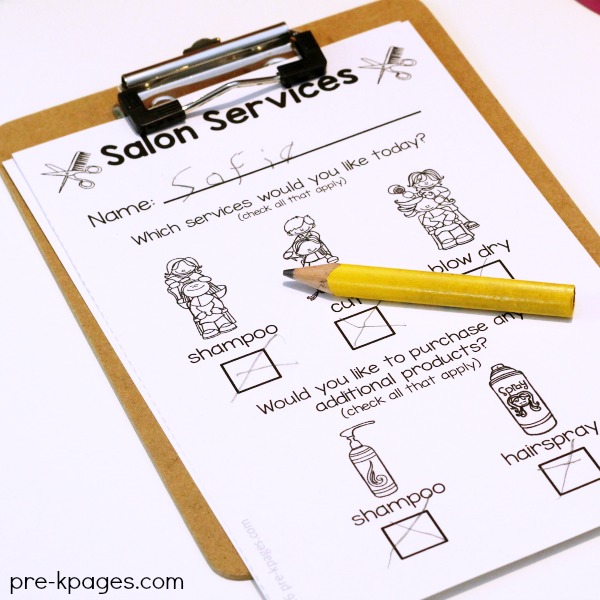 Printable Salon Services Form for Pretend Play in Preschool
What would you like today? This form includes the words printed directly below each picture to help young children begin to understand that print has meaning.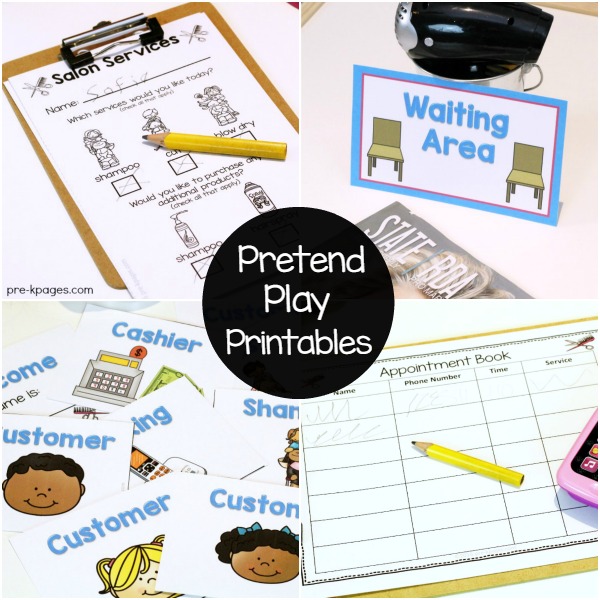 Printable Sign-In Sheet
Please sign-in and have a seat, we'll be right with you! Create motivation to write for a purpose with a sign-in sheet in your pretend play center.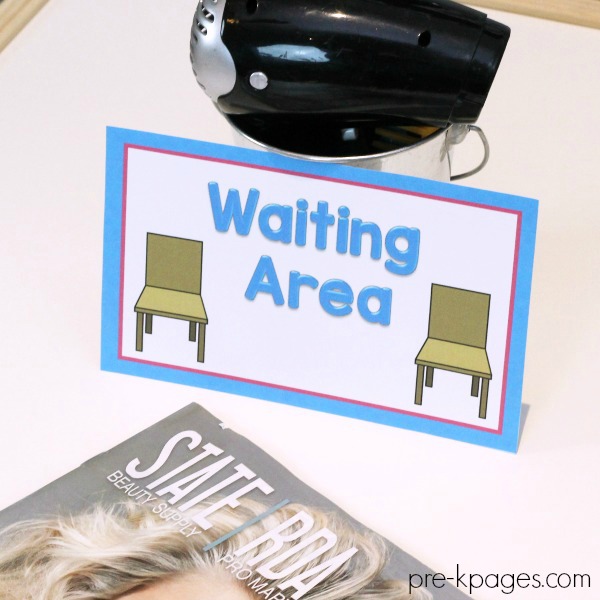 Hair Salon Theme Center Signs
Included in this printable set are signs you can use to label different areas of your hair salon center, such as the Waiting Area and a Please Pay Here sign. These signs add literacy elements to pretend play and help children understand print has meaning. A print-rich environment will motivate your little learners to write for a purpose.
Printable Nametags
These printable role playing nametags will help your kids choose different roles to play in this center. Roles included are: customer (12 choices), Booking, Cashier, Stylist, Shampoo, plus, one blank name card for your kids to personalize with Vis-a-Vis or dry erase markers.
Books About Hair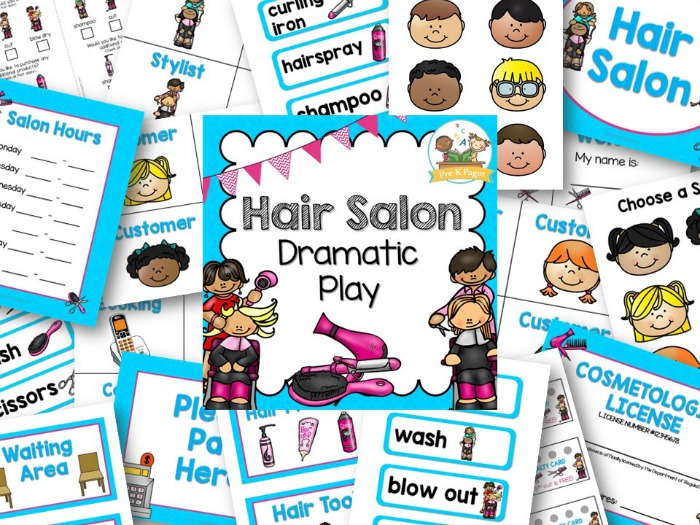 Purchase the Dramatic Play Hair Salon Kit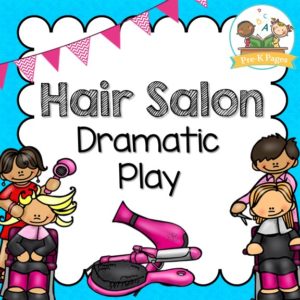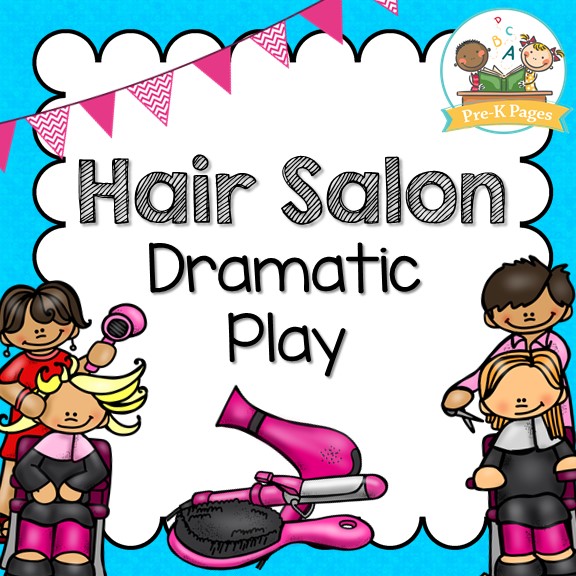 More Dramatic Play Themes