Kids can search for the stars while learning the letters of the alphabet with this simple nighttime inspired sensory bin. This activity would be perfect to add to a solar system or space theme, learning about day and night, or anytime kids feel like reaching for the stars!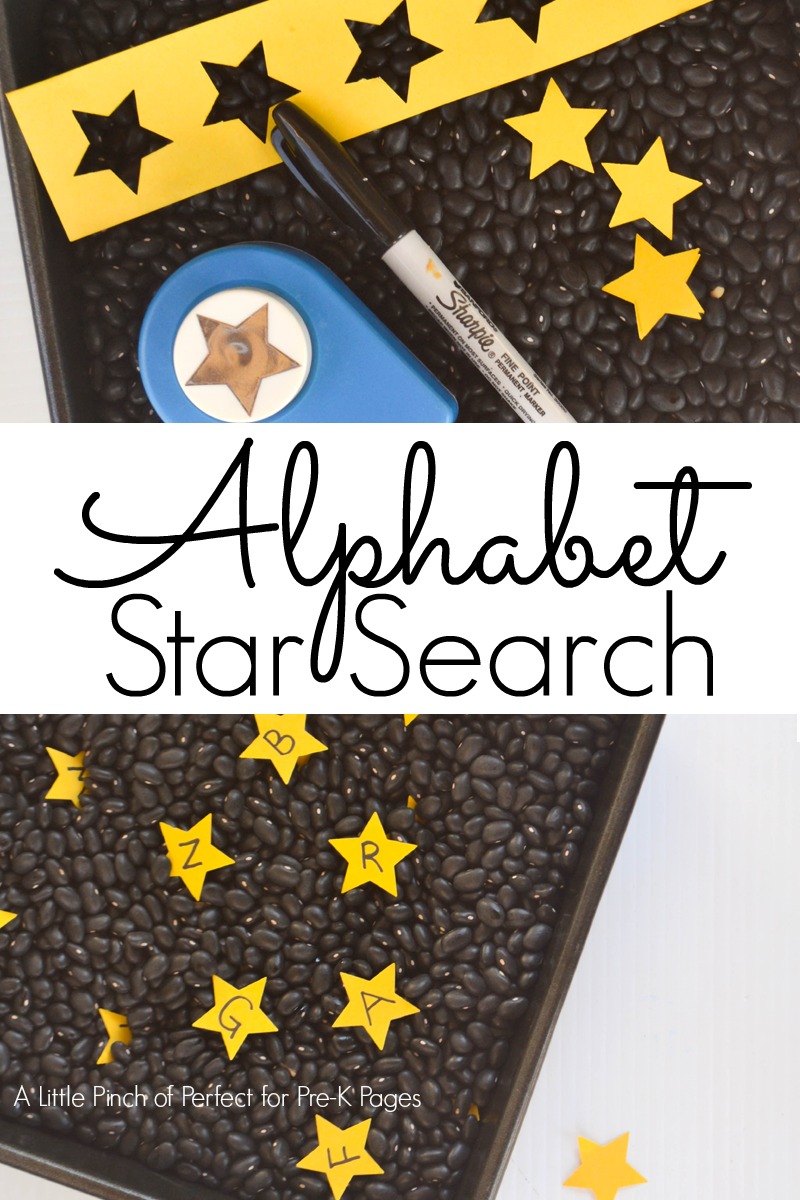 Alphabet Letters
Looking at a page full of letters can be stressful for young learners because as you know, there are 26 uppercase letters and a second set of lowercase numbers which is a lot to learn. By placing the letters in a bin and inviting kids to find them, their attention is focused on just one letter at a time while playing and exploring.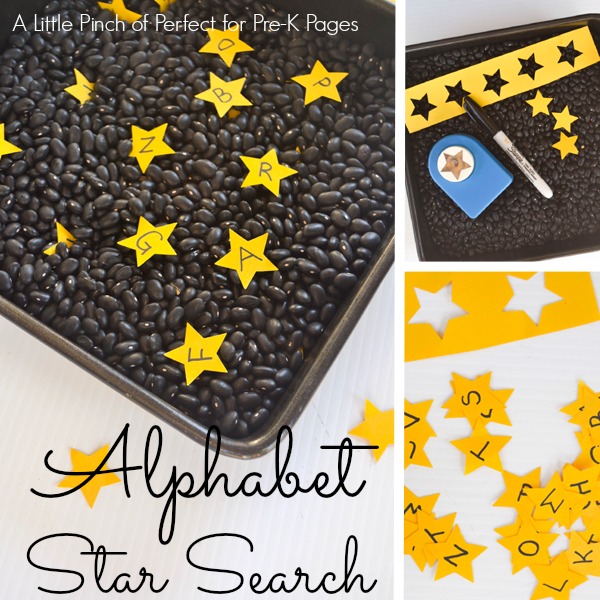 Alphabet Star Sensory Bin
Supplies
To add another element to this activity, you can some add tongs for kids to pick up the stars instead of using their hands. Tongs will add an extra element of fine motor skills to your sensory bin. If you notice that a child is having difficulty using the tongs, set them aside for another time or activity.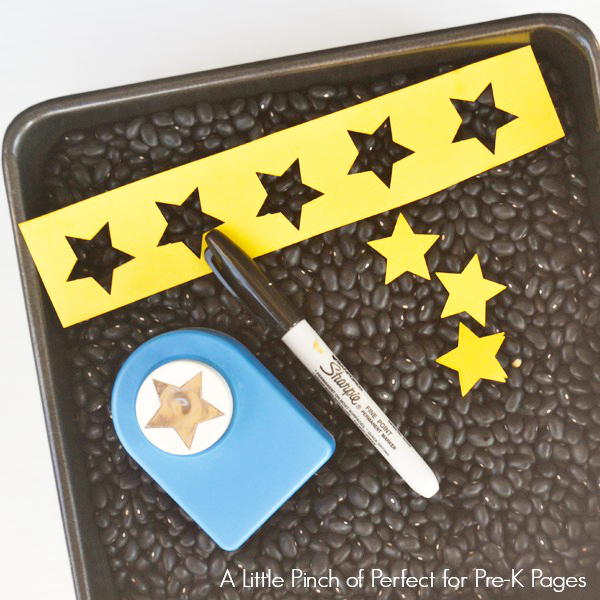 To prep the activity, write letters on the stars and add the black beans to the sensory bin. I used a star-shaped hole punch to make the stars for this activity because it was faster than cutting out stars by hand – remember 26 stars is a lot of points to cut around. You could also use glow-in-the-dark plastic stars, star shaped beads, or craft foam stars too. Hide the stars in the beans and your sensory bin will look like night sky.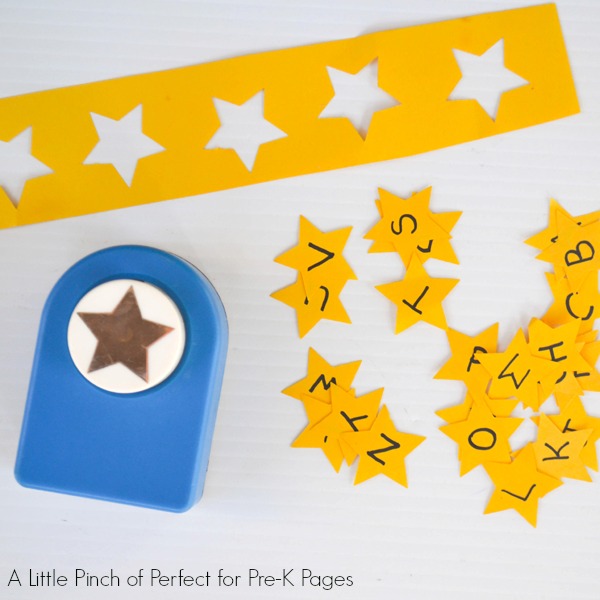 Alphabet Star Search
We used a small baking pan as our sensory bin, which made the stars easier to find. My kids loved digging their hands in the black beans and feeling around for a star. You would have thought they had just won a prize every time they discovered another star.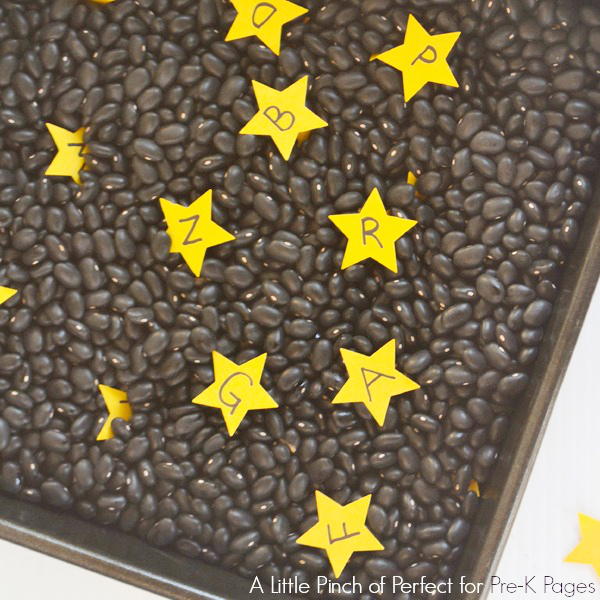 Once a star is found, help the kids name the letter. Feel free to add an alphabet chart to this activity so kids can place the letters on the chart as they find them. Another option would be to make two sets of letters and kids could find and match them up. Once all the stars are found, kids can return them to the bin and go star searching again.
BIO: Katie stays busy homeschooling her two kids and sharing their fun educational activities, cute crafts, and free printables at A Little Pinch of Perfect. One of her kids' favorite shapes activities can be found here, Sorting Shapes Activity + Free Printable. Join her community of parents, caretakers, and educators who enjoy having fun and spending time with kids on Pinterest, Facebook, and Instagram.
More Sensory Bin Ideas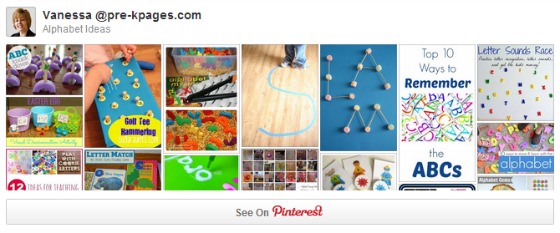 Follow my Alphabet Letters Pinterest Board for more great ideas!