This heart number line game would be fun for a valentine theme. The game is super simple to set up and lots of fun for kids. It is a great way encourage counting practice, number identification, and more! You can even differentiate for varying levels of ability.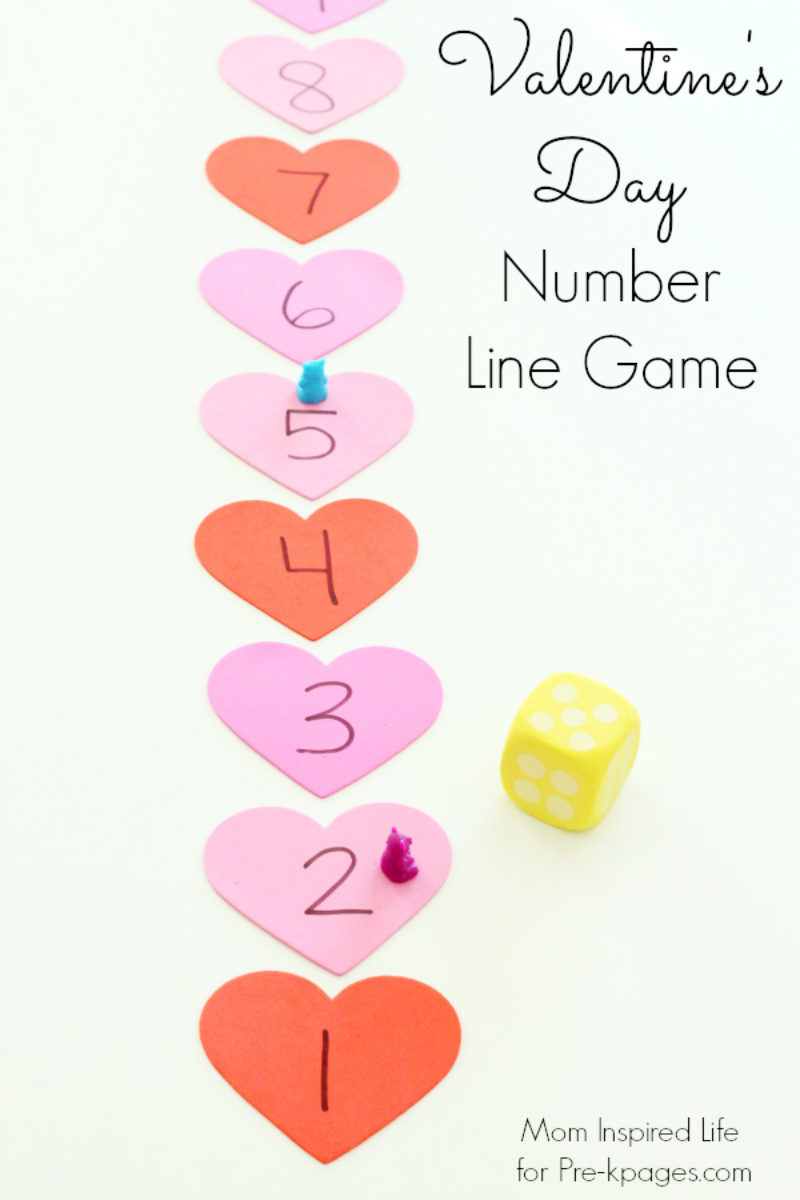 Counting games are always a big hit with my kids, like this dog bone counting activity, farm animal counting activity and this penguin counting game. So I like to set up fun learning games for them to play. They have a blast and lots of learning happens, too! Number games are a favorite.
I like them because they are so easy to set up.
They are also perfect for young kids because each round is very quick. This way you can do a couple of rounds or more, depending on the age of your kids and their interest.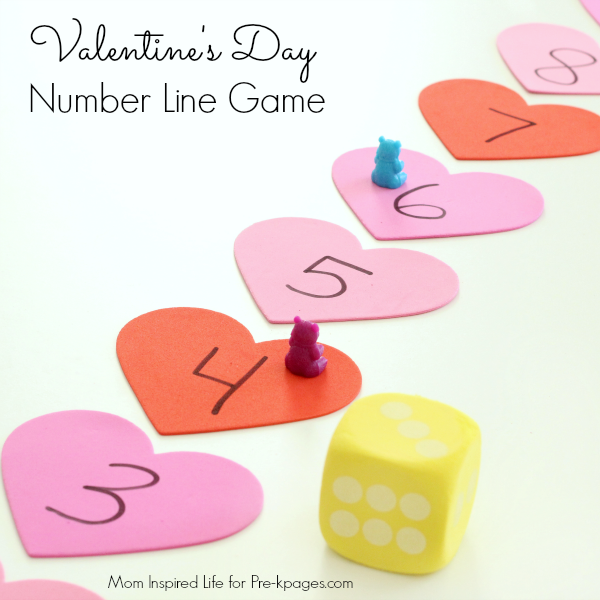 Setting up the Valentine's Day Counting Game
Supplies Needed:
Foam or paper hearts
Marker
Game pieces (we used counting bears)
Numbered cube
Paper/pencil (optional)
Write one numeral (1-10) on each of the hearts with the marker. Put them in order in a line on a large table or on the floor. Place the numbered cube and game pieces nearby.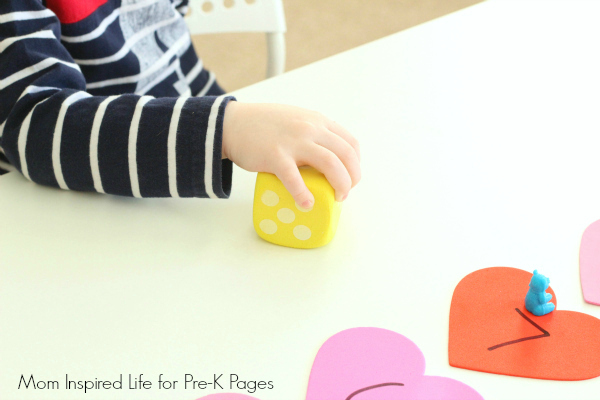 Playing and Learning with a Heart Number Line Counting Game
Children will roll the cube, identify the number represented by the dots on the die, and move their game piece that many hearts on the number line. Ask children to identify the number they landed on. Continue until the first person gets to the end of the number line.
Because the game moves very quickly, we like to play several rounds. If you would like, you can give the winner of each round a point by recording tally marks on a sheet of paper.
The winner of the game is the one who has the most points in the end. For younger children, this is not really necessary. They simply enjoy playing over and over again and there is no need to keep track of any points.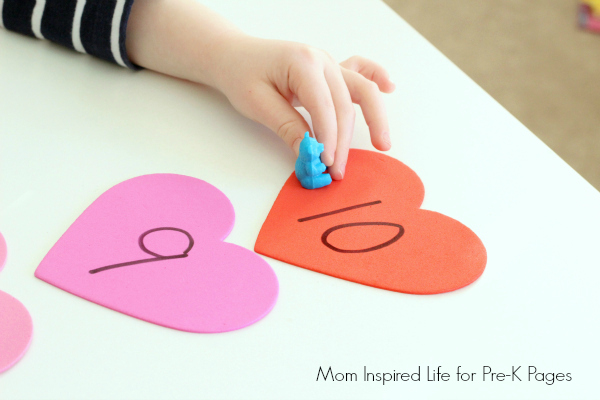 Kids practice and develop many different skills while playing this number line game. When they roll the cube, they will begin to develop the ability to subitize. Subitizing is being able to quickly glance at a small number of items and know the quantity without counting.
In this case, children will practice subitizing with the dots on the cube. To begin, most children will count each dot one by one. This is great practice with one-to-one correspondence. Eventually though, children will learn to subitize the dots on the die and won't need to count them.
While moving along the number line, children will practice counting skills, one-to-one correspondence, and number recognition. They will need to count each heart on the number line on one by one. When they land on one of the numbered hearts, they identify it.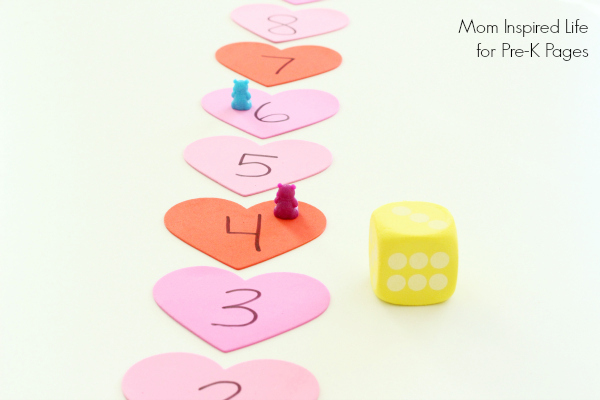 More Counting Games For Preschoolers
As you can see, this simple game is jam-packed with learning! I love that we can easily pull it out at any time and play a few rounds.
There are lots of opportunities to include counting games into your curriculum with your preschoolers throughout the year. You could try this button counting activity into your math lesson. Or when its springtime, you could try this catching bugs counting game!
If you are exploring careers, then this fire truck counting game would be a great idea to include in your classroom!
Fore more ideas, check out this counting games and activity post!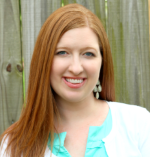 BIO: Danielle is a former elementary teacher, a mom of two, and now shares learning activities at Mom Inspired Life. Check out her Math Activities for Preschoolers and make sure you subscribe to her newsletter to receive activities straight to your inbox! You can also follow her on Facebook, Pinterest, or Instagram.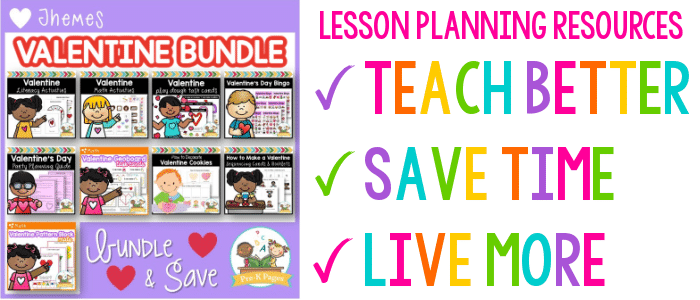 More Valentine's Day Ideas