No matter the season, there's always weather. Weather activities for preschool can be incorporated in science explorations as well as seasonal and other study themes. Use these ideas to lead your kids to explore all kinds of weather in all kinds of ways.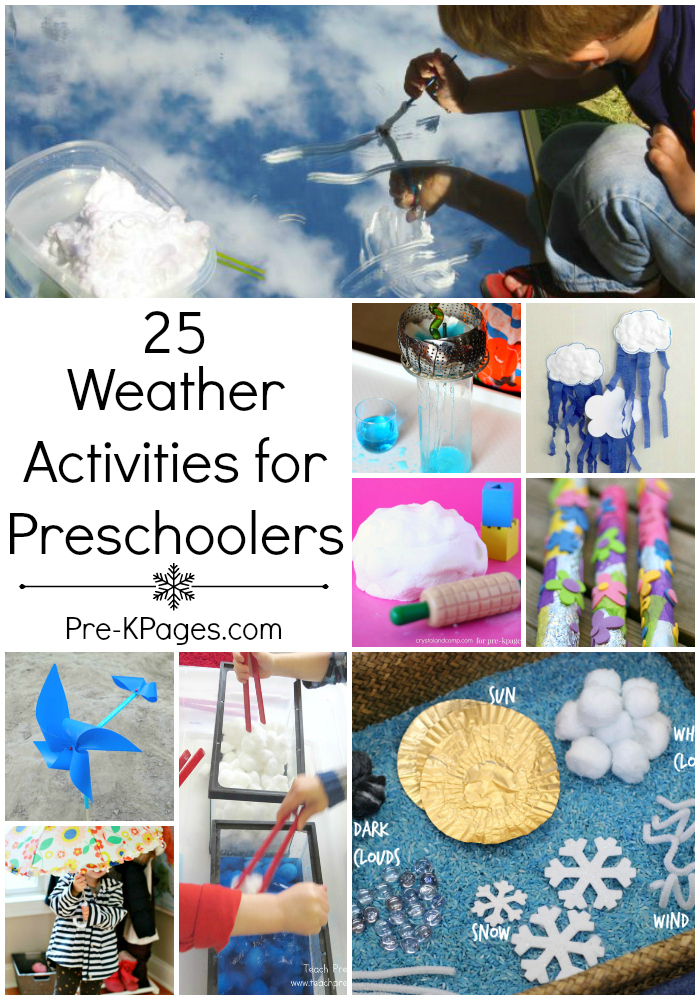 Weather Activities For Preschool
1. What's the Weather? Dramatic Play Dress-Up Center (Pre-K Pages)
Set up a dramatic play center to play out weather forecaster and dress in weather gear.
2. Three Weather Art Activities (Pre-K Pages)
Explore wind art, frost art, and rain art in these fun investigations.
3. Raindrop Plop: Make an Umbrella (Pre-K Pages)
Read the book Raindrop Plop!, make an umbrella, and count rain drops as you learn about weather.
4. Weather Theme Movement Game (Pre-K Pages)
Roll cubes and move in different ways to locate weather posters.
5. Snow Play Dough (Pre-K Pages)
Make snow play dough using only 3 ingredients!
6. The Snowy Day Pocket Chart Activity (Pre-K Pages)
Build literacy skills with this fun pocket chart activity based on the book The Snowy Day.
7. Pine Cone Weather Station (Science Sparks)
Forecast the weather using pine cones.
8. Shaving Cream Clouds on a Mirror (Parenting Chaos)
Reflect clouds and paint matching clouds on a mirror.
9. Splashing in Puddles: Rainy Day Action Song (Let's Play Music)
Sing and pretend to stomp in puddles and walk in the rain.
10. Weather Station (Kitchen Counter Chronicles)
Set up a precipitation gauge and chart the weather.
11. Rain Sticks Kids Can Make (Happy Hooligans)
Make a rain stick and listen to the rain sounds it makes.
12. Rain Painting (Housing a Forest)
Use the falling rain to paint and create with these 5 ideas.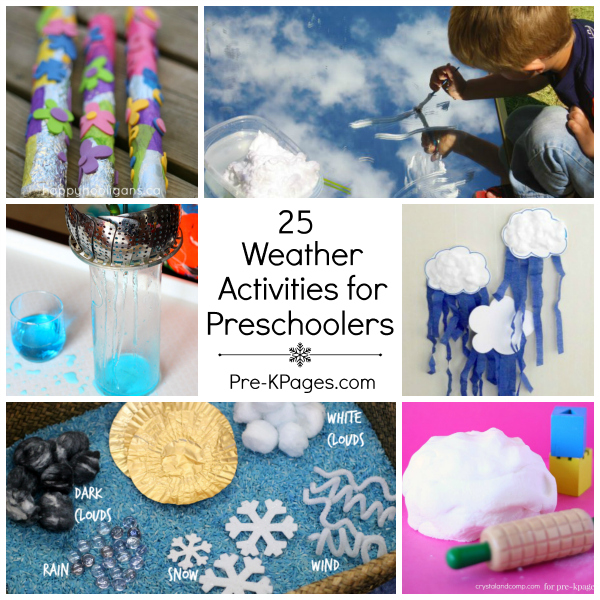 More Preschool Weather Activities
13. How Does It Rain? (Learn Play Imagine)
Explore how rain occurs with this fun science experiment.
14. Clouds in Jars (Teach Preschool)
Learn about clouds and cloud formations by creating clouds in jars.
15. Cloud Dough (Teaching Mama)
Make cloud dough for a fun and easy sensory activity.
16. Exploring Raindrops and Clouds (Teach Preschool)
Set up a rain-making station with cotton balls, blue raindrops, and an aquarium.
17. Clouds and Rain Fine Motor Practice (Mom Inspired Life)
Squeezing an eyedropper builds fine motor skills in this fun rain/cloud activity.
18. Tornados and Rain Clouds Weather Science (Little Bins for Little Hands)
Investigate weather science with these two experiments.
19. Thunder Drum! (Child Central Station)
Make a thundering drum from an old metal garbage can.
20. Recording the Weather (Prekinders)
Use symbols to record the daily weather.
21. Weather Mobiles (Craftulate)
Choose one of these weather-themed mobiles to create.
22. One Windy Day: Leaves and Weather Activity (Sunny Day Family)
Pretend to be the wind and blow feathers after reading One Windy Day.
23. Pinwheel Weathervane (Powerful Mothering)
Track the wind after making this pinwheel weathervane.
24. Preschool Weather Activities Sensory Bin (Fun-a-Day)
Create a sensory bin full of all kinds of weather!
25. Thermometer Printable and Practice (Kids Activities Blog)
Make a "thermometer" and practice reading it.
More Science Ideas