Preschoolers love to investigate nature. The world around them is a great place for learning to happen. Spring is a natural time to explore seeds and flowers and plants. These flower activities for preschool are perfect for spring theme or even for Mother's Day.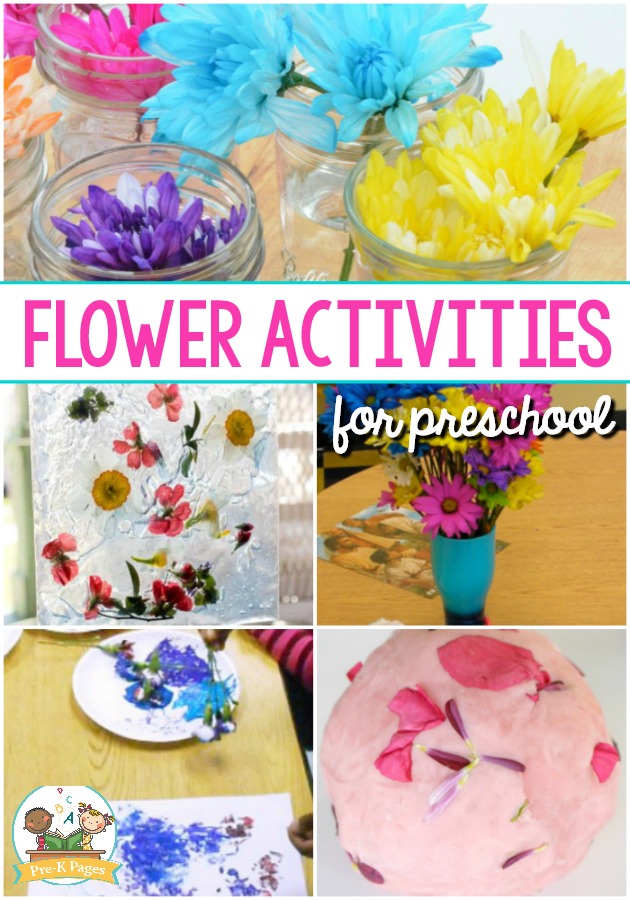 Flower Activities with Preschoolers
If you are teaching a flower theme in your classroom, then these flower preschool activities are a perfect way to engage your students and learn about flowers at the same time. Check out Flower Shop Dramatic Play Kit to go along with your flower preschool themed classroom.
Patterning with Flowers (Pre-K Pages) – Learn how to use a favorite read-aloud and flowers to create a fun flower pattern and listening activity for preschool. This exploration is perfect as a whole group activity, in a small group setting, or as part of a math center.
Painting with Flowers (Pre-K Pages) – When the warmer weather comes, flowers and trees begin to sprout and bloom. Spring is a great time to explore flowers, plants and growing. Your preschoolers can use flowers for a variety of activities. One of my favorite activities is using paint to explore flowers.
Flower Play Dough (Pre-K Pages) – Kids love play dough any time of the year, spring, summer, winter or fall. When you make your own play dough you can get creative with your colors and ingredients to make it extra fun for your kids.
Still Life Painting (Pre-K Pages) – I love exploring art with preschoolers. Painting is one of our favorite art activities. You may want to explore painting still-life paintings with preschoolers. This still life preschool painting art activity is perfect for spring or any other nature-focused theme.
Flowers Fine Motor Fun (Teach Preschool) – Practice fine motor skills with this fun flower science observing activity.
Creating with Parts of Flowers (Teach Preschool) – Before you throw out that flower bouquet have your toddlers examine the different parts!
Still Life Flower Drawings (Teach Preschool) – Have your toddlers practice their inner artist and make a still life flower drawing!
Nature Cutting Tray (Munchkins and Moms) – Your preschoolers can work on their scissor skills with this nature flower cutting tray.
Flower Chain Crown (Fireflies and Mudpies) – Learn how to make a flower chain crown when flowers in bloom for your preschooler to wear.
Science Experiment: Glowing Flowers (Fun at Home with Kids) – Your preschooler will be in awe when they take an ordinary flower and make it glow!
Nature Sensory Bag (Hands On As We Grow) – Explore spring, and build a fun suncatcher, when you make a DIY nature sensory bag with your kids!
Nature Suncatcher Wind Chimes (Hands On As We Grow) – I love a craft that is easy for the kids to do and had a pretty end result! Natural suncatcher wind chimes are both of those things.
Flowers to Grow with Kids (Educators' Spin On It) -Looking for what flowers to plant in your garden this season? Here's our pick of the top 10 flowers to grow with kids.
Lilac Sensory Bottle (Parenting Chaos) – When your lilacs are in full bloom, make a Lilac Sensory Bottle to help them explore the beauty of our Lilac bush without destroying it.
Garden Art (Educators' Spin On It) – Use your garden and flowers for your preschooler to create their own art!
Sensory Soup (Living Life and Learning) – Your toddler will taking some beautiful fresh flowers and creating this sensory soup out of them.
Drawing Flowers (Prekinders) – Here are five Plants & Seeds art activities to go with your Plants & Seeds Theme unit.
Invitation to Draw Spring Plants (Munchkins and Moms) – Work on drawing, observing, and art all at the same time with this spring plant drawing activity
Flower Print + Scrape Painting (Playful Learning) – After your preschooler has used flowers to paint with, try this scrape technique for a new art activity!
Sorting Parts of Flowers (Munchkins and Moms) – When your preschoolers are learning the parts of the flower, have them sort the parts of the flower with this fun activity.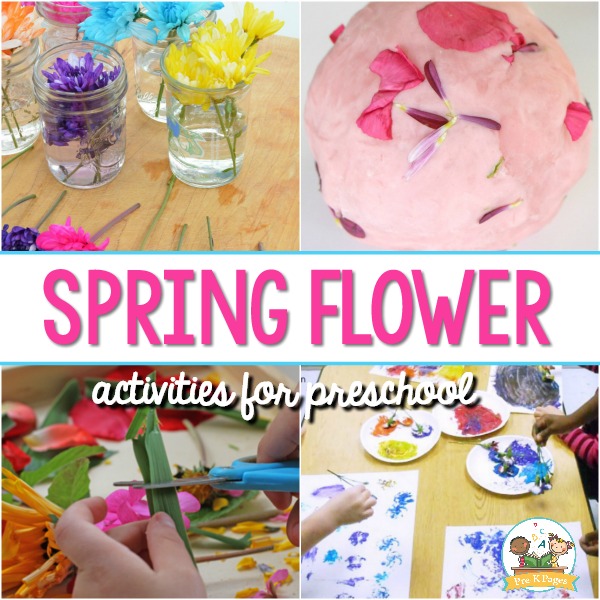 More Flower Themed Activities For Toddlers
Spring Flower Alphabet Match (Pre-K Pages) – This alphabet activity will have children learning about uppercase and lowercase letters with a fun spring twist.
Button Flowers (Pre-K Pages) – I just love using seasons to inspire activities for the kids. Today we had fun with some spring fine motor play by making these simple button flowers. Simple is usually my aim for these activities as they usually result in easy setup as well as more interest from the kids.
Make Tissue Paper Flowers (Pre-K Pages) – Today I'm going to show you how easy it is to make tissue paper flowers. You could use these to decorate your classroom centers for cinco de mayo or for a dramatic play Mexican restaurant.
Handprint Flowers (Teach Preschool) – Create fun keepsake art when your preschoolers use their own handprints to make flower art.
Planting Flowers in Play Dough (Teach Preschool) – The books by Christie Matheson were perfect for introducing a little springtime play into our centers. Then set up this fabulous play dough planting station for the children to play, create, and explore.
Scissors Practice Flowers (Craftulate) – These scissor practice flowers are great for working on simple cutting skills, squeezing and pincer grip.
Georgia O'Keeffe Flowers (Housing a Forest) – Georgia O'Keeffe is an amazing artist and perfect for kids to learn from. They are large, often extending off the page, colorful and slightly abstract.
Gardening Dramatic Play (Brick by Brick) – Your preschoolers will love engaging in this gardening dramatic play center.
Flower Pattern Strips (Teaching Mama) – This free printable is an awesome and fun way to practice patterns with preschoolers.
Spring Flowers Felt Board (Mama Papa Bubba) – Work on creating patterns and cutting wit this spring flower felt activity
Yarn Wrapped Tulips (Schooltime Snippets) – Use yarn to make these yarn wrapped tulips in this easy flower activity
Spring Light Table Sensory Activity (Where Imagination Grows) – Sensory bins are a great way to explore the world around us and water beads are one of our favorite sensory bin fillers, like in this spring water bead light table sensory bin! It's a great activity for fine motor skills and color sorting too.
Spring Flowers Fine Motor Tray (No Time for Flash Cards) – This super simple spring activity packs some wonderful skill practice for both hand-eye coordination and fine motor skills.
Flowers Grid Game (Prekinders) – Grid games teach one to one correspondence, counting, and numeral identification. To play a grid game, children roll a game die, identify the numeral and count out that amount of manipulatives.
Check out Flower Shop Dramatic Play Kit.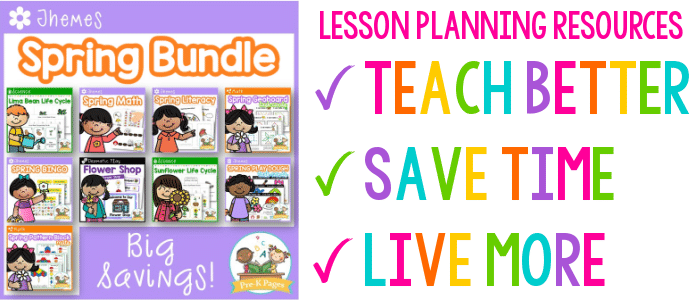 More Spring Activities