How would you like a few super fun preschool Christmas art ideas your whole class can enjoy? They're perfect when you want to add that perfect Christmas craft for kids to your Christmas lessons. This season is a memorable time for all, and you can make it even more memorable with super eye-catching, inexpensive, and easy to do Christmas art! Check out these ideas for preschool Christmas art ideas!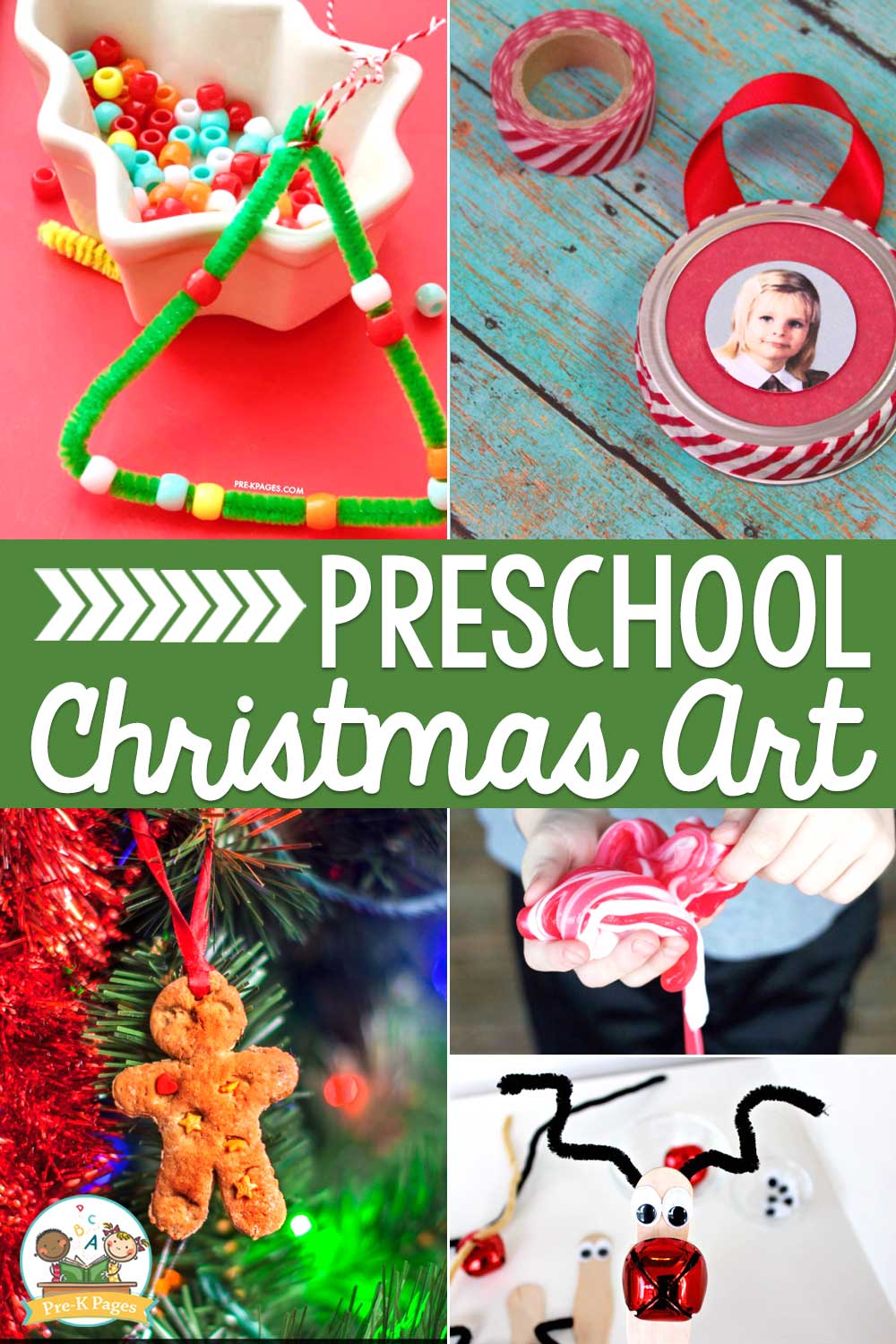 Preschool Christmas Art Activities
Easy Christmas Trees Ornaments (Pre-K Pages) – Simple and easy art exploration using chenille craft stems and pony beads (things you may already have in your cabinets!).
Easy Christmas Angel Ornament (Pre-K Pages) – Making this angel is super quick and easy for preschool and kindergarten kids.
Mason Jar Christmas Lid Ornament (Pre-K Pages) – Jar lids and photographs can become ornaments, refrigerator magnets, or easy gifts.
Easy Cinnamon Applesauce Ornaments (Pre-K Pages) – With only 3 ingredients, these no bake cinnamon applesauce ornaments are the perfect Christmas craft for your little learners.
Salt Dough Ornaments – Mold the salt dough into ornaments or other creations for Christmas.
Jingle Bell Sticks – Make and play these fun Christmas instruments!
Candy Cane Slime – Make and explore this fun version of sensory slime.
Candy Cane Playdough – If slime isn't your favorite, make this peppermint scented play dough for fun art and sensory play.
Beaded Candy Canes – Pony beads and chenille craft stems make a fun art and fine motor exploration.
Milk Carton Gingerbread Houses – Build fun versions of gingerbread houses with no collapses.
Art Ideas for Christmastime
Puffy Paint Christmas Trees (Preschool Inspirations) – Use paper plates and puffy paint to create fun, soft trees.
Christmas Tree Pumpkin Seed Art (Fun-a-Day) – In preschool we like to reuse and recycle. If you have pumpkin seeds left over from your fall explorations, dye them and use them in Christmas tree art. This is a great fall-to-winter activity!
Christmas Bow Painting (Play to Learn Preschool) – Paint on canvas to make a gift (as this post suggests) or paint on paper – both ways are a fun process art exploration.
Christmas Tree Sponge Painting (Fun and Fantastic Learning) – Stamp tree shapes, add some gems or other loose parts, and you have a great fun art idea for preschool.
Stained Glass Star Suncatchers (Creative Family Fun) – Sparkly stars for window or tree. Change the shape to make different holiday sun catchers.
Christmas Tree Thumbprint Art (A Dab of Glue Will Do) – This art activity uses supplies you already have and simple technique with a really great result. Change the tree shape to any outline you want (star, candle, snowman) and have a different activity!
Tear Art Christmas Wreaths (Buggy and Buddy) – Your toddlers may enjoy tearing paper so much they don't want to do anything else! Use torn green paper to make easy Christmas wreaths. Adapt with other shapes and colors, encouraging your preschoolers to explore the possibilities.
Pom Pom Christmas Tree Painting for Toddlers (Fantastic Fun and Learning) – This art idea is perfect for younger or older preschoolers. You have pom-poms so use them to paint!
Christmas Process Art (Where Imagination Grows) – Cookie cutters and paint make fun messy process art. And you can turn them into Christmas cards, too!
Marbled Christmas Art (Fun-a-Day) – Create cool marbled designs. That's fun on its own but you can use that marbled design to make cards or cut into shapes for more art possibilities.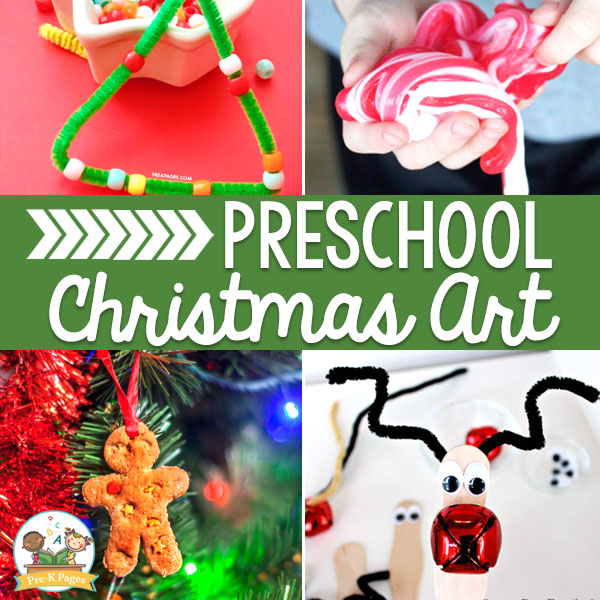 More Christmas Ideas
Five Senses Activities for Christmas – The five senses are key tools for preschoolers to explore and understand the world around them. When teachers can engage one or more of the senses, the learning experience becomes more concrete and more memorable. Here are over 20 activity ideas that will engage the senses as you invite preschoolers to learn more about Christmas.
Holiday Hacks for the Preschool Classroom – These ideas and teaching tips can help make your December a little less hectic and a little more enjoyable.
25 Christmas Gifts Kids Can Make – This collection of great ideas contains a variety of Christmas gifts kids can make for parents, grandparents, and teachers.