A winter sensory bin is perfect for a winter theme in your preschool or pre-k classroom, complete with instant snow and a snowman for lots of sensory play.
Snowballs by Lois Ehlert is an excellent book to read before introducing this sensory bin to your children. The addition of loose parts and fine motor tools creates a fun and engaging winter sensory experience your kids will love!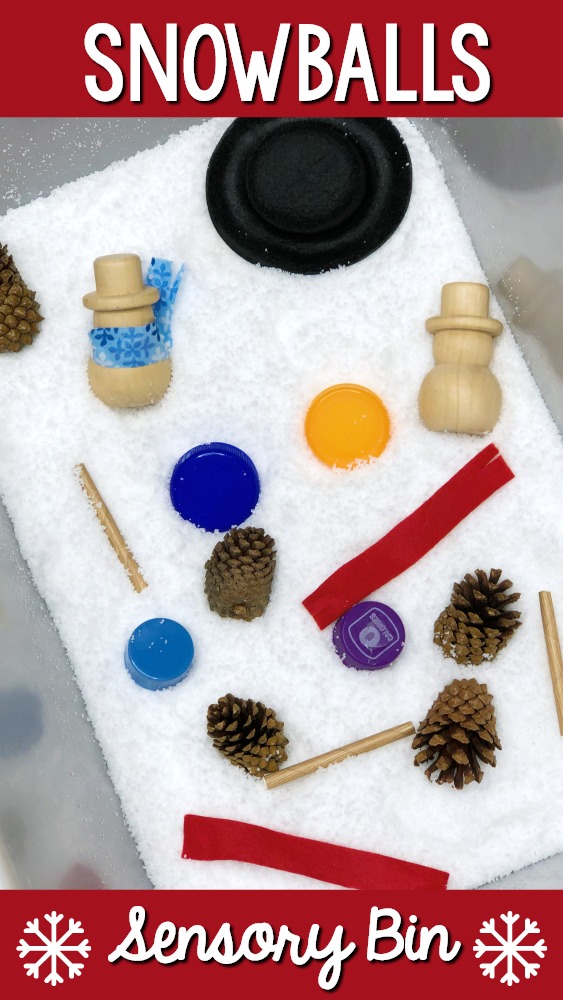 Why Use a Winter Sensory Bin in Preschool?
Sensory play is open-ended, meaning there is no clearly defined outcome of playing with or exploring the materials inside the bin.
Children use their senses and creativity to explore the materials offered in a sensory bin on their own without the expectation of an end product.
To recap, sensory bin play is meaningful to young children and provides opportunities for open-ended play.
Benefits of Open-Ended Exploration with a Snow Sensory Bin
A  sensory bin is not about keeping kids busy. Instead, sensory bins provide opportunities for children to be successful, regardless of their language or cognitive abilities.
A child who struggles to express himself with language, may touch play snow for the first time and attempt to communicate how it feels.
When the materials inside sensory bins are offered to children without an expectation of a finished product, children use their imaginations and creativity to make sense of the materials in their own way. This experience is often referred to as open-ended exploration.
How to Make a Winter Sensory Bin
Here are the things I used in my snowman themed winter sensory bin, but you can use whatever you prefer or have on-hand for a sensory bin filler.
Pinecones
Fabric Scraps
Snowballs by Lois Ehlert
Bottle Caps
Straws
Wooden Snowman Figures
Mini Hat
Scoops
I used several things in this bin that I already had on-hand, such as straws, pinecones, fabric scraps, and bottle caps.
There were a few other things on deep discount at my local craft store that I just couldn't resist. The mini hat and the wooden snowman figures were a big hit with the toddlers and preschoolers!
I probably should have bought a few more of the hats because sharing just one was a bit of a struggle for some kids.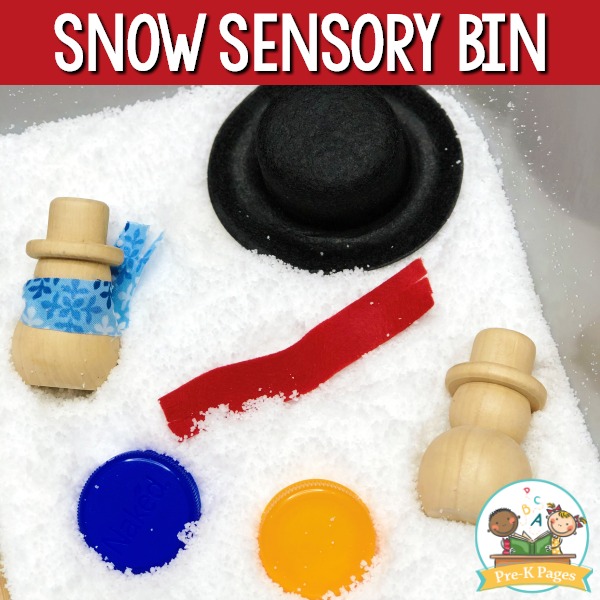 How to Use Your Snowman Sensory Bin
To introduce this sensory experience you can read any book about snowman aloud to your students. I chose the book Snowballs by Lois Ehlert because it always sparks imagination and creativity in my children.
The way the author uses loose parts and found objects to create the snowman in the story encourages children to think outside the box.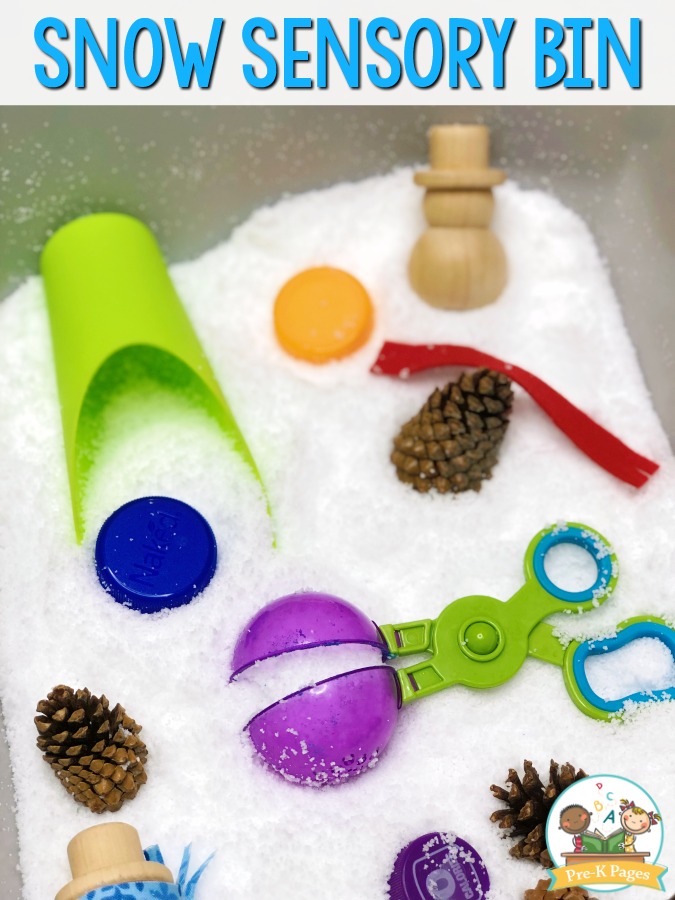 Fake Snow for Your Sensory Table
Another great aspect of this sensory bin is that you can make the Instant Snow with your kids as a science experiment! They just love making the pretend snow by adding water to the powder and watching it transform into "snow."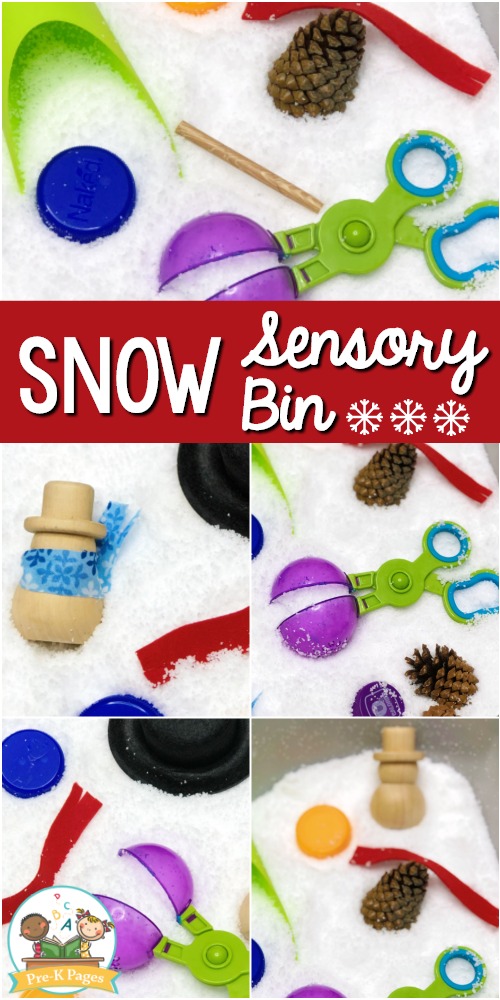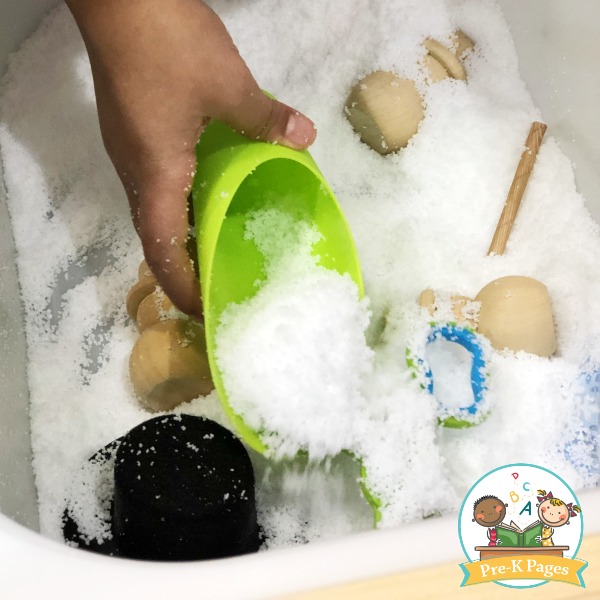 How to Promote Fine Motor Skills with the Winter Sensory Bin
Adding things like Handy Scoopers and scoops to your sensory bins is a great way to get in some fine motor practice! The bubble tongs are perfect for exercising the small muscles in the hands that will be used for writing, as well as to transfer materials.
The Instant Snow doesn't really take shape like real snow does, but the kids still enjoy scooping and pouring the snow. As they scoop and pour, they are exercising wrist muscles needed for developing muscles needed for writing.
Try a snowman winter themed sensory bin in your classroom for a super fun, hands-on learning experience!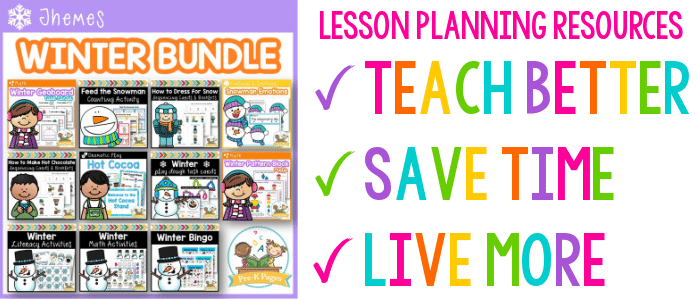 More Winter Activities For Your Classroom