It's no secret that kids love to explore sensory bins! If you're looking for a list of sensory bin fillers that don't include food for your preschool or pre-k classroom, you're in the right place!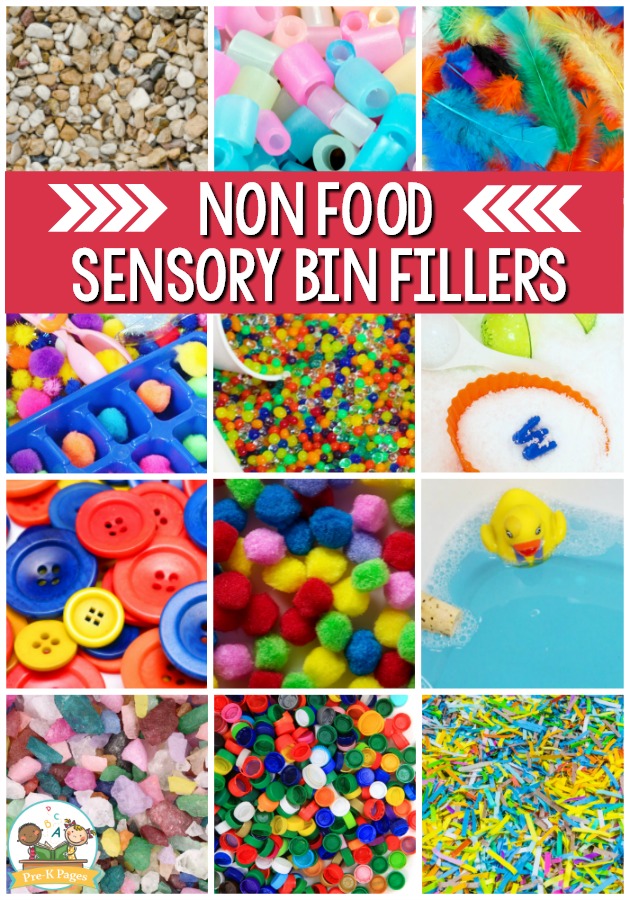 Non Food Sensory Bin Fillers
While sensory materials like dry pasta, beans, and rice are inexpensive, there are certain early childhood programs and teachers that may prefer not to use food items in their sensory bins.
Whether keeping your sensory bin food free is a personal choice or a program directive, there are many other sensory materials to choose from.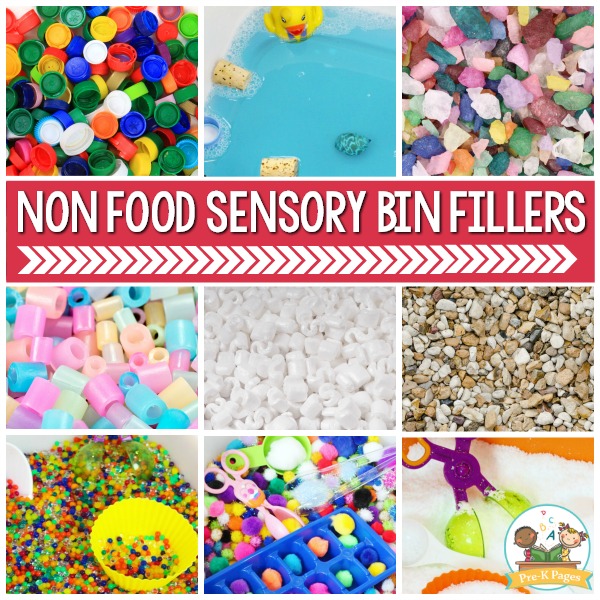 Non Food Sensory Bin Fillers List
Sensory play encourages hands-on discovery and exploration, which is how young children learn best.
When they can touch, feel, and manipulate the materials in a sensory bin, young children are getting the sensory input they crave, which increases engagement.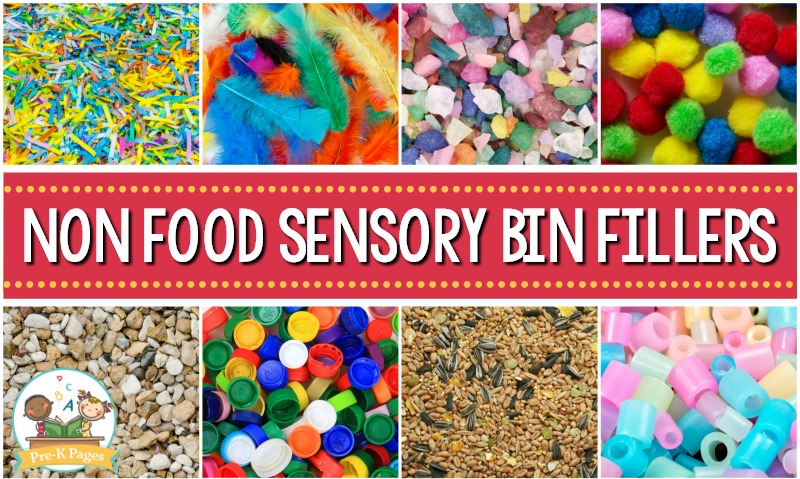 Sensory Play Ideas
It's important to keep in mind the ages of your students when choosing sensory bin fillers for use in your classroom. Certain materials may not be suitable for use with young children under the age of three without close adult supervision.
It can be a challenge to think of things to put in your sensory bin that aren't edible. To get your creative juices flowing, here are some sensory bin ideas that don't include food.
Aquarium Rocks
Beads
Bird Seed
Bottle Caps
Buttons
Cardboard Tubes
Cotton Balls
Cut Straws
Fake Grass
Feathers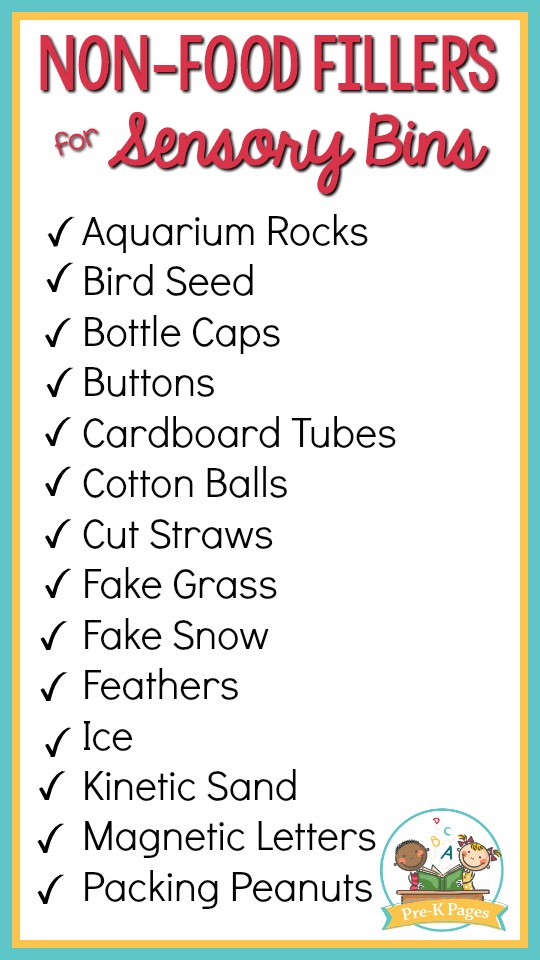 Ice
Magnetic Letters
Packing Peanuts
Pea Gravel
Plastic Gems or Vase Filler
Play Dough
Pom-Poms
Potting Soil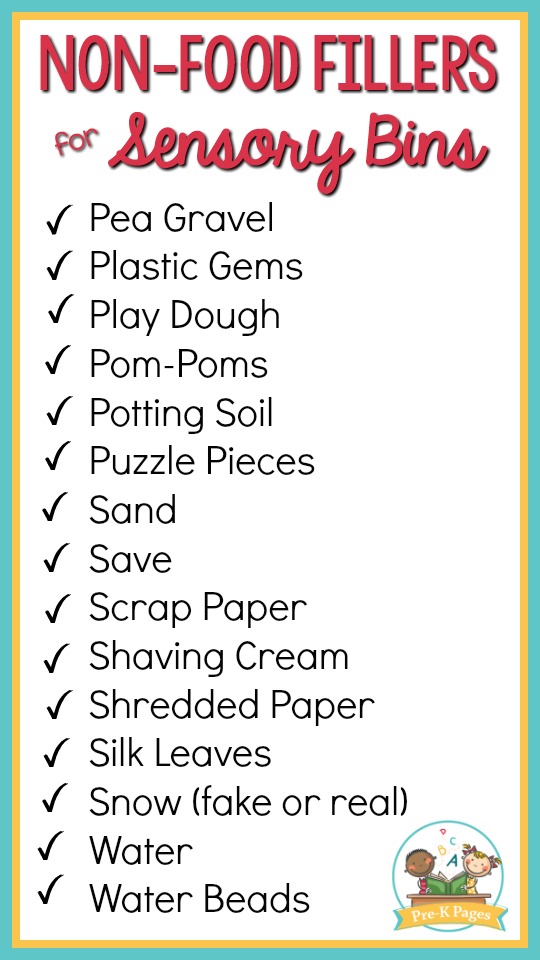 Puzzle Pieces
Sand
Scrap Paper
Shaving Cream
Shredded Paper
Silk Flowers
Silk Leaves
Snow (fake or real)
Water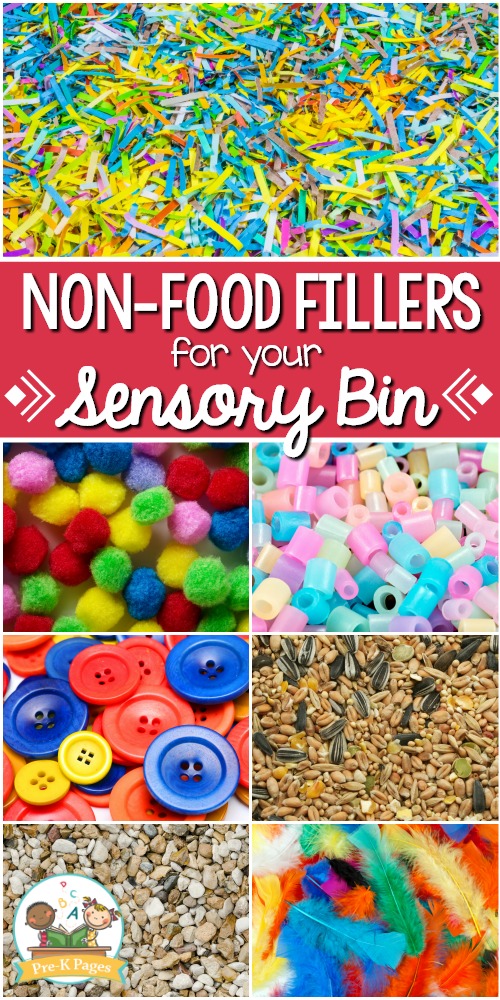 Which non-food items do you like to use in your sensory bins? Let us know in the comments below!
New to this whole sensory bin world? Read this post that explains what sensory bins are all about.
Need ideas for sensory bin tools? Here's a list of all of my favorite sensory bin tools to use in your sensory bin!
Wondering about the educational benefits of sensory play? Here's some information about the benefits of sensory play.
If you're not opposed to food related items in the sensory bin, here's a list of sensory bin fillers that include both food and non-food items.