Do you need some fresh, new ideas for dramatic play themes in your preschool or Pre-K classroom? Young children learn best through play. When children engage in pretend, or dramatic play, they're developing many important skills that will help them build a strong foundation for future success in school.
Peer-to-peer conversations build expressive and receptive oral language and communication skills. Children learn how to share and cooperate with the materials in a meaningful way.
When dressing and undressing baby dolls fine motor skills are being developed.
If planned carefully, literacy, math, and writing skills can also be incorporated into the dramatic play center. Here are some of my favorite themes for the dramatic play center.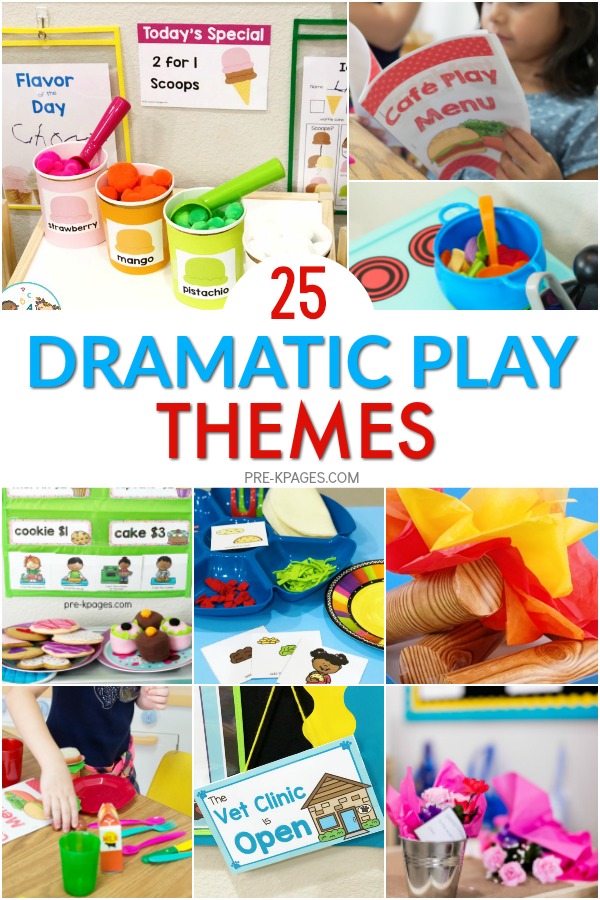 Dramatic Play Themes
Animal Shelter – This mini-kit helps kids develop altruism and empathy while helping shelter animals, a great classroom project!
Apple Orchard – Fall in the air with this fun, pretend trip to the apple orchard! Watch creativity and imagination soar as your kids make pretend apple pies and follow the directional signs as they navigate their way through the pretend orchard.
Bakery – Little bakers will love ordering from the menu and serving up yummy treats in their very own bakery shop!
Camping Theme – It's hard for little campers to contain their enthusiasm for this fun theme! Watch as they sit around the pretend campfire, make s'mores and use their lanterns! Perfect for building background knowledge.
Asian Restaurant – White or brown rice? A perfect addition to a study of Chinese New Year! A unique cultural experience your kids will never forget! Make lo-mein with yarn and practice "eating" with chopsticks!
Doctor's Office – Have a cough or a fever? No problem, your kids will have you on the mend in no time with this meaningful dramatic play theme. All kids can relate to going to the doctor's office, this one is always a huge hit with little ones!
Flower Shop – Need birthday flowers? Get well flowers? Wedding flowers? Everything you need for setting up a fun and creative flower shop in your classroom! Get your vases ready because you will be receiving LOTS of flowers from your little delivery people!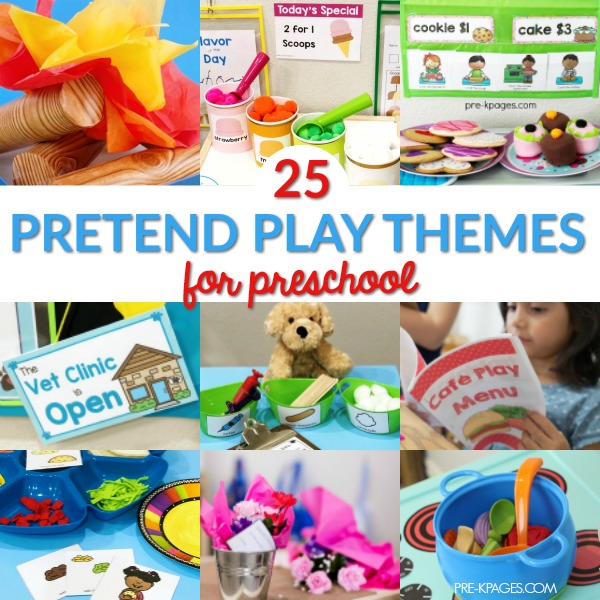 25 Dramatic Play Ideas
Garden – Perfect for the spring when you're learning about plants and seeds! Build your own play garden with a box and some pool noodles, then watch as learning and fun abound!
Grocery Store – Did you remember your cloth bags? What could be more meaningful to a young child than a trip to the grocery store? So many opportunities for developing literacy, math, and writing skills with this popular dramatic play theme!
Holiday Wrapping Center – Get into the spirit of the holidays by wrapping gifts for family and friends! Your kids will love exploring sizes, writing for a purpose, and developing fine motor skills while playing and having fun.
Hot Cocoa Stand – Marshmallows or whipped cream? It's tough to choose at this creative hot cocoa stand that your kids will adore during a fun winter theme!
Ice Cream Shop – One scoop or two? Choose your favorite summer treat at your local ice cream walk-up window. The perfect way to end your school year!
Taco Stand – Hard or soft shell? Pretend chips, salsa, and tacos- yum! A perfectly (pretend) delicious way to celebrate Latin culture in your classroom!
Fun Dramatic Play Themes
Pizza Center – Small, medium, or large? Choose your favorite toppings at your local pizza shop! Menus, signs, name tags and more provide plenty of opportunities for developing oral language, math, and literacy skills at the pizza parlor.
Post Office – First class? Perfect for a community helper theme! Printable stamps, post cards, and labels make this center a literacy and writing powerhouse!
Pumpkin Patch – The ultimate fall experience for kids! Collecting tickets for a pretend hay ride and selling pumpkin goodies at the walk-up pumpkin stand is a great way to build background knowledge about a popular topic.
Space Theme – Blast off with this fun space theme dramatic play kit! Prepare for a successful launch with the Captain's Log, checklists, and charts that also build literacy and writing skills.
Vet's Office – Fido not feeling well? Your little vets will have sick pets feeling better soon! Writing prescriptions and filling out patient charts provides plenty of meaningful literacy and writing experiences.
Pretend Play Ideas
19. This Dramatic Play Restaurant serves up kid favorites!
20. Your kids will love taking care of babies in the Dramatic Play Baby Nursery
21. A Dramatic Play Hair Salon will be a familiar play theme for your kids!
22. Who wants a sandwich? This Dramatic Play Sandwich Shop is sure to be a big hit with your little learners!
23. Laundry isn't just for Mom! Everybody can help do the laundry with this fun laundry or Laundromat Dramatic Play Center!
24. Got a flat? Get it fixed at the Car Repair Shop!
25. The firefighters from the Dramatic Play Fire Station will put out your fires for you!
Research that explains how dramatic play supports academic learning is included in every packet.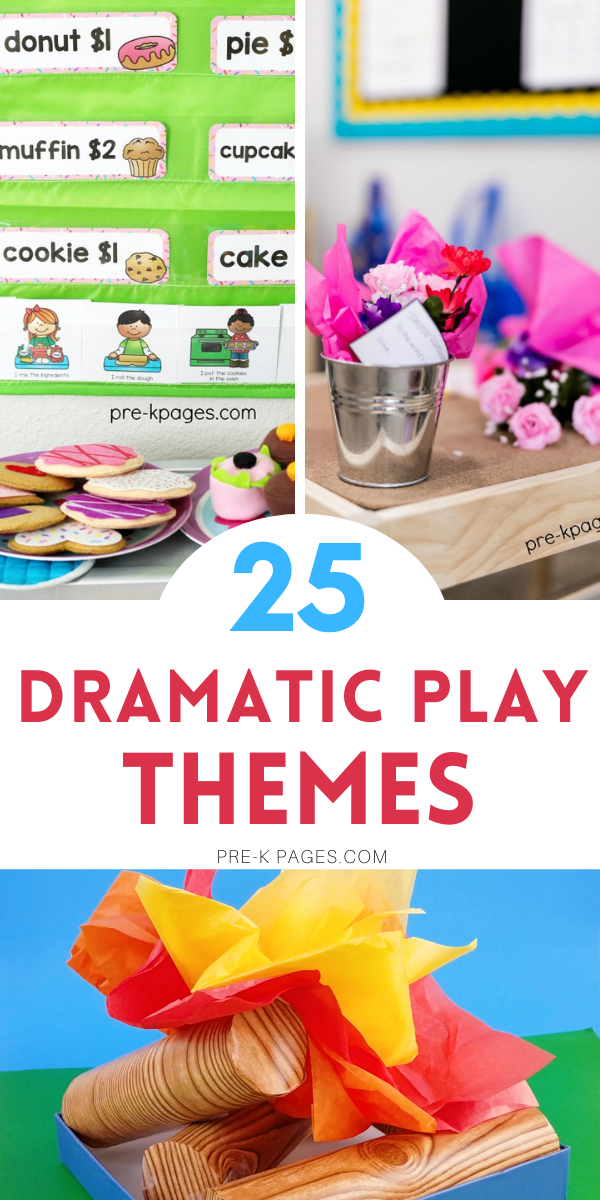 More Pretend Play Themes from Pre-K Pages