Do your kids love to play with playdough? Use this easy recipe to create chocolate playdough for Valentine's Day!  Your kids will love creating special Valentine treats with this delicious smelling dough.  Playdough is also a great way to incorporate fine motor practice and provide opportunities for developing creativity and imagination.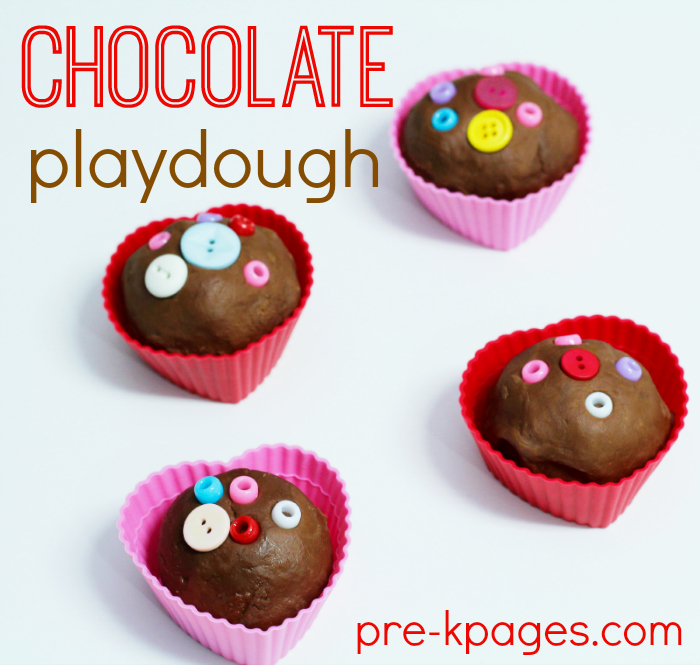 Valentine Heart Chocolate Play Dough
Making different types of dough is perfect for keeping kids interested and engaged at your playdough center.
You can easily breathe new life into your playdough center by adding different props and tools every few weeks.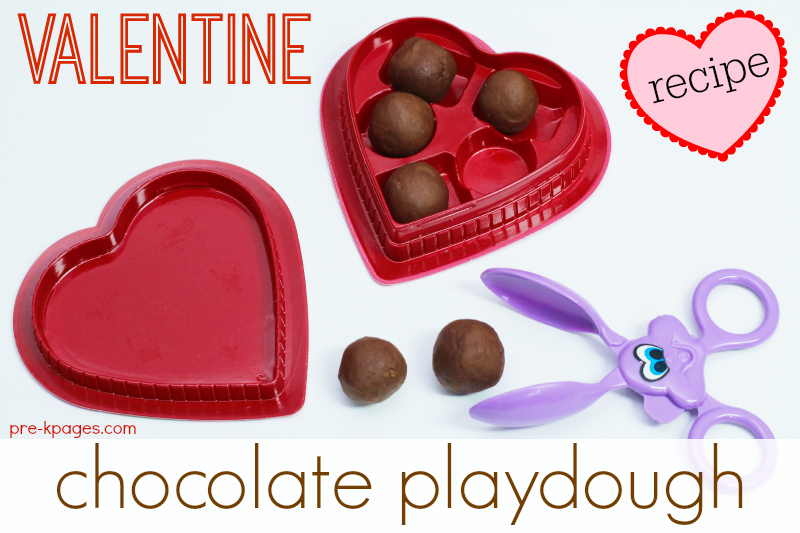 Chocolate Playdough Recipe
This chocolate playdough recipe is super easy, if I can make it anybody can! It's a chocolate twist on my easy DIY homemade playdough recipe.
Ingredients
1 1/2 cups flour
1/2 cup salt
1/2 cup cocoa powder
2 tbsp. cream of tartar (I buy it in bulk to save money)
2 cups water
2 tbsp vegetable oil
This recipe makes a big batch of playdough, enough for 4-6 children to easily play with.
You can also add some buttons, beads, or other materials for the kids to use to decorate their chocolate cupcakes.
How Do You Make Edible Chocolate Playdough?
First, pour all ingredients into a saucepan and cook over low heat while stirring and mixing.
When it starts to thicken and resemble dough, remove from the heat and let cool. When cool, knead the dough until it is smooth.
Remind your children that playdough isn't for eating. If your kids like to put things in their mouths then you will need to provide close supervision or choose another activity.
Chocolate Play Dough Troubleshooting
If your dough feels too sticky, add more flour, if it feels too dry, then add more water or vegetable oil.
This cooked play dough recipe and couldn't be easier. It makes a much better quality play dough that will last a long time if stored in an air-tight container after use.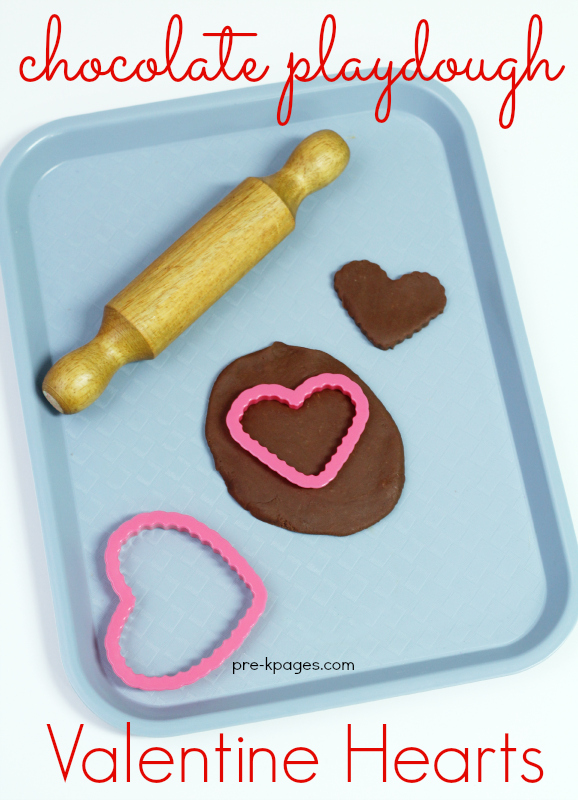 Chocolate Play Dough Tools
Now you're ready to have fun with your chocolate play dough!
Supplies Needed
empty Valentine chocolate boxes
The tongs I used came with an Easter egg dying kit I bought years ago; they're perfect for practicing fine motor skills.
You can recycle chocolate boxes for playdough fun too!
Children can roll balls of dough to represent chocolates and then use the tongs to transfer the chocolates to the candy box.
The rolling pin also offers great opportunities for fine motor practice; use the heart cookie cutters to make chocolate hearts.
More Valentine's Day Ideas
There are so many activities that you can incorporate into your classroom for Valentine's Day! You can incorporate the holiday into your math activity literacy activity or use books to celebrate Valentine's Day!
Your students will also love this activity where they get to decorate Valentine's Day cookies
A light table activity is also a great way to center the lesson around Valentine's Day. When your kids are picking up and manipulating the plastic hearts on the light table they'll be engaging in sensory play and developing those important fine motor skills too!
Your pre-K or kindergarten students could also work on their sight words during the holiday as well.  Using Valentine card sight words is a  highly engaging and fun activity can help your pre-k or kindergarten students get even more excited to practice their sight words.
You could also incorporate songs into the holiday. You can sing Valentine songs during circle time, transitions, or whenever your kids just need to refocus and get their wiggles out!
More Play Dough Recipes And Activities
If you like this chocolate play dough recipe, then you may also enjoy these similar play dough activities:
And with any play dough activity, Printable Play Dough Mats are very helpful.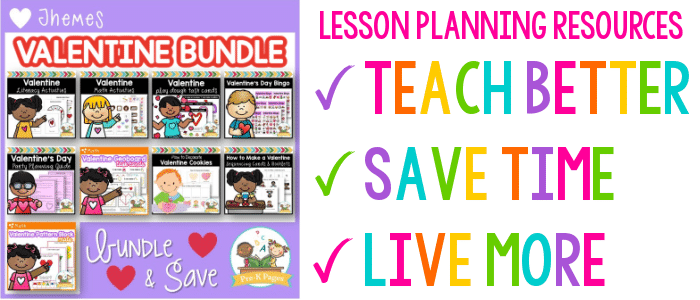 More Activities